HubSpot Vs. Pipedrive
Both HubSpot and Pipedrive have the essential CRM features to help businesses track and manage contacts and workflows. Each platform has its own unique capabilities. For example, Pipedrive provides sales teams with unlimited storage for contacts, and HubSpot offers amazing automation features and immediate tracking notifications.
Managing all your contacts and customers is no easy feat to take on. Fortunately, there are plenty of customer relationship management (CRM) software solutions to choose from.
But it's hard to find the right solution that fits your needs.
CRM tools like HubSpot and Pipedrive help you track and manage your buyer's journey as they move through the sales funnel. These tools take the guesswork out of relying on memory or sifting through spreadsheets and email correspondence for customer relationship management.
However, you may still wonder which one to choose: HubSpot or Pipedrive?
Consider the overview of features and tools each platform has to offer and the reviews to make a sound decision. Let's take a closer look at both CRM platforms.
What Is HubSpot?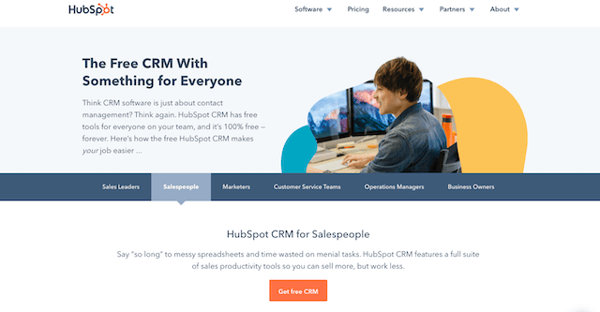 HubSpot is a full stack business software that includes tools for marketing automation, social media, blogging, email, landing pages, SEO, web analytics, sales enablement, customer service, and customer relationship management.
The goal of HubSpot software is to drive inbound marketing efforts to help companies gain more traffic, convert leads, and close more deals.
One of the popular tools HubSpot offers is the free CRM that is the lifeblood of the software. HubSpot's CRM is more than a standard contact management software. Its purpose is to provide users with insights into each contact so you can build and strengthen your relationships with your leads and customers to boost sales.
Some of the other great HubSpot tools include:
Campaign management
Document tracking
Meeting scheduling
Sales automation
Lead management
Pipeline management
In terms of seeing how HubSpot stacks up against Pipedrive, let's focus on HubSpot's free CRM and its coolest features.
Notable HubSpot CRM Features
So many CRM software options do the bare minimum. Unfortunately, a lot of the leading tools come with a lot of limitations and are difficult to use.
The free CRM you get with HubSpot is built to grow with you. There are no restrictions, the interface is user friendly, and you can save a ton of time thanks to its plethora of features.
The most notable features and tools include the following:
Automation of prospecting, such as logging and updating customer sales activities.
Ample storage for up to one million contacts.
Publication of sales notes, emails, and recorded calls to an individual contact's timeline.
Email tracking and customized email campaigns.
Immediate notifications delivered after prospect actions, like when they open an email or click links.
Optional integrations with Zendesk, Wistia, UberConference, and more.
A library of well-designed email templates.
Simply put, this free CRM software comes packed with some of the best features on the market.
What Is Pipedrive?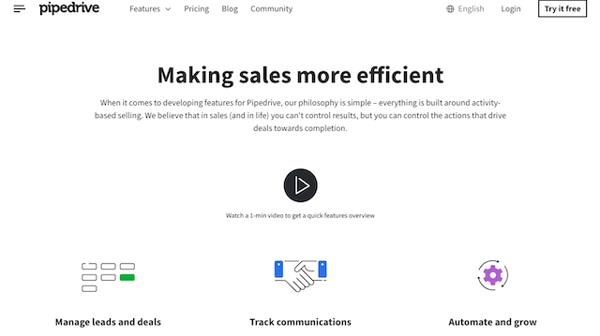 Pipedrive is a CRM software made by salespeople to help other salespeople manage their sales pipeline and customer relationships. It is primarily used for medium and small sized teams. This software helps your team to organize leads so you prioritize and focus on the most important deals.
Pipedrive provides you with an activity-based approach to selling that focuses on scheduling, tracking, and completing activities.
Notable Pipedrive Features
The Pipedrive CRM includes a variety of awesome tools and features. Based on which tier you pay for, which ranges from $12.50 per user per month to $99.00 per user per month, you get access to some of these features:
Multiple sales pipelines
In-depth sales reports
Call and email tracking
Unlimited data storage
Customizable fields and products
Automation of repetitive tasks
Mobile access and integrations with popular sales apps
HubSpot CRM and Pipedrive offer similar features for your sales teams. However, there are differences that may set one apart from another that you likely need to consider before you purchase one over the other.
HubSpot CRM vs. Pipedrive: Pros and Cons
Listing out the pros and cons of selecting one CRM over another helps you to see concrete evidence about which software is best for you and your business needs. Here are some pros and cons that have been taken from real-life customers:
HubSpot CRM Pros and Cons
via GIPHY
There are so many HubSpot users that willingly share their experience with HubSpot's CRM offerings.
Here are just a few pros and cons mentioned on GetApp:
Pros
It is 100 percent free, forever.
It is an easy to use and intuitive CRM platform.
It includes great email integration options.
Cons
The added HubSpot hubs and features can get expensive.
It's challenging to set up for complex team structures.
There are too many add-ons, which makes it difficult to understand the capabilities of the platform.
Pipedrive Pros and Cons
via GIPHY
Here a few of the pros and cons mentioned on GetApp for Pipedrive:
Pros
It is customizable.
It is easy to integrate with existing sales processes.
It makes it easy to track activities and reminders.
Cons
It is difficult to separate contacts and new leads.
It provides limited support.
It doesn't provide tags or segmentation rules.
What to Consider Before You Buy
Purchasing new CRM software takes thoughtful consideration as you assess your needs and compare them to software features.
via GIPHY
Here are some things for you to consider before you buy new CRM software:
The Amount You Are Willing to Pay
Many CRM softwares like Pipedrive have an introductory price to get you started with their programs. Don't be too enticed by the introductory price because most often the price changes as you add features and users to the software.
In the context of this breakdown, HubSpot wins big thanks to their "100 percent free, forever" promise.
As you're shopping for a CRM suite, consider all pricing factors before you make the decision to buy. Ask your sales rep about any hidden costs or fees associated with using their software.
Make sure you get all the features you need to be successful in one pricing package to stay within your budget.
The Setup Process
It is exciting to think about the prospect of having a new CRM to help you manage prospects, customer relationships, and sales. But you must remember it has to be set up, and your staff members must be trained on how to operate the software.
Consider CRM options that help you get started to help make your transfer from one CRM program to another a seamless experience. Don't commit to a CRM that requires extensive training or one that requires ongoing maintenance.
In other words, plan for your CRM training and onboarding so your marketing and sales teams can hit the ground the running once you make your purchase.
The Process of Migrating Contacts
You will likely want to keep all of your contacts when you switch over from one CRM to another. Transferring your contacts over manually can take countless hours of time.
You want to consider what that process of migrating your existing contact database to your new CRM will look like and determine how the company will help you with that data migration.
Botched migrations can cost your company a lot of potential revenue and valuable contact information. It's important to plan ahead for this transition and make it as easy as possible while also ensuring you make an accurate transfer that doesn't let customer data slip between the cracks.
The Customer Support Level You Will Receive
Check the details of the CRM service you are interested in to see if they offer free customer support. Your CRM provider should want you to have the best experience with free live support that is available via online chat, phone, or email.
You want to make sure you have full support to help your team use the new CRM to the best of your ability. This means overcoming common snags and pitfalls that may happen when you transition from one software to another.
The Specific Must-Have Features For Your Business
Think about all the things you wish you could do with a CRM platform. Then, ask yourself which features you would like to have to make your life easier or to help you save time.
Write these features down and compare and contrast these features with the features each CRM tool offers. This way, you can easily conduct a process of elimination and choose the tool that gives you most (if not all) of what you are looking for.
HubSpot CRM vs: Pipedrive: The Reviews
One of the best ways to determine the best customer relationship management system for you is by reading real customer reviews.
via GIPHY
Here are some reviews from real users to help you decide between HubSpot CRM and Pipedrive:
HubSpot CRM
"HubSpot's toolset has been instrumental in the success and growth of our law firm.
"Being able to track and record all inbound information from potential clients and then continue monitoring all communications and interactions with clients throughout the lifecycle of a case helps us better understand who, how, and where clients are coming from and how best to meet their needs and expectations."
"Prior to using Hubspot Sales Hub, I did not use a CRM. HubSpot has really made my job so much easier and I can have more clear and engaging communication with my contacts.
"I really like that I can see my colleagues' communications with a contact in a seamless, 'newsfeed'-like manner. This prevents us from sending the same communications to one contact."
-Allie S via G2
"I love that it's an all in one platform. You can call, email, set follow ups, etc. all in one place. They have made the platform very easy to navigate. The customer service and support team have gone above and beyond helping with any issues we have had in the past."
-Joe M via G2
Pipedrive
"It's very easy and simple, great user interface. It has full functionality and features that my small company needs. I have been their customer ever since they were small and they have added a lot more features in a very short span of time."
"I have been recently recommended about Pipedrive via one of my friends. I created my account on Pipedrive and watched a few training videos. This tool is really cool. Drag and Drop features is great under Deal stages. This is just similar to a project management system named Trello. Hope it helps closing more deals!

"I will be keeping my important contacts within Pipedrive as it saves them directly on the cloud and I can define and categorize the companies here. The filter feature helps finding them easily."
-Matt D via G2
"Pipedrive has the functions you need to have all your leads and customers in the loop. I love their support team - they are super fast, they follow up, and they're very cheery. I think they are the best I've ever seen. I find Pipedrive fast, easy to use, and love the way the app also contributes to automate processes."
-Monica B via G2
HubSpot CRM and Pipedrive: Your Best Option
In a nutshell, both HubSpot CRM and Pipedrive are great tools for you to use. The one you select depends on what you wish to accomplish with your sales and marketing teams.
HubSpot truly aligns your sales and marketing teams for greater cohesion to foster growth, and Pipedrive is well designed to enhance your sales teams' efficiency and speed.
If you want a strict focus on sales, then Pipedrive may be right for you. But if you prefer managing all your business processes in one dashboard, then HubSpot may be just what you are looking for.