If sales teams are the bread of your organization, then sales tools are the butter. Together they make all the difference in the performance and success of your business. This is why shopping for sales tools can be an intimidating task.
We know you want to pick the right sales automation tools for your team so they can be as productive and efficient as possible. We've created a comparison of two great sales tools on the market today, HubSpot and Close.
Learn more about these two tools, their features, pricing, and reviews to see which one works best for you.
What Is HubSpot?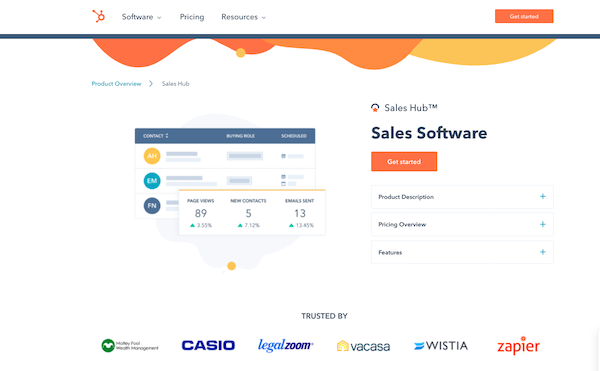 HubSpot is an all-in-one marketing, sales, and service platform. The most notable addition to HubSpot's software stack in recent years, HubSpot Sales Hub, is a tool that helps your sales team save time by automating repetitive tasks.
With Sales Hub, you can focus on the important things like getting deeper insights into your prospects and closing deals faster than ever before.
Sales Hub works best with the HubSpot CRM to enhance the sales process, costing $0 to start. The free tier gives you access to several amazing features!
If you want to unlock more of the features of Sales Hub, you can upgrade to one of these three options:
Starter: Pricing starts at $50/mo.
Professional: Pricing starts at $500/mo.
Enterprise: Pricing starts at $1,200/mo.
To see how HubSpot Sales Hub stacks up against other top sales automation tools, let's take a look at some of the key features.
Notable HubSpot Sales Hub Features
Email tracking
Email templates
Call tracking and recording
Reporting and analytics
Quote functionality
Sales engagement tools
Seamless integrations
Buildable sales documents
Automated follow-up emails
Live chat
What Is Close?
Close is a cloud-based sales software that is designed to help sales teams improve their productivity. It is an all-in-one sales tool that you can use without any other email or call tools, making it easy for sales professionals to make and receive calls with one click.
With Close, contact details are automatically logged into the system, and a visual timeline shows you all of the touchpoints a lead has experienced with your brand, making it easy for sales teams to personalize the entire customer experience.
Close starts at $21.25/mo for basic features and goes up to $123.25/mo for the business platform.
Notable Close Features
Call audio recording
API access
Two-way email integration
Call transferring
Voicemail drop
Integration and VoIP consulting
Bulk email sending
Custom reporting graphs
Calls automatically tracked
Pros and Cons of Each Sales Automation Tool
Reviewing the pros and cons of HubSpot Sales Hub and Close will provide you with a more in-depth understanding of both sales software options. This will allow you to make the best possible decision for your sales team.
HubSpot Sales Hub Pros and Cons
Pros
It grows with your business and comes stacked with features and possibilities.
It makes basic CRM functionality accessible to small businesses to help them manage deals and prospects better.
It's easy to use and has great integration options.
Cons
It is designed for inbound sales models so it lacks design functionality for other sales models.
Adding new features and tools can be expensive.
Duplicate contact cards are often found, and the merge feature is time consuming and permanent, which makes merging feel risky.
Close Pros and Cons
Pros
It's easy to add custom fields that help with reporting.
Sales team members can call directly from the software, and the calls are recorded.
Their customer support is excellent.
Cons
Searching for data is difficult.
There is no way to map specific email chains to opportunities.
The system doesn't allow you to upload files.
What to Consider When Shopping for Sales Automation Tools
Here are four things for you to keep in mind when you shop for sales software.
Cost
The cost of sales automation platforms may be difficult to pin down at first. Some sales tools can be purchased one time as a perpetual license, whereas other sales tools are subscription based where you pay a monthly or yearly fee.
Be sure to ask the vendor if there are any hidden costs that aren't listed on their website so you can avoid surprise fees.
For instance, some sales software may have additional costs for deployment, set up, maintenance, upgrades, and support. Pay close attention to these costs so you can budget accordingly.
Reporting Options
Good reporting features in sales software are essential. You should look for software that provides you with a variety of reporting options, like downloading charts, graphs, and other documents that display your sales data in a visually engaging way.
For instance, HubSpot has several reporting options and showcases your most important reports on your sales dashboard when you log in. This makes it easier to know where your sales team stands so you can make data-driven decisions.
Integrations
All-in-one software solutions are an option if you need more than sales automation tools.
HubSpot provides all kinds of features and tools within a single portal, but they also provide several integrations with all kinds of other tools you may be using. Just make sure your data transferring is properly set up to prevent duplications.
The more you can integrate your sales tools with other programs, the smoother your business will operate.
Customization
Every business is different, which means they run differently even if they are in the same industry. Sales processes and procedures, business language, activities, and key performance indicators differ from business to business.
This is why you should seek sales tools that allow you to customize to improve your user experience.
This can help to increase the comfort level your employees have when they first begin navigating the software.
HubSpot vs. Close: The Reviews Are In
Need some more convincing to choose a sales automation tool? Take a look at some reviews from real HubSpot and Close users.
HubSpot Sales Hub Reviews
"I was able to learn how to use HubSpot quickly and have been able to implement the knowledge gathered in the training system into my everyday use of the system. The ability to track calls and emails from the beginning of a customer's life cycle through and beyond purchase is excellent. Not only from the sales side but also from support and from the marketing parts of our company."
– Jordan S
"I love all the ways in which I can automate my sales process. From creating tasks, sequences, and workflows to making my own email templates that are personalized and customizable, I have a really easy time following up with my leads and making sure none of them are forgotten or neglected."
– Anna T
"HubSpot is an ever-updating platform that constantly wows our teams with new improvements and solid integrations. I use HubSpot Sales for my own prospecting and lead management. One of the features that I've been enjoying is the email and document tracking options it provides.
"HubSpot Sales also overcomes one of the things that has kept me away from other CRMs. It syncs with Gmail, which allows me to do what I was doing before, but now I have additional data that HubSpot collects for me, which has proven influential in my sales process."
– Valerie A
Close Reviews
"I really like this system because it allows you to record each of the calls made by your sales team in order to analyze them and be able to see and evaluate each detail of all. With this software, I can see all the records and the interactions that are made with the clients, thanks to its interface and ease of use. One can review any error that an operator has committed in order to improve customer service.
"This system allows me to establish tasks with notifications in order to know when the objectives are being reached automatically. It also lets you carry all your work in an organized manner, in order to manage the work times of your team and reporting on what task needs to be a priority and what are the activities that you should spend the most time on."
– Linda G
"It makes it easier to track your leads, send and receive emails, send and receive phone calls, and get voicemail messages. You can also link it to your Gmail account so you can track your leads in whichever way you choose."
– Kristian A
"Close is very easy to understand and this software has a lot of features that can help you manage thousands of contacts! YES! Been using this for a couple of months now, but I never get confused about who to follow up, to call, or to monitor because a feature where you can filter all the leads to make sure that you working on the right ones."
– Paolo A
HubSpot Sales Hub and Close: Your Best Option
Both HubSpot and Close have some great features that can help you enhance and streamline your sales process. The option you choose should be based on your sales goals and the needs of your sales team.
HubSpot Sales Hub is a tool that allows you to close deals fast by automating menial tasks. They also provide you with the option to upgrade to their full software stack so you can keep all your essential sales and marketing data in one place.
If you want a truly streamlined sales automation tool, HubSpot is the right choice for you.