LinkedIn has become one of the most important hubs for recruiting top talent to your company.
With this in mind, posting job ads on LinkedIn should be a core element within your recruitment marketing strategy.
What Are LinkedIn Job Ads?
Glad you asked! Companies with LinkedIn business pages are able to post job listings for fellow LinkedIn users to see and apply to. You can include everything from necessary qualifications, job role, industry, and more.
If you promote your job listing, it will appear as an ad in users' LinkedIn newsfeeds, complete with a short summary, image, and clickable action point.
Posting job ads on LinkedIn is just one way to promote your current openings and target applicants who might be searching LinkedIn for a job opportunity.
Why Job Ads Are Best for Recruiting on LinkedIn
Wondering what the difference is between a free and promoted LinkedIn job post? There's a lot, actually. LinkedIn job ads come with a whole bundle of added benefits that free postings don't receive.
Promoted to Qualified Candidates
LinkedIn promotes your ad to specific job seekers who fit the qualifications for your position. Your ad will pop up in their "Based on your Profile and Career interests" section – something that many applicants pay very close attention to.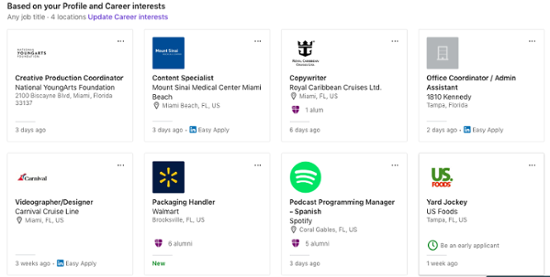 Shared With LinkedIn's Audience
When you create a job ad, LinkedIn shares your post with its 500+ million members, giving you a truly limitless audience. Every single user on LinkedIn can see your post.
Free InMail Messages
LinkedIn gives you five free InMail messages to people outside of your network with every job ad you post. This means that you can reach out directly to that ideal top talent you've been looking to recruit.
Suggested Professionals
Even if they haven't applied to your ad, LinkedIn will suggest potential candidates to you who meet the requirements for the position you've posted. This is when those free InMail messages can come in handy, as you can reach out to try and recruit a candidate who hasn't applied.
6 Tips for Creating Engaging Job Ads
In order to target job seekers in LinkedIn job ads and get the most out of your posts, there are a number of best practices you should integrate.
Include Multiple Functions and Industries.
LinkedIn gives you the option to list your job ad under three different functions and industries. It's likely that your company's industry and the job role probably fall under a few different categories for each of those two topics. Including multiple options will enable you to reach a wider audience.
Simplify Your Message.
Applicants increasingly use mobile devices in their job search. With this in mind, your job ads should be simplified for clarity and emphasis, to make them reader accessible on a mobile device.
Put role responsibilities into a bulleted list, and bold key terms that are especially important to the position. The goal is to be clear and concise, delivering information quickly and effectively.
Make It Witty.
To build off the previous point, clear and concise doesn't mean flat and boring. Job ads can be boring to write, but they can also be equally boring to read – especially if you're a job applicant going through loads of job postings every day. Talk about monotonous.
With that said, add some life into the writing of your ad to engage potential applicants! The language you use should reflect your company culture. Make it inspiring, motivational, or funny.
There's nothing wrong with adding a few chuckle points into your post – it will display a positive work environment and likely attract more top talent!
Use Visuals.
You want your job ad to catch your target audience's attention, and one of the best ways to do that is with engaging visuals. Use vibrant photos or graphics as the primary image for your job application.
Whether it's something branded or a photo of your team displaying your positive company culture, this visual element will present the general vibe of your business to applicants.
Renew Your Post.
Applicants often don't bother applying to job ads that were posted more than a few weeks ago, as they expect the position is likely already filled. After 14 days, LinkedIn allows you to renew your ad so it looks fresh and newly posted. This will continually encourage a new batch of job seekers to apply.
Include a Creative CTA.
A small but essential element of any good job ad – make sure you actually encourage candidates to apply! Get creative with your CTAs and use inventive language to invite them. You don't have to simply put "apply now!" Try something like, "We're looking for people to change the world with us – let us know if that's you!"
There are loads of different ways for you to write an inspiring, motivational CTA to draw in applicants, so don't just stick to the old school traditional stuff.
How to Post LinkedIn Job Ads
If you're struggling with how to post LinkedIn job ads, don't worry! It's actually much simpler than you might think. We've put together a step-by-step guide below to help you through the process.
1. Navigate to the Job Section.

The first step in creating a job ad is to navigate to the jobs section at the top of your LinkedIn navigator bar and then click the "post a job" button.
2. Establish the Basics.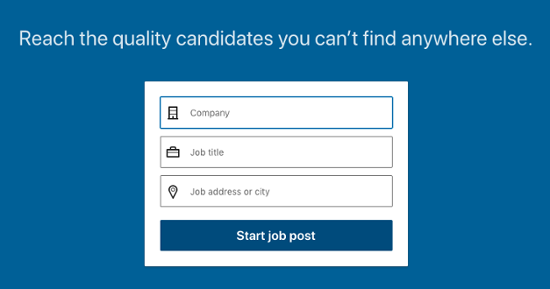 After you click on "post a job," you're brought to a page where you plug in the basics of the position your posting – your company, the job title, and the location of the job.
3. Plug in the More Specific Details.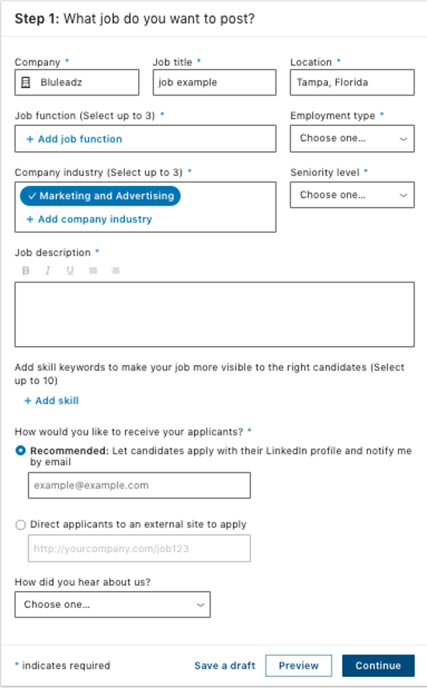 The next section is where you get more in-depth with your job specifics.
Remember to choose three options for the job functions and company industry. You'll also select the employment type (internship, part time, full time, etc.) and seniority level (entry level, mid-range, senior executive, etc.).
The description is where you should talk about the specifics of the position and what responsibilities will be required of the role. This is also where you can discuss your company culture and employee benefits.
Finally, you also get to choose how you want applicants to apply – whether directly through the career page on your website or by simply allowing them to send their LinkedIn profile as a stand-in resume.
4. Add Screening Questions.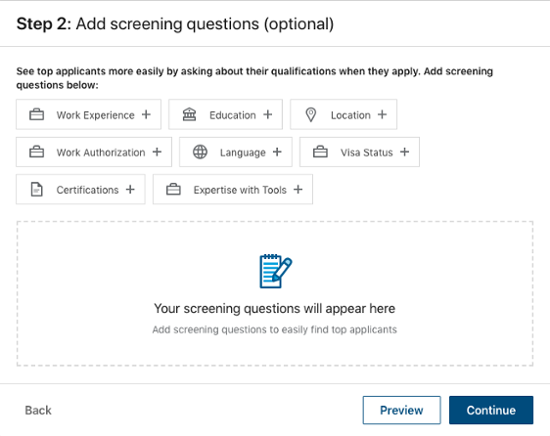 The next section allows you to ask applicants screening questions to filter through and find the best talent.
There's a range of categories available to help you ideate on which questions to ask, like certifications and work experience, visa status (for possible international applicants), geographical location, education, specific areas of expertise, and more.
5. Set Your Ad Budget.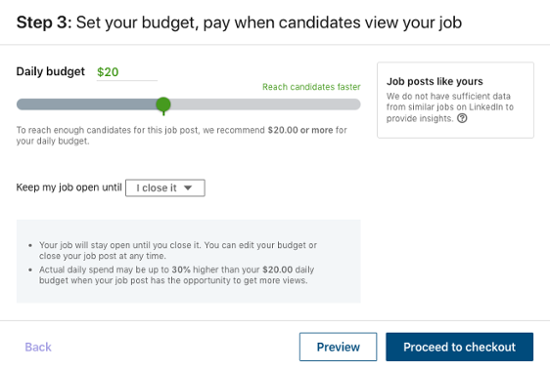 Once you've filled out all the details of the job position, you're almost ready to go! But before you post, you need to set a daily budget to determine how visible you want your ad to be.
You can also decide whether you want the ad to stay active until it reaches it budget limit, or until you close it.
After you've decided on these two factors, you simply proceed to checkout, put in your credit card information to be charged, and then post your job ad!
The Best LinkedIn Job Ads We've Seen
Southeastern Grocers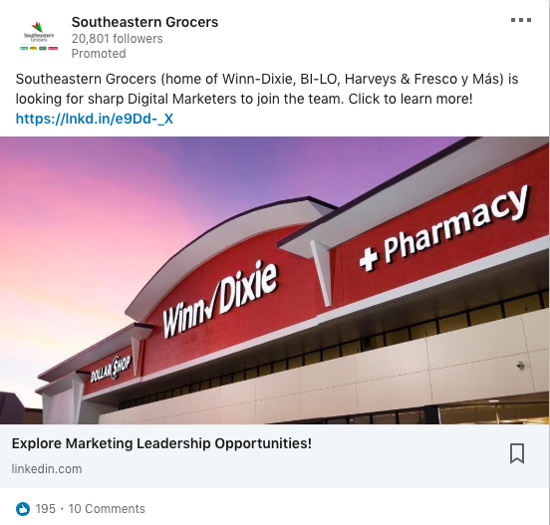 Check out this job ad for a digital marketer at Southeastern Grocers. The company does a number of things well in this ad. For starters, they have a relevant image front and center, which draws the user's eye in.
Next, their description is brief but engaging. By saying "(home of Winn-Dixie, BI-LO, Harveys, and Fresco y Mas)," they clarify a little bit on their company to provide reference for those who may not have heard of them.
Their primary CTA, "Explore Marketing Leadership Opportunities" is motivating and intrigues applicants. They combine exciting language like "Explore" with alluring phrases like "Marketing Leadership Opportunities." This rhetoric draws in top talent who are ambitious in their career.
HBO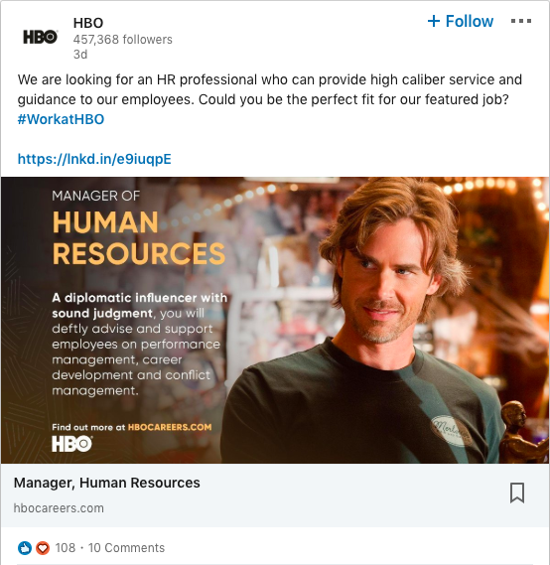 HBO is on the hunt for a manager of human resources, and their LinkedIn job ad is a good start to finding the right candidate. Their copy states exactly the kind of person they're looking for, and they use key phrases like "HR professional" for to boost their searchability.
While they include a photo to attract the attention of viewers, they go a step further by utilizing the image space to include bold, eye-catching text supplemented with additional copy about the position.
This utilization of space and bold text ensures that this ad will catch the attention of people scrolling by.
Amazon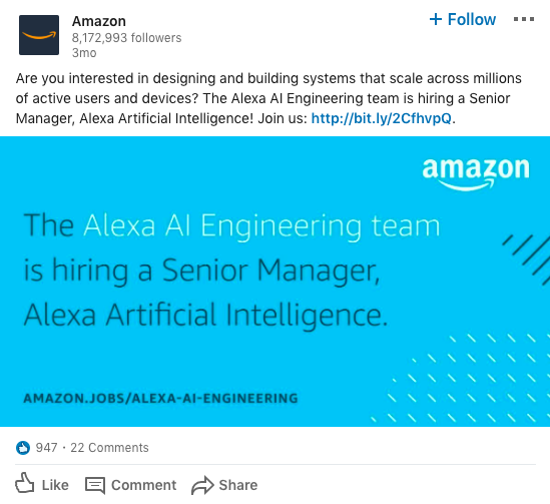 Amazon's job ad looking for an Alexa AI engineering team senior manager is clear and direct. They start with an inspiring question to intrigue potential applicants – "Are you interested in designing and building systems that scale across millions of active users and devices?"
This question implies the massive reach and impact the candidate would be able to make in this role – by being a senior manager of Alexa AI team, they'd be doing work that reaches across the entire globe.
They end with a simple but effective CTA: "Join us" which beckons to job seekers.
While Amazon did not include a photo, the graphic they included features bold text that grabs the user's attention. Even the use of their company logo in the top right corner is well placed – everyone knows Amazon, and people are naturally drawn to the brand name.
Complete Your LinkedIn Recruitment Marketing Strategy
Creating job ads on LinkedIn is just one of the many tools the platform provides to enhance your recruitment marketing strategy.
Make sure you regularly post thought leading content and have a well developed LinkedIn company page for job applicants to look at. Rounding out these aspects will ensure that you have a highly efficient recruitment marketing strategy.