If you're an active business on Facebook, you're not alone.
In fact, there are over 70 million businesses that use Facebook Pages on a monthly basis. What does this mean? Well, depending on your market and location, you are competing for business growth.
Facebook is the #1 social media platform for any business; it allows you to share valuable content with those that "like" your Page, build connections with users, and improve customer service. But, if you've never taken a look at your business's Facebook Page Insights, you're already one step behind everyone else.
What is Facebook Insights?
Facebook Insights is a built-in tool that allows you to see your entire business Page from a bird's eye view and an analytical perspective.
With Insights, you have the ability to monitor the performance of your content and paid promotions, check out your page views and page likes (and how they change over time), and even track follower engagement and responsiveness.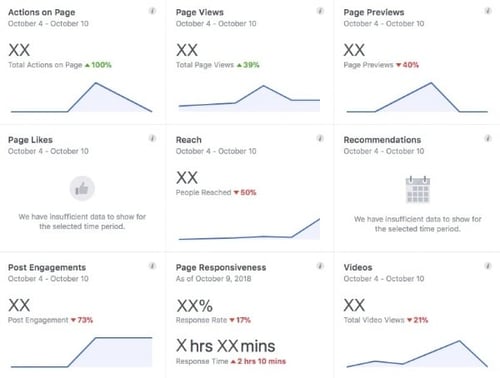 While these insights are definitely an essential tool to analyzing your Facebook marketing strategy, there's another section within Insights that most marketers might overlook because they aren't exactly sure what it does. The Pages to Watch tab is a crucial element to stomping your competitors on Facebook.
What Is Pages to Watch?
Pages to Watch is a tab within Facebook Insights that allows you to compare the performance of your Page and posts with similar Pages on Facebook, including your direct competitors.
What can Pages to Watch show you exactly?
Within the chart, you will be able to see a weekly breakdown of each company you "watch" and:
their total Page likes (and how it changed from the previous week).

the number of posts they published.

the amount of engagement they had – including, likes, comments, and shares.
The companies you "watch" are put in order of total Page likes, from highest to lowest. Depending on who you watch, your business is placed within that ranking to see how you compare with the rest.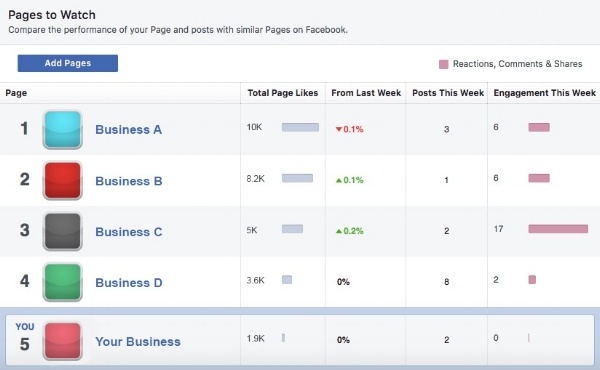 What Pages Should My Business Watch on Facebook?
It is beneficial to watch to watch any business that works in a similar industry as you – especially your competitors.
With Pages to Watch, you can directly compare the performance of the Pages who most likely post similar content and have a similar audience as you. You'll want to see what the high-ranking businesses are doing that are giving them such a high engagement rate or follower count.
While you can only see their performance from a bird's eye view (i.e., from an analytics perspective), you are still able to click on their company name to direct you to their Page. You will want to actively monitor what top-performing business Pages in your industry are posting to find any content topics or content types that seem to perform best with your audience.
You may have never tried posting video content on your Page, but the #1 Page to watch may post three a week and get hundreds of likes – so, you might want to test the waters a little bit.
via GIPHY
When you click "add Pages," you can search for any Page; it might be helpful to start out searching for keywords related to your business to find some top-performing companies you may have never heard of.
It's nice to expand your horizons and find different companies from all over – as you compare their performance, you can find new inspiration for the content you should try posting to see how your audience responds to it.
Facebook even suggests Pages for you to watch based on your location, industry, etc., making the search a little bit easier for you.
How Many Pages Should I Compare My Page To?
This all depends on your business and how you are trying to improve; but my advice for you is to find more business Pages that are performing better than you than ones that are performing worse than you.
Why? So you have something to work toward.
via GIPHY
Every company can always get a little better, so having the data to strive for can push you to post more valuable content for your audience to boost engagement and likes on your Page. If you're following 10 Pages, and you fall in 7th place, that'll just make you work harder to bring yourself to that top 3 spot – even better, #1.
Consistently visit your competitor's and other top-performing Pages to get an idea of content that you should be posting. When you do this, you are running at the same pace as your competition, so you won't be left behind in the dust.
Using Facebook to Build Your Business
In today's society, it's imperative that basically every business – regardless of industry or location – is on Facebook. Implementing a strong Facebook marketing strategy to promote your brand, products, and services and engage with a larger audience can grow your business and boost your revenue.
But you have to start somewhere – and the best way to do that is to compare your performance with other businesses in your industry.
When you do this, you will have a better understanding of what works well, what doesn't, and you will have a better idea of the content your audience resonates with the most. When you develop a marketing strategy for Facebook, don't just look at your own analytics; see how you compare with similar businesses, and strive to go further.