Regular readers of the Bluleadz blog have heard us talk all about HubSpot.
HubSpot – maker of the free HubSpot CRM – is the company that pioneered inbound marketing as we know it. Since its founding in 2006, HubSpot's expertise has touched every aspect of digital marketing. Its best practices have helped a generation of marketers do better work.
But: HubSpot isn't all about technology. No, its greatest asset is its workplace culture.
In fact, HubSpot's workplace culture was recently touted by Business Insider. BI reported HubSpot had been named one of 2018's top places to work by Glassdoor, the site that aggregates employee reviews of their workplace and management.
In a crowded field, HubSpot came in #3 behind only Google and Facebook.
As a leading brand creating a new concept of how marketing can be, HubSpot has faced challenges that would stop other companies dead in their tracks. Its workplace culture allows it to thrive by attracting top talent, then equipping them to do their best work.
Here's what you can do to nail workplace culture like HubSpot has.
1. Let Your Team Members Have Their Voices Heard
via GIPHY
At HubSpot, every team member is expected to be a problem-solver.
While teams need to work together to achieve their goals, there are few requirements for how they get from A to B. As long as they can make a compelling, data-driven case for a course of action, teams can take projects in whatever direction they believe in.
Combined with the "No Door Policy" – everyone in the enterprise has access to everyone else – HubSpot professionals are given the resources and autonomy they need to make a lasting impact. The information employees have access to includes things like:
Financials such as the company's P&L statement and cash balance.
The slide decks and other materials used during board meetings.
The collateral used for management meetings across all teams.
Information on the long-term strategy and market outlook.
Many of these are topics that the "average" business tries to conceal. It's easier for unscrupulous characters to pull one over on the organization when nobody can get at the facts.
HubSpot is different: It embraces transparency. Only legally privileged information and personal details (such as individual compensation) are kept off the radar.
At HubSpot, everyone contributes and everyone sees their work reflected in the final product. That fosters a greater sense of buy-in and accelerates career growth.
2. Clarify Your Values and Let Them Make a Difference
A clear set of values stands at the heart of a productive workplace culture.
At HubSpot, those values are defined by "HEART":
Humble
Adaptable
Empathetic
Remarkable
Transparent
via GIPHY
These might not be the perfect values for your organization, but one thing is for sure: When you work around HubSpot, you see how each of them shapes processes, people, and performance.
Whatever your values are, make sure everybody knows them – and acts on them. In the real world, values inform action: They should do the same for everyone at a business.
Hiring and interviewing should both be performed with core values in mind. Once a new hire has been selected, he or she should get a grounding in company values during onboarding.
3. Deliver an Emphasis on People from the Very Beginning
HubSpot's emphasis on hiring and developing the best talent is reflected in its org chart. It has a Chief People Officer and plenty of room for talent development.
In addition, HubSpot does what it takes to give their talent the resources to excel.
That includes creative programs like:
HubTalks: It's like a TED for HubSpot insiders, given by the leading lights of business.
Free Book Program: At HubSpot, you always have reading material to get even better.
Unlimited Free Meals: Treat someone to a meal, learn something – no expense reports.
Many companies skimp on their investment in people. This leads to higher turnover. Key roles are left empty and the enterprise ends up shouldering the cost of replacing those who jump ship.
The usual rationale for this is investing in people causes them to seek better jobs elsewhere. However, HubSpot doesn't fight the fact that people – especially millennials – make complex choices about their career goals that can cause them to move in different directions.
You may not be able to hold on to people forever, but you can empower them to grow and lead. This not only boosts productivity, but promotes true connection that can create long-lasting loyalty.
4. Focus on Your Best Fit Customers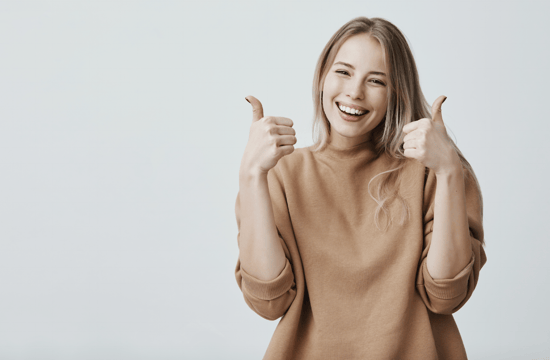 HubSpot may sound quirky, but it's an enterprise with a marketing team and a sales team. It has revenue goals and maybe even sales quotas. It isn't shy about these things – but it approaches them in a way that customers can get behind:
HubSpot only sells to customers it can expect to delight.
Not just satisfy. Not even impress. But delight.
This is reflected in the way the inbound philosophy applies to business:
Inbound marketers understand they're not talking to the whole web, only to their leads.
Inbound sales pros realize not every lead is one that they can provide true excellence to.
Luckily, there are plenty of ways to recognize who your best customers are. Develop rock solid buyer personas, consistently solicit feedback from leads and customers, and use data analytics to pull it all together. Lead scoring is a great way to make the whole process simpler.
5. Borrow Inspiration Brilliantly
If you take an adventure through HubSpot's culture deck – which is available publicly – you'll find one slide in particular that really stands out. It's one of the biggest ideas HubSpot runs on, but it didn't come from HubSpot. It came from Netflix.
It says:
"We are a team, not a family."
"We hire, develop, and cut so we have stars in every position."
When you build a business, you have two options: Reinvent the wheel or stand on the shoulders of giants. HubSpot's founders saw what worked for them and used it, in the same way many inbound marketers will use competitor research to spark their own creative thinking.
6. Ruthlessly Refactor How Your Company Works
Refactoring is a concept that comes from software design.
It refers to making a program more efficient by changing the way it works internally without changing the outputs people actually see. In effect, refactoring helps you revisit your product, smooth out redundancies, and replace old ideas with more effective ones.
Those with a background in project management might think this sounds familiar. It's the basic idea of "continuous process improvement" if you apply it to a whole system. It can make an organization faster and more flexible – which makes everyone's job easier.
Examples of refactoring include:
Eliminating reports that nobody uses.
Cutting meetings that don't enlighten.
Removing rules that aren't necessary.
Automating (and tossing out) processes.
In short, refactoring makes a good thing better. It's vital not to get so attached to the way things are done that you stop imagining how to get to the next level.
If these thoughts resonate with you, we recommend checking out the HubSpot Culture Code. It could help you make your workplace culture one of the best around.