Video marketing has never been more relevant than right now, and its popularity will only continue to grow in the coming years. In today's competitive market, if you're not currently using video to promote your brand, then you're already behind.
Why? Because 87 percent of marketing professionals are already using video as a marketing tool, and it's for a good reason. The average user spends 88 percent more time on a website with video, and people are 95 percent more likely to remember a call to action from a video than from text.
When it comes down to it, video is the most popular form of content on the internet, and you should be using it.
For newbies, video editing may seem like a daunting task. But as long as you have the right tools, it can be an easy (and even fun!) process to promote your business.
There's a wide range of video editing software on the market, beginning with budget friendly, easy-to-use programs for novices, to the more technical programs for advanced video editors.
Let's take a look at some of the best editing software on the market to help you create engaging videos for your brand!
Budget Friendly Video Editing Software for Novices
Even if you're new to video editing, you'll still want to use a quality editing program that provides you with a range of features and room to grow into.
Here's a few different video editing programs that are budget friendly and easy to learn!
iMovie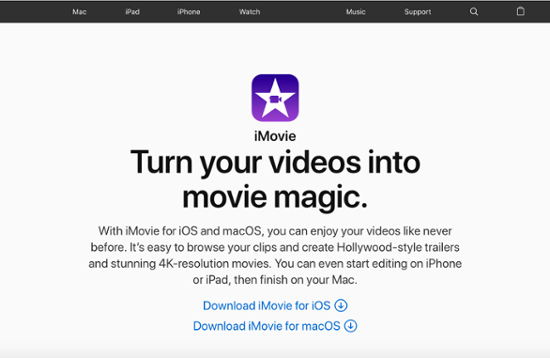 Price: Free!
iMovie is probably the most well known program amongst novice video editors.
It has an easy-to-learn interface while still carrying an abundance of features. It's a great launching point if you're just starting to dip your toe into the world of editing video, and if you've got a Mac, you've already got the software!
Key Features:
HD and 4K video support
Image stabilization
Audio and music editing
Pre-built themes and backdrops
Video effects and transitions
Video clip speed change
Adjustable video color settings
Titling
Static image import
Adobe Premiere Clip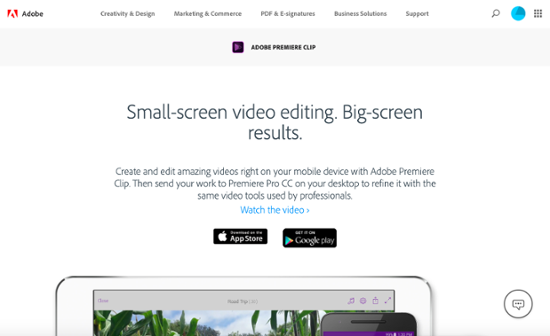 Price: Free!
Adobe Premiere Clip is great for on-the-go mobile editing. If you want to shoot and post lots of content to your social media channels quickly (think Instagram stories for days) right from your phone, then this little powerhouse app is for you.
It's great for vlogs, behind the scenes stories, and keeping your audience updated on what's going on with your brand!
Key Features:
Add titles, transitions, and slo-mo effects
Add music and audio clips to your videos
Adjust lighting
Adobe Premiere Elements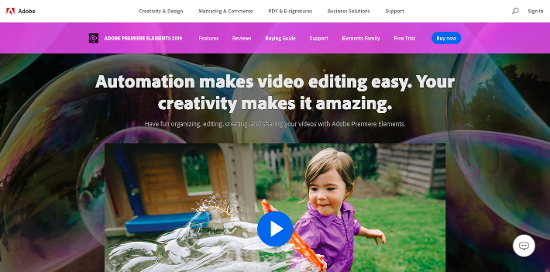 Price: $99.99 flat fee
Adobe Premiere Elements is the scaled down version of Premiere Pro (which we'll get to later on in this post). It's geared towards novice video editors, but still packs the Adobe punch, allowing you to create some quality videos.
If you're just starting out but hoping to grow into using one of the more advanced programs like Premiere Pro, Elements is a good place to start. The program actually provides a step-by-step guide to help you create professional-grade video edits.
Key Features:
Countless effects, including slo-mo, style filters, image stabilization, face detection smart editing, etc.
Guide to smart trimming
Color correction
Lens distortion correction
Titling effects
Advanced Video Editing Software for Experts
As you build your expertise and learn how to edit videos like a pro, you might need to take a step above cheap video editing software. This is where advanced video editing software comes in.
Check out these awesome options:
Adobe Premiere Pro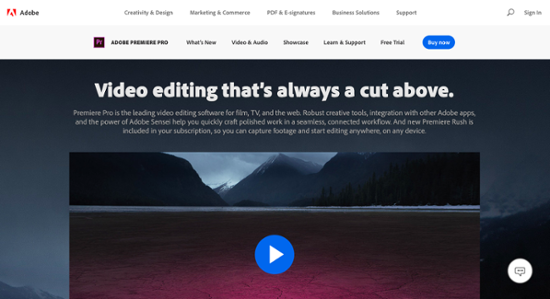 Price: $20.99/month for individuals or $33.00/month for businesses
Adobe Premiere Pro is one of the big dogs of video editing. Used by many video professionals, this editing software is for those who don't mess around when it comes to wanting a cinematic grade end product. As you probably guessed, Premiere Pro has all the features of Elements, plus much, much more.
Key Features:
High grade editing features for color correction, transitioning
Multi-camera editing
Team product edit – allowing different team members to edit the same video file from different computers
Easy interface to navigate
Infographics with motion graphics templates
Plugins for audio, color grading, and effects put out by Adobe and other third parties
Supported by both PC and Mac
Adobe itself comes with its own perks; working within Adobe Creative Cloud allows you to work seamlessly throughout multiple Adobe programs, making it easy to switch between Premiere and After Effects for different editing aspects.
Being an incredibly popular software developer with millions of users, Adobe is constantly updating its programs, ensuring that their products are always top of the line. And if that's not enough, Adobe's tech support community is exceptional, so you'll likely never go with a question left unanswered.
Final Cut Pro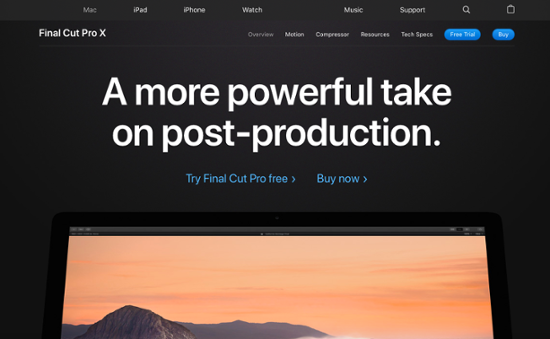 Price: $299.99 flat fee
Final Cut Pro is another powerhouse video editor, and it's often used for its speed. It's known to be extremely user friendly and has advanced tools for someone who might be at a more intermediate level of video editing.
Final Cut Pro doesn't have quite as many fancy features as Premiere, but it can still turn out professional grade videos, and it's a good option for those who want to transition into higher quality, more serious video production.
Key Features:
Includes motion graphics templates, video filters, and video effects
Sound optimization tools
Quick file rendering times
Advanced color grading capabilities
Multi-camera editing
Davinci Resolve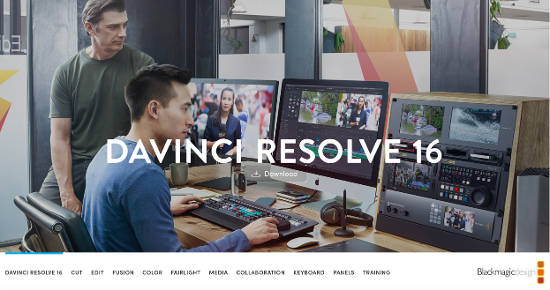 Price: Free!
Davinci carries a lot of the bells and whistles similar to that of Premiere and Final Cut Pro, but it won't cost you a dime. Davinci boasts that it has everything you'll ever need to create content to the quality grade of commercials, TV shows, and even blockbuster films.
It's also known to be easy to learn, with a simple clip trimming tool and live team editing that allows multiple editors to work on the same project at once.
If you're looking for a professional video editing software but don't quite have the budget, check out Davinci!
Key Features:
Exceptional color correction, noise reduction and motion tracking capabilities
Multi-camera editing
Professional quality sound post production
3D tool functionality
4K support
Take Your Video Editing to the Next Level
Don't be intimidated by the world of video editing! There are editing tools available for your unique skill level and budgetary restrictions, so there's nothing holding you back from using video to help you lead your brand successfully into the future.