Industry events are an excellent opportunity to network with an engaged audience and present them with content and resources geared toward their interests. When you're well prepared for these events, you can make a big impact on leads and potentially start them on the road to becoming customers.
That's why trade show marketing is one of the best lead generation strategies you can adopt.
What Is a Trade Show?
A trade show is an event that centers around an industry (or a specific product, service, or other type of solution within an industry). They're great for brands looking to display their products or services and promote them in a personal way to interested potential buyers.
These are not the same as conferences. One of the biggest differentiators between the two is that conferences are open to the public while trade shows are typically open to specific audiences—such as members of a trade association or employees within member organizations.
Who Attends Trade Shows?
Attendees at trade shows are typically representatives from companies within a specific industry, qualified buyers, and salespeople who work within the industry.
Some of the most popular trade shows include:
Depending on your industry, trade shows can pave the road for big wins for your marketing and sales teams. They're a great opportunity to pull in hot, highly engaged leads who are actively looking for a solution to their major challenges.
The Trade Show Experience
From a marketing perspective, the trade show experience can vary greatly depending on the event. Generally speaking, companies are able to set up exhibits in a booth, host presentations, conduct workshops, network with competitors and potential partners, and engage with media outlets.
As an exhibitor, you're hoping to connect with eager leads who can become customers as well as build relationships with influencers in your space.
Attendees are coming to a trade show in hopes of learning about products and services like yours—as well as gaining a better understanding of the industry and its trends as a whole. If your industry hosts a big trade show, setting up a booth can be a great idea.
The Benefits of Trade Shows for Your Business
So, why should your company take part in trade shows? After all, buying a booth can be expensive. Well, as the old saying goes: "You have to spend money to make money." Attending a trade show is an investment in your company's future.
Here are a few of the potential business benefits of trade show attendance.
You Can Conduct Market Research.
These events are some of the best methods for gathering intelligence about the industry, specifically what your competitors are doing. This is why it's important to build some time on the day of the event to walk around the event space.
By visiting competitors' booths, you're able to get a closer look at how their products or services stand out. This helps you see how they compare to your products or services. You can also identify what they're prioritizing in their own marketing.
For example, what features or benefits are they pushing the hardest in their booth graphics or in their interactions at their booth? This is useful information to have—especially if you're scoping out an especially popular competitor to see what they're doing to attract and retain that attention.
You Can Collect Feedback in Real Time for a New Product or Service.
Rolling out a new product or service offering? You can gather real-time feedback by presenting it to your booth visitors. You can hear straight from the horse's mouth.
via GIPHY
Potential customers who visit your booth will explore your new offerings, voice their concerns, and share what they're excited about too. This instant feedback is crucial because it can shape how you update your offerings and how you position your messaging for future campaigns centered around these new products or services.
You Gain Direct Access to Buyers.
Digital marketing consists of a lot of back and forth via the internet, obviously. Sure, you'll have some phone calls and video chats, but nothing beats in-person interaction.
And with trade show marketing, you have direct, face-to-face access to interested parties. By engaging with them in person, you're well-equipped to establish a human connection that can lead to a meaningful relationship, which is the start of potentially closing new customers.
You Can Shorten Your Sales Cycle.
Depending on your industry, you might be subjected to an extended buying cycle. This is especially true when dealing with B2B buyers—as prospects might not be ready for a purchase just yet.
But at trade shows, you're in a position where you can impress leads instantly since they're there in person and are already in a mindset to search for solutions. Plus, you can run specials, like discounts or exclusive freebies, to encourage immediate purchase decisions.
You're Driving Brand Awareness.
Nothing beats making a big splash at an industry event. With the right trade show marketing strategy, you can get your target audience excited about visiting you at your booth.
This is why booth design and pre-show planning is so important. You can leverage your contact database to directly invite your current leads to visit you, and you can also capture the attention of passersbys with eye-catching branded visuals.
With the right plan in place, you will wow people on the day of the event and stick in their mind for months after.
20 Trade Show Marketing Ideas Worth Trying
Trade show marketing is a subtopic associated with event marketing. It refers to the process of showcasing your company and your offerings at a trade show.
This marketing channel is especially beneficial because you're interacting with people who actively registered to attend. In other words, they're already engaged in their personal buyer journey seeking out brands and solutions.
To make the most of a trade show, you need a comprehensive trade show marketing strategy. Here are some tips and ideas for preparing for the show, hosting visitors at your booth, and following up with new leads and customers after the event.
Before the Trade Show
During the Trade Show
After the Trade Show
Trade Show Marketing Examples
No matter the industry, marketers get creative with their trade show displays. Here are some of the best trade show marketing examples we've seen over the years.
Alienware – #Alphatour
To stand out at ComicCon, the computer hardware company Alienware installed an Instagram photo wall in their booth.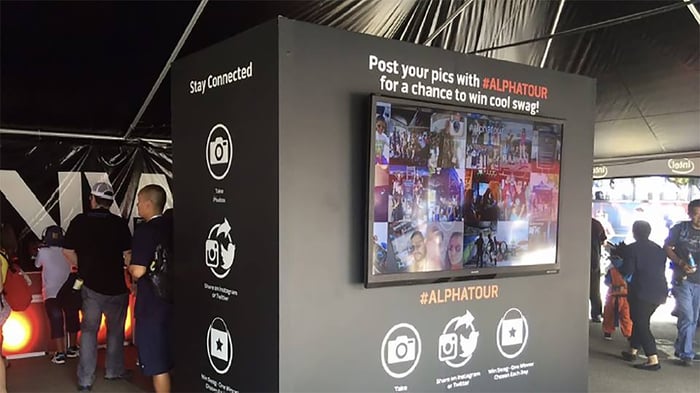 Source: Facebook

Visitors walked by a wall and found an opportunity to take photos on the social media juggernaut, using a branded hashtag. They did a great job of incentivizing social media engagement.
SplashTacular – Water Slide Booth
As a leading name in water slide manufacturing, SplashTacular made a splash (sorry for the terrible pun) at the World Waterpark Association (WWA) Symposium & Trade Show. They created a booth to mimic the experience of going through a water slide, which really grabbed the attention of attendees.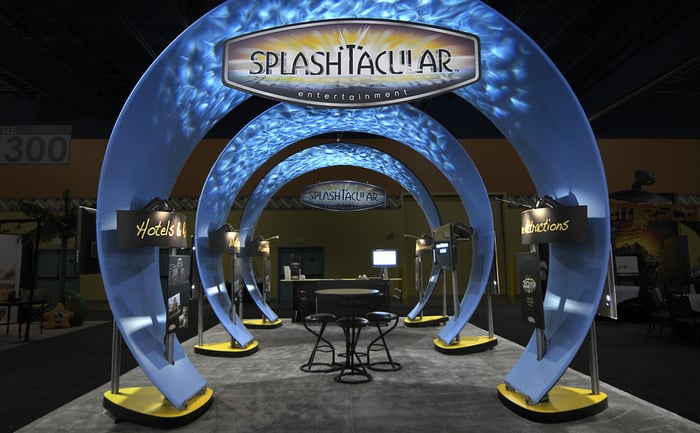 Source: Skyline
LED projectors simulated the reflections of water on cylindrical structures, which created the illusion of going through a water slide. Overall, this is a great way to build brand awareness and make a memorable impression on attendees.
Digitize Designs — Reverse Engineering Display at FABTECH
One way to really grab an event attendee's attention is to create a practical, live display of your product's capabilities that they can see right on the event floor. That's what Digitize Designs, a 3D scanning solutions provider, did at FABTECH.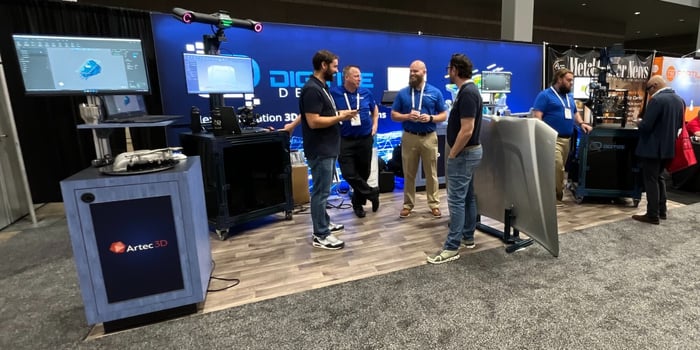 Source: LinkedIn
Their booth highlighted a set of cutting-edge scanners with 3D modeling software that could be used to analyze products and materials for potential reverse-engineering capabilities. By putting on a practical display, Digitize Designs was able to stand out and make a strong impression on booth visitors.
Is Trade Show Marketing Right for You?
Conduct research in your industry to see if trade show marketing makes sense for your company. If you have an event where highly qualified leads are getting together, jump at that opportunity!