Twitter, the social media channel that's notorious for its brief 140 character limit, may see a huge transformation in 2016 regarding how users and businesses publish content. Twitter announced that they're working on a change for this 'short and sweet' style of social media content: increasing the character limit to 10,000 characters. This will drastically change the way marketers use Twitter as a tool.
Twitter's CEO and cofounder, Jack Dorsey, announced the development via a long-form tweet of his own. In his tweet, Dorsey states that Twitter wasn't originally created with the idea of a character limit, but rather added this restriction so tweets would be easily read from a single SMS message. Below is the actual tweet from Jack: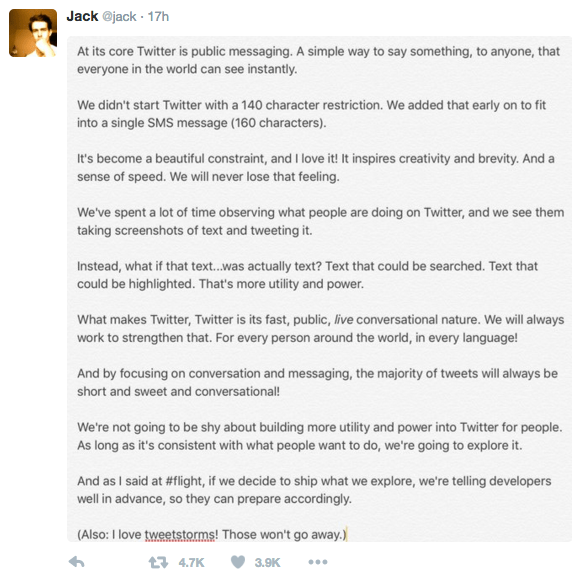 There's an inevitable transformation that's going to happen with the way marketers use and interact with Twitter. The 140-character limit has been around since Twitter's earliest days. With this exciting change, here's what marketers can expect:
1. More Words, More Filler
One of the cool aspects about Twitter was its ability show you pertinent information quickly. Fluff is never an option. With this new development, marketers are going to be able to stuff a lot more keywords and hashtags into posts, making them more convoluted and less to the point.
2. Marketers will Unleash
You can expect more content to come from different marketing agencies and companies, because they'll see this change as more of an opportunity to brand themselves. With this longer limit, don't be surprised if you start to see more blog-like posts uploaded on Twitter regularly. Expect to sift through more long-winded content from marketers that are trying to take advantage of this update.
3. Less Engagement
Reading a tweet today is quick - therefore, you're able to read and engage with more of them. Having to plow through pictures and paragraphs of content means you're not as likely to share as much as you would before.
4. Beware of Spam
Twitter says that they have a plan to address the impending spam problem this update will bring, but at least some instances are likely to arise - especially considering that they already do. To solve this problem, Twitter may cap the number of people that can be tagged in a single tweet.
This new update comes after a string of other Twitter updates - such as Twitter Polls and Moments - so we'll likely experience more changes this year. We can expect the character expansion update to unveil at the end of Q1 of this year, so have your social media strategy ready.