Increased website traffic is one of the biggest indicators that your business is on the path to success. But how do you drive traffic to your website? And more importantly, how do you make sure it's the right traffic?
While heavy website traffic is great, it means nothing unless it consists of your target audience, which allows you to convert visitors into customers.
Unfortunately, improving site traffic isn't as easy as flicking a switch to open the floodgates – it requires time, effort, and commitment. But the good news is that there are plenty of different ways to not just generate traffic, but generate the right traffic.
5 Reasons Your Website Traffic Might Be Low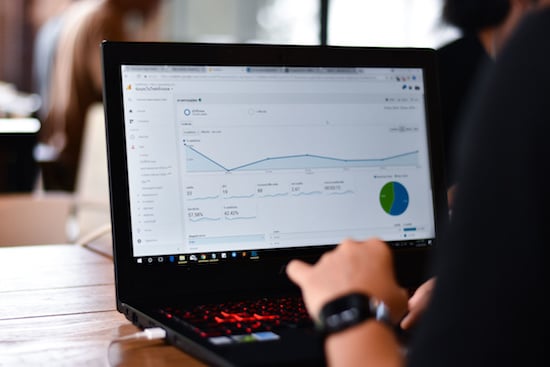 Website traffic, like it or not, doesn't come naturally. There are a number of reasons why you might not be driving enough traffic to your site – and how Google ranks your pages is definitely one of them.
Not Paying Enough Attention to SEO
Search engine optimization plays a huge factor in how your business performs online and how often your business is seen in search results.
If you're one of "those people" that believes SEO is a myth and that paying close attention to keywords and link building is a waste of time, you're only wasting your time.
Want proof? Perform a Technical SEO Audit to see where you can improve, or let us do it for you.
Duplicate Content
Duplicate content, whether harmless or not, can heavily impact your search rankings. Search engines aren't sure which one to trust, which can hurt your overall authority and link equity. Each URL on your site should have original, unique content that won't get flagged for duplication.
Slow Page Load Speed
Society today definitely has that "I want it now" mentality. This instant gratification rule applies even online, so if your website is running even just a little slow, you're sure to lose site visitors to some place else.
Bad Backlinking
Buying backlinks, random backlinking, and link stuffing are huge red flags for SEO and surely won't go well when it comes to gathering website traffic. Google and other search engines will penalize these black hat backlinking techniques.
Not Publishing Enough Content
Writing quality content is definitely an important factor in SEO and increasing website traffic. The more you post, the more opportunity you give your company to get found online. But, if you publish two blogs and think your website traffic will shoot through the roof, you're sadly mistaken.
Why Getting the Right People to Your Website Is So Important
While having high website traffic is great, it's important to direct the right people to your page.
The traffic you attract should ultimately align with your targeted buyer personas. You need visitors who will find value in your services and enter into your sales funnel – becoming leads, then prospects, then converted customers.
If your website receives a lot of traffic from people who aren't actually interested in your product or services, then that traffic is essentially useless to you. There's no point in having lots of traffic if it doesn't actually bring you business.
As your traffic increases, your ROI should increase too. Keep track of this metric to ensure that you're attracting the right audience to your website.
How To Check How Many Visits a Website Gets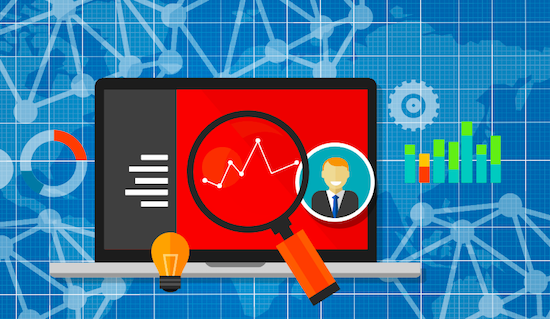 Now that you know the importance of website traffic (and the good kind of website traffic), you're probably stressing if you aren't already sure how much traffic your website is bringing you.
No need to worry!
There are actually a bunch of great tools that are available to use if you're looking to monitor the traffic coming to your site.
Here are some of our favorites.
Your Website Software Analytics (HubSpot)
Most likely, the software you run your website off of features some sort of analytics breakdown when it comes to website sessions.
Since we use HubSpot, we always keep a close eye on our sessions graph to monitor and track spikes or drops in traffic. Here is an example of what the sessions graph looks like in our dashboard:

HubSpot easily color codes the graph to show various traffic sources all in one place – plus, you can easily toggle on and off which sources you want to show in the graph.
When using this tool, you can create custom time ranges to track how traffic changes – we like to analyze our quarterly traffic and yearly traffic to see how our efforts are affecting the traffic we bring in.
Google Analytics
This free tool should be your best friend. And, if you already have a website, it'll take all the guessing and questioning out of the picture!
Google Analytics can provide you with nearly accurate traffic numbers and can analyze everything from sessions and page views to number of users and unique users coming to your site.
To start analyzing your site's traffic, sign up for Google Analytics, add a tracking code to your website, and voila! Within hours, you'll be able to start monitoring your website performance.
Ahrefs
We are huge fans of Ahrefs over here – we utilize this tool for anything and everything, from competitor analysis to keyword research and link prospecting.
With Ahrefs, you can gather big-picture insights into how much organic traffic your website is getting, as well as how much traffic every keyword on your website brings in.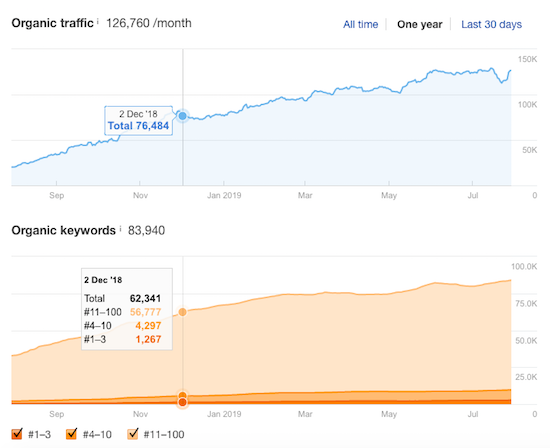 SimilarWeb
SimilarWeb is even approved by Ahrefs, so naturally we like it too!
What we like about it is that you can get a better idea of the total traffic your website is getting, not just organic traffic from search engines results.
Here is an overview of Ahrefs' website (as of July 2018):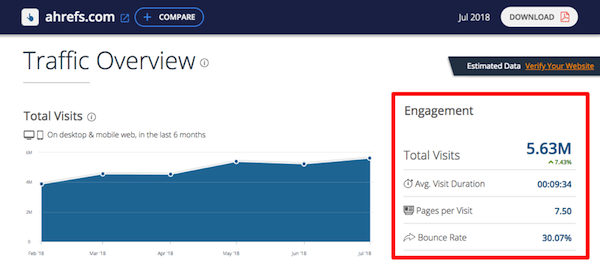 Source: Ahrefs
As you can see, SimilarWeb can break down your engagement by total visits, average visit duration, pages per visit, and even bounce rate.
As you continue to scroll through the results, you can analyze traffic by country, traffic source, and even top organic keywords.
While this tool isn't free, it can still bring a lot of use to your team... so we encourage you to try it out!
Free Ways to Increase Website Traffic
While driving traffic to your site is not a guarantee (sad, I know), there are still plenty of techniques you can try to get your brand name out there and encourage visitors to check out your website.
Plus, you don't even have to pay to boost traffic!
Here are 25 tips and techniques to try to get more traffic organically.
1. Create More Content.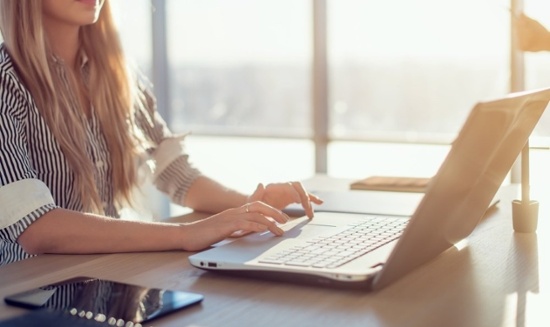 Content can help fuel the traffic fire and bring more people to your site. In fact, companies that blog receive 55 percent more visitors to their websites over companies that don't.
When you create and publish more content, you are adding more unique URLs to your website, thus increasing your chances of getting found online.
2. Vary Your Content.
It's important that the content you do write and publish on your website varies – if you always write about the same thing, in the same tone, in the same format, readers will get bored and probably won't come back to your blog.
Switch up the types of content you write and the length of your posts. Consider how-to articles, listicles, curated pieces, Q&As, and more to spice things up.
3. Write Long-Form Articles.
Speaking of post length, long-form content performs really well. According to research, they tend to rank better, get more links, and even convert better over shorter content.
This is why you should add long-form articles to your content strategy. In doing so, you're not only providing readers with a more comprehensive, detailed piece, but you're also probably going to rank for more keywords (which means potential rank increase!).
4. Historically Optimize Outdated Content and Promote It As New.
Don't let your old content fall by the wayside! Just because it might be a little outdated doesn't mean you should kick it to the curb. Revamp your old content to inject more value into it, and promote it as new, fresh material.
The good thing about republishing old content is that you don't have to lose the link juice the URL already has – rather, you can add more detail to the piece using proper keyword research and intent, republish, and add more value to your existing content.
Not sure if this really works? We tried it – and crushed our own expectations.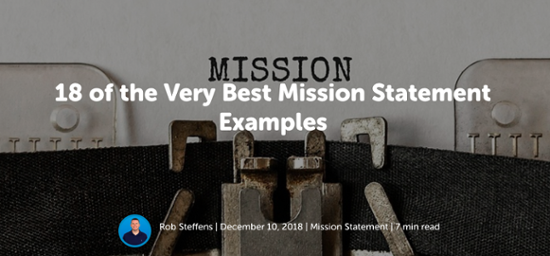 In December 2018, we re-worked and republished an article on mission statements that was originally published in April. The article started gaining traction in August, and we saw an opportunity to make necessary adjustments and add more value.
In April 2019, the post received 24,666 views, a 1000% increase from August 2018, when the article first started spiking in traffic.
5. Make Those Headlines Enticing.
There's a lot of competition in the search results nowadays. You may think you wrote the most original, kickass blog article in the world, but more than likely someone else has written something just as similar.
This is why initial attraction is super important – you want to grab your readers' attention and make them want to click your article over the next.
Headlines can make or break whether or not someone reads your blog post. An enticing headline can draw visitors in, but a bland one can just as easily drive them away.
Write out multiple headlines for each blog post before you settle on a final one. Make sure you include a keyword in your headlines (both titles and H2s within your post) to rank for relevant search queries.
Once you've got a list of potential headlines, test them out in CoSchedule's headline analyzer, which determines how impactful your headlines will be for search and traffic results.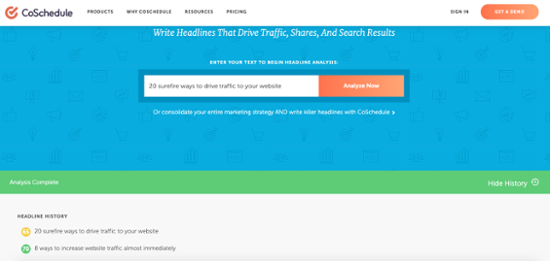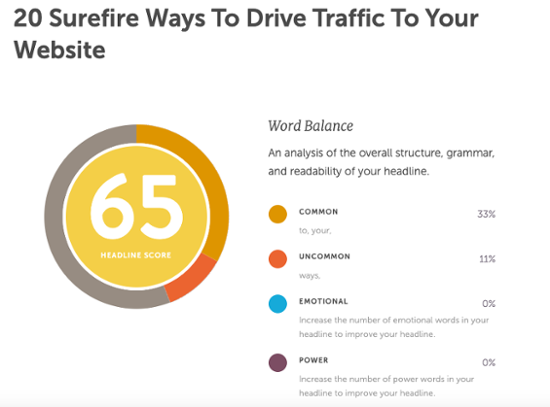 Simply plug your headline into the search bar and CoSchedule will give you a number score based on the quality of words and phrases that comprise it. The tool will keep a list of your headline scores right on the page so you can compare all of them.
6. Become a Kickass Guest Blogger.
The benefits of guest blogging are twofold. Similar to the benefits of partnering with a popular influencer, the audience of the primary blog will be introduced to you and your company. Your business will gain valuable exposure, and it can drive traffic to your website.
Additionally, your website will receive a backlink on an already highly trafficked site (assuming you're guest writing for a popularly read blog), which will improve your SEO rankings.
Danny Iny has often been referred to as "the Freddy Krueger of blogging." Back when he was just launching his business, Mirasee, he started guest blogging for a bunch of different popular sites, and it directed traffic back to his own.


His very first guest post was for Copyblogger, a website dedicated to providing online marketing tools and information.
The post, "38 Critical Books Every Blogger Needs to Read," received a lot of engagement, and Danny's author byline then directed that heavy traffic back to his website and helped drive his company to be the successful business it is today.
7. Accept Guest Blogs on Your Own Website.
On the other end of the spectrum, your business could also start accepting and publishing guest posts on your company's website.
Keep a close eye on who is guest blogging for you – it's best to only accept professional writers who are well-known or educated about your specific niche.
When you publish guest blogs on your site, authors will most likely share the article to their own website or social channels, encouraging their followers to check it out. This means more visitors will come to your site to read it!
8. Incorporate LSI Keywords to Boost SEO.
LSI (latent semantic indexing) keywords are terms similar to that of your primary keyword.
Ranking for LSI keywords allows your content to reach a wider audience by appearing in multiple search queries similar to your primary keyword. The more search results you rank for, the more website traffic you'll receive.
For example, say your primary keyword is "dog training." Your LSI keywords would probably include "how to train your dog," "dog training for beginners," and "dog training tips."
At Bluleadz, we write our blog posts with LSI keywords in mind. Check out the beginning of this post about fluff writing: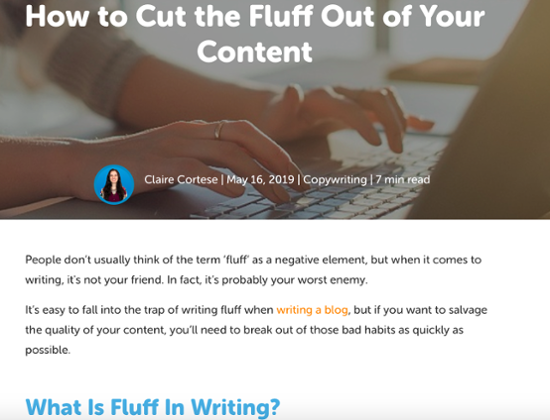 The primary keyword for this blog post was "writing fluff." Additionally, our research revealed that one of the LSI keywords was "fluff in writing."
While it's similar to the primary keyword, it's not the exact same, and people looking for information on this topic may use the LSI keyword in their search term instead of the primary one.
Notice that H2 tag in the blog post? That's right, we threw the LSI keyword in there. Putting keywords in your headers is a great way to make them stand out to search engines, and thus boost your SEO.
9. Showcase Your Best Content Via Newsletters.
Newsletters are a great way to keep your contacts interested in your products and services, so they continually return to your site. Showcasing your best content in a weekly or monthly newsletter can refresh stale accounts and get readers hooked on your best material.
Include material like your top performing blog posts, free ebooks and online tools, and even commentary on the latest industry news.
Check out Moz's Top 10 newsletter: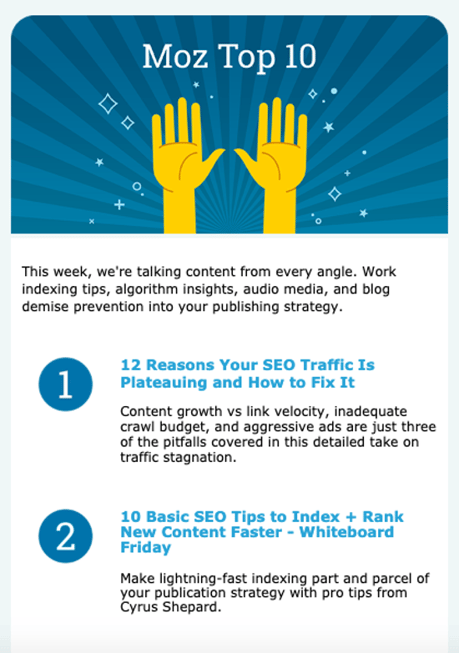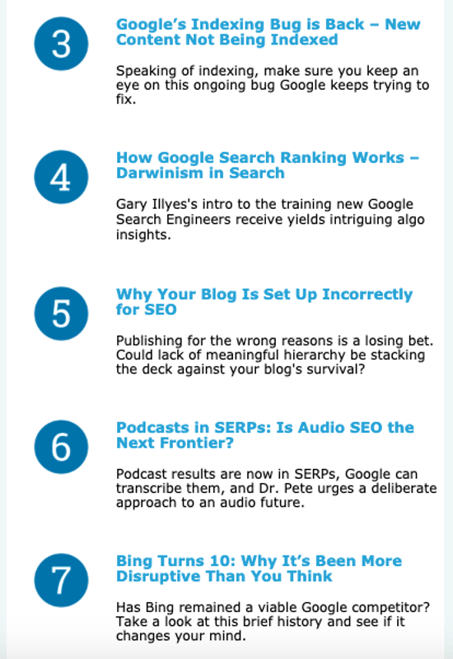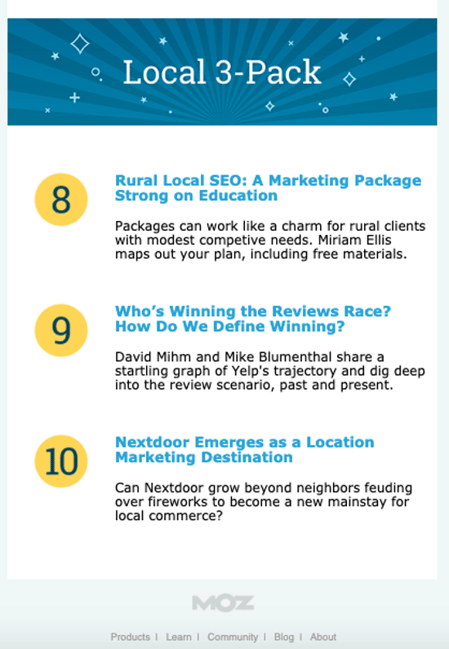 They include a number of their most relevant, top performing blog posts, as well as articles discussing industry news like Google's indexing bug and Bing's 10 year anniversary. This displays to their readers that they are at the forefront of the latest developments within their industry.
10. Use Personalization in Email Campaigns.
People are far more likely to pay attention to an email they feel is specifically relevant to them. They don't want to feel like a number amongst many.
Personalize your email campaign so each recipient feels like you wrote the message directly for them. Use their name, include "you" language, and even record a video voicemail to include in the email!
Personalizing your email campaigns will increase your email open rate and thus drive more traffic to your website.
Check out this email I received from Jessica at CoSchedule, offering me a free marketing calendar template: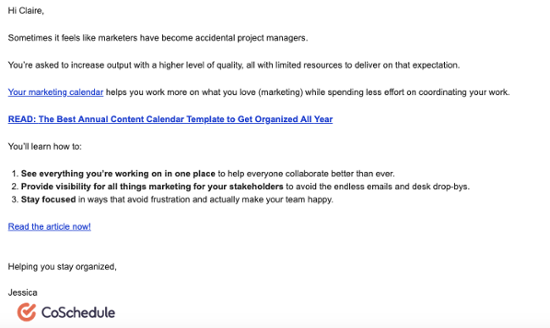 By starting the message with a direct use of my name ("Hi Claire"), this email immediately grabbed my attention in my inbox and prompted me to open it. I always open the emails directly addressed to me before anything else.
11. Follow On-Page SEO Best Practices.
If we haven't already told you before, SEO is one of the most valuable tools your business should take advantage of in order to improve your rank in the search results and drive traffic to your website.
With that said, make sure you heavily research some of the best on-page SEO tips and tricks you should be using across your website.
This includes using proper primary and secondary keywords throughout your content, in your titles, meta description, anchor text, headers, and even in image alt text (refer back to #8 for more on keywords).
12. Take Advantage of Free SEO Tools.
With SEO, there's a lot to learn and comprehend before you can actually get started. Keyword research can be a daunting, annoying task, but the payoff is usually always worth it.
Luckily, there are tons of free SEO tools at your disposal – so why aren't you already using them!
The most notable one your business should be taking advantage of is Google Search Console. Formerly known as Google Webmaster Tools, Google Search Console can help you monitor your overall website performance, broken down my clicks, impressions, and even refined by pages, devices, query, and more.
If you are looking for more advanced tools, it will cost you a little extra. Some of our favorites include:
Ahrefs
Moz Pro
Majestic SEO
13. Make Social Media Marketing More Than an Afterthought.
If you don't have a social media marketing plan, you need to get one, like, yesterday. Set up company profiles on Facebook, Twitter, Instagram, and LinkedIn, and start actively engaging with your audience on these platforms.
Social media marketing creates conversations between you and your audience and builds brand loyalty. You can use your social media channels to drive traffic directly to your website to bring in more leads and convert more prospects.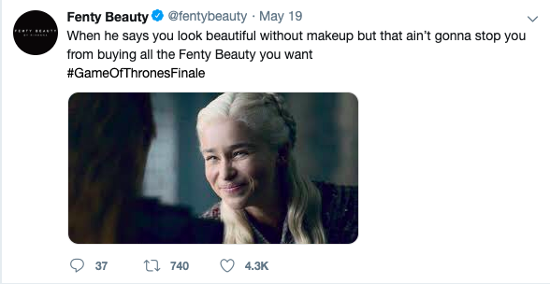 If you're looking for a good example of a successful social media page, check out Fenty Beauty's Twitter.
This makeup company knows exactly how to converse with their customers in their language. They post relevant, topical memes, like this one from the recent Game of Thrones finale. Additionally, they also share and retweet a lot of user-generated content, which creates even stronger brand loyalty.
Check out the feedback on that tweet above – 4,300 likes, and 740 retweets. Their tweet has been shared on 740 other Twitter pages – if that kind of engagement doesn't get more website traffic, I don't know what will.
14. Use Hashtags on Social.
Hashtags are a quick and easy way to get discovered on social media – so you shouldn't be leaving them out in your social posts!
When you utilize hashtags on social media, your posts and account can be found by users searching for related terms.
Remember to follow hashtag do's and don'ts, including:
DON'T over-hashtag.
DO include relevant hashtags for your company/industry.
DO proper hashtag research beforehand.
DON'T use overly common hashtags.
15. Stop Ignoring Your Comments Section.
Engaging in conversation with your audience is an impactful contributor to boosting website traffic. When people comment on your blogs and social media posts, respond to them!
Whether you're addressing a complaint, answering a question, or simply thanking them for their positive feedback, conversing with your audience is one of the best ways to keep them engaged in your content and with your brand.
Moz does a great job of responding to comments on their blog posts, even if it's just to say thank you for positive feedback. Check out how blog author Miriam Ellis responds to comments on her blog post about one of Moz's new features.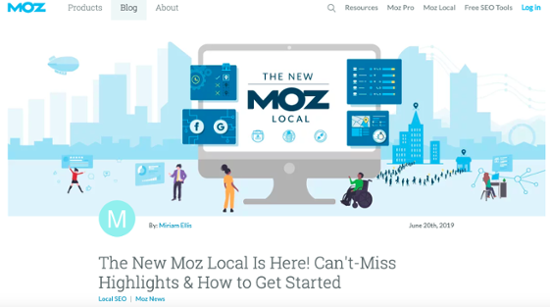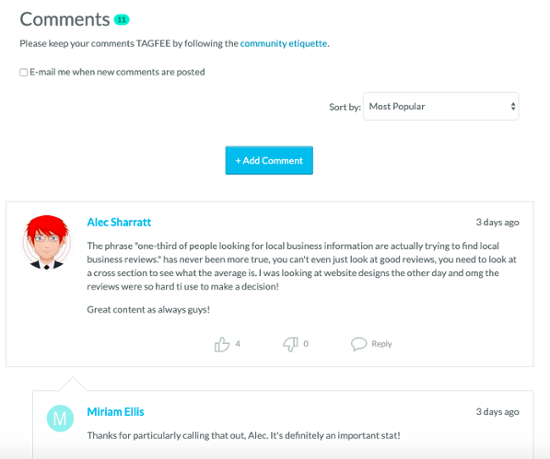 Miriam's response is prompt, friendly, and directly personalized to Alec's particular comment.
Even simple responses like her's makes the commenter feel like his feedback is valued, and thus he'll likely return to read more of her blog posts and continue engagement.
16. Get in Front of the Camera.
Video has taken the marketing world by storm, and for your sake, I hope you already have a video marketing strategy in place, or at the very least mapped out.
As the most easily consumable content on the internet, this is one of the best ways to engage your target audience and drive them toward your website.
There are numerous ways for you to use video to boost website traffic. You can create a YouTube or Vimeo channel and start a vlog, you can use video in your email marketing campaigns, and you can post quick videos to your social media channels.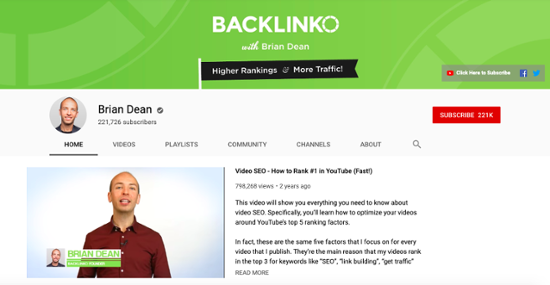 Brian Dean, founder of Backlinko, runs a successful YouTube channel focused on marketing topics. He's managed to gather a following of over 200,000 subscribers. Viewers who find value in his video content will likely visit his website as well in search of additional materials, tips, and tools.
17. Engage In Online Communities While Being Transparent.
Online community hubs like Quora and Reddit are a great place to engage in conversations with people. Find a relevant subcategory and share knowledge about your area of expertise.
That being said, be careful not to spam these communities – they don't take kindly to those who try to sneak in solely to promote their business.
Be transparent about your motivations, but provide information that the other members find valuable and useful.
Check out this thread on Quora in which someone asked, "What does 'hypergrowth' mean?"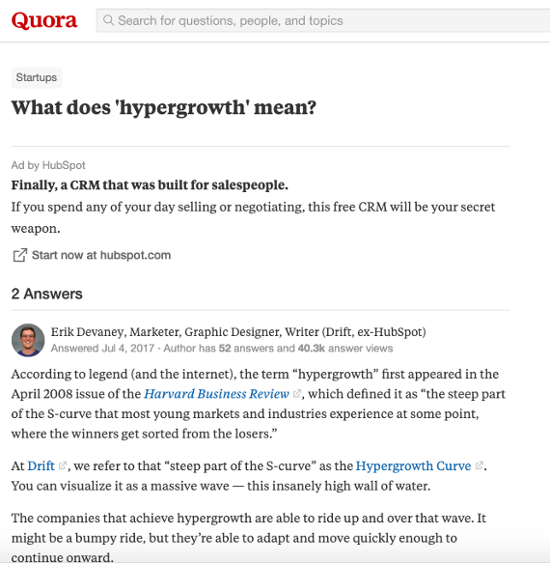 This question has two answers, and the top one is from a marketing professional named Erik Devaney who works at Drift, a conversational marketing platform. Erik discusses Drift in a useful way, and at the bottom of his response, links to a blog post that he wrote on the subject to provide more information for readers.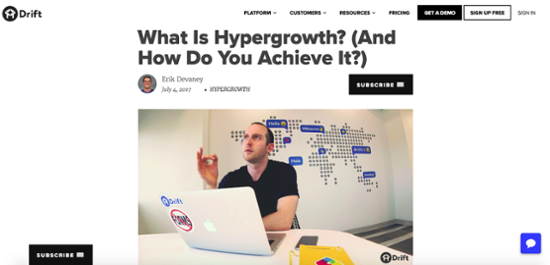 By providing information from his blog post in his Quora answer and linking back to it, Erik drives traffic from Quora to Drift's page.
It's important to note that Erik is completely transparent in his response – he states in his profile header that he is a "marketer, graphic designer, and writer" at Drift, so people know they are getting information from an industry expert on this topic.
18. Distribute Interactive Content.
Consumers love interactive content that allows them to engage with their brands.
Sending out content like games, polls, and quizzes to your audience is a great way for them to engage with your brand in a fun, memorable way. People support brands that they enjoy, so this kind of content will attract more visitors.
Try posting a fun quiz on your social media channels like Twitter or Facebook.
Any regular user will likely have experience with BuzzFeed – ah yes, we all love a good BuzzFeed quiz when it comes time to be distracted from doing actual work.
Want to know what kind of cheese you'd be? BuzzFeed has a quiz for it. Want to know at what point you'd be killed off in a horror movie? I bet there's a quiz on there for that too.
People know and remember BuzzFeed because their content encourages excited, active engagement from their audience. And to add onto that, the content reaches a massive audience as it gets spread between friends, colleagues, and relatives, because everyone loves a fun quiz.
19. Conduct Contests and Giveaways.
If there's anything that consumers love more than quizzes and games, it's contests and giveaways.
I'm pretty sure people can hear the phrase "free stuff" from miles away, and they always come running. Use your social media channels to conduct contests and giveaways for free products.
Have them follow and share your contest to enter, or sign up with their email on your website. This is a great way to drive traffic to your page and grow your contact list at the same time.
Automobile company Dodge found an exciting way to boost brand awareness with a giveaway by launching a real life scavenger hunt.
They hid three brand new Dodge Journeys throughout the United States and told customers if they found them, they could keep them. Over the course of a day, the company released clues to help guide people in the right direction. All three were found – helloooo free car!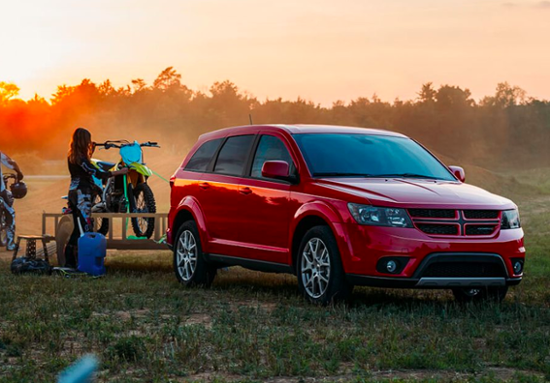 Source: Dodge
20. Dive Into the Podcast World.
Appearing as a guest on a podcast is another a great way to gain exposure and drive traffic to your website. Just as with guest blogging and social media followers though, you should make sure that the podcast you appear on holds relevance to you and your brand.
Find a podcast that your target audience listens to, and reach out to the host!
Take professional podcast The How of Business, for example. It targets an audience of aspiring entrepreneurs who are looking to own their own business.

Source: The HOW of Business
The podcast often features successful entrepreneurs and business owners as guest speakers, who are willing to share their knowledge and experiences.
For example, the podcast featured Ruth Soukup, author of Do It Scared: Finding the Courage to Face Your Fears, Overcome Obstacles, and Create a Life You Love for an episode on overcoming fear in your business ventures.
This guest appearance on their podcast will have been beneficial for Ruth, as it increases exposure by introducing her book to her target readership. Those who found this podcast episode particularly insightful are likely to go and buy her book afterward for further learning.
21. Syndicate Your Content.
Content syndication involves publishing your articles or blog posts to a third party website.
If you're publishing on a popular, highly trafficked site, you can tap into their audience and direct attention to your brand. It's also another great way to establish yourself as a thought leader by reaching a wider audience.
There are plenty of third party websites that are willing to publish quality content from various contributing writers on a wide stretch of topics. Take media platform Medium for example: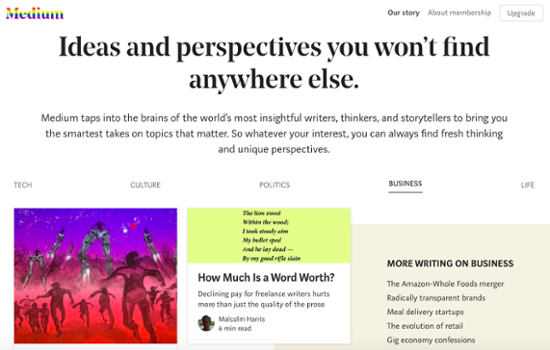 Medium publishes articles on topics from business, to art and culture, to science, and more. While you're not specifically allowed to market yourself or your company within your articles that they publish, it still generates great name and brand awareness by accessing their audience group.
22. Leverage Industry Thought Leaders.
Put together a list of the top thought leaders in your industry, and reach out to them asking for an interview! The worst they can say is no, but there's a chance that you will get some positive responses.
Posting the interview on your blog will bring in traffic from the thought leader's audience. Additionally, they'll likely share your content on their own channels, which will further the reach to a much greater expanse of readers.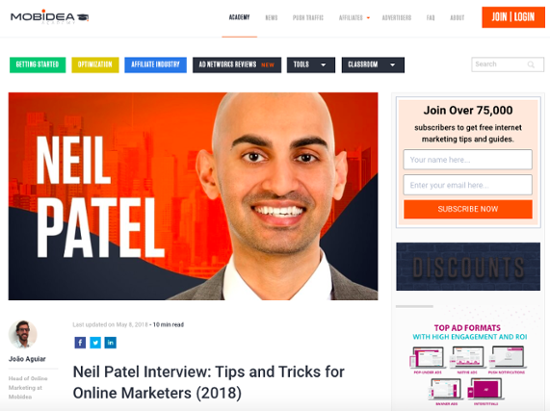 Mobidea, the mobile affiliate network, interviewed marketing and SEO thought leader Neil Patel to put together a list of tips and tricks for online marketers. Marketing professionals looking for advice from this industry expert will now navigate to Mobidea's website to find the knowledge they're seeking.
23. Host Events.
Hosting an event is a great way to generate traffic and brand exposure.
It doesn't necessarily have to be a physical, in-person event to make an impact. You can host a webinar discussing important topics within your industry and how your company plays a role in this area of expertise.
Host the webinar on your social media channels, like a live stream Facebook video. You can then direct the viewers to your website to learn more after the webinar.
Take a look at this YouTube webinar by Marketo, focused on providing an introduction to content marketing for its audience.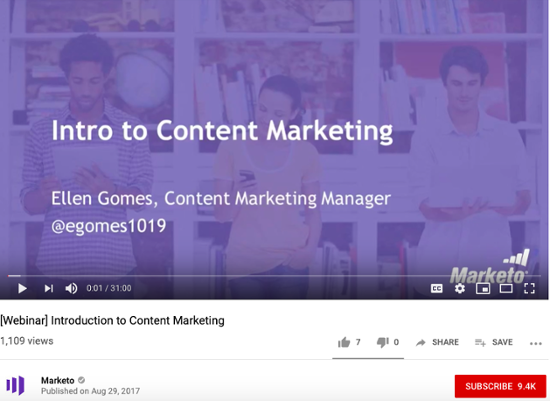 Source: YouTube
Lead by Marketo content marketing manager Ellen Gomes, the webinar runs through a lot of important information that you need to develop a successful content marketing strategy – and why you need one in the first place.
Throughout the webinar, Ellen uses Marketo's software to provide examples of content management and analysis. She doesn't specifically promote the software or try to sell it to her audience – she simply creates brand exposure by displaying its relevance to this topic and how useful it can be.
After watching this webinar and seeing how useful Marketo is when it comes to content management, audience members will likely navigate to Marketo's website to learn more about the tool.
24. Create a Link Building Strategy.
Backlinks are one of those valuable golden nuggets of premium SEO.
While search engines love a good bundle of backlinks (think about all that SEO juice passed from their page to yours), they also drive referral traffic to your website. This kind of traffic is high quality, as it's usually composed of relevant leads who are interested in your products and services.
One of the best ways to earn backlinks is to simply reach out to relevant companies and bloggers to present your case – explain how referring to your business would bring value to their content.
Ask them if they would consider including a link to your product or service in their blog post, and share the ways in which you could create a mutually beneficial referral partnership.
Take a look at this email I received from a fellow marketing professional: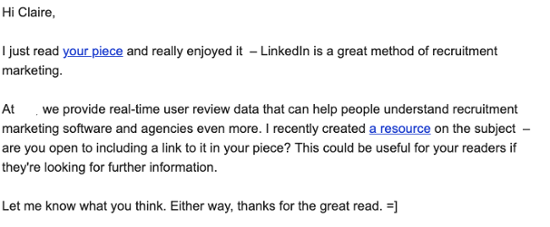 He opened the email by addressing me by name, which grabbed my attention. He then referenced my article and gave me some positive feedback. Then, he moved into context about his company's relevance to my article, and how his resource could provide value to my post.
He ended the email on a positive, friendly note. Even if I decide that his resource is not specifically relevant to include in my blog post, he still will have drawn in more readership to his site by prompting me to read his article through email.
25. Create a Free Google My Business Listing.
Google My Business is a free tool businesses can utilize to manage their online presence on Google, including Search and Maps.
Creating a Google My Business listing will help you boost your search visibility and potentially help you increase traffic to your website.
Not only can you track the traffic coming to your site, but you can also gather insights on the customers visiting your site. This is a very useful tool to analyze if the buyer personas and audience you're targeting falls in line with the visitors you're actually attracting.
Businesses with a complete Google My Business account receive 7X more clicks – so why wouldn't you do it?
Paid Ways to Increase Traffic to Your Website
Luckily, you don't have to sit back and hope your traffic will increase organically – you can try a few paid options to getting your website found and driving more traffic to your company.
26. Invest in Paid Search Ads.
Your placement on search engine results pages is a big factor in determining how much web traffic you receive. With that said, investing in paid search ads can jump your company to the top of the list, so you're the first to be seen – and clicked on.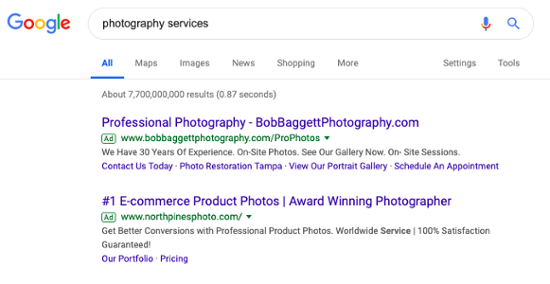 Notice the first two results that pop up when I type "photography services" into Google – they're paid ads. These ads put these two companies at the forefront of results for people searching for photography services, which means they're much more likely to generate traffic than results lower down on the page.
27. Utilize Display Ads.
Display ads, also known as banner ads, are a form of pay-per-click advertising – run through the Google Display Network – that appear on different websites or apps.
Unlike paid search ads, display ads can appear in more than just the search results. It's those random (but not so random) ads that you see on the sidebars of some of your favorite websites.
Using display ads is all about grabbing a visitors attention. If your ad is bold, captivating, and includes a relevant and enticing CTA, visitors will be more persuaded to click on it, bringing them right to your website.
28. Don't Forget Social Ads.
If you've already got a social media presence, great! But you can still take it a step further and promote your best social content to become ads targeted toward a specific audience.
Facebook and Instagram ads are a great way to get your content in front of a larger ideal audience.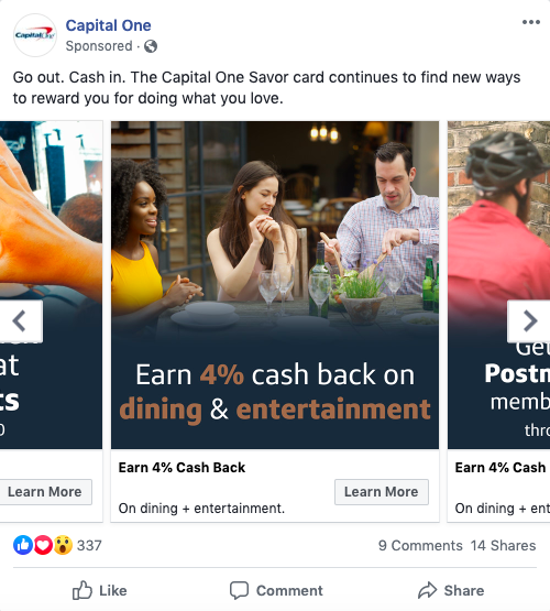 Take a look at Capital One's ad on Facebook for their new Savor Card. They use scrolling imagery with bold informational text to target specific audience groups who may be interested in applying for their card – like those who enjoy eating out and going to the movies.
This ad will both attract prospective leads and drive them toward Capital One's website to find more information about the card.
29. Try Retargeting.
Retargeting is as simple as it seems – basically, it puts your ads in front of people who have visited your website before, which can potentially increase their chances of them returning.
So, you know when you're surfing the web and see an ad for a website you were just on? You're probably being retargeted.
Test out some retargeting ads for past visitors to try to boost your website traffic. Since they've already been there before, they're aware of what you do and what you sell, so if you grab their attention, they might want to come back for more!
30. Earn Shout Outs From Influencers.
Influencer marketing is a way of building rapport with your desired audience on social media by partnering with someone who already speaks to that audience.
If you can earn a shout out from a popular influencer, then that will drive people toward your own social pages and website. Imagine an influencer with 20k followers giving you a shout out – that audience of 20k will now have eyes on your business.
That being said, make sure that you are partnering with the right influencer. You want someone who has a following that will be interested in your product or service.
For example, if you're an exercise equipment company, you would want an Instagram fitness coach to feature your products, as they likely have an audience full of exercise lovers who may be interested in purchasing your equipment.
Simply put, Jonathan Van Ness is beloved by Queer Eye fans everywhere. So if this fabulous queen tells you he's wearing essie nail polish, you better believe that all of his fans are likely to go out and buy essie's products too.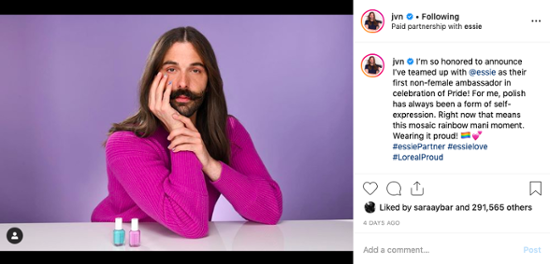 Find a Balance in Your Strategy
There's an art to developing a successful website traffic strategy. Don't put all your eggs in one basket, and don't spread yourself too thin.
Basically – if you only try one or two of these methods, then you likely won't see much improvement. On the other hand, if you try all of them, then you'll bite off more than you can chew, and you won't be able to execute any of them effectively.
When you're learning more about how to drive traffic to your website, choose a few of these strategies and dedicate your efforts toward doing them well. You can't improve site traffic overnight, but with thorough commitment over time, your efforts will pay off.