If you have a brick and mortar business, you may have come across this common situation.
A potential customer who luckily makes it to your store proceeds to annoyingly let you know they traveled across town back and forth because the address they found in Google was different than the actual physical location of your business.
Moz shared a very interesting piece of data:
73% of consumers lose trust in a brand if its listings contain inaccurate information.
This highlights how important it is for organizations to keep a current, accurate online presence. To fully understand this, let's play a game!
Can you answer these seven questions?
Can your customers find you online?

Can you find your business online?

Have you ever tried to search your company online?

How many different listings did you find?

Do you know how they got there?

Do you know how to combine them into one central listing?

Are you currently managing your online presence?
So now one of two things are happening. 1.) You stopped reading this article because you have a great local listing strategy, or 2.) you have no idea what we are talking about.
If it's the latter, then keep reading to find out why we encourage local businesses to start using Moz Local today!
What Is Moz Local?
Moz Local helps you make sure the four major data aggregators don't keep sending out the wrong information about your business to the hundreds of local business directories they sell information to.
Whether it's a wrong business name, address, or phone (NAP), obviously wrong information is a problem because it will make you lose sales when your customer shows up at your old address or calls the wrong number.
But one thing you may not know is having conflicting information about your business on Google will hurt your ranking and make it difficult for potential customers to find you online.
When it comes time to update all the aggregators one by one to push your listings, just beware: It's going to take time. Updating each one individually with your correct information is a pain, it's expensive, and, to put it simply, it's freaking hard.
And this is where Moz Local comes in most handy. It updates all four of these major data aggregators at the click of a button.
Why Moz Local Is a Must
We recommend Moz Local to everyone. Even if you currently are using other services, we find Moz works well with most other services.
There are several other benefits to using Moz Local.
Consistency Across All Directories
Many smaller local directories only take submissions from data aggregators, and if you don't have control over the information, you are leaving it up to chance that the information they obtain is accurate.
Local listing services create business profiles on the major local business directories, give you direct control over those profiles, index them with Google (or at least they should; many don't), and give you a serious boost in ranking on Google over time.
Your information on these major local business directories is locked and won't change since these local listing services claim your profiles for you.
But there are plenty of smaller local business directories out there that only take submissions from the data aggregators themselves. If you don't have that information controlled, you're leaving it up to chance on whether these smaller local business directories have the correct information for you or not.
Even if that seemingly small subset of information is off, it's obviously a problem. Not to mention, if you haven't claimed your bigger local business directory profiles yourself or through a local listing service, the data aggregators will submit to those as well.
Local listing services are essential to ranking well on Google and making sure your information is correct for your customers to see. But Moz Local protects those rankings and that information as well. It's an added, necessary layer of security.
A Big Time Saver That's Inexpensive
Managing your entire online presence can be a big hassle and require a ton of time from you and your team. Fortunately, Moz Local streamlines this and simplifies all your processes.
You only have to fill out your data once. This ensures accurate listings across all major aggregators, search engines, directories, and apps. You don't need to continue updating various resources.
The best part: Your dashboard gives you a comprehensive overview of your online presence.
For example, you get a glimpse at accuracy factors in search, aggregators, and directories. In the helpful table below, you can identify areas that need attention.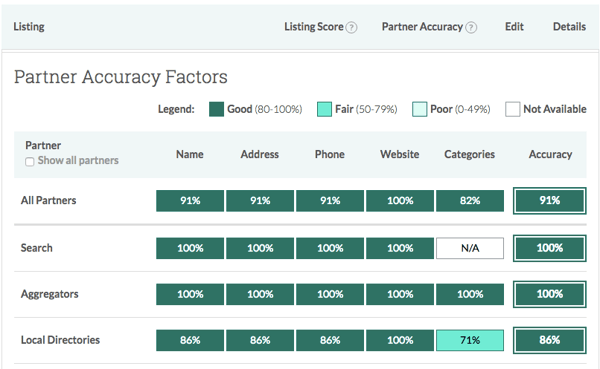 As you can see, the categories portion of the local directories is showing 'fair' accuracy. So a discrepancy exists in a local directory where this particular business is listed. It might be tagged in a category that doesn't align with the business.
This kind of information tells you that your team can investigate and find where this discrepancy exists. Then, they can update that information.
The following graph helps you track distribution accuracy and total reach.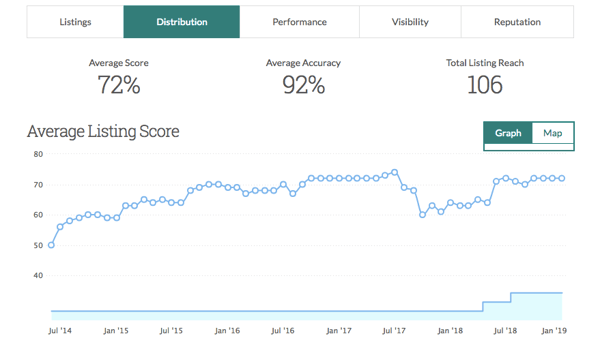 The listing score is based on several factors established by Moz, including:
Overall online visibility
Accuracy
Completeness
Duplicates
Claim status across network partners.
When you consider the amount of time and resources these features save you, the cost of the service for small businesses and enterprises alike is low.
How to Get Started with Moz Local
All these features and functions are great, but what really sets Moz Local apart is how user friendly it is.
To get started, follow these simple steps:
Ensure your business listing is verified on Google or Facebook.
Link to get verified for Google and Facebook.
Complete your business listing in Moz Local.
That's it! Then, Moz Local distributes your business listing throughout the entire search ecosystem.
If you're running a small business trying to manage your listings, the best package to go with is the Essential plan, which costs $99 per year. For less than $10 dollars a month you can have an accurate listing across the entire web and feel confident your potential customers can find your business without any problems.
For larger organizations, both Professional and Premium plans are the best fit. No matter your size and your needs, there's a Moz Local plan perfect for you.