Location pages are important for small and large businesses alike. They help consumers find brands through organic local search.
If your business isn't optimized for search, now is the time to make an optimized location page so you don't miss out on a large bulk of potential customers.
To help you leverage your local content to generate qualified leads, let's review local SEO best practices and how to design your own local pages for your business.
What Is Local SEO?
Local SEO is a way for community-facing businesses to increase their local search visibility.
Businesses that are community facing often include brick-and-mortar stores or offices such as grocery stores, a dentist office, and independent bookstores. Other examples include businesses that service a specific geographic area such as a pest control or housekeeping company.
Ranking factors for local SEO includes targeted keywords used in relevant searches conducted on Google and other search engines, local social media engagement, online reviews, and more.
via GIPHY
Local landing pages hold more SEO authority for explicit and implicit searches.
An implicit search is someone in Tampa, FL searching for "Italian food," whereas an explicit search is someone searching for a "hair salon in Miami, FL." This means your business will likely have good rankings for both types of local searches.
Your business can also increase lead generation opportunities if you have an optimized landing page separate from your homepage and if you deliver unique content.
Vacation guides, local blogs, and news sites are more likely to link to a local page, rather than the homepage of a business with multiple locations. Earning these kinds of relevant backlinks can help your pages rank higher on search engines.
What Is a Location Page?
A location page or a local landing page is a webpage dedicated to a store's location. A store that has many locations may have several local landing pages.
They are used to help businesses with physical locations or service-based businesses inform their audience about the geographical location they serve.
via GIPHY
Depending on the needs of your business' landing page, you may include these items:
Customized menus
Events
Team member bios
Reviews for the area
Maps
Lists that are of local interest
Consumers that need to purchase products or services from local businesses usually turn to search. And according to a recent analysis, about 46 percent of searches on Google have local intent.
Location pages help consumers in the geographical location of your business find your contact information so they can reach out to you about your products or services.
You must optimize the content on your location page while generating backlinks to make it easy for users to find your page and to help your local search rankings.
When you make your local page SEO-friendly, your visibility will increase on the organic search pages and on map pack results.
Local SEO Best Practices for Location Pages
Location pages help attract and convert people who conduct local searches into leads and customers. Optimizing your landing page is a key factor in helping you convert those prospects into customers.
Here are some best practices you may want to adopt for your business to start earning local SEO results.
Create Local Content.
To optimize your local page properly, you must add relevant content. This includes adding local keywords that are associated with your business and the local area.
For example, let's say you own a floral shop located in Cathedral City, CA, and you deliver to your immediate town as well as the entire local region. You may consider targeting the keyword Coachella Valley so when people search the whole area, your business will show up on the search engine results page.
Include a Clear Call to Action.
Your visitors likely want to skim your landing page quickly to find what they need fast. Make sure you include a clear call to action with your phone number or other contact information in a convenient location.
For instance, your CTA may say "Book an Appointment Today" or "Call Us For a Quote".
Make Sure You Have Up-To-Date NAP Data.
Your customers need to know who you are, where you are, and how to get in contact with you.
via GIPHY
NAP data refers to key business information:
Business Name (N)
Address (A)
Location's Phone Number (N)
Including on-page signals like these is an important factor for helping your page rank in local search results. For extra help with ranking, you may embed a Google map with your business' location on your landing page.
Include Your Hours of Operation.
Your customers will be grateful if you include the hours of operation on your location page.
It doesn't provide a good customer experience for your prospects if they drive to one of your business locations only to find out it's not open.
Add Videos and Images.
Relevant images and videos with the right alt text help to boost your location page rankings on search engine results pages. In fact, almost 50 percent of high-ranking local pages have a localized image.
Make Location Pages Easy to Understand.
via GIPHY
Local SEO pages need more than just in-depth content. Search engines need to understand what a page is about to help a searcher answer a specific question.
This means that you must properly index your page and write numbers and addresses in a way that search engine crawlers can read and understand.
Add High-Quality Backlinks.
Backlinks are incoming links to your website from another website. The link is of high quality when an authoritative domain links to your page.
Links are the top ranking factor when it comes to localized organic results, so make sure you prioritize link building efforts. For example, find local directories that are relevant and submit to be listed on them.
Create a Different Page For Each Location.
If you have one to three locations, you may include each location on the same locations page. But it can help you increase your search results if you have a separate page for each location.
Creating unique pages for each location allows you to apply different keywords that will show up in local searches. It also helps with online advertisements because you can create different ads for each page, which directs your customers to the right page with the proper CTAs.
Now that you know about the best practices you can apply to your location page, you'll need to know how to create and design one.
How to Create Location Pages in 5 Easy Steps
Here are five steps you can take to begin creating your location page to generate traffic:
1. Find Out Where Your Customers Are Located.
You need to reach the right people with your location page. To do so, you must find out where your customers are actually located.
via GIPHY
The best way to find out is to analyze audience insights by using a location activity map on Google Analytics or another site that provides you with audience insights from your target market. This will give you an idea about how to structure your landing page to appeal to the audience.
The locations don't have to be precise, but they should give you a general idea.
Ask yourself the following questions:
Which locations do I want my customers to come from?
Which locations are my customers currently coming from?
Once you know the answers to these questions, you can decide how you will meet people where they need you.
2. Conduct Keyword Research.
Search keywords for your local area to see which queries are searched most often and have the most value.
You can do this using keyword research tools like Moz and Ahrefs. Only include the most valuable and relevant keywords on your location page that are related to your business or business location.
3. Consider Using a Template.
Browse through local page templates to see which one works best for your business. This can save you time and money since templates typically don't require coding or development, and many of them are already optimized.
Some software that provides location page templates include MetaLocator and HubSpot.
4. Add Metadata.
Make sure to use properly optimized metadata on your landing page, such as:
Title tags: Include the keyword and the city or area. For example, Speedy Home Repairs in Tampa, Florida.
Keywords: Tampa Bay Home Repair
Meta description: Your meta description should be natural and include keywords. For example, "Do you have leaky faucets and unpatched holes in your drywall that you don't have time to repair? Do something more fun with your time, and hire a repairman from Tampa Bay Home Repair. We look forward to repairing what you broke."
Metadata communicates with search engines directly from each individual webpage. Each of your landing pages should include metadata that is natural and unique.
5. Optimize Your Local Landing Pages For Mobile.
via GIPHY
Most people conduct local searches on their mobile devices. In fact, over 60 percent of all searches come from mobile devices.
Because of this, it is important for your local landing page to be mobile friendly and adhere to responsive web design best practices. Ensure that your mobile site loads quickly since speed is everything when someone is searching for a business to contact right away.
Local Landing Page Examples That Drive Conversions
Here are some location page examples that may help deepen your understanding of how to create a fully optimized location page for your business.
Christian Brothers Automotive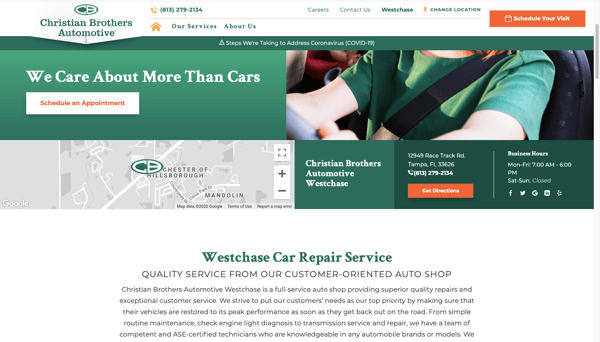 Christian Brothers Automotive has a great local page because it includes a clear call to action, information about the local area, a map of the location, and business hours.
Their local page makes it easy for customers to navigate. You can tell they're nailing the local SEO game because it shows up as one of the top car shops in the Tampa area.
Barnes & Noble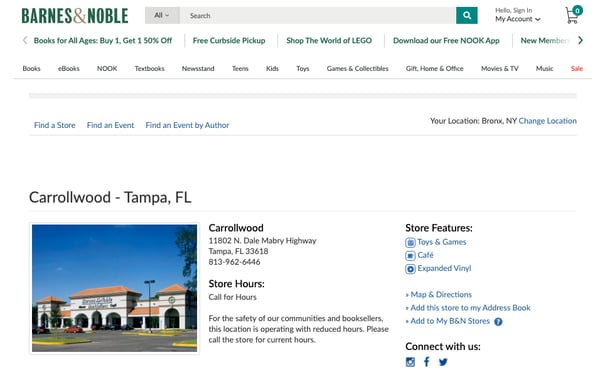 Barnes & Noble has a great location page that provides you with upcoming events, links to a map, social media, and store pictures.
The location page also has an image of the actual brick-and-mortar store in the Carrollwood area of Tampa, as opposed to a general image of a logo or a stock photo. That adds a nice touch – those who find this location page can properly identify the physical location when they drive by it.
Drybar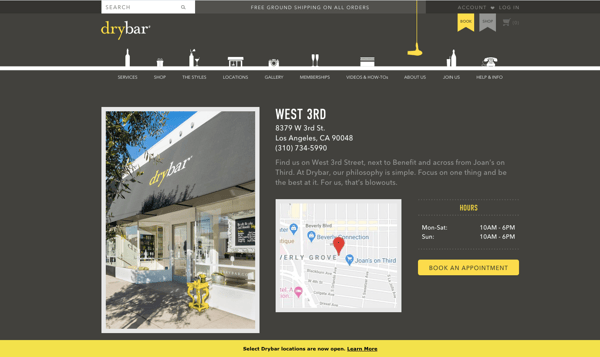 Drybar West 3rd Los Angeles has a location page that is easy for users to navigate with keywords that mention what they do and where they do it.
They have a picture of a map and the physical location of the hair salon. They also include a CTA that allows users to book appointments straight from the location page.
The local landing pages you create may take time, but a great landing page is sure to generate qualified traffic and fuel your lead generation efforts.
Remember, your local content plays a big role in capturing your ideal audience. Make it a good first impression before you begin building a strong relationship with them.