Imagery has a big impact on a reader.
But when you're blogging, you might think that your words are the most important piece to worry about. Well, this isn't the case anymore.
A 2018 Social Media Examiner report showed that if a relevant image is paired with a piece of information, people retained 65% of the information three days later, compared to only 10% of information retained without an accompanying image.
When it comes to images, using them throughout your blog articles can improve their overall look and performance.
Here are four reasons why you should be adding images to your blog posts.
1. They're Visually Appealing
This reason is obvious: Quality images are great to look at.
When you add images to your blog posts, you help create a "story" for that part of the blog. Visually appealing images keep your reader scrolling, and, as mentioned above, people are more likely to retain more information.
The right image can convey a strong message to a reader: pictures are worth 1,000 words after all. If a section is confusing, adding a relevant image can help simplify the meaning and make it easier to understand.
2. Blogs With Images Get Shared More on Social Media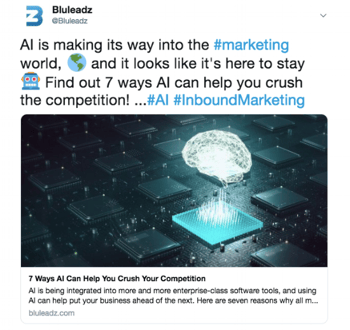 Social media marketing is a vital part of spreading awareness about your content and increasing traffic to your business blog and website as a whole.
When it comes to shared blogs on social media, articles that contain images actually get shared more, which can help drive more traffic to your site.
Statistics from Search Engine Journal reveal that:
Blog articles containing images receive

94% more views.
Tweets containing images are retweeted

150% more.
Facebook posts with images receive

three times more engagement.
3. Images Break Up Text into Smaller, Digestible Chunks
Have you ever been reading an article, and the text just seemed to keep going and going, with no end in sight? Couldn't you just feel the anger building up inside of you as you scroll and scroll and scroll, and still no conclusion?
Just thinking about it gets me heated.
Especially with long form articles, large chunks of texts and long paragraphs can deter a reader from finishing your article.
Adding images to your blogs can break up those long pieces of text to make your content easily digestible. Alas, you won't find yourself reading 15 paragraphs in a row.
4. They Can Help Boost Your SEO
You may be new to blogging and may not even know that you can actually add text to your images. How, you ask?
On almost all blogging platforms and websites, marketers have the ability to add alt text to each image they post within their blog.
By following keyword best practices and adding your primary keywords to your alt text, you can boost your SEO. While readers aren't able to see the alt text you add to each image, search engines continuously crawl all the text within your blog article – including alt text.
So, rather than uploading your image as "Screen Shot 2018-12-5 at 5.37.13 PM," optimize these two text areas to include keywords.
Four Image Best Practices to Follow
Make Sure Your Images Relate to the Content Surrounding It.
If you were reading an article about writing an ebook and you suddenly come across a picture about creating videos, you would be confused, right?
Always make sure the images you select correlate with the surrounding content. A blog article about best designed websites should feature screenshotted images of these websites, and an article about writing best practices should include images of people writing or typing.
Include an Attention-Grabbing Featured Image.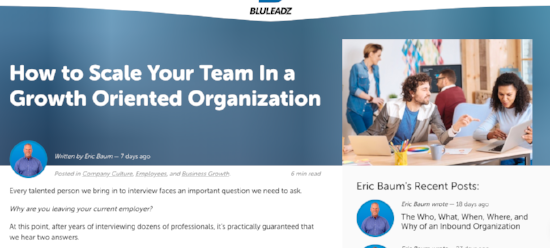 The first image people see when they open a blog article is your featured image – front and center (well, for BZ, it's off to the right ... but still.)
The featured image is typically what is displayed when a blog is shared via social media. Because of this, it's important that you select a featured image that represents the topic of your blog article well.
Properly Size Your Images.
The quality of your images is just as important as the context of the image. Make sure you aren't stretching your images larger than its original dimensions.
Also, the larger the image, the longer it can take for your page to load. A low page load speed can negatively affect your blog traffic, so be sure to properly size your images. At Bluleadz, the images we use within our blogs are always resized to 550 px wide.
Include GIFs to Add Movement.
GIFs are a fun way to incorporate a video-like visual to your blog. With GIFs, you can get a little more creative and fun, allowing you to put a lighthearted touch on a blog topic.
Bluleadz loves including pop culture GIFs throughout our blog content when we just can't find a good photo to use. Although you can't add alt text with proper keywords, it's still fun to scroll through and see Prison Mike from "The Office" every once in a while.
With these benefits of including images in your blogs and best practices in mind, you'll be ready to start finding quality images to boost SEO, drive traffic, and get more shares.
Check out websites like Adobe Stock, Pixabay, and Burst for some great stock images to help get you started. You could even test the waters with your own photography, if you prefer. Either way, your blog will look and perform even better.