The Best Stock Image Websites
1.

Getty Images

2.

iStock (by Getty Images)

3.

Adobe Stock

4.

PixaBay

5.

NegativeSpace

6.

Picjumbo

7.

Burst (by Shopify)

8.

Unsplash

9.

Flickr

10.

Fotolia

11.

Freerange Stock

12.

Shuttershock

13.

Bigstock
14.

StockSnap

15.

Morguefile

16.

RGBStock.com

17.

Picography

18.

Reshot

19.

StockSnap.io

20.

StyleStock

21.

ISO Republic

22.

Picjumbo

23.

Rawpixel

24.

StockVault

25.

PikWizard
People are visual beings who frequently prefer seeing images rather than merely reading words. We can take in far more information in less time by looking at an image or photo than reading a line of text.
Visual images can include photos, illustrations, graphics, videos, and more. But having an in-house repository of original images readily available at your fingertips often isn't possible for many businesses.
This is where exploring some of the world's best stock image websites for royalty free stock images can be beneficial.
With regard to marketing — particularly inbound marketing — you can use this to your advantage.
via GIPHY
According to the 2018 Social Media Marketing Industry Report from Social Media Examiner, 32 percent of marketers said that visual images were the most critical form of content for their business, followed by blogging (27 percent).
As such, it's important for marketers to either have original images available or to purchase stock photos from some of the best stock image websites.
But why is visual content so important? According to research from Ethos3:
Visual content is more engaging. Content that contains visuals gets 94 percent more total views.
It's what your brain receives. Ninety percent of information that is sent to the brain is visual.
It's faster to process. Visual content is processed 600,000 times faster than straight text.
It's how we learn. Sixty five percent of people self-identify as visual learners.
As you can see in the numbers, this is why you need to know which stock image websites would best fit your needs.
What Is a Stock Image Website?
Stock image websites are services that provide businesses and graphic designers with a host of thousands to millions of existing stock photos, graphics, illustrations, and royalty-free images.
Stock images are often used for marketing and advertising purposes, for publishing, for websites and blogs, for promotional work, and for commercial or personal projects.
via GIPHY
Here are some of the many uses for stock images:
Editorial/Entertainment
Ebook covers and illustrations
Newspapers and magazines
Blogs and other online publications
Video
Newsletters
Business
Branding material
Catalogs
Brochures
Film and video
Printed materials
Product packaging
Social media pages
Promotional
Greeting cards
Postcards
Flyers
Posters
Design
Graphic design
Digital wallpaper
Using stock photos can save your business money and time. Hiring a photographer to create custom images for you can become expensive, and it may take several weeks to take the photos and to deliver the final images.
With stock photo websites, you're ready to use images right away. All you have to do is pay for a license to download them, and use them within the accepted terms. You may also use royalty free images and other kinds of licenses.
The Basics of Stock Image Licenses
Using stock images may be confusing at first if you are not used to what stock image licensing includes.
via GIPHY
Here are some relevant definitions that may help you understand different stock image terms:
Copyright and Ownership
Stock images are generally copyrighted. This means the image is owned by the designer or photographer who created the image.
Since the images are not owned by you, you must only use images with their permission. This is why you cannot download images straight from Google to use them as business or promotional photos.
If you do, you are infringing on the creator's rights and you may get into legal trouble. This is why stock image websites provide you with easy ways to license and use images.
Rights Managed
A rights managed (RM) license typically has the most restrictions. The stock site must approve your intentions for using the image, and they often restrict geographical areas where the image is permitted to be distributed, the timeframe you are allowed to use the image, and the size of your print run.
Sometimes, rights-managed licenses are exclusive. This means that only one person is allowed to purchase the image at a time.
This can make the image more expensive, which contrasts with the non-exclusive licenses that allow an image to be purchased and used by many clients at one time.
Royalty Free
A royalty free license allows you to use an image over and over again at no additional cost after you purchase the image. Unlike rights-managed licenses, royalty free images are usually inexpensive and non-exclusive.
Royalty free images may still come with restrictions, such as whether you are allowed to use the image for profit, whether you can use them for resale items like calendars and mugs, and the size of the print run allowed.
Extended Licenses
Extended licenses are related to royalty free images. Extended licenses allow you to increase the limit of copies or reproductions of the images, or they allow you to have unlimited copies of the image so you can use the image for resale items.
Some stock image sites may have other extended methods for distribution that you can choose from.
Editorial Use License
Editorial stock photos are most often images of celebrities, newsworthy events, large crowds, and other images. Editorial use licenses allow you to use images for editorial purposes like to illustrate a newsworthy, public interest, or entertainment topic.
Theses licensed images are not allowed to be used for profit.
Tips on How to Use Stock Images
To enhance your experience when using stock images for your business, adopt these tips and best practices.
via GIPHY
Identify opportunities to use stock photos.
Make sure the images fit your brand and style.
Avoid cheesy stock images.
Prep your images for SEO by adding alt text.
Make sure the photo you select fits the context.
Keep your use of stock photos simple and clutter free.
Use images with real people.
Try searching and selecting new images.
Align your images with your buyer personas.
Find stock photo sites with high-quality images.
To get started on applying these best practices, you need to first know where to find the best images.
The 25 Best Free and Paid Stock Image Websites
Explore these 25 free and paid stock image websites to see which one works best for your business.
1. Getty Images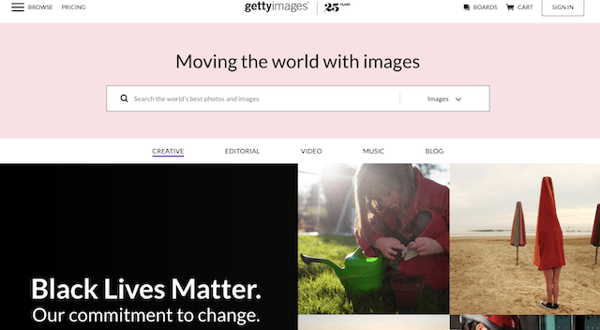 This massive image resource — which was the first stock images website in the business of licensing images online back in 1995 — serves organizations in more than 100 countries worldwide.
Today, it is one of the best stock image websites in the world with a library consisting of millions of stock photos, illustrations, images, and videos. It's an easy website to navigate, and you can easily find images that you can purchase individually.
2. iStock (by Getty Images)
Much like its big brother, iStock is one of the best stock photography websites because it offers millions of affordable, high-quality, and royalty-free stock photos.
In addition to featuring user-friendly functionality with search and browse features, you also can enjoy purchasing credits in pre-packaged units and using those credits to pay for your images.
The cherry on top is that they also have free stock files weekly for users who join their stock images website!
3. Adobe Stock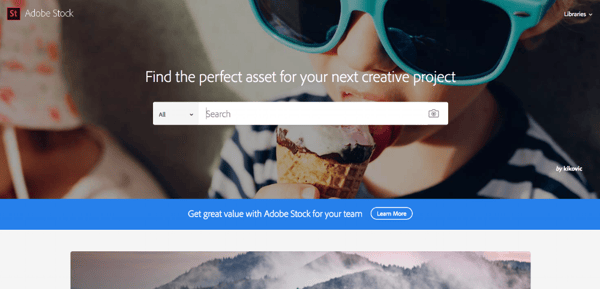 Adobe Stock is a service that is included for Adobe's Creative Cloud subscribers and complements Creative Suite by being compatible with its design tools.
You'll find more than 50 million royalty-free photos, videos, templates, 3D content, illustrations, and vector graphics on this stock images website.
Because of its compatibility with Creative Suite, users can purchase images directly in Photoshop, InDesign, Premiere Pro, and Illustrator.
4. Pixabay
Pixabay has some of the best stock photos and visual content – 1.5 million files, in fact – that are royalty free stock images, vector graphics, illustrations, and videos.
According to the website's FAQ page: "You can copy, modify, distribute, and use the images, even for commercial purposes, all without asking for permission or giving credits to the artist."
5. NegativeSpace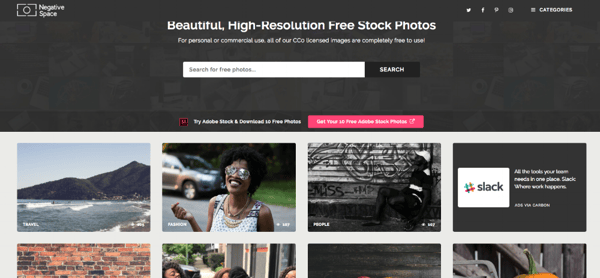 Another of the royalty-free stock image websites comes in the form of NegativeSpace.
This digital library of images contains high-resolution stock photos that can be used without restrictions. All of the stock images are shot by photographers within the NegativeSpace community.
Want to receive free stock photos in your inbox? You can sign up for their delivery service for free simply by providing your email address.
6. Picjumbo
No matter whether you're on the hunt for photos for both commercial or non-commercial use, Picjumbo is a great resource to find 100 percent free stock photography. They are adding new photos daily and have a bunch of photo categories to choose from.
Users have access to more than 100 photo collections. And, much like NegativeSpace, you can sign up with your email address to receive free stock photos in your inbox that you can use as well. However, if you want access to their premium line of images, they offer a paid member service as well.
7. Burst (by Shopify)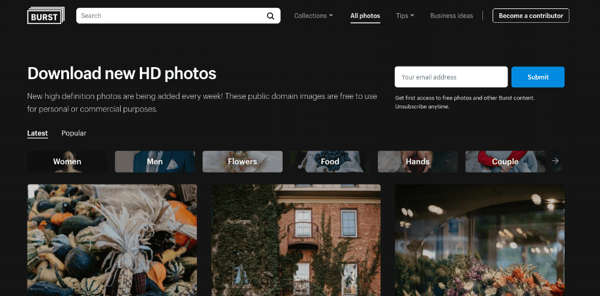 Burst is a free stock photos website that has an image library of thousands of high-resolution, royalty-free images.
The images can be used for virtually anything for commercial use with no attribution required. This means that if you're looking for some great free images for your blog, website, or social media accounts, you can check out this resource and find some free goodies.
8. Unsplash
Adding to the list of websites that offer royalty free stock images for free is Unsplash.
This digital library of high-res photos boasts more than 550,000 images that are up for grabs for personal and commercial purposes.
While their license allows the use of their photographs without copyright limitations, they do request that you use photo credits whenever possible to give attribution for the image.
9. Flickr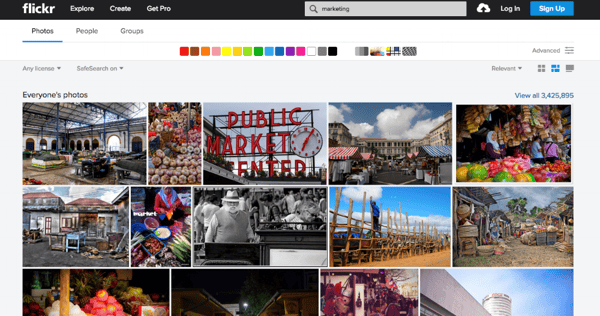 Home to tens of billions of photos and two million groups, suffice to say, Flickr is the largest online photo management and sharing platform the world has ever seen.
While not all images can be used for commercial purposes, some photographers will allow you to do so.
Surely, with such a large community, you'll be able to find stock images that will meet your needs on what has become one of the best stock photography websites.
10. Fotolia (now owned by Adobe Stock)
Offering more than one hundred millions royalty free stock photos, illustrations, vectors, and video clips that are created by artists, designers, and a select list of well-known agencies, Fotolia is a crowdsourcing librarian's dream.
In addition to having no time limits or restrictions on printed copies, all of the content is royalty free. This makes this one of the most beneficial stock image websites. And, as a bonus, when you sign up for Fotolia/Adobe Stock, you can receive 10 free Adobe Stock images.
11. Freerange Stock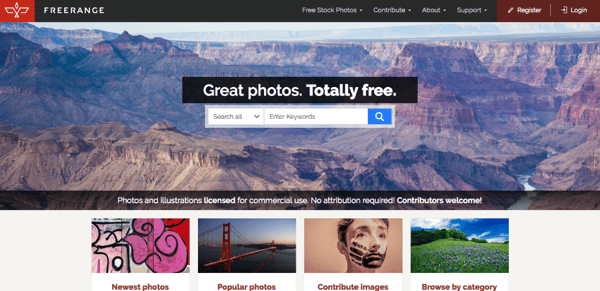 Looking for access to illustrations and stock photos that are licensed for commercial use without the need for attribution? Look no further than Freerange Stock.
All materials (defined as animations, images, files, photographs, meta data, or text) that you download from the site are licensed to you. These stock images and other visual files can be used without attribution for commercial or non-commercial purposes.
12. Shutterstock
Shutterstock is a beast of a resource for royalty-free stock images for both personal and commercial use.
The stock images website, which has more than 235 million stock photos, stock video clips, and music tracks available, offers both prepaid image plans and value-priced annual plans for individual use, as well as team and enterprise plans, that can meet your budgetary needs.
13. Bigstock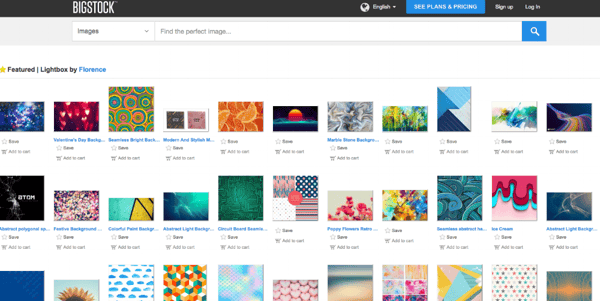 If you're looking for videos, stock photos, and vectors, Bigstock is a great resource. As another of the big stock image websites – with more than 71 million pieces of digital content to choose from – you surely won't be disappointed.
And, with a variety of daily and monthly image subscriptions and video plans, you'll have plenty of options to choose from that meet your bottom line,
14. Life of Pix
Looking for artsy, high-quality photos? Check out Life of Pix. They offer free photos submitted by photographers that are highly curated with high artistic value.
Their photos are not subject to copyright and there is no attribution required.
15. Morguefile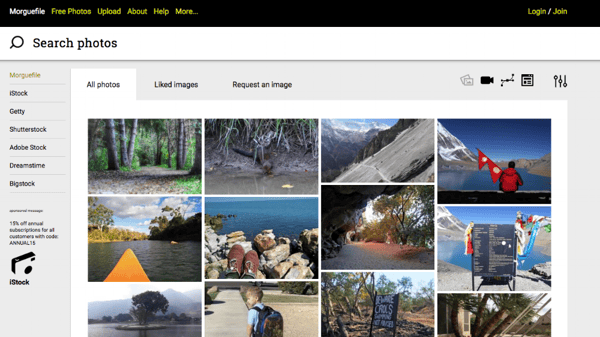 Morguefile is a site named for a popular newspaper industry term that referred to "a place to keep post production materials for use of reference – an inactive job file." They provide free stock photos with the expectation that you will also share some of your own photos.
In a nutshell, it's an online community that permits you to search and use images by others. You also can edit the files before downloading them. However, that ability does require a pro account for that access.
16. RGBStock.com
With more than 100,000 stock photos and images to choose from, RGBStock.com is one of those stock image websites for finding images for your site in a pinch. It is a particularly great source for businesses that lack big budgets.
The only catch is that while the files are free to download, they still must be used in alignment with the site's terms of use and image license rules. And, you must contact the image's owner to request use permissions for any other forms of use for the image.
17. Picography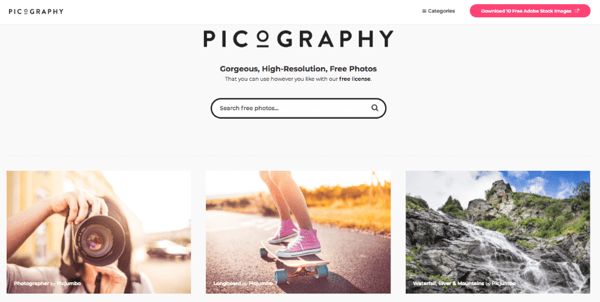 Seeking to use some vivid, high-resolution stock images and stock photos without the hassle of attribution? You can with Picography.
Much like several of these websites, you can use these images for commercial or non-commercial purposes. And, when you register for the site, you can download 10 free Adobe Stock images.
18. Reshot
Reshot is a free stock photo library that allows new and emerging photographers to share their work for others to use editorially and commercially without attribution. The site dedicates itself to beautiful stock images that aren't tacky and can't be found anywhere else.
With Reshot, you are truly free to use the images as you wish.
19. StockSnap.io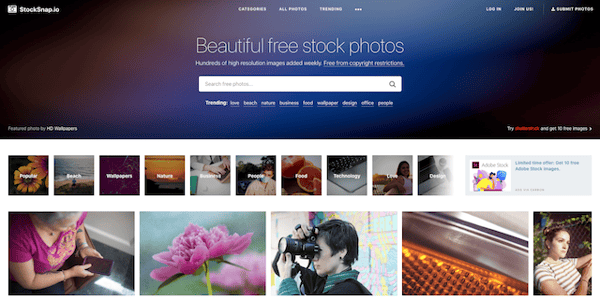 If you want a large selection of free stock photos and high resolution images, then check out StockSnap.io. The stock image platform adds images every day for you to download, and all images are released under the creative commons domain. This means the images do not need to be attributed.
They also track downloads and views so you can find the most popular images they have available.
20. Styled Stock
Styled Stock is a library full of free feminine stock images. The collection is 100 percent free and is yours to use wherever and however you'd like.
These stock photos come in packs such as interior, cozy lifestyle, and healthy eating. They have several categories and color filters to make it easy for you to sort through the images to find what you are looking for.
21. ISO Republic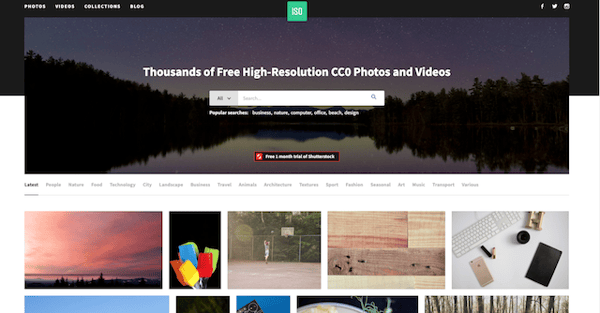 Gain access to an extensive collection of free images and videos for your business with ISO Republic. They offer a variety of business photos, people and places, flat lay designs, technology, and other scenes.
These images can be used to personal or commercial use.
22. Gratisography
This stock photo website has a much smaller library with unique photos. Each photo is owned by the creator of the website, and he offers the photos completely free of charge. They are less cheesy and more intimate and unique than typical stock photos.
Gratisography photos fit perfectly for Instagram posts or other visual communications for younger audiences.
23. Rawpixel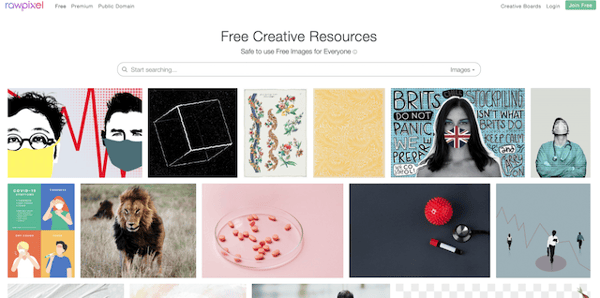 Rawpixel has a free and premium version that provides you with access to authentic photographs that are trendy and up to date.
With the free version, you are limited to 100 downloads per visitor per month. They have a custom license that allows you to use the images for commercial purposes. Rawpixel reviews all of their submissions so you can download images safely without the threat of legal action later on.
24. Stockvault
Stockvault is a stock image site that crowdsources images from people around the world. They offer a collection of more than 100,000 images that are free to download and use for various creative purposes.
The image quality is good, and they work with three licenses: commercial licenses, non-commercial licenses, and creative commons zero (CC0).
25. PikWizard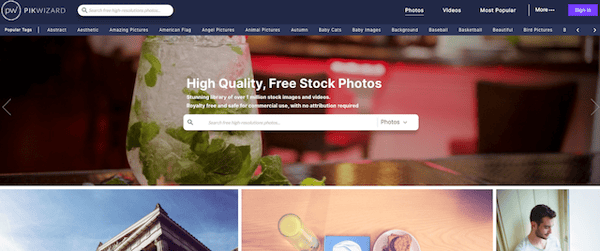 This stock image site is full of quality professional images that portray various popular topics. PikWizard has hundreds of thousands of images for you to download for free.
The images come from contributors from all over who mostly specialize in stock media production. They have their own custom license that allows you to use the images for commercial purposes with some restrictions.
We hope this list of the best paid stock photo sites and free stock image websites helps you meet some of your organization's needs. You have a wide array of images from which to choose – more photos, vectors, videos, and other files than you can shake a stick at.
Be sure to check out these stock image websites for inspiration and to help save your budget.