In 2016, Gmail officially reached more than 1 billion monthly active users, and adoption of their accounts only continues to increase since then. In fact, that number is up from 900 million from May 2015.
Like most Google products, Gmail is easy to use but takes a little time and effort to master. And, like many things in life, your Gmail inbox can get pretty messy if you don't keep it organized.
As marketers, we undoubtedly spend more time sending and receiving emails than we realize, causing distractions and, ultimately, a lack of productivity. On average, office workers spend about two and a half hours reading, drafting, and replying to emails.
Not to worry! Below are some quick and easy Gmail "hacks" and tricks that will help you to organize your inbox and your life — all while (hopefully) allowing you to get some time back into your day.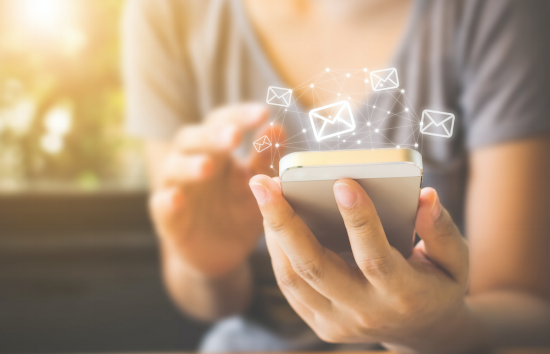 1. Use Labels as Themed Folders
By default, Gmail comes with a few default labels, but people often don't make their own since they don't appear to work like ordinary file folders.
In other email systems, a folder makes messages disappear into their own organizational hierarchy. Labels are a bit different by default, but can also work like folders.
Setting up labels is easy! Click "Create new label" on the left sidebar. After you've named your label, you can color-code it by mousing over the label name on the left sidebar and clicking the down arrow that appears. This lets you see color-coded messages at a glance.
Unlike Gmail's tabs, labels don't make messages "go" anywhere by default. However, you can make them act more like folders if you wish. To do this, access an individual message and then click on the Folder icon at the top of the screen. In the "Move to" menu, choose a label.
2. Optimize Your Display Density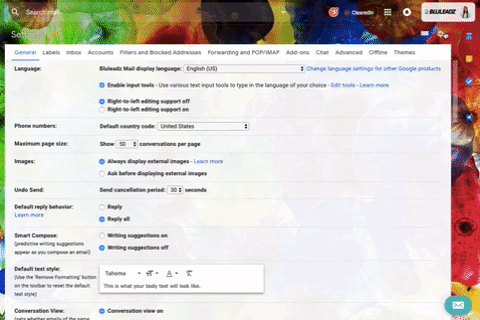 Your interface has a number of display settings to help you organize Gmail according to your needs. The gear icon on the top right of your screen hides the Display Settings feature, which comes with three options: Comfortable, Cozy, and Compact. Compact view lets you maximize screen area usage so you can scan over as many messages as possible at one time.
3. Star Important Emails
Gmail does its best to detect which messages and conversations (threads) may be more important to you than others.
It highlights top conversations with the green arrow beside the star icon. In theory, this helps you spot the most valuable content in your inbox.
Sadly, Gmail recently changed all the little pointers clarifying why a message was marked important to the unenlightening "important according to our magic sauce." In reality, the most common triggers for Gmail to auto-mark a message important are these:
It was sent to you, rather than part of a mass mailing.

It was sent by someone you correspond with regularly.

"Important" words are in the header or message text.

You've clicked on and read a particular message a lot.
However, Gmail can still get things wrong. On very rare occasions, it may even mark a phishing email as important. To make it a little bit smarter for you, be sure to tag genuinely important messages yourself – the algorithm will quickly catch on.
Another way to help messages stand out is by starring them.
⭐️ Stars are used for individual messages in a thread, while the "Important" feature applies to the entire thread. Starring a message that has useful facts, figures, and details can help you find it later. This is great for things like receipts and usernames you might not need again for a long time.
Stars and Importance also help you organize Gmail searches more quickly, so they're worth it.
4. Archive! Don't Delete
Each G Suite user can store up to 30 GB of content for free (compared to 15 GB with G Suite free edition or individual consumer accounts). This storage is shared between Gmail, Google Drive, and Google Photos. With so much space, archiving emails usually beats deleting, but what's the difference?
Deleting gets rid of a conversation forever. Archiving, on the other hand, gets conversations out of your way but leaves them searchable for later, no matter how much time passes.
5. Setup Desktop Notifications for New Emails
As marketers, we get lots of emails each and every day.
With that being said, turning on desktop notifications could become annoying and distracting very quickly. However, by following our tip above to mark emails as "Important," you can turn on desktop notifications for emails only marked as "Important."
6. Activate "Undo Send"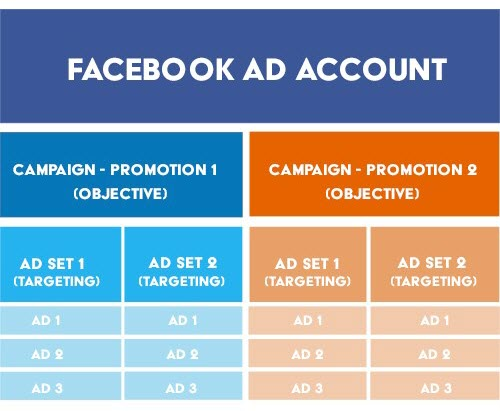 Have you ever accidentally sent an email too soon? Sent an email to the wrong recipient? Misspelled the recipient's name?
The list goes on and on. Fortunately, in Gmail's settings, you can toggle on an option to "unsend" emails for up to 30 seconds after it's been sent. This can be a lifesaver.
7. Create an Email Signature
This Gmail feature is no secret, but if you're not using it, you should be!
As a marketer, your email signature is the perfect place to include your social media profiles, your company website, and more. To create or edit your signature, go to Settings, click the "General" tab, and scroll down to "Signature."
8. Turn On "Nudges"
Nudges are a great way to be reminded of emails you may have opened and forgot to respond to, or emails you've sent that you're still waiting for a reply. The two options are as follows:
Suggest emails to reply to – Emails you might have forgotten to respond to will appear at the top of your inbox.

Suggest emails to follow up on – Sent emails you might need to follow up on will appear at the top of your inbox.
You can turn Nudges on under the "General" tab in your settings.
9. Utilize "Smart Reply"

The smart reply feature shows suggested replies and phrase based on the content of the email you received.
By using this feature, you click on the phrase you want to use and either send it as-is or edit the reply before clicking send. You can turn Smart Reply on under the "General" tab in your settings.
10. Send or Reply to Emails with Canned Responses
Do you find yourself sending the same type of email to multiple clients or co-workers? This could be something like scheduling a client or internal meeting or sending a recurring email for blog calendar approval and much more.
You can set up canned responses that allow you to draft and reply to emails with predetermined emails. To enable this feature, go to Settings, click the "Advanced" tab, and enable "Canned Responses (Templates)."
11. Use Automatic Filters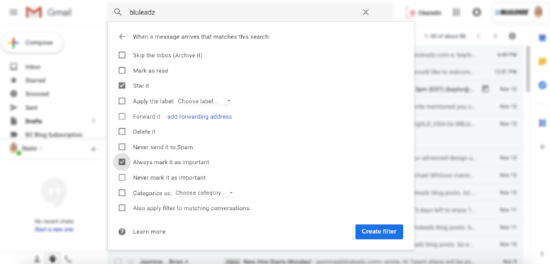 If you're like me, you receive many emails from multiple clients each and every day. In addition, you probably subscribe to various marketing newsletters and receive task notifications from your project management platform.
Together, all of these emails can easily consume your inbox causing you to feel overwhelmed and stressed out. Setting up filters can automatically sort your emails into specific folders or labels.
To set up filters, go to settings and click on the "Filters and Blocked Addresses" tab. From there, follow the prompts to create custom filters of your choice by selecting emails based on the sender, subject line, included or excluded words, or other factors.
Once you choose your filter type, you can also choose an action for Gmail to take each time a message comes into your inbox that matches your filter. Here, you can add your filtered emails to labels, star them, send them directly to spam, or even automatically forward them.
12. Automatically Prioritize Your Inbox
When you get to the office in the morning and open your email, you probably have a mix of important unread emails, starred emails from previous days, promotional low-priority emails, and more.
This can be overwhelming at first look, but did you know you can prioritize your inbox for what messages you want to see first?
Here are the options by which you can choose to prioritize:
Default

Important first

Unread first

Starred first

Priority first
To prioritize your inbox, go to the "Inbox" tab in your settings and change the Inbox Type.
13. Mute Conversations
Tired of getting stuck in an email thread between two co-workers that doesn't really involve you, or between a client and your web developer?
You can open the emails to mark them as read, but the constant new email notification or unread emails in your inbox can drive you crazy. To stop receiving notifications, mute the email thread by clicking the checkbox next to the conversation, click the More menu (3 dots) and select "Mute."
There you have it! Take a few minutes today to start organizing your Gmail and you'll see an instant increase in your efficiency and productivity.
Editor's Note: This post was originally published in December 2017. It was updated in November 2018 for accuracy and comprehensiveness.