The Best Free Email Signature Generators
1.

MySignature

2.

Newoldstamp

3.

Gimmio

4.

Signature Creator

5.

WiseStamp
6.

HubSpot

7.

MailSignatures

8.

signature.email

9.

Designhill

10.

HoneyBook
Email continues to be a main channel of communication in our personal and professional lives. In the business world, it remains a primary method of connecting and engaging with your network.
And for good reason. Email is incredibly easy to use, and it's accessible nearly everywhere. All you need is a mobile device and a connection to stay in the loop with your network.
No matter how you use email, either for personal use or for business correspondence, you need to include a unique email signature.
What Is An Email Signature?
The definition is pretty straightforward: Your email signature is what you place at the end of your emails you send. Generally speaking, you often include pertinent information, like your name, company name, website URL, phone number, and whatever else you want to showcase some personality.
via GIPHY
In technical terms, your email signature is a block of text that your email service provider will automatically insert in every email. For business emails, you want to include some of your character in it while also staying professional.
What Makes a Unique Professional Email Signature?
In the world of business communications, it's easy to get lost in the crowd. Your emails can get buried in your contact's inbox, or they may read it and forget about your message instantly as they move onto the next message.
This is where a unique, professional email signature is so helpful. Use a signature that can make your email stand out from the crowd and impress the recipient.

There are several things you can accomplish when you use a unique email signature:
Branding – Establish and reinforce your company identity in every correspondence.
Personalization – Add your picture to give recipients a personal, human connection.
Professionalism –Demonstrate credibility and show how your company is well established.
Linking opportunities – Add quick links to contact information, social media, and relevant channels.
Promotional opportunities – Drive registrations for upcoming events if they're relevant to your recipient.
Valuable offers – Add a call to action (CTA) for recipients to follow to download a relevant content offer, like an ebook or report.
Today, offering your potential customer a personalized experience is crucial for effective email.
How to Create a Professional Email Signature
via GIPHY
In just a few steps, you can develop a signature that stands out and impresses your recipients.
Emphasize your name, as well as your job title, your company, and any contact information that is relevant to your recipients.
Nail the design and style by adding colors that are consistent with your brand, inserting space dividers to break up information, and implementing a design hierarchy that directs the recipient to read the most important information first.
Add links to relevant content offers, include social media profile icons, and add personalized meeting links, if applicable.
Create UTM codes to track the links being used in your signature.
Ensure your signature design is mobile friendly.
The easiest way to develop a professional, engaging signature is to use an email signature generator.
What Is an Email Signature Generator?
As you could imagine, an email signature generator is a tool that allows you to build and customize signatures you can then upload to your email service provider and save as your default signature.
There are a number of email signature generators available online that are free. Plus, there are tools that allow you to build customizable templates, where you can include graphics, clickable links, photos, and more.
Essentially, you can make your email signature act as a virtual business card that can establish your brand identity, inform prospects of exactly what you offer, and personalize your outreach.
The 10 Best Free Email Signature Generators
Here's a list of the best free email signature and template generator tools you need to try now:
1. MySignature
MySignature is an online generator that allows you to create branded email signatures choosing from a variety of professionally designed templates. Just pick the design that is most suitable for your brand's image, customize it according to your needs, and easily install a ready-to-use sign-off.
MySignature's templates are mobile friendly and compatible with the most popular email clients, such as Gmail, Outlook, Thunderbird, and Apple Mail. This ensures that your email footer will be displayed the same way on different devices.
Because of its simplicity, this tool is popular among small business owners, entrepreneurs, and freelancers. However, if you need a tool with more sophisticated marketing and management features, look at enterprise level solutions. Speaking of enterprise solutions...
2. Newoldstamp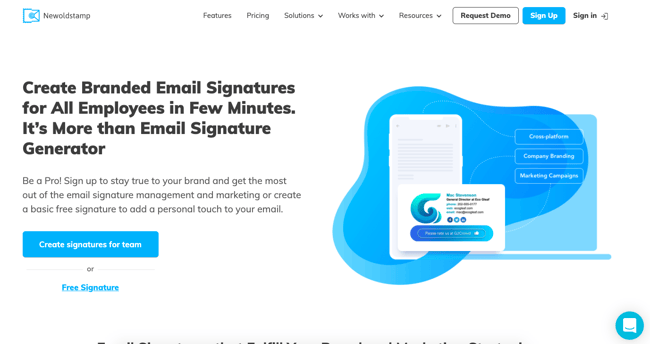 A professional email signature management solution for enterprise and medium-sized companies that are looking for more advanced features. Newoldstamp allows you to easily create, manage, and distribute email signatures across the whole organization.
The Newoldstamp's management and marketing features include template customization, central management, department layouts, automated distribution, auto-update, banner campaigns, and built-in analytics. To make the management process even more effective, the service offers seamless integration with Google Workspace (formerly G Suite), Exchange, and Office 365.
According to customer reviews on G2 and Capterra, Newoldstamp is one of the most user friendly email signature marketing software on the market. Not to mention, they provide excellent customer support for their users.
3. Gimmio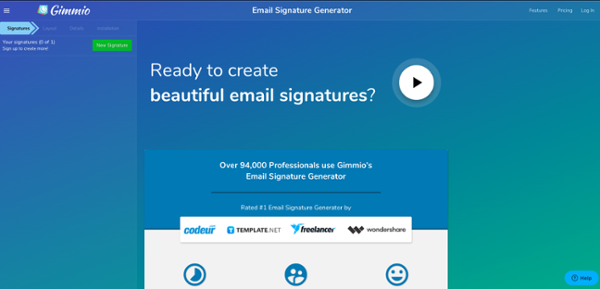 Formerly known as ZippySig, the newly rebranded Gimmio allows you to create custom email signatures for every member of your team.
It offers advanced customization options, including over 40 fonts, thousands of social icon variations, and layout options, like adding columns, changing field labels, and using custom banners.
Plus, they provide a user friendly dashboard and great technical support.
4. Signature Creator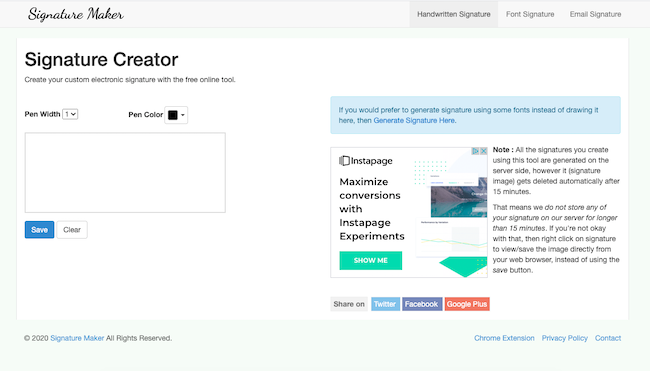 If you're looking to create a custom handwritten signature, font signature, and email signature, then Signature Creator is your best option. It allows you to do it all in a super easy tool.
All the signatures you create are generated on the server and get automatically deleted after 15 minutes.
However, you can save the image directly from your server by right-clicking on the signature. The best part of this tool is how simple and straightforward it is.
5. WiseStamp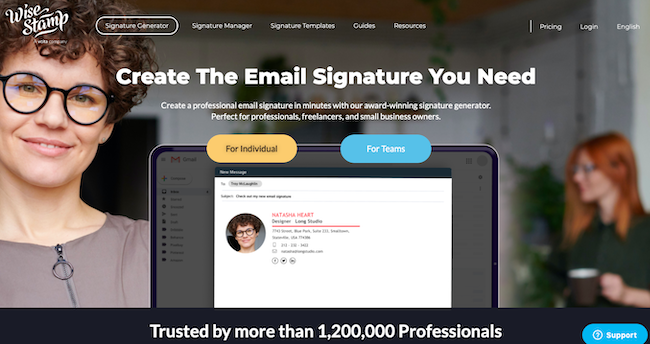 Wisestamp offers a free version as well as a monthly subscription service with increased functionality. It's used by over 650,000 professionals to customize signatures. Plus, the tool allows you to add social media icons to increase your social community.
You can choose from over 50 professional templates and even attach Instagram photos to personalize your email.
6. HubSpot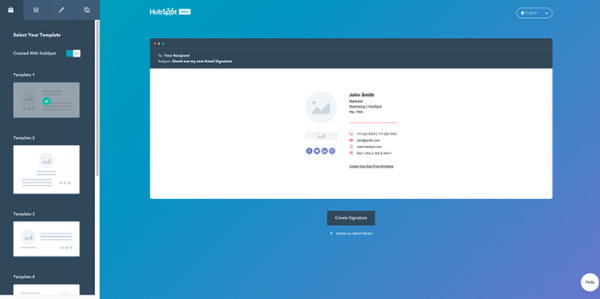 HubSpot's email signature template generator is another awesome option. You simply fill out your main information form, which includes all your personal information, and then you can add links to your social media in the following form.
Then, customize the style by choosing a theme, fonts, and colors. The last two forms allow you to add a text or image CTA and HubSpot Academy certifications you completed. Adding your certifications can add credibility to your name and company.
Once you're done, you can use it within any email provider, including Gmail, Outlook, and Yahoo Mail.
7. MailSignatures.com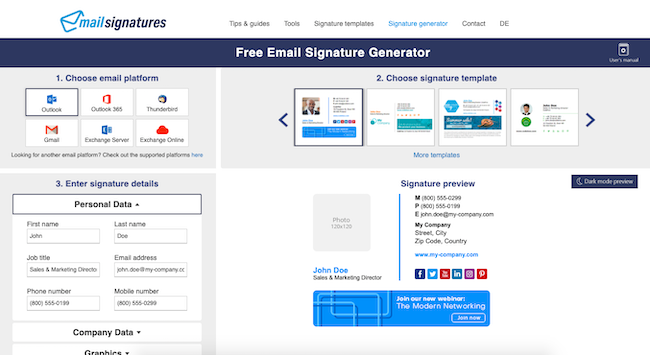 Using MailSignatures is another easy, step-by-step generator tool. Start by selecting your email platform from the selection of clickable options, then choose a signature template.
Then, add your personal information, company information, and your logo, stylize your font, and finally link your social media accounts. Once you review it, select "Apply your signature" to connect it to your email platform.
8. signature.email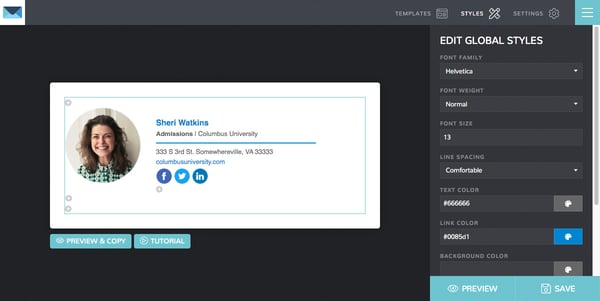 Another top choice, signature.email's generator allows you to add any number of fields and drag and drop them into any configuration that you want, giving you full control over layout, colors, and spacing.
With signature.email, you can add social icons, images, banners, and a host of other important elements into your company's signature.
The tool itself is free to use. The paid plan allows you to create a template for your whole company to use, making it easy to distribute the signature throughout your entire company by simply sending a link.
9. Designhill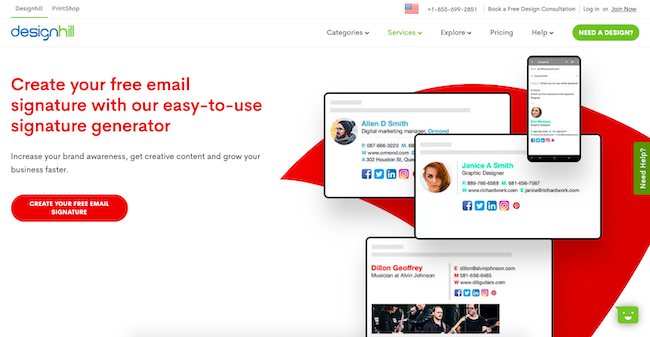 One of the most talked about tools, Designhill has been featured in leading publications, including Entrepreneur, Inc., Forbes, and Huffington Post.
Their email signature generator is easy to use, and once you're done creating, simply embed it into your email account. The templates they offer are some of the most visually appealing ones available.
10. HoneyBook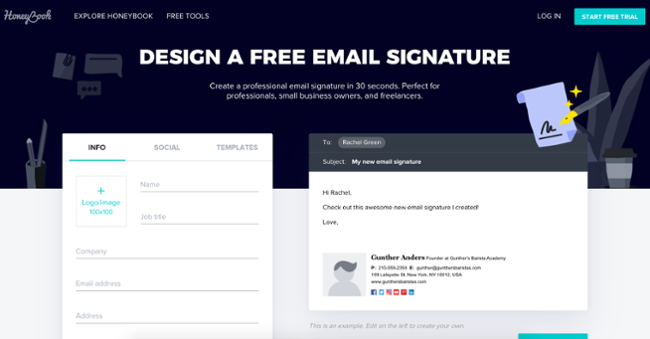 The amount of time it takes to build an email signature that looks great and yields the most benefits doesn't have to eat away your whole day. With HoneyBook, all you need is 30 seconds.
You fill out two simple forms and then pick from eight templates they offer. While other tools on this list offer a lot more versatility, this tool is perfect if you're looking to keep things simple.
Expand Your Branding Into Your Emails
Today, you need to take advantage of every opportunity to imprint your brand on your potential customers. Your email signature is perfect for adding to your branding strategy by using a tool you use every day – email.
Using an email signature generator to create the perfect email signature can provide contact information for your business, develop your brand, and give you a more professional appearance with little effort.