5 min read
Every company has a culture, whether they know it or not. Webster defines culture as a set of shared attitudes, values, goals and practices that characterizes an institution or organization.
Smart companies cultivate their own unique culture based on a combination of values and norms that have arisen on their own and principles they admire or wish to mirror because they have seen proof of success from other similar or partner organizations.
The inbound marketing culture is very unique. Trust me, I know. I went straight from my undergraduate studies to a career in corporate America.
I wore suits, spoke in hushed tones, sat in my high-walled cubicle, and rarely saw my boss. The CEO worked on the 18th floor, and I only saw him from the nosebleed seats at our town-hall meetings.
Upon entering the world of inbound marketing I experienced what you might call a bit of a culture-shock. While not all-encompassing and certainly not written in stone, here are 6 cornerstones of inbound culture I have come to know and respect during my time at Bluleadz.
The Long-Haul
Inbound marketing requires loads of patience. Results don't happen overnight; in fact, sometimes it can take many months to see the results of inbound efforts. That's simply the name of the game. Both inbound agencies and the clients they work with need to understand and accept this in order to cultivate the appropriate inbound culture.
Why does it take so long?
Unlike the old/outbound marketing ways, the inbound methodology builds relationships — and as most of us know, relationship building takes time. There are also a number of foundational efforts that need to occur prior to implementing your inbound efforts. These include:
Inbound marketing is often compared to a marathon and not a sprint, but once the momentum is built up you'll continue to see compound results.
Strategic vs. Tactical Thinking
As inbound marketers we must always remind ourselves to take a step back and ask: "Why am I doing this?" "Does this particular initiative make sense based on our client's goals?"
There's a myriad of things to be done within the inbound marketing realm - but not everything is relevant and it's our job to be strategic thinkers rather than task takers.
For example, just because the HubSpot tool makes it easy to publish social media doesn't mean we should be blasting out messages across every platform, three times a week.
For some clients this might be the right move, but for others it may be a huge waste of time.
As an agile marketing agency, Bluleadz is committed to strategic thinking. This means we carefully select the right tactics, build them out, deploy them in an organized manner, and then track their performance (making sure to remain flexible and open to change along the way as we uncover what works and what doesn't).
Love
There's a lot of passion involved in the inbound marketing world. Passion for what we do and passion for each other. Many smaller inbound agencies I've had the pleasure of visiting operate the same way.
As soon as you walk in the door to our office I guarantee you'll be filled with the energy of support, caring, and a sense of family that you simply don't find in many business environments. And all are welcome!
It doesn't stop with us. When our clients visit we like to shower them with (non-physical) love and attention; same goes for family members, spouses, Hubspot visitors - you name em'.
In addition to all that love we have for each other, we also share a common love for what we do, which drives us to work better together as a team, strive for greatness, and put forth our best effort.
We all love Bluleadz as though it's our own little inbound marketing baby, if you will, so we take great care and pride in its success and work hard to prevent any harm from coming to it.
Constant Feedback
This applies to everyone! Leaders must provide their employees with feedback, employees must do the same for their leaders, and these critical conversations must take place between each other.
Feedback is the lifeblood of learning and growing. Whether it's focused on a website design, an email campaign, persona creation, or a more personal level, feedback makes the wheels go round.
And let's not forget the clients! Feedback from our clients and vice versa is also extremely important to the inbound culture. Our vision isn't always in line with our client's vision, so sharing our designs and ideas early on and gathering feedback is a critical part of our work.
Handling such feedback in a professional manner is paramount as you may not always like what you hear, but if you've bought into the inbound culture, you'll appreciate the reasons for it.
Always Be Learning
There is a plethora of information out there (it's what we do after all, put content out there for the world to consume), so there's no shortage of educational material about inbound marketing. Eat it up. Subscribe to inbound publications, watch webinars, get registered, and follow interesting and relevant blogs to continue your education each and every day.
Don't forget to share that newfound knowledge with your colleagues or clients so that everyone can benefit. A culture that promotes self-directed learning will encourage its members to seek, share, and GROW.
Celebrate
…..good times.
At Bluleadz when we sign on a new client we ring a large loud sales bell and cheer and clap obnoxiously. On payday we order pizza delivery. If someone hits a large number of views for a blog, a campaign brings in a big ol' chunk of leads, or a client leaves us a great review, we celebrate.
Sometimes we dance or turn up the music really loud or our CEO challenges someone to a round of ping pong. These are the ways we celebrate a job well done.
However you choose to celebrate, find ways to do so. It will increase employee happiness, encourage people to strive for more success, and cultivate an environment of togetherness.
These six cornerstones are only a small part of the inbound marketing culture. Building a culture takes time and I'm proud to say I'm part of an organization that continues to grow our culture each and every day.
With these six tenants you can start to grow your inbound marketing culture today — good luck and happy inbounding!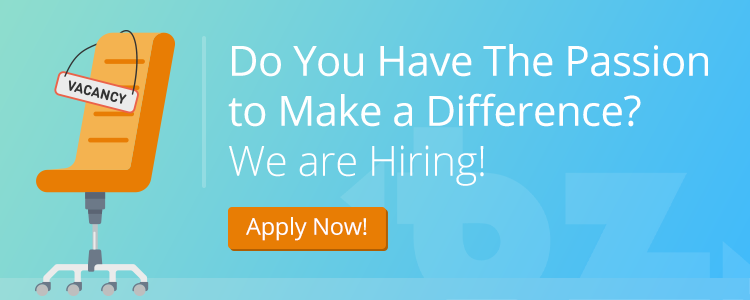 Published on June 22, 2018