What Is Adaptive Testing?
Adaptive testing is an amped up AI version of A/B testing. It leverages machine learning to test different variations of your webpage at the same time, using new knowledge and existing knowledge to optimize decisions. Adaptive testing has great benefits such as its automation, its capacity to test more than one variation at a time, and its ability to improve conversions during testing.
How do you know your page updates, including design and content changes, are worth the effort?
You could just make all of the permanent changes and view your analytics later, but you may find that your changes had little to no affect on your goals. This results in wasted time and doesn't help you grow your business.
Testing your updates is the best way to save time and reach your goals quickly. A/B testing is a powerful option and provides some useful insights, but it is fundamentally flawed.
With A/B testing, you must analyze statistical data yourself and choose a winner, which is intellectually challenging. You also must keep both variations live on your site as they change at random, which means half of your visitors are still seeing your lower performing version and not converting.
Allow us to introduce a recent evolution in A/B testing – adaptive testing. Adaptive testing can provide you with the right variation to choose and can still produce conversions for you while you're testing.
Let's take a look at the basics about adaptive testing, provide you with the benefits, and walk you through how to conduct adaptive tests in HubSpot's enterprise tier.
What Is Adaptive Testing?
Adaptive testing is an evolved form of A/B testing, formerly called multi-armed bandit testing, that employs machine learning and AI techniques to explore new knowledge and to optimize decision making based on existing knowledge.
It essentially helps you to test new asset variations while leveraging the current variations to users according to past performance.
How Does Adaptive Testing Work?
Adaptive testing works using several variations of one page. For instance, let's say you want to test five variations of one page. HubSpot splits traffic evenly between all five variations of the page at first. Once it learns how each variation performs, it starts to adjust the traffic going to each page variation over time.
This means that the variations that perform the best are shown more (given more traffic), and the variations that aren't performing as well are shown less. The best variation wins out in the end.
5 Benefits of Using Adaptive Testing
Here are just a few advantages of using adaptive testing in HubSpot.
1. It's Automatic.
Adaptive testing doesn't require you to wait for a specific sample size before you manually select a winner for each test run like A/B testing. With adaptive testing, you plug in your variations and wait for the test to produce results that tell you which variation worked the best.
This means there's no need to monitor your tests closely. HubSpot's adaptive testing takes care of all of the work for you so you can take care of more important tasks.
2. You Can Test More Than One Variation at a Time.
A/B testing worked by testing two variations at a time. Adaptive testing allows you to test up to five variations at a time.
If your team can't agree on two variations of a page, you can now use and test more ideas on three additional variations and let the test tell you which one works best for you to use.
3. You Can Improve Conversions During Testing.
You don't have to sacrifice conversions when you use adaptive testing. During your testing period, fewer visitors are routed to your lower-performing variations because traffic is automatically routed to the better-performing variations.
The traffic that is routed to your best variations is more likely to engage and even convert so your testing time isn't wasted just trying to find the right option. It works for you while you learn what your visitors and customers respond to.
4. It Provides Tips for Testing.
There are instructions that tell you what to do next when you go through your testing set up process.
If you get stuck on what you should change from one variation to the next, click "see testing tips" to view some recommendations and strategies for elements to change during testing, such as layout, design, copy, media, or CTAs.
5. It Shows You Traffic Distribution Over Time.
Once your test is complete, you can view a line graph that shows you how your variations start out with roughly the same amount of traffic. Then, you can see how the testing model learns which variation receives more submissions per view than the other variations in the test.
This provides you with clear visibility so you can be sure you are choosing the correct page variation for your site to achieve maximum results and conversions.
Learn how to conduct your adaptive test so you can make the most out of your webpages, boosting your conversion rates and improving the user experience.
How to Use HubSpot Adaptive Tests
Here are some easy steps for you to take when you are ready to conduct your first adaptive test in HubSpot.
1. Begin in HubSpot's CMS Page Editor.
Click "Run a Test." Choose the adaptive test option.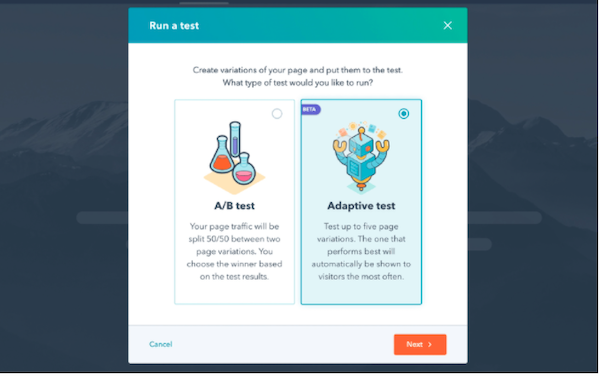 Source: HubSpot
2. Set Your Goal and the Amount of Variations to Test.
Add up to five variations. Make sure to give each of your variations a unique name.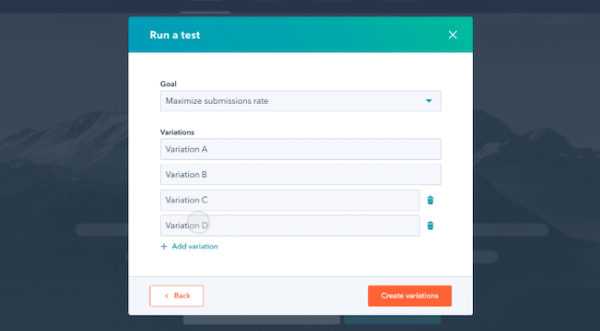 3. Edit Your Variations.
Toggle between your variations to edit different aspects about each one until they are to your liking.
4. Publish Your Pages.
Once you are done editing your variations, click "Publish."

5.Analyze Your Test.
After a set period of time, data from your test will show up in the "Test Results" tab. This tab provides you with three main charts to help you understand the results of your adaptive test.
The first chart shows you which variation accomplished your goal using a comparison graph.

The second chart shows you how traffic was allocated over time during your adaptive test.

The third chart is a comprehensive data table that shows you all metrics for each variation of the test.

Artificial intelligence and machine learning provide you with more powerful testing that can put you ahead of your competition. Don't settle for testing that can't truly help you meet your goals, or, worse, ignore testing altogether. You're leaving money on the table each day you ignore optimization and testing.
Start optimizing your site today using adaptive testing in the HubSpot Marketing Hub Enterprise tier.