The HubSpot platform provides all the tools and integrations needed to grow businesses of all sizes.
From large scale enterprises to small businesses and everyone in between, HubSpot remains the most flexible CRM platform available to support growth goals and scale with you.
And as of October 2022, HubSpot proudly announced their partnership with Aircall, a leading cloud-based phone system.
What Is Aircall?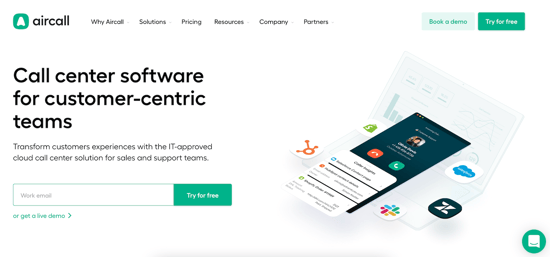 Aircall is the cloud-based phone system for support and sales teams that is built to work in conjunction with your HubSpot CRM.
Simple and beautiful UI for admins and users, it is designed to give control to managers and admins, focusing on ease of use by connecting to both sales and customer service and support tools.
You can create numbers in 100+ countries and begin onboarding the same day. As you scale your efforts, you're able to add numbers, users, or routing rules easily, with consistent 99.99%+ uptime.
Aircall is a HubSpot Strategic partner and preferred integration for telephony solutions.
What's New With HubSpot and Aircall?
They announced their strategic partnership in October 2022, supporting both of their missions in helping businesses scale. As noted in their recent press release:
With over 7500 installs, Aircall is HubSpot's number-one most installed telephony app on the HubSpot Marketplace. This is a powerful indication of how both apps are already bringing the value of voice integration to their CRM setup to deliver outstanding customer experiences.
This announcement further establishes the focus that both platforms have on enhancing the customer experience and helping teams sell more in less time.
Current HubSpot users can either test the Aircall platform with a free 7 day trial or schedule a demo to see the platform in action. Plus, they get two months free for annual sign-ups, plus a complimentary one-hour business consultation session.
Once HubSpotters get Aircall, they can set up the integration.
How the Aircall-HubSpot Integration Works
The HubSpot-Aircall integration is one of the most popular telephony solution for HubSpotters for good reason — it centralizes everything for your sales and customer service teams to enhance all conversations with prospects and customers.
The most notable features include:
Automated logging of all calls and SMS data
Workflow trigger capabilities for targeted follow-ups
Power Dialer tools for more efficient outbound calling
Insights Cards to provide key details during calls
With so many incredible features available, sales and service teams alike are well equipped to drive efficiencies while providing more personalized experiences for customers and prospects alike.
How to Leverage Aircall and HubSpot CRM for Sales and Customer Service Teams
There are several incredible features that HubSpot users can enjoy when using Aircall. Here are some of the best ways to leverage the Aircall-HubSpot integration:
Set Up Automatic Call and SMS Logging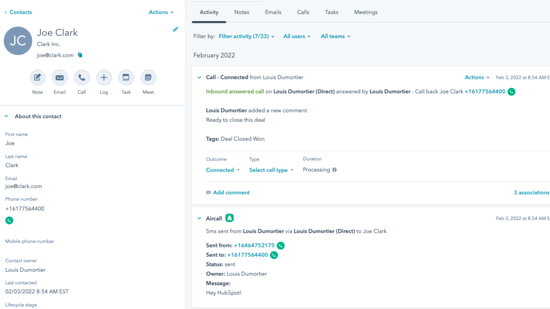 Source: HubSpot
Your sales and service teams are on the phone for most of their day. They're dialing, taking notes, sending follow-ups, and organizing key details in the contact records within your CRM.
Fortunately, the manual process of centralizing all their information can be automated with Aircall. The call recording system helps teams get the full story behind each engagement with every contact.
Every touchpoint — outbound and inbound calls, missed calls, voicemails, and SMS data — is logged in the contact record of each person in your CRM. That saves a ton of time spent manually adding notes and importing call recordings from other telephony solutions.
Gain Visibility Using a Shared Inbox
No more guessing who said what or when a contact was previously contacted. And say goodbye to long ticket resolution times and a never ending inbox.
Your sales and support teams can achieve the dream of inbox zero thanks to the shared inbox feature of Aircall. This helps by providing full transparency across all teams.
Plus, it keeps everyone aligned on specific tasks. This includes maintaining an ongoing to-do list and assigning the right tasks to the right individuals.
What's more, all your call reports are available within HubSpot. So when you're tracking call metrics, you're able to visualize performance across all reps on your sales and support teams.
Expedite Follow-Ups With Workflow Automations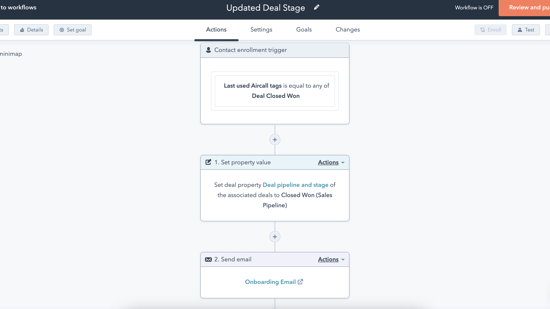 Source: HubSpot
Time is of the essence for sales reps and support reps alike. They need to be quick in responding to requests for information and for maintaining a positive experience for the customer or prospect.
Aircall tags help your teams set up post-call processes directly in the HubSpot workflows tool. You can trigger important actions.
For example, once your support team closes a ticket and ends a call with a customer, you want to send that customer an email with a short survey to measure their perspective on their level of service. You can automate this to ensure you get that feedback immediately.
Sales teams can set up emails with assets to automatically send to prospects following a call. The possibilities are endless for delighting your customers.
Create Deals and Tickets Automatically
As you can see, automation is the key concept when using the Aircall-HubSpot integration. You can use a simply tagging system to streamline the process of deal and ticket creation within Sales Hub and Service Hub.
Admins simply need to choose specific pipelines to create specific tickets or deals with a status. The call details are then automatically logged into that ticket or deal.
Enhance Your Customer Experience by Using the HubSpot-Aircall Integration
Start saving time and improve how your sales and support teams engage with your contacts. Those using Aircall will benefit from a 20 percent discount with HubSpot, while HubSpot customers will get two months free for annual sign-ups, plus a complimentary one-hour business consultation session.
You can get started by signing up for a free Aircall demo now! Enjoy exploring the tool's capabilities and see how it can help your teams close more deals and delight more customers!