Are you looking to take your sales process to the next level to scale your business? Or maybe you feel like you spend so much time checking on and managing your sales team that you can't focus on other work?
Well, imagine if you had automated workflows in HubSpot that reminded your team of certain tasks, sent notifications when items moved in the pipeline, and sent status updates on certain deals… your life would probably feel a lot easier as you and your team could improve efficiency.
Lucky for you, there are several tips to help set up different workflows that every sales team should take advantage of in order to automate items using HubSpot sales workflows.
Automated Sales Pipeline Workflows
via GIPHY
When you go to set up a workflow, you most likely think you have to go to the automation tab in the navigation of your HubSpot portal.
But that isn't the only place you can set up workflows!
If you want to set up automation that is specific to activity and deals within your pipeline, then you can actually set up this automation in the "deal settings" of your pipeline.
This is great because it allows you to see all the workflows for each stage at once. In order to get there, follow the steps below:
Click "settings"

Drop down the "sales" menu

Select "deals"

Select your pipeline

Click the automation tab

Begin creating workflows in each stage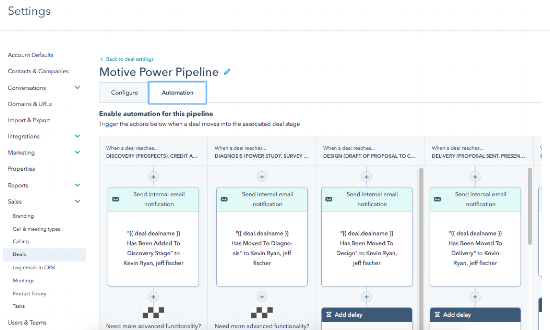 Pro tip: The automatic workflow within a pipeline is great to use to set up notifications to sales managers for when items have moved to different stages of the workflow. You can also expand each workflow to notify you if deals have stayed in one stage of the pipeline for too long.
However, if you have multiple stages and follow ups in these workflows, then it is important to click "Open in Workflows" to adjust the unenrollment criteria for if the deal moves to a new stage.
If you do not add the unenrollment triggers, then all steps of the workflow will continue even once the deal has moved from that specific pipeline stage. You cannot set unenrollment triggers within the automation of the actual pipeline.
Advantages of Pipeline Automation
The main advantage for using the pipeline automation in HubSpot is that it will allow you to set up a series of workflows for each stage of the pipeline all at once instead of having to open separate workflows.
This will help you streamline the process of creating automation for the pipeline. The advantage of setting it up to notify when deals have moved to new stages or have stayed in stages is that it reduces the amount of time you need to check in with each deal and circle back with team members.
Current Deals Automated Tasks in HubSpot for Sales Reps
Do you find that you're constantly circling back with sales reps to check the status of a deal, only to find out that something has fallen through the cracks or hasn't been followed up on?
In sales, it's important to be responsive with potential deals and continue to follow up to help move items along in your pipeline.
By setting up automated task workflows in HubSpot, your sales reps can instantly receive tasks assigned to them so that there is no excuse as to why items were done and deals weren't followed up on. These will help move items along throughout your pipeline.
HubSpot now has the ability to create workflows that are associated with each deal. When creating this workflow, make sure you select "deal based" to keep your workflows organized.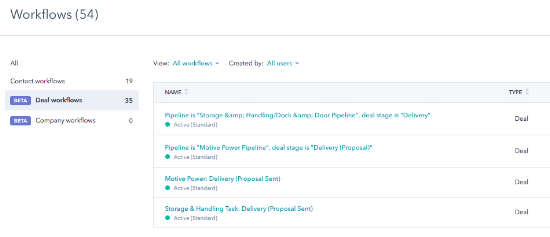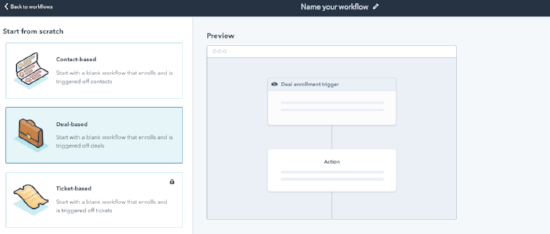 Setting up this workflow is very similar to any other workflow. You can select the enrollment trigger in HubSpot to be associated with a deal stage or a specific deal.
You can then assign your actions to create a task. For example, if your sales rep needs to circle back with a prospect once a proposal is sent, then you can set up a workflow to automatically create a task once the proposal has been sent.
Then, you can then add delays for additional reminders/tasks depending on when your sales rep needs to follow back.
Pro tip: When setting up an automated task workflow, be as detailed as possible.
Using personalization tags and messages within each task will make it easier for both your sales rep to know what they should be doing and for you as a sales manager to know what tasks have been completed and what the status of each deal is.
Advantages of Automated Task Workflows
As a sales manager you are very busy. Manually assigning a task or asking for the status of different deals can be a full time job in itself.
By using task automation in HubSpot, you'll be able to cut back on time spent managing tasks and make sure that each sales reps have a "to do" list. This also holds them accountable and you're able to see what has been completed and what isn't.
Automated Workflows For Closed Lost Deals
via GIPHY
When a deal is closed and marked as lost, does your sales team move on and forget about that deal?
If that is the case, then you're potentially missing out on a lot of opportunities for people who could boomerang back to you and become potential clients. However, as a sales manager, you and your team are so busy trying to close current deals that it can be easy to forget about those who rejected you.
So, just like you would set up a task for a sales rep to complete items in your current pipeline, you should have a workflow created for an automatic follow up task to be assigned after a certain period of time after a deal was lost.
Just because the prospect wasn't ready then doesn't mean they won't be ready for you in the future. Or, they could be unhappy if they went with a competitor and they will be happy to hear from you again. It is always important to circle back on those that have already completed your sales process!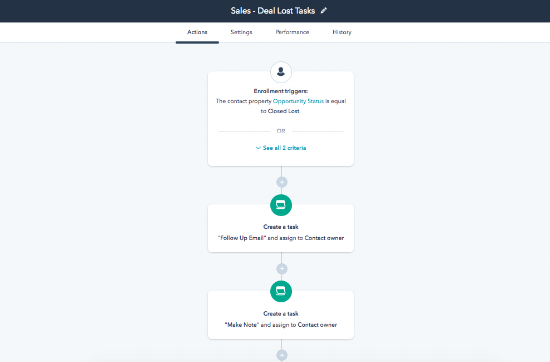 Pro tip: Not only is it good to follow up as soon as the deal has closed, but you can add delays in your workflow to follow up with them after a certain time period, like three to six months or even a year later.
Advantages of "Deal Closed" Lost Workflows
Using automated workflows for deals you have lost give you an opportunity to bring back those who were not ready during their first sales process.
They already know who you are, and you have some type of relationship with them. It doesn't hurt to circle back to see how they are doing and see if they are ready for your services.
Start Improving Efficiency of Your Sales Process With Automated Workflows in HubSpot
These are just three different types of automated workflows that can help improve your sales process! You can also create ones for new leads to be assigned to different sales reps, for exploring cross sell and upsell opportunities with current clients, and much more.
However, the ones mentioned above will (hopefully) help your life as a sales manager be a little easier by sending you updates on different deals and automatically assigning team members certain tasks.