20 Marketing Automation Software
1.

HubSpot

2.

Iterable

3.

ActiveCampaign

4.

Keap

5.

Constant Contact

6.

Autopilot

7.

Net-Results

8.

SharpSpring

9.

Campaign Monitor

10.

WordStream Advisor
11.

MailChimp

12.

LeadSquared

13.

Act-On

14.

Automizy

15.

Customer.io

16.

HootSuite

17.

Agorapulse

18.

SEMrush

19.

Sprout Social

20.

Sendible
No matter your industry or the goods or services you offer, if people aren't aware of them, they're not going to buy them. So what's a person to do?
You already have a schedule full of meetings, demos, networking events, and actual work. How are you supposed to make time for lead nurturing and engaging with people on your business' social media pages?
Thankfully, marketing automation software makes it a lot more manageable. But, how do you know if it's time to get one? What exactly does it do? And what are the best marketing automation tips for a business owner?
What Is Marketing Automation Software?
The goal of marketing automation is to leverage software to automate repetitive marketing tasks. This supports marketing teams in various efforts to help reduce manual output and improve productivity.
Marketing automation software takes prospects' data you've collected through website visits, landing pages, emails, and newsletter and blog subscriptions, and helps you segment your contacts. This way, you can customize communications automatically based on their stage on their buyer's journey or other characteristics.
Marketing automation software provides all kinds of tools to support a variety of tasks, including:
Text messages
Social media posts
Marketing emails
Follow-ups
Invoice reminders
Upselling and cross-selling
Abandoned cart messages
Order confirmations
Appointment scheduling
Re-engagement messages
These automated messages are triggered based on specific user behavior, sending them relevant information that's specific to them. This kind of software also measures metrics, such as the number of emails sent to each contact, open rates, click-through rates, website traffic, and behavioral triggers, among others.
At a time when marketers often run dozens of campaigns at once, it's not surprising that so many software programs are stepping in to facilitate the process. You can create campaigns and control every aspect of your marketing strategy in one easy-to-use platform. Many of them even include drag-and-drop functionality to make the process as easy as possible.
When Do You Need a Marketing Automation Tool?
When your business is new, you may be able to track all of your contacts and keep in communication with them in a personalized way. However, as it starts to grow, it's impractical to think you'll be able to do so. This is especially true if you've just started a new campaign.
Think about it. How much fun would it be to keep a tally of every website visitor and person who emails you — and of all of the follow up communications? You'd never have a single moment left to actually do your job.
In addition to making things less complicated and stressful, automated marketing can help you achieve a greater ROI, since the data helps you know which prospects are more likely to turn into sales qualified leads, and which of those leads is getting closer to making a purchase.
It'll water those plants, if you will. Send those that are ready to bloom directly to your sales team.
Elements of a Good Marketing Automation Software
A lot of marketing automation tools have similar features, give or take a few that may be more useful for a particular industry. However, you want to make sure that the software you're considering includes the following features:
Website visitor tracking
Contact management
Email marketing tools
Lead nurturing
Customer support
Campaign management
Integrates with other tools
Adaptable to mobile devices
Landing page creation
Analytics and reporting
20 of the Best Marketing Automation Softwares
There are many marketing automation software options that can make your business more efficient and profitable. The most popular ones include the following:
All-In-One Marketing Automation Software
The following 10 platforms are built as all-in-one solutions, providing a full suite of tools that cover all your marketing needs.
1. HubSpot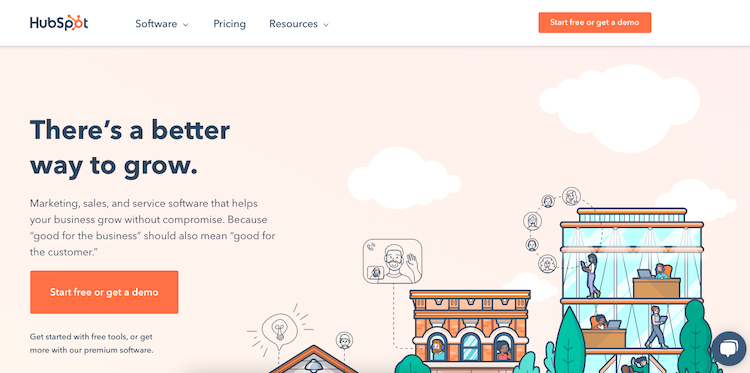 Is this even a shock coming from us?
When it comes to marketing automation, HubSpot is the hands-down leader. It not only provides tools for inbound marketing, it is inbound — and its software is carefully crafted to automate all aspects of a great campaign.
Design your site, enhance SEO, develop content, and drive users to key landing pages with powerful calls-to-action. HubSpot brings it all together like no other.
Why It Stands Out
It comes from the undisputed global experts in inbound digital marketing best practices.
You can automate all aspects of inbound, from blog posts and email marketing to landing pages and more.
Affordable plans make it accessible to a wide range of different companies, no matter your size.
2. Iterable
Iterable has been built from the ground up to be marketer-friendly.
It has a particularly versatile approach to market segmentation, and offers multi-channel campaigns that can move flexibly from one platform to another — for example, SMS messages triggered by cart abandonment.
Why It Stands Out
Laser focus on growth marketing for B2C enterprises makes it ideal for its market.
It supports blast, lifecycle, and transactional campaigns across all digital channels.
You can facilitate A/B split testing, experiments, and segmentation with easy workflows.
3. ActiveCampaign
ActiveCampaign takes some of the best ideas from marketing and sales enablement, combining them in ways that make perfect sense.
It functions as a CRM with integrated communication between your team, but also provides email marketing, site messaging, and SMS to keep contacts warm. By centralizing data into a single source, it breaks down old sales and marketing silos.
Why It Stands Out
It automates marketing, email campaigns, and sales/CRM as a seamless experience.
It makes follow-up easy and intuitive using personal and behavioral customer data.
Its strong focus on customized smart content helps position brands for the newest trends.
4. Keap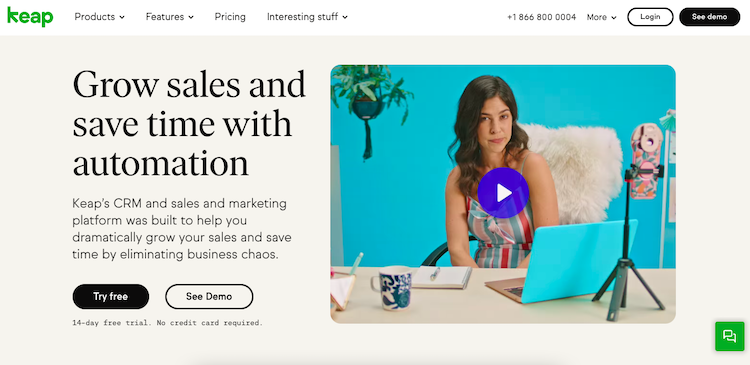 Formerly known as InfusionSoft, Keap targets small businesses in the process of scaling.
It takes care of the day-to-day nurturing of prospects throughout the entire lifecycle. What normally can take hours of work can be automated in a few minutes; and it has excellent customer service with multichannel support.
Why It Stands Out
It offers free website migration.
It integrates with over 2,500 applications.
It automates all digital marketing needs, even if you have a small budget.
5. Constant Contact
Constant Contact lets you create a website, set up an online store, and conduct email marketing, while also integrating with Facebook and Instagram. It has hundreds of email templates that are mobile-optimized and includes user-friendly editing tools.
And if you're at a loss and don't know where to start (or don't have time), its Website Builder feature will create a personalized website for you based on your answers to a few questions.
Why It Stands Out
You can create a business website in minutes.
It has images and content suggestions.
Tech skills aren't necessary.
6. Autopilot
In addition to the basic features included in all-in-one marketing automation software, Autopilot automates communications to new subscribers, follows up with sales leads, and books appointments.
It also integrates with Pipedrive, Salesforce, Slack, Typeform, and HubSpot. You can even leave annotations and check a timeline of every change done to all communications.
Why It Stands Out
It onboards new customers to educate them about your products or services.
It asks satisfied customers for product reviews.
Team members can brainstorm and collaborate at the same time, in real time.
7. Net-Results
Net-Results made its name as the marketing automation software of choice for those switching from another solution.
It's extremely extensible — full API access means you can go under the hood and crank your customization up to 11 if you choose. It integrates easily with the top enterprise CRMs. Plus, your team will benefit from contextual tools to ensure each message is as good as it can be.
Why It Stands Out
It comes with a large and dedicated following among those buying for the second time.
Get access to acclaimed live support, including unlimited onboarding, to get you rolling.
API access is available for enterprises that are hungry to take things to the next level.
8. SharpSpring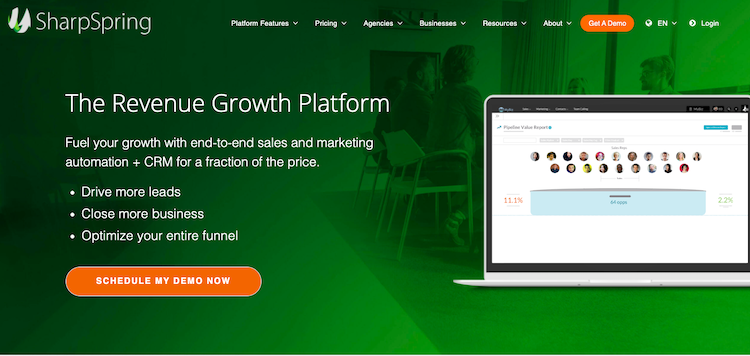 If you're looking for a simple marketing automation that's also affordable, you might be interested in SharpSpring.
With easy-to-use email marketing, CRM, and social media integrations, there isn't much more SharpSpring is missing. Even if you are a non-professional, SharpSpring might just be the cure to your marketing automation needs.
Why It Stands Out
It's mobile friendly and great for non-professionals looking for an automation service.
It uses dynamic forms for lead capturing.
Personalized pricing is available so it works with what you can afford.
9. Campaign Monitor
Campaign Monitor is where companies turn when the famous email brands with the lower-cost monthly plans no longer meet their needs.
Not only can you design snappy emails in a few seconds, but you get remarkably granular customer journeys that can keep building the relationship for months without intervention. It has an ambitious plan to expand behavioral data implementation, too.
Why It Stands Out
The simple drag and drop interface lets you design amazing email campaigns with ease.
Powerful automation workflows go beyond the norm for granular triggered effects.
Easy and robust user segmentation — everyone gets the exact experience you planned.
10. WordStream Advisor
If you feel like you've rung every little bit of value out of Google AdWords' native tools, then WordStream Advisor is where you want to go next.
This digital advertising software can act as a key addition to your toolset, and when used together with WordStream's other tools, you can build a full marketing automation platform customized for your unique needs.
Thanks to elegant, powerful tools combined with weekly alerts, you can manage a full portfolio of campaigns, fast. Cutting-edge cross-platform performance means you can access the integrated analytics dash anywhere, any time.
Why It Stands Out
It synthesizes paid search and paid social advertising management to 20 minutes/week.
It comes with some of the easiest and most intuitive reports for internal stakeholders and clients.
It offers a wide array of free tools.
Email Marketing Automation
These five tools listed are primarily used for email marketing purposes, acting as essential additions to your tech stack.
11. Mailchimp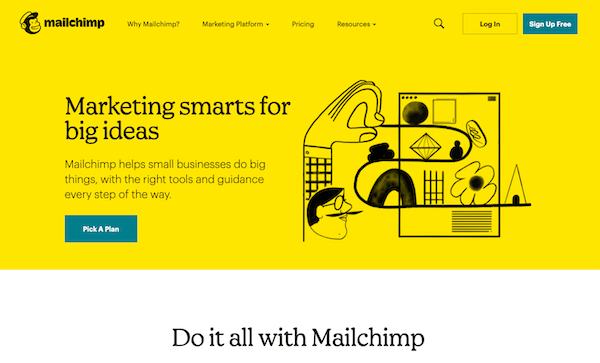 Mailchimp leads the pack for email marketing automation.
And it's certainly affordable — if you have up to 2,000 subscribers, you can opt for the basic, free plan (it goes all the way up to Premium, for businesses that have more than 100,000 contacts). It's also very user friendly, since it was specifically designed for people who aren't necessarily tech savvy.
Why It Stands Out
It's easy to customize your campaigns by using one of their many available templates.
Drag-and-drop functionality is ideal for the features you use regularly.
It includes a free image database.
12. LeadSquared
With LeadSquared, you get a two-for-one: email marketing automation and a CRM software.
Easily track consumer behavior, such as pageviews and CTA clicks, and use drip marketing tools, like a visual builder, to sketch out conversations and define their journey. Simply put, you can automate your entire sales funnel.
Why It Stands Out
Easy access to customer support helps you answer any of your questions.
Simplify your email marketing personalization with handy drag-and-drop tools.
You can test out the software before buying with a free trial.
13. Act-On
Act-On brings together inbound and outbound marketing so your brand stays agile. Everything from SEO, social media, contact forms, and landing pages is included.
Lead nurturing, scoring, and list management can all be fully automated. Plus, it comes with a full suite of tools for email and is one of the only options out there with its own webinar toolkit.
Why It Stands Out
It provides assets for customer awareness and acquisition, not just retention and loyalty.
Pricing is based on "active contacts" rather than database size, making it affordable and scalable.
It's intuitive and easy to use, despite the huge feature set.
14. Automizy
Automizy is a marketing automation tool specifically designed to improve your emails' open rates. It first lets you create landing pages to increase your contacts list.
It also makes it easy to create emails using their drag and drop email editor. And when you create A/B testing communications, it tracks performance and sends the ones with the highest open rates.
Why It Stands Out
It uses artificial intelligence to predict the performance of subject lines.
You can tag subscribers based on links they clicked on your website.
It allows you to create accounts for an unlimited number of users
15. Customer.io
Customer.io automates marketing emails, as well as sends push notifications, text messages, and communications via Slack.
It even automates sending postcards to customers. You can set them up to wait until a user does a specific action to trigger the communications. Plus, it has no limits on contacts segmentation and can do ad targeting without cookies
Why It Stands Out
It complies with HIPAA, SOC 2, and GDPR.
You can send communications in multiple languages.
You can split campaigns in two, based on true/false conditional statements.
Social Media Automation
The following options are excellent tools for automating your social media marketing efforts.
16. Hootsuite
Facebook. Twitter. Instagram. LinkedIn. Maybe you have two of them; maybe all of them. Hootsuite lets you schedule posts across all of your social media platforms from one single place.
You can also keep an eye on engagement in each of them — every like, comment, and share. In addition, you can set up your account to respond to comments. The analytics dashboard lets you see which content is performing the best, and it gives you insights to let you know why they're working.
Why It Stands Out
You can delegate responses to different team members.
Each team member will see which tasks has been assigned to them.
Get weekly analytic reports delivered to your email.
17. Agorapulse
Agorapulse offers social media management in an easy-to-use platform with affordable plans.
It also filters content by type and offers support for Facebook Groups. You can separate scheduled posts by queue categories, and use their inbox filter assistant to filter out spam.
Why It Stands Out
The average response time is 16 minutes for customer support.
You can send canned responses for those with frequently asked questions.
Their basic plans include features that are premium on other platforms.
18. Semrush
In addition to managing your social media content, the Semrush Social Media Toolkit lets you track competitors to see what they're posting, what's working, and what isn't.
It integrates well with Facebook and its related networks, such as Messenger and Instagram. Additionally, Semrush is known primarily for their SEO and content marketing tools, so if you're looking for a comprehensive software to support all your marketing efforts, this is an excellent option.
Why It Stands Out
Create and manage ads for every stage of the buyer's journey.
It allows you to optimize low-performing ads.
You can track brand mentions across all social channels.
19. Sprout Social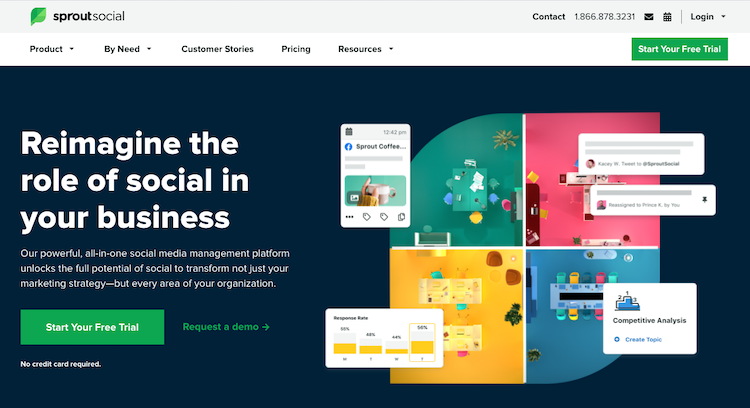 Sprout Social has a feature called ViralPost, which analyzes all relevant factors to deliver content at a time when it's most likely to have the most impact.
It also prioritizes messages in your inbox and has suggested replies for incoming messages, cutting your response time down immensely. Depending on the solution you purchase, you can manage up to 10 social media profiles at a time.
Why It Stands Out
Create and deploy chatbots.
Use trend analysis for Twitter keywords and hashtags.
Leverage their different tools depending on your industry.
20. Sendible
Sendible integrates with Facebook, Twitter, Instagram, Facebook Ads, LinkedIn, Google My Business, YouTube, and Pinterest, making it the social media automation software that integrates with the most social media platforms.
It can also be used to support blogging platforms, such as WordPress, Medium, Blogspot, and Tumblr.
Why It Stands Out
It lets you collaborate with team members and clients.
You can limit user permissions.
It provides more detailed, segmented analytics.
Marketing Automation Tips for Any Business
Once you decide on which platform would work best for your business, you should keep in mind several automation tips.
Train Your Team.
You don't want something as preventable as lack of training or simple human errors to get in the way of a great campaign. Review every feature and all of the processes.
Most of these platforms have instructional videos on their website, as well as customer service, and additional content on YouTube. If no one on your team is tech savvy, opt for an intuitive platform with easy to use drag-and-drop features.
Segment Your Contacts.
We've said it before and we'll say it again: Not everyone is on the same stage of their buyer's journey. And not everyone who looks at your About page is ready to fill out a form.
By categorizing your customers and automating communications based on certain triggers and behaviors, you will get better open rates, click-throughs, and ultimately, more purchases and repeat customers.
Create Quality Content.
No matter how seamlessly you schedule everything to occur, you still need to create useful, relevant, and interesting content. Write for your audience, always keeping in mind their buyer persona.
And once you do, make sure that those headlines and subject lines are compelling enough to get your audience to keep reading.
Don't Automate Everything.
Marketing automation software exists to help you manage your business. It is not meant to substitute human experiences, so be mindful of also including regular people available to assist customers. Chatbots can only do so much, and if a user gets frustrated, they'll go to a competitor.
Marketing Automation Supports Rapid Growth
With hundreds of marketing automation platforms to choose from, it's easy to get overwhelmed by all your options. This rapidly growing market shows an increase in interest for business software tools that reduce manual tasks and improve productivity in marketing.
Find the best solution for your business and start automating your efforts now. The longer you wait, the faster your competitors are accelerating their efforts. Get ahead of them now with the best marketing automation software that suits your needs.