The Best Manufacturing Websites
1.

Lockheed Martin

2.

Lear Corporation

3.

CMTC

4.

Caterpillar

5.

CST Tires

6.

FireRock

7.

Marlin Steel

8.

John Deere

9.

PR Hoffman

10.

NTS Unitek
When you think of awesome website designs that are convenient, compelling, and usable, a manufacturing website probably isn't the first thing that springs into your mind.
It wasn't that long ago when having a beautiful manufacturing website was looked on as a "nice to have" at best – and a waste of time at worst. Many major manufacturers focused on their outbound marketing and annual industry events to do their customer prospecting.
Today, marketers are more savvy with finding ways to implement inbound marketing techniques to save time and money. This starts with a company's website.
Let's review some best practices to help you build an excellent manufacturing or industrial website and check out real-world examples to get inspired.
How Manufacturing and Industrial Website Trends Have Changed
Manufacturing sites used to be a virtual portfolio for companies to show off their work and make their contact information available.
The goal of the sites weren't targeted and action driven. Most manufacturing companies just hoped that people would like what they did and send an email asking for spec sheets from there.
Brands just assumed that most potential customers understood their options well, knew exactly what they wanted, and would present themselves when the time was right.
Since the digital landscape has changed, there are so many more initiatives that manufacturing companies can execute in their digital marketing because of the rise of SEO, PPC, and retargeting. Inbound marketing is continuing to take the manufacturing industry by storm.
Manufacturing websites trends have changed because generating online traffic is more competitive than ever.
With the arrival of smaller enterprises and more international competition, the world of manufacturing is changing fast. It has never been more important for today's manufacturers to maintain solid customer relationships throughout the long, complex B2B buying cycle.
That starts with a superb manufacturing website – and many brands are heeding the call.
A good manufacturing website should implement these trends:
A clean design that works well on smartphones, tablets, and other mobile devices.
Compelling visuals, including great imagery and videos or infographics.
A straightforward conversion funnel with simple navigation and hard-hitting CTAs.
Opportunities to learn more, including appropriate forms and lead magnets.
Now that these website trends are mainstream, manufacturing companies have gotten creative with their web designs to help the to generate more leads.
Best Practices for Manufacturing Website Design
Creating an engaging and interesting manufacturing website begins with knowing how to apply some of the best practices for web design techniques. Here are six best practices to help get you started:
Assign a Singular Goal to Each Landing Page.
Including too many topics on one landing page can overwhelm your site visitors and even turn them away. Spread out your topics and different types of services. Then, highlight the actions you want your visitors to take by adding clear calls to action (CTAs).
You want your customer to move through the sales funnel seamlessly, and it is your job to guide them by giving them links to more information without overloading them right away.
For instance, if you have a wide range of products, you may add a CTA that says "Explore Product" so your visitors can choose to do more research if they want to.
Include Bold Images and Videos.
Adding a picture can increase information retention by 65 percent. You want your site to be memorable. This is why you must add images and videos.
As a manufacturing site, you may have complex product information that isn't easy for most people to understand.
Using infographics, images, and videos accompanied by your text content can make it much easier for your customers to understand your offerings.
For instance, you may decide to add images of a manufacturing process from beginning to end to give people an idea of what your products or services can accomplish for them.
Use Color to Convey Emotion.
Color matters on a manufacturing website because they can help your site visitors feel certain emotions. There is a psychology to the colors you choose. Know what each color means and how to use it to convey the emotions you want your site visitors to feel.
For instance, in manufacturing, you likely want your visitors to get a sense of reliability, power, and strength from your company and your products.
Some colors you may choose include:
Dark Blue: trust

Yellow: optimism and happiness

Green: hope and growth

Red: excitement and power

Brown: ruggedness
Make Sure the Website Is Mobile Responsive.
Mobile search is becoming the go-to method for finding information online for many consumers. Most people would rather look something up on their phone while they are thinking about it instead of waiting until they can look it up on their laptop or desktop.
Other than the convenience of mobile search, Google favors mobile-friendly sites when their algorithm determines how your site will rank on search engine results pages (SERPs).
Your site should be ready to adapt the size of the screen it is being displayed on. This way, no matter what device your prospects or customers are accessing your site from, they can still have a great user experience.
Use Lead Generation Forms.
Your website is not just a nice virtual storefront that serves no purpose. A manufacturing website, like other sites, should have the main goal of generating leads.
A good way to generate leads on your website is to add forms for your prospects to fill out in exchange for an asset they value. This might include content offers like ebooks, email newsletters, or live demos with your sales team.
Include Use Cases or Testimonials.
Testimonials showcase how great your business can be, and use cases show your work in action through articles or videos.
If you have worked with some great customers who have given you good testimonials, show them off. It is valuable to both your prospect and your business. Your potential customer gets a good idea of how you conduct business, and you gain more leads. It's a win, win situation.
When you implement best practices for website design, you can ensure that your brand will enjoy some of the advantages of economic growth in the industrial and manufacturing industry.
The Best Manufacturing and Industrial Website Design Examples
Take a look at these awesome website examples to help inspire you to make your manufacturing or industrial website the best it can be.
1. Lockheed Martin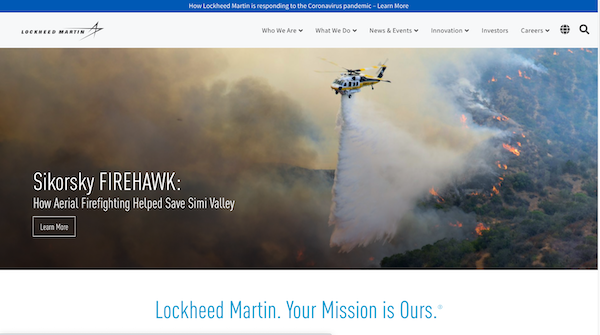 As one of the world's top aerospace brands, it's no surprise that Lockheed Martin's website looks like it is ready to fly.
The design distinguishes itself with ingenious use of hero imagery and a drop-down menu that allows prospects to find their area of interest quickly. Despite the bold design choices, it works effectively on a wide range of mobile devices, too.
2. Lear Corporation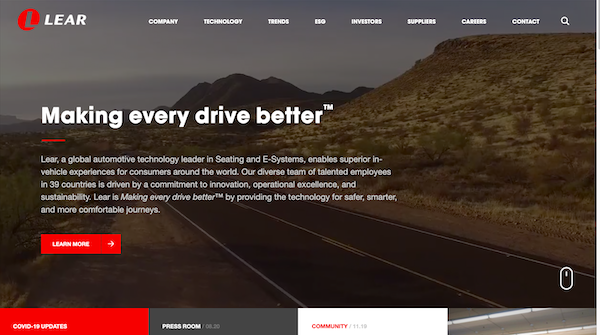 Lear's corporate website is a shining example of current digital presence trends for manufacturers.
With content for a variety of stakeholders, it has a lot of work to do. On each page, strong segmentation combines with striking imagery to keep users scrolling. Streamlined navigation offers big, helpful menus so you can drill down fast, even on a smartphone.
3. CMTC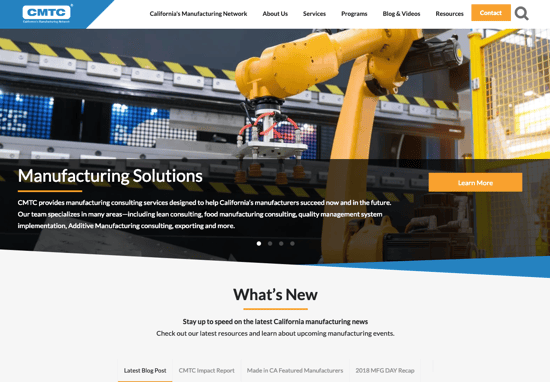 CMTC does an excellent job of displaying a lot of information in an easy-to-digest format. They have plenty of service offerings, and they make it easy to find exactly what you're looking for.
Each page has company colors that pop and really grab your attention. In addition to the aesthetics, they have great lead capturing tools set up throughout their website.
4. Caterpillar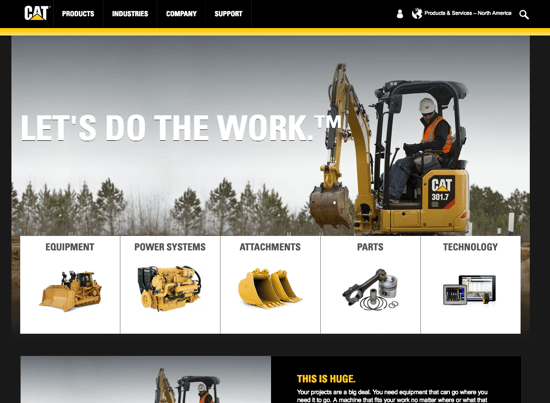 In recent years, Caterpillar has worked hard to define its image and make its brand much more exciting. With its focus on doing the tough jobs, "Cat" has integrated colorful hero imagery, moving headlines, and clear calls to action.
Notice, too, that visitors have access to national and regional sites that have each been localized with cultural expectations in mind.
5. CST Tires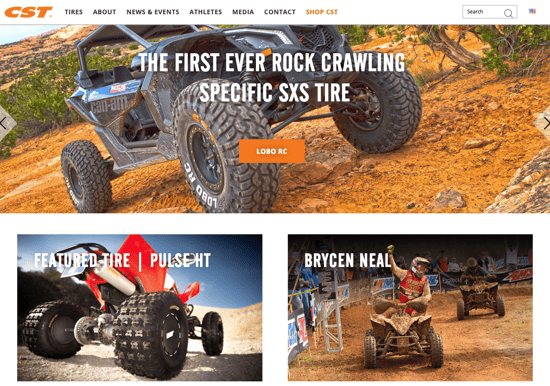 In keeping with its brand and messaging, CST Tires takes an "off-road" approach to its website: Outside of headers, buttons, and the navigation menus, the front page presents no text at all.
Interior pages provide product information that's efficient, yet still colorful. This allows you to see specs and compare configurations at a glance so you can get your ordering done fast.
6. FireRock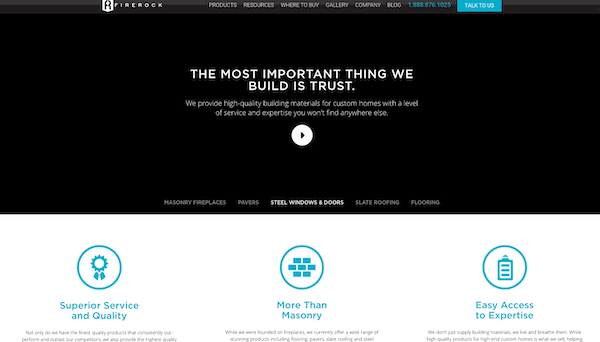 FireRock delivers building solutions for contractors as well as end users planning their custom home project. It's no surprise, then, that the company's design incorporates some of the most inviting ideas in B2C design.
In addition to the easy chunky navigation buttons and precise subsections, the slogan – "The most important thing we build is trust." – is front and center.
7. Marlin Steel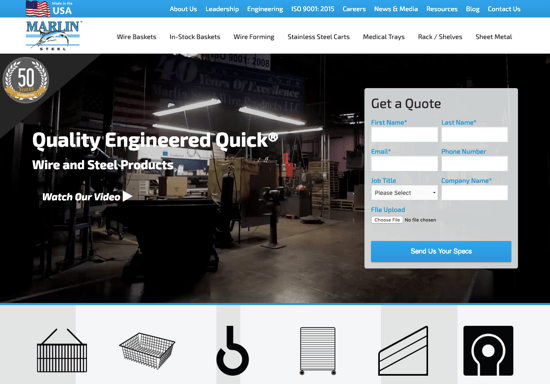 Marlin Steel does an excellent job of utilizing video on their homepage. It really captures your attention and lets you "feel" what they are all about.
Their site has conversion elements set up throughout, and it has an extensive product offering. It's simple for first time visitors to send their specs and get an accurate quote with just a few clicks from their homepage.
8. John Deere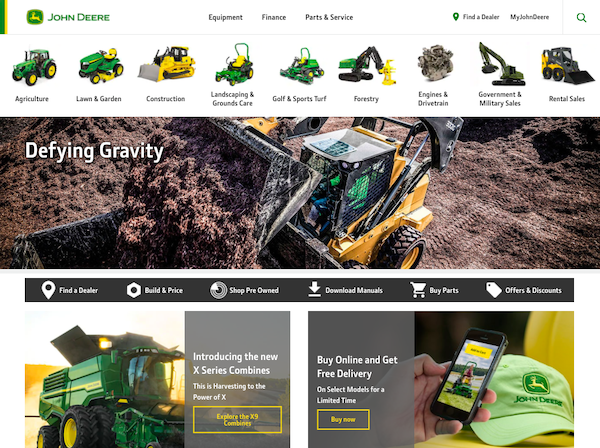 As one of the most renowned manufacturing brands in world, John Deere nails their website design. They deliver an excellent user experience, giving you plenty of menu options on their homepage while using engaging visuals.
They appeal to all of their readers, applying great content marketing tactics to add even more value for visitors. Their publications, which include The John Deere Journal, are located in the footer. They showcase real stories too, adding a human element that resonates well with audiences.
9. PR Hoffman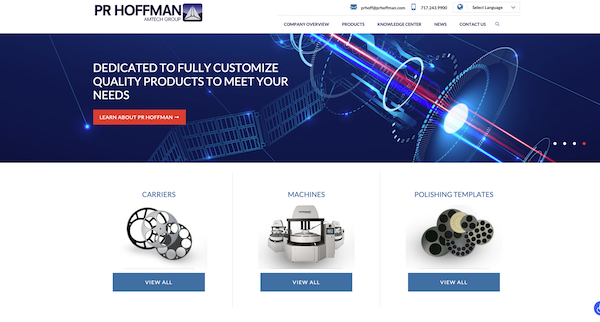 PR Hoffman has a striking site with a bright hero image slideshow that moves about every 30 seconds. Each hero image in the slideshow features different copy that explains what PR Hoffman can do for its customers. It gives any visitor the sense that they are technologically advanced and that they know what they are doing.
They also include their contact information in a visible place at the top righthand corner of the website. The contact information is not overbearing, but it is still easily accessible.
The three categories of their products they place under the hero image invites their visitors to continue browsing to learn more about the products offered.
Most notably, PR Hoffman also includes a short video at the bottom of their homepage to let their site visitors know how the machines can work for them.
10. NTS Unitek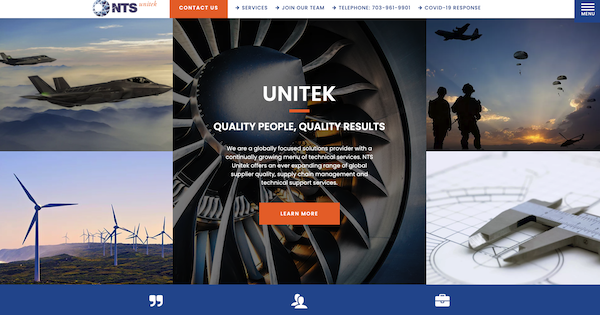 NTS Unitek masters the imagery on their sites with striking photos of technology in action. Their written copy is clear and concise, and it lets site visitors know what they do right away.
They even include a "Learn More" CTA to invite prospects to continue exploring the site to gain more knowledge about the company.
Below the hero images, they present a menu of their services that are tabbed so only one service shows at a time until the user clicks on an additional service.
They are flawless with their self promotion: Their testimonials section presents two testimonials at a time, and they include a slider bar that shows their certifications.
This helps prospects to know if they want to work with them right away, especially if they need workers with a specific certificate.
A Superior Manufacturing Website Is the Catalyst for Effective Marketing
These days, even category leaders can't take their market position for granted. Having a website that stands out is a keystone for connecting with today's savvy customers.
More decision makers are doing their research online and comparing dozens of brands, so a site is indispensable.
It's great to see these and other manufacturing brands stepping up their design game. Although each one is at a different level and has individual priorities, the dedication to customer service shines through. Many are even launching a proactive content strategy.
It just goes to show: No matter what industry you're in, an excellent website will add value and help you differentiate.
This is just as true in a "boring" B2B segment as anywhere else – after all, every type of content is interesting to the right person at the right time.
If you're in manufacturing or another sector not known for its breathtaking websites, take some inspiration from these 10 breakthrough cases above. Your site can bring your brand to the next level. From there, the sky is truly the limit.