When you think of awesome website designs that are convenient, compelling, and usable, a manufacturing website probably isn't the first thing that springs into your mind.
It wasn't that long ago when having a beautiful manufacturing website was looked on as a "nice to have" at best – and a waste of time at worst. Many major manufacturers focused on their outbound marketing and annual industry events to do their customer prospecting.
With the arrival of smaller enterprises and more international competition, however, the world of manufacturing is changing fast. It has never been more important for today's manufacturers to maintain solid customer relationships throughout the long, complex B2B buying cycle.
That starts with a superb manufacturing website – and many brands are heeding the call.
A good manufacturing website should have (at least!) all these features:
A clean design that works well on smartphones, tablets, and other mobile devices.
Compelling visuals, including great imagery and – ideally – videos or infographics.
A straightforward conversion funnel with simple navigation and hard-hitting CTAs.
Opportunities to learn more, including appropriate forms and lead magnets.
As recently as 2010, finding all these elements would have been a tall order in the manufacturing world. It was simply thought that most potential customers understood their options well, knew exactly what they wanted, and would present themselves when the time was right.
That perception has changed radically ... and the result is some exciting designs.
Let's look at eight examples of a manufacturing website going above and beyond:
1. Lockheed Martin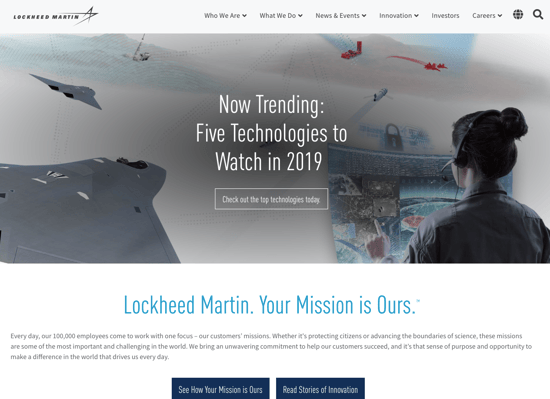 As one of the world's top aerospace brands, it's no surprise that Lockheed Martin's website looks like it is ready to fly.
The design distinguishes itself with ingenious use of hero imagery and a drop-down menu that allows prospects to find their area of interest quickly. Despite the bold design choices, it works effectively on a wide range of mobile devices, too.
2. Lear Corporation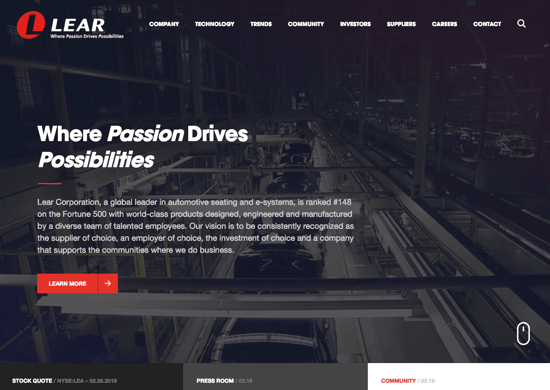 Lear's corporate website is a shining example of current digital presence trends for manufacturers.
With content for a variety of stakeholders, it has a lot of work to do. On each page, strong segmentation combines with striking imagery to keep users scrolling. Streamlined navigation offers big, helpful menus so you can drill down fast, even on a smartphone.
3. CMTC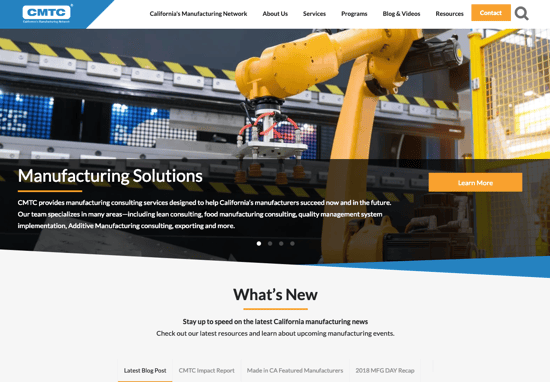 CMTC does an excellent job of displaying a lot of information in an easy to digest format. They have plenty of service offerings, and they make it easy to find exactly what you're looking for.
Each page has company colors that pop and really grab your attention. In addition to the aesthetics, they have great lead capturing tools set up throughout their website.
4. Caterpillar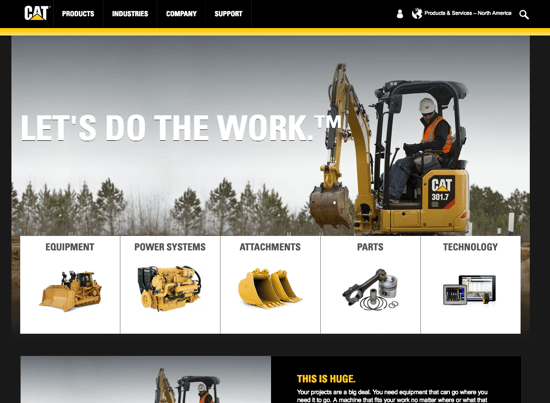 In recent years, Caterpillar has worked hard to define its image and make its brand much more exciting. With its focus on doing the tough jobs, "Cat" has integrated colorful hero imagery, moving headlines, and clear calls to action.
Notice, too, that visitors have access to national and regional sites that have each been localized with cultural expectations in mind.
5. CST Tires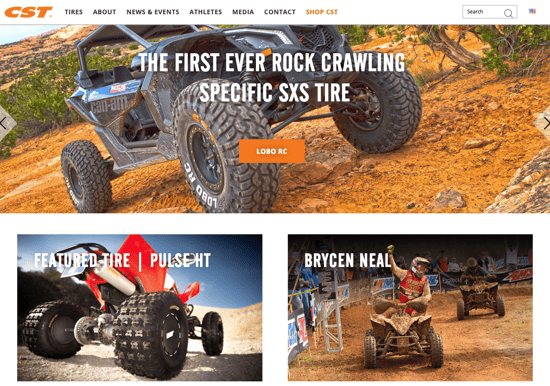 In keeping with its brand and messaging, CST Tires takes an "off-road" approach to its website: Outside of headers, buttons, and the navigation menus, the front page presents no text at all.
Interior pages provide product information that's efficient, yet still colorful. This allows you to see specs and compare configurations at a glance so you can get your ordering done fast.
6. FireRock
FireRock delivers building solutions for contractors as well as end users planning their custom home project. It's no surprise, then, that the company's design incorporates some of the most inviting ideas in B2C design.
In addition to the easy chunky navigation buttons and precise subsections, the slogan – "The most important thing we build is trust" – is front and center.
7. Marlin Steel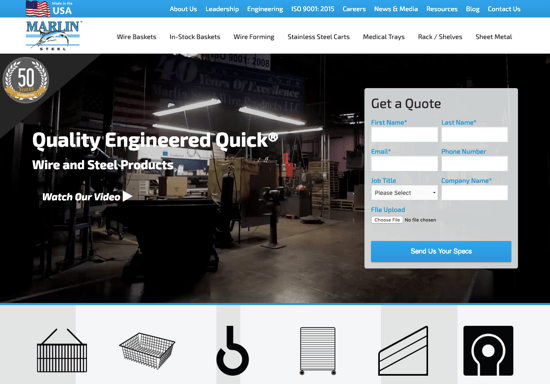 Marlin Steel does an excellent job of utilizing video on their homepage. It really captures your attention and lets you "feel" what they are all about.
Their site has conversion elements set up throughout, and it has an extensive product offering. It's simple for first time visitors to send their specs and get an accurate quote with just a few clicks from their homepage.
8. John Deere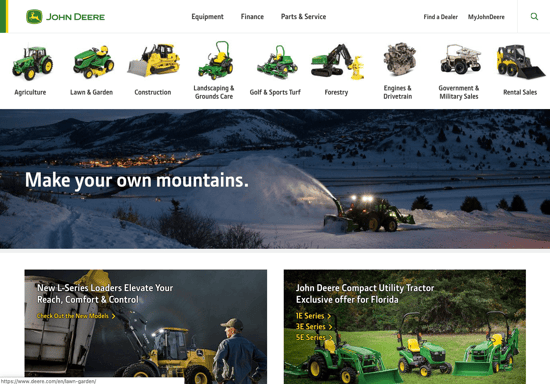 As one of the most renowned manufacturing brands in world, John Deere nails their website design. They deliver an excellent user experience, giving you plenty of menu options on their homepage while using engaging visuals.
They appeal to all of their readers and use great content marketing tactics to add even more value for visitors. Their publications, which include The John Deere Journal, are located in the footer. They showcase real stories, adding a human element that resonates well with audiences.
A Superior Manufacturing Website Is the Catalyst for Effective Marketing
These days, even category leaders can't take their market position for granted. Having a website that stands out is a keystone for connecting with today's savvy customers. More decision makers are doing their research online and comparing dozens of brands, so a site is indispensable.
It's great to see these and other manufacturing brands stepping up their design game. Although each one is at a different level and has individual priorities, the dedication to customer service shines through. Many are even launching a proactive content strategy.
It just goes to show: No matter what industry you're in, an excellent website will add value and help you differentiate. This is just as true in a "boring" B2B segment as anywhere else – after all, every type of content is interesting to the right person at the right time.
If you're in manufacturing or another sector not known for its breathtaking websites, take some inspiration from these eight breakthrough cases above. Your site can bring your brand to the next level. From there, the sky is truly the limit.