Knowledge is one of the most successful pillars for success in every single career path. Depending on your vocation, there's plenty of different ways to continually learn about your specialty. But for sales, one of the best ways is through reading.
The most successful professionals read voraciously, and there's an endless list of sales topics that you can learn about through reading – buying behaviors, consumer psychology, social selling, prospecting, closing strategies, and many more.
Wildly successful business and investor Mark Cuban claims that his reading habits give him a sizable "knowledge advantage" in his industry. Even though everything he reads is available to the public, what makes the big difference in his career is that he puts in the effort to utilize those resources, while others don't.
Mark Cuban discusses his reading habits quite a bit on his blog:
"I read every book and magazine I could. Heck, 3 bucks for a magazine, 20 bucks for a book. One good idea that lead to a customer or solution and it paid for itself many times over. Some of the ideas I read were good, some not. In doing all the reading I learned a valuable lesson."
Cuban's reading habits are inspiring, but even he's out matched by some – Warren Buffet claims to spend up to six hours a day reading.
"I still probably spend five or six hours a day reading," Buffett says in HBO's documentary, 'Becoming Warren Buffett.' "I like to sit and think. I spend a lot of time doing that and sometimes it is pretty unproductive, but I find it enjoyable to think about business or investment problems."
We can learn a lot from the habits of the most successful people in the world. And if the third richest man on the planet tells you that he devotes up to six hours a day to shoving his nose in a book, then I bet there's a legitimate benefit to it.
Sitting on my couch reading for six hours a day sounds like heaven, but unfortunately, we don't all have that big chunk of free time in our everyday lives.
Nevertheless, dedicating even just an hour a night to read before bed can make a difference.
With that in mind, you don't want to waste your precious reading time on material that isn't helpful. You need books that are going to expand your mind, hone your skills, and help you propel forward toward success.
So without further ado, here are the best sales books of all time:
Top Rated Sales Books
There are some sales books that have stood the test of time and are hailed as an absolute must-read for any sales professional. They always earn a place on every "best sales book" reading list you'll find on the internet, and for good reason.
If you're looking to keep up with competition in your industry (and maybe even gain an edge over them), you'll need these books on your shelf. But make sure you actually read them though...simply looking at them on the shelf won't do much for you.
1. How To Win Friends and Influence People
Author: Dale Carnegie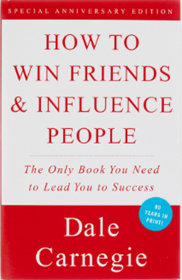 Source: Amazon
Carnegie's book has made a staggering impact – it has been in print for over 80 years and sold over 15 million copies.
This book teaches you how to bend people's way of thinking and win them over. It can help you find success in almost any situation, and is vitally important to salespeople who work on closing deals and fostering customer relationships.
While this book was originally published back in 1937 (whoa, WAY before I was alive!), Dale Carnegie & Associates, Inc. also released an updated version in 2012 – How to Win Friends and Influence People in the Digital Age.
2. SPIN Selling
Author: Neil Rackham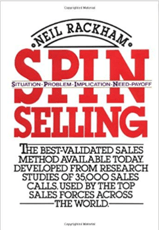 Source: Amazon
SPIN stands for situation, problem, implication, and need-payoff. It's a sales strategy that has helped numerous sales professionals dramatically improve their numbers.
In this book, Rackham uses concrete, real-life cases of sales success that have come about because of the SPIN strategy, and he shows you how to implement the strategy within your own practice so you and your team can reap the benefits of it as well.
3. The Little Red Book of Selling: 12.5 Principles of Sales Greatness
Author: Jeffrey Gitomer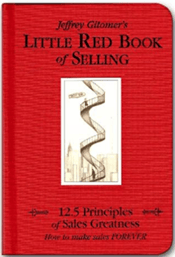 Source: Amazon
This book is known for being short and sweet, and it breaks more complex sales principles down into simpler, more digestible chunks.
This little golden nugget should be a required read for anyone and everyone entering into the sales industry, as it covers the lay of the land with the most basic and elemental skills and philosophy.
For more advanced sales professionals, it's still a great read for refreshing your brain on the foundations of sales and the mentality that will guide you through success.
4. The New Strategic Selling
Authors: Steven Heiman, Robert Miller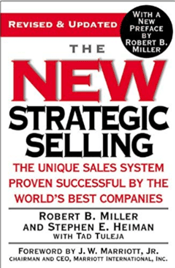 Source: Amazon
This book emphasizes and focuses on the process of selling as opposed to giving in to manipulative sales tricks. It introduced the win-win concept to the world and uses success stories from big businesses to display how it works.
This is a must read for salespeople who want to evolve from the old ways of high-pressure, pushy sales tactics in pursuit of more people-friendly methods.
5. To Sell is Human: The Surprising Truth About Moving Others
Author: Daniel H. Pink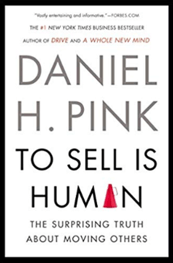 Source: Amazon
A truly enthralling book focused around studies of social science, this book looks at how basically every single person is in sales one way or another throughout their life.
Pink discusses the ways in which people influence each other in pursuit of what they want, regardless of whether they're trying to sell someone on a product or simply an idea.
If you really want to understand the psychology of selling and ultimately how people work, you need to give this book a read.
6. New Sales. Simplified.: The Essential Handbook for Prospecting and New Business Development
Author: Mike Weinberg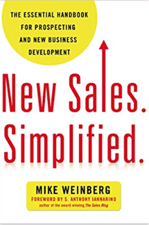 Source: Amazon
This book landed on HubSpot's top 20 sales books of all time list, so you know it's a good one. Weinberg injects refreshing humor into this work that guides you through some of the best strategies for sales – and some of the worst.
Weinberg focuses on building relationships with your prospects and breaks down tactics as simply as possible for the reader to easily follow and implement.
7. Secrets of Closing the Sale
Author: Zig Ziglar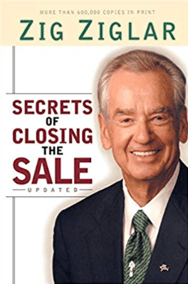 Source: Amazon
Ziglar is essentially known for laying the foundation for sales principles and strategies. In this well known book, Ziglar covers 100 different closing techniques that you can try for any situation.
It's a classic, necessary read for every sales professional to understand the fundamentals of selling psychology and learn how to interact with buyers by expressing warmth and compassion.
8. The Psychology of Selling
Author: Brian Tracy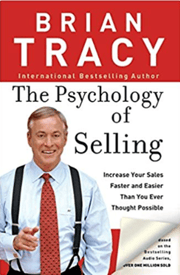 Source: Amazon
Brian Tracy is yet another name in the business world that most sales professionals have probably heard of, as he's written numerous books on sales strategy. The Psychology of Selling explores the hidden motives of buyers and sellers, enabling you to leverage this knowledge to create more opportunities through your interactions.
By implementing the lessons from these psychological observations, Tracy promises you quick, effective techniques to help salespeople transform their strategies and boost their closed deals practically overnight.
9. How To Master the Art of Selling
Author: Tom Hopkins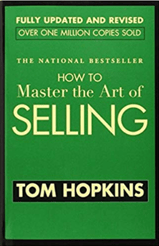 Source: Amazon
Sales guru Tom Hopkins was among the first to recognize that in order to be successful in sales, the best thing to do is focus on the needs of the customer. That's one of the many core principles that he covers in How To Master the Art of Selling, along with various hands-on tactics that you can start implementing in your sales strategy right away.
He even addresses the hard points of selling, like what to do when a customer says the dreaded word "no."
10. Never Be Closing: How To Sell Better Without Screwing Your Clients, Your Colleagues, or Yourself
Authors: Tim Hurson and Tim Dunne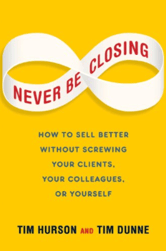 Source: Amazon
Somewhat of a work of genius, this book provides salespeople with the tools to closely analyze how effective their current strategies are, and where they can be improved.
It focuses on building your sales strategy around a problem solving framework mentality, in which you identify a customer's needs and seek to deliver a valuable solution.
A useful resource for both novices and sales veterans alike, if you're really looking to shake up your sales strategy in a major way, you might want to consider cracking open this book.
Game-Changing Sales Management Books
So you have half a dozen sales warriors assembled for the ultimate sales dream team – now what? How do you lead these people to success?
Managing a sales team is hard, and the growth of your company ultimately rests in your nervous, sweaty palms.
Relax. There are resources to help you through this. In fact, there are resources to help you dominate this. Grab your reading glasses, you're about to be a leader.
11. The Sales Development Playbook
Author: Trish Bertuzzi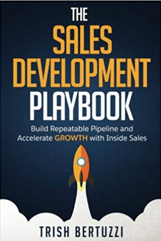 Source: Amazon
With the sales strategy framework that Bertuzzi teaches you in this book, she promises explosive growth for your company. It covers "six elements for building a new pipeline and accelerating revenue growth with inside sales." These six elements include: strategy, specialization, recruiting, retention, execution, and leadership.
This book is an impactful resource that provides step-by-step guides to help you develop and manage a fully fleshed out sales strategy and department, so you and your team can start bringing home the bacon for your business.
12. The Sales Manager Survival Guide: Lessons From Sales Frontlines
Author: David A. Brock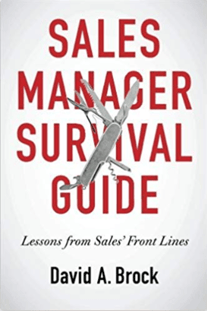 Source: Amazon
This book covers pretty much everything you need to know about managing a sales team, from recruiting, team building, and training, to sales strategy development, team problem solving, shifting industry standards, and success analysis.
It covers a vast amount of knowledge required to successfully build and manage a powerhouse sales team.
13. Coaching Salespeople Into Sales Champions
Author: Keith Rosen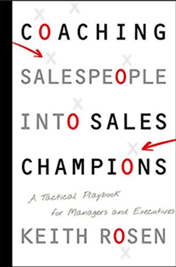 Source: Amazon
This is essentially exactly what the title says: a tactical playbook for managers and executives, to help coach their salespeople into champions.
It has real, usable materials, like a 30-day turnaround program for individuals, coaching templates, and case studies to display how these training methods have made improvements in real working teams.
One of the great things about this book is that it doesn't just help you coach and manage your team; it helps you train your team to manage themselves, so every member becomes an active problem solver for any situation.
In the pursuit of boosting sales and improving performance, it focuses on building a stronger, more confident team as the core foundation.
14. Sales Management. Simplified.
Author: Mike Weinberg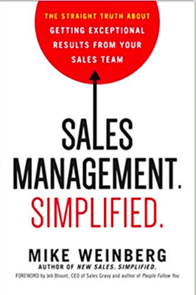 Source: Amazon
Look familiar? That's right, in addition to New Sales. Simplified., Weinberg also wrote a book on sales management.
Weinberg points out that when a sales team isn't meeting their quotas, it's usually because their manager is failing them. With that in mind, this book teaches positive framework management styles that will help you motivate and empower your team for better performance.
It covers everything from simply conducting productive meetings to identifying individual team members' strengths and weaknesses so you can place them in a fitting role.
15. First, Break All the Rules: What the World's Greatest Managers Do Differently
Authors: Marcus Buckingham, Curt Coffman, and Gallup Organization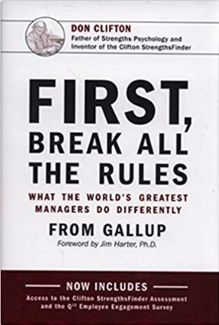 Source: Amazon
This isn't specifically directed toward sales managers, but it's an enlightening read for anyone in a leadership position.
With knowledge compiled from a study of over 80,000 managers, First, Break All the Rules includes real, actionable steps that managers can take to dramatically change the game of their leadership style.
The book emphasizes the importance of empowering strengths rather than trying to fix weaknesses in your team members, treating every employee as a valuable individual, and rewarding successes. If you're looking for more secrets on how to be the best possible leader, this is the book to read.
16. The Sales Acceleration Formula
Author: Mark Roberge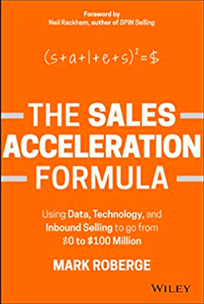 Source: Amazon
Sales has often been referred to as an art form, but Roberge really busts that myth in The Sales Acceleration Formula.
Focusing on the hard data and metrics of our digital age, Roberge shows sales executives that there's a scalable science to sales success. focusing primarily on the sales process and inbound tactics, Roberge walks managers through hiring and training a sales team built on quality core values.
Mark Roberge was the senior vice president of worldwide sales and services for HubSpot, so you could say he knows a thing or two about the inbound methodology and how to build and manage a complex team.
Impactful Sales Training Books
As we've already discussed, one of the best ways to learn is to read.
In order to ensure that your sales team is set up for success, they need to know the ins and outs of their profession. Even top talent can stand to gain something from a little reading on the side.
As manager, it's your job to make sure that your team is caught up on every step of the sales process as well as the latest and greatest tactics for closing deals. Hand every new team member a big stack of books when they walk in the door on their first day.
That's right, school is in session.
17. Pitch Anything: An Innovative Method for Presenting, Persuading, and Winning the Deal
Author: Oren Klaff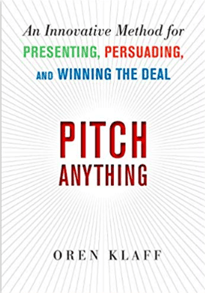 Source: Amazon
This book really does help you pitch anything to anyone. Whether you're trying to sell your boss on an idea, sell a product to a customer, or negotiate a price – this book teaches you the skills to convince your audience. With neuro-economic research, Klaff explores how people process information and make decisions.
The book focuses on the STRONG method of pitching:
Setting the frame
Telling the story
Revealing the intrigue
Offering the prize
Nailing the hook
Getting a decision
If you want your sales team to consist of knockout pitchers, every single one of them needs to read this book.
18. Fanatical Prospecting
Author: Jeb Blount
Source: Amazon
The subtitle of this book really does cover it all: Fanatical Prospecting: The Ultimate Guide to Opening Sales Conversations and Filling the Pipeline by Leveraging Social Selling, Telephone, Email, Text, and Cold Calling.
This book will help each and every team member become expert prospectors, so they're constantly keeping your pipeline nice and full. These kinds of skills will make for a more sustainable sales strategy that can largely be maintained by your team.
19. Amp Up Your Sales: Powerful Strategies that Move Customers to Make Fast, Favorable Decisions
Author: Andy Paul
Source: Amazon
This book emphasizes the importance of standing out in a hyper competitive world – and the best way to do it is by focusing on delivering value to your customers. Andy Paul helps readers understand the important fundamentals of building strong, trust-based customer relationships as an avenue for improved sales.
As the title suggests, having your team read this book really will help them amp up their sales.
Fear-Shattering Cold Calling Books
Now we know that as far as sales techniques go, cold calling is becoming more and more outdated. However, it's still a popularly used approach within the sales industry, and if your company still manages to use it effectively, then your sales team can probably benefit from these books.
20. Smart Calling: Eliminate the Fear, Failure, and Rejection from Cold Calling
Author: Art Sobczak
Source: Amazon
Honestly, is there anything more dreaded than making a cold call? It's not an easy thing to do, especially over and over again. It can quickly become discouraging. In this book, Art Sobczak covers how to strategize and build confidence for cold calling success.
The book covers everything from dealing with assistants to spurring prospects toward actionable next steps. It's an absolute must read if your job involves picking up the phone and making a cold call.
21. Take the Cold Out of Calling
Author: Sam Richter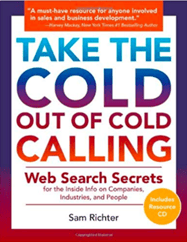 Source: Amazon
Right, let's heat things up. Figuratively speaking, that is. This book doesn't actually cover techniques to try while on the phone with a prospect.
Instead, it focuses on how to collect information and details about your leads to give you an upper hand in the conversation by understanding them.
It takes the "cold" out of cold calling by allowing you to foster a warmer, more contextual and familiar conversation between you and your prospects.
Utilize Your Resources
When it comes down to it, the best sales books of all time can't help you unless you actually sit down and read them.
Dedicating time to furthering your education within your industry and specialization is only going to help you – we promise, there really is no downside.
Utilizing available resources (like the books mentioned above) can help you in so many impactful ways – from honing your individual sales techniques to managing your team and better understanding the psychology of your industry.
Knowledge is power, but it's also so much more. It's the pathway to success, and each book you read is a stepping stone.