Do you own a local business? Does your business service customers in a particular geographic area? Do you need more customers? If you answered "yes" to any of these questions, then you should have your business listed in the local listings on the top three search engine giants: Google, Bing and Yahoo.
Each one of these engines has a different platform for listing your business, but all three result in the same outcome. Listing your local business in these directories is an important part of your Inbound Marketing campaign and will put you right in front of people who are searching for the types of local services you provide.
Although there are thousands of various online directories, a good starting point is getting listed within the big three:
Get Started with Google My Business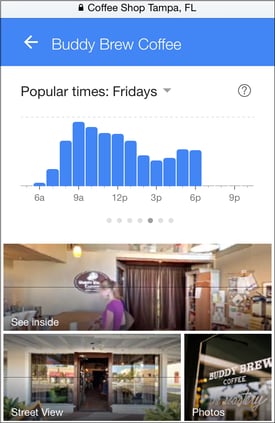 Google is the king of search engines, having 65.4% of search queries in the U.S., according to search engine rankings from comScore in December 2014. Google should be the first place you use to get your business listed online. Google's platform, formerly known as Google Places, is now called Google My Business and is free for you to list your local business. Google My Business will connect you directly with customers and potential customers whether they're doing a simple search, using Google Maps or Google+.
Google has been integrating their organic search results with Google My Business to enhance user experience and provide more relevant local results. Google has also added a new feature for mobile search that will allow people to see what times businesses are busiest each day. This brand new feature was released on July 28, 2015 and is assumed to be based on geolocation from smartphones and shows graphs for each day displaying popular times.
Bing Places Should Be Your Next Stop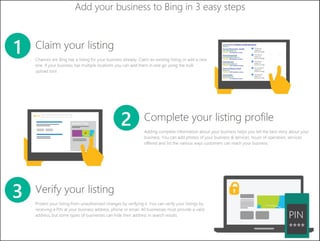 Bing has grown their user base significantly in recent years. It's second to Google, having 19.7% of all search queries in the U.S. Its business listing platform, Bing Places, should not be ignored when considering where to list your business online. More and more people are turning to Bing for local search results, so it's important that your business is listed here.
Whether you actually use Bing or not, many people do and the market is much less cluttered than on Google. The setup process for Bing Places is similar to Google My Business, but one unique point about Bing is they're growing and starting to take market share away from Google. This means that your local business may have a better shot at getting exposure on Bing if your competition has focused their time marketing on Google.

(Bing Places search results for Coffee Shop Tampa, FL)
Last Stop: Yahoo Local
Yahoo's search engine rank has dropped in recent years, but it still holds 11.8% of search queries in the U.S., showing that it should definitely be considered when it comes to listing your local business online. Yahoo's platform, Yahoo Local, has a similar process to that of Google's when it comes to listing your business. Yahoo also allows you to submit photos, video and other useful information about your business. Getting listed in Yahoo's Local Listing can help to increase the traffic to your website and bring you new leads and customers.
Yahoo Local has a basic listing that is free for you to set up your business. Another option is to purchase Yahoo Localworks for $29.99/month in which your business will be listed across 50+ sites allowing additional photos and extra details for your business' profile. The choice, of course, is up to you!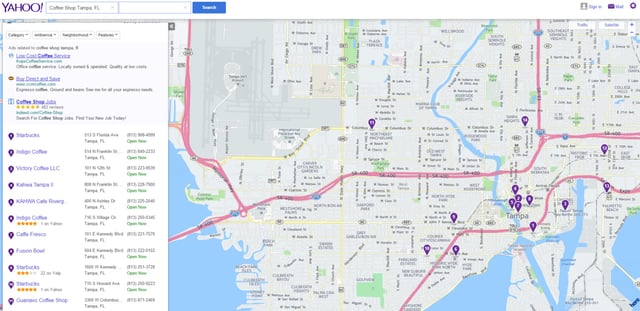 (Yahoo Local search results for Coffee Shop Tampa, FL)
Getting Listed in Local Business Directories is a Must!
What are you waiting for? If you haven't done so already, get started setting up your local business listing on Google My Business, Bing Places and Yahoo Local today!