Social media plays a colossal role in today's marketing
endeavours. When done effectively, it can aid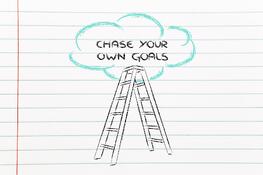 in your brand awareness and help convert leads to sales by increasing traffic to your site. The positives of awesome social media content are endless. However, a flub on your social media account can also produce powerful negative results.
Take charge of your social media presence by devising a strategy. Some clever blips of company information won't cut it; an intriguing social media strategy takes time and careful planning. Here are some questions to ask yourself when creating your social media plan.
1. The existential question, "What Is My Purpose?"
Bring your social media posts to life by filling them with a purpose. This is defined by what needs your business has. Do you want to increase your blog subscriptions? Would you like to promote a new service/product available? Do you want to be seen as a thought leader in your industry?
Your post should be guided by its purpose. Say, for example, you want to increase traffic to your website. You could do this by creating a social media post that targets a need your buyer persona has. Provide them with a link to your website for their specific issue, and your business's solution to it.
One piece of advice: Do not alter your purpose to fit the platform you're using. Popular social media platforms are constantly changing (think Myspace). If you're changing your purpose based on the tool you use to get it across, your message will likely get jumbled in time. Develop a clear purpose first, then think about the social media tool to use for it after.
2. "How Am I Pitching My Purpose?"
With digital marketing, configure your pitch with purpose in mind. We know you can describe what your company does and the benefits that come with it, but can you do so in under 140 characters? Now, that's a little bit more difficult! Put a fork in the old elevator pitch test - it's dead. The real challenge is getting your message across in the shortest amount of keystrokes.
If you want other industry gurus to share your content, you need to share theirs. Think of this as a kind of "I'll scratch your back if you scratch mine" scenario. If you mention their brand, they'll want to show their followers that they're being talked about. It helps promote them as a thought leader, and lead them to do the same for you when they share it. Voila!
3. "How Will I Visually Represent My Company?"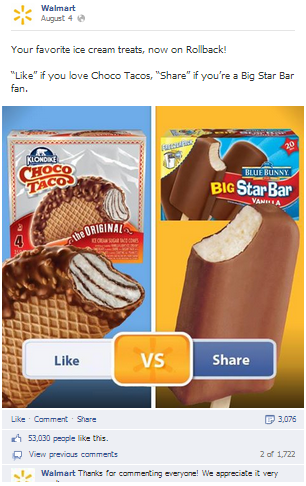 This is your time to show the public who you are.
It's a fact that content with images get 94% more
views than those without (Jeff Bullas). Don't just include links and text. Including a picture is vital for your content actually getting seen, as it makes your content significantly more engaging.
With this being said, It can be very beneficial to use pictures that truly encapsulate your brand. Don't include a picture just to use it. Make sure they're fun, eye-catching and unique to your business.
To the right is a great example of an awesome social media post by Walmart. It's engaging because it's asking visitors something fun and simple. The images are large and colorful, and aid in its simple design.
You can also see that Walmart is staying engaged with its customers by replying back to those that have commented. It connects with its customers well, as it was posted during the peak of summer; a great time to remind customers to come buy ice-cream at Walmart.
4. "When Will I Receive the Most Social Media Love?"
The old "timing is everything" mantra even rings true for sharing your social media content. Unfortunately,
that sweet, perfect timing is different for every business because it's all dependent on your buyer persona. For example, if you're primary persona is an always-connected, techie wizard, wou'll want to post more often. The frequency of your social media sharing should coordinate directly with the habits of your buyer persona.

Here are some general guidelines of when to post:
Best
Facebook: 1 p.m.-4 p.m., everyday

Twitter: 1 p.m.-3p.m., Monday-Thursday




LinkedIn: Tuesday-Thursday
Worst
Facebook: Weekends, before 8 a.m. and after 8 p.m.

Twitter: Every day, after 8 p.m. and Fridays after 3 p.m.

LinkedIn: Mondays and Fridays 10 p.m.-6 a.m.
Think before you post. First ask, what is goal of your social media post and is your content supporting this goal? For more traffic, always share a new company blog post more than once on social media channels. Of course, always alter the content promoting the post, so it doesn't come off as spammy. For Twitter, you'll also get more tweets favorited as well as retweeted. After the initial post, traffic and shares will drop about 25% for every additional post promoting the blog.
Another reason to repost the same content? Some of your beloved followers may be in different time zones, or may have different habits for checking their social media. Other than Facebook, which uses its own algorithm for their newsfeed, most social posts are done in real-time. So, if someone isn't searching for you, they won't see your content shared. Just because you're sharing something more than once doesn't mean it's yesterdays news. Try and cater to everyone to increase traffic, and turn up those conversions.
5. "How Should I Respond to My Feedback?"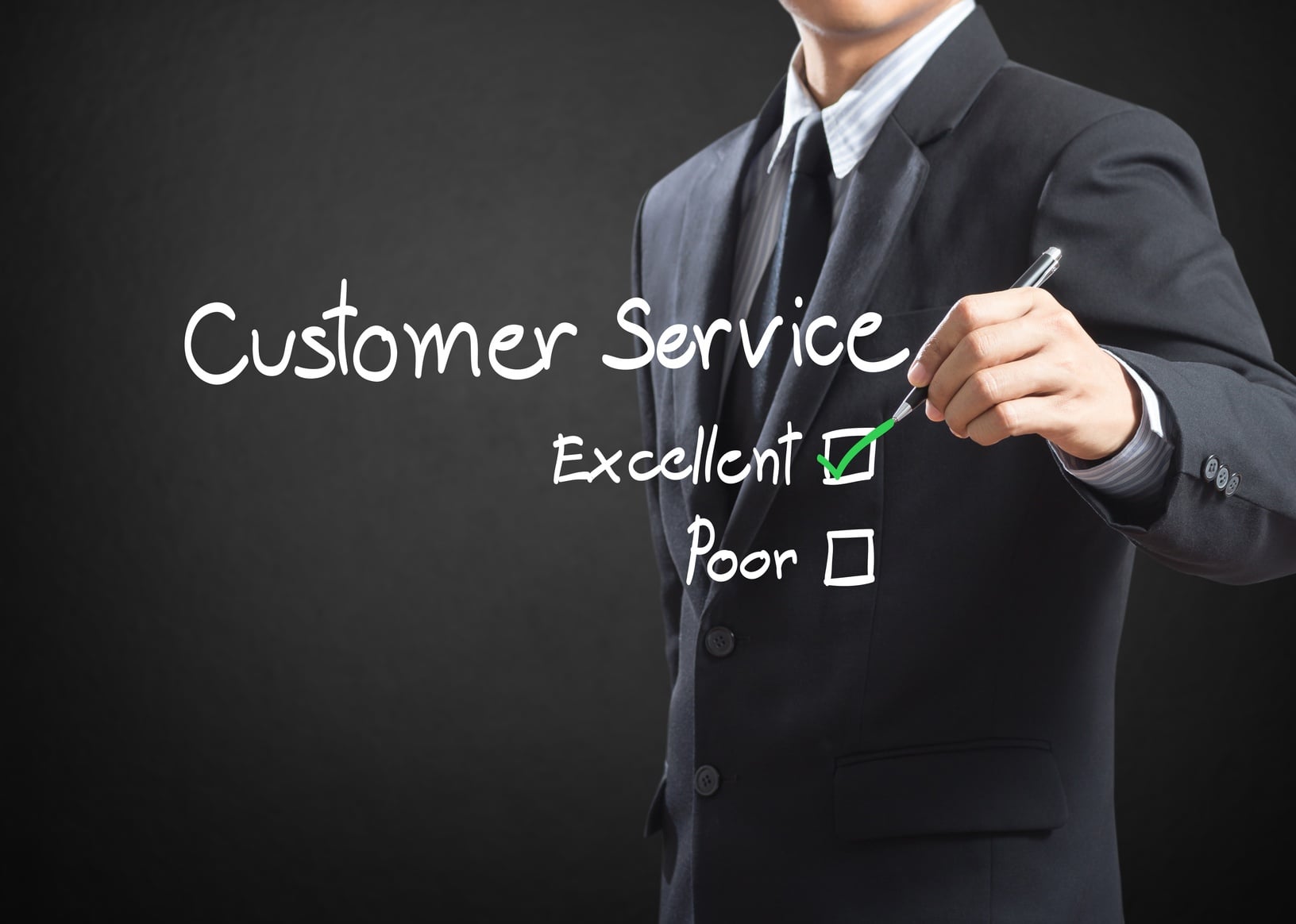 Listen up! An essential element of your social media strategy is deciding how you will respond to your followers.
The Maritz Twitter Study found that 83% of customers who made a complaint appreciated the fact that the company responded to it. Basically, it wasn't even the type of response the customer was happy about, it was just responding in itself that gave the customer a more positive feeling toward the company.
It goes without saying that monitoring your posts is important for providing efficient customer service. The social media practitioners who listen the most and respond the quickest are the most effective.
You need to decide the procedure for negative comments. Will you give a dissatisfied customer a gift card in a direct message or just reply with a public apology? If someone's need isn't met by your company, it's left for all your other site-goers to see. If you ignore comments, positive or negative, you're doing your company a major disservice. Think of social media as your company phone. You have to answer, and you'd never just hang up on a customer. Responding in a timely manner is key to providing excellent service to your clients.
6. "What Is the Tone of My Company's Voice?"
Ever hear the saying: "People will forget what you said. People will forget what you did. But people will never forget how you made them feel?" It's true! Of course, the content of your post is important, but it also matters what kind of style you're saying it in. To help you do this, you may want to write down about 5-6 words to convey on social media. These words should help to define who you are. Whenever you're constructing a new post, look back to these words and ask, "am I conveying my company's voice?"
All of the content your company produces should sound like it's coming from the same person. You are trying to put a face to your brand, right? Align all of your content with a homogeneous tone to get people connected.
One benefit of using social media is that it humanizes your brand. Your company can stop hiding behind a logo and get real with their customers. This can come naturally to smaller businesses with fewer customers to get personal with. If you're a larger company, this is time to act like a little guy again and relate with your people.
Social media is an indispensable extension to your company, so get cracking on your game plan. Draw up the blueprints for your social media strategy before having to go back and delete a post. By asking yourself these questions before you create content, you'll always be on target with your strategy. Increase your engagement, drive traffic and get noticed!