Link building is a major focus for SEO professionals, but it's incredibly time consuming. There are plenty of techniques to use to earn backlinks, but the most scalable and simplest one is broken link building.
What Is Broken Link Building?
Think of broken link building like providing your friend with a solution to a problem he doesn't he has.
Picture this: Your friend is eager to chew his last piece of gum in his car after you both grab some lunch together. When he opens his center console, he realizes the last piece in his pack of gum is just an empty wrapper. So, as a good friend, you offer him your piece of fresher, more flavorful gum.
This situation, as banal as it seems, sums up link building well. Blog owners and webmasters oversee and manage a ton of content (I'm speaking from experience). Naturally, they can't keep their linking perfect and ensure that all their links are live and up to date.
Like your friend, they're often unaware of certain problems, like having broken links on their site. Links die for a variety of reasons:
The link is misspelled.
The link points to an older page that doesn't exist on the server.
The external site being linked to went offline.
While it's easy to shrug off a broken link as a minor issue, broken links actually pose a big threat to your site. They can hurt your website in many ways, such as the following:
They can diminish your site's reputation.
They can turn readers away (Nobody likes seeing a 404 page).
They can stop search engine spiders from crawling and indexing your site (Spiders crawl links to store your site's content).
So obviously, you want to fix links that might be broken on your site. This is where you, in all your infinite link building wisdom, step in to save the day.
Just like when you help your friend get that nasty taste of stale lunch out of his mouth, you're proactively providing a solution to webmasters who need to replace dead links.
Broken link building is the tactic that follows a few basic steps:
You find a broken (aka dead) link on a website you want a backlink from.
You recreate the dead content from the broken link.
You send the new content to the webmaster to encourage them to add the link to replace their 404.
Simple as that. And what makes this technique so effective is your genuine interest in providing value. You're not simply asking for a favor – you're helping webmasters fix SEO issues on their site.
Broken Link Building Tools
There are plenty of tools you can use to execute broken link building. You can do it using free Chrome extensions like:
But using just these free extensions doesn't save you much time. And you're not guaranteed 100% accuracy.
In fact, in my experience, one of these extensions was consistently missing the mark for properly identifying dead links on a webpage.
Here are some paid tools you should consider using to expedite the entire broken link building process:
And of course, our favorite – Ahrefs. Let's walk through how you can use it to earn backlinks.
Your Step-by-Step Guide for the Fastest Broken Link Building Methods
You can use this tool for building backlinks very quickly. Here are two of the fastest methods you need to use:
Site Explorer for Broken Backlinks
Start by building a list of websites and blogs in your niche. Then, sign into Ahrefs and get started!
1. Launch Site Explorer.

2. After you put a website into the search bar for Site Explorer, click on Pages, then Best By Links on the left side. In this example, we are looking at HubSpot.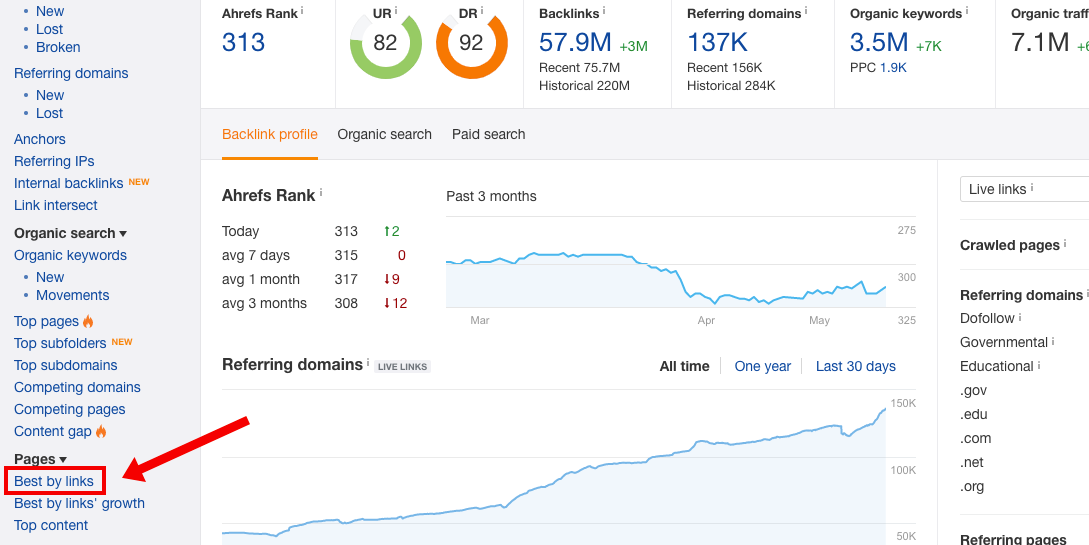 3. Under the HTTP code dropdown, sort by 404 not found.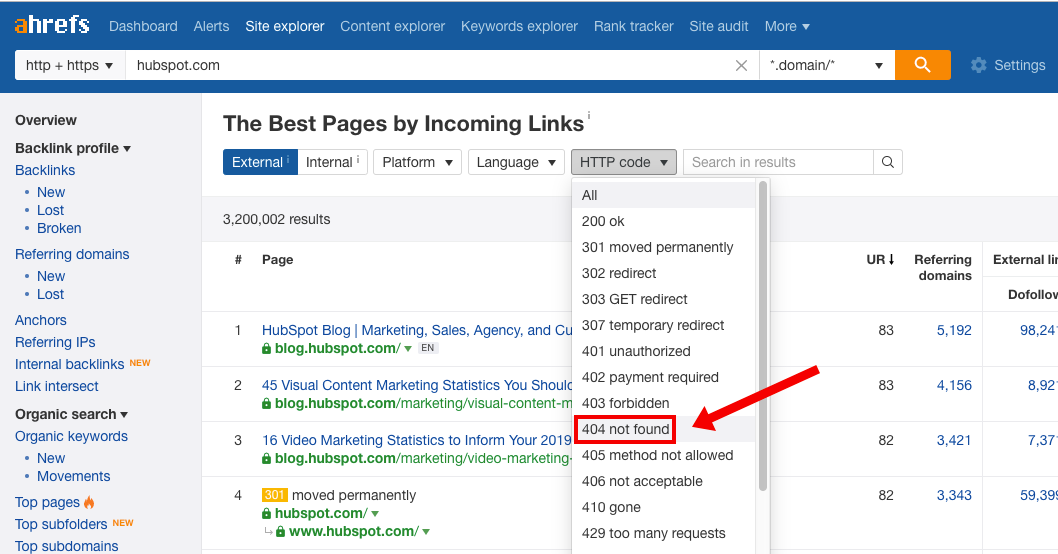 4. Then, look at the most linked-to pages by sorting the report by the number of referring domains in the "Referring Domains" column.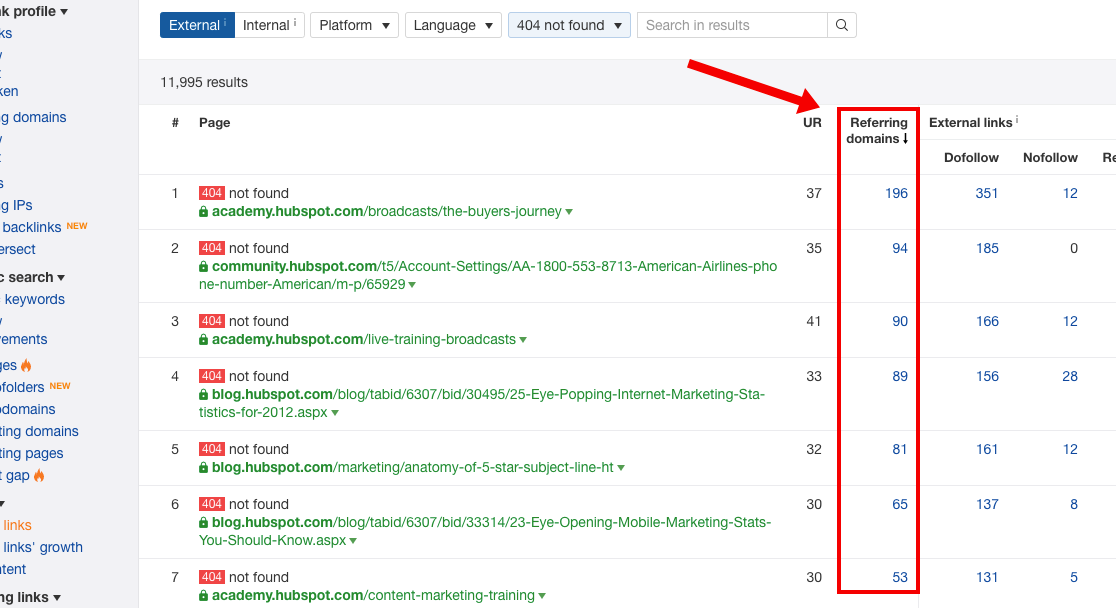 5. For each top linked-to page, check it in the Wayback Machine to see what the content of the page included to inform your content recreation.
For this example, let's look at the fifth ranked page, a blog post on the anatomy of a great email subject line. I plugged it into the Wayback Machine and found this.
As you can see, you have access to what that dead page looked like. This gives you direction in recreating the content and even freshening that content up. When you have your new content published and live, you can start your outreach to referring domains (more on outreach later).
To find what sites are still linking to this dead HubSpot post, simply click on the number in the referring domains column for that webpage.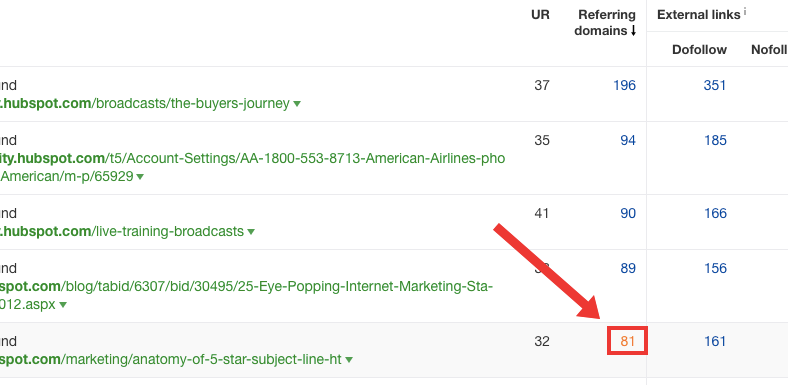 When you click on this number, you'll see all the domains to reach out to, which is when you can suggest replacing their dead link with your new live, improved content.
Site Explorer for Broken Outgoing Links
Similar to how you just used Site Explorer for finding broken backlinks, you want to use it for finding broken outbound links. Click on the Outgoing Links > Broken Links section on the lower left.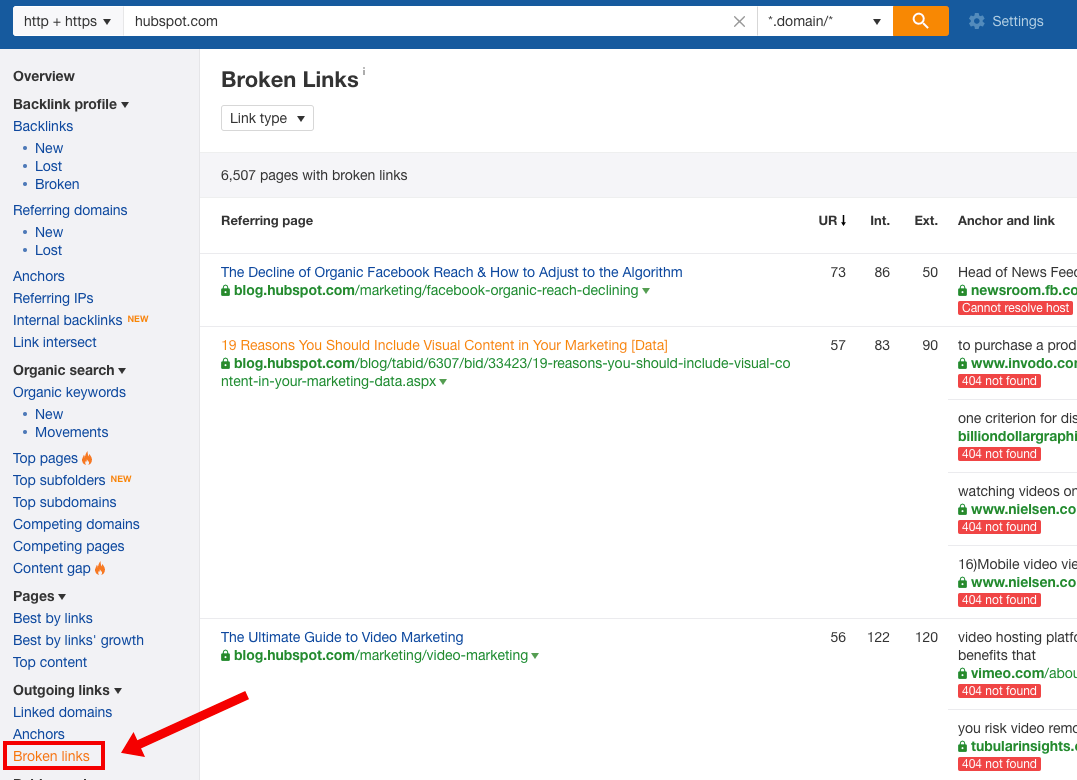 In this example, we see HubSpot has 6,507 pages with broken outgoing links. In this HubSpot blog post titled The Psychology of Personalization: Why We Crave Customized Experiences links to a dead page on Dale Carnegie Training that focuses on teaching professionals to remember names.

Then, plug the dead page's URL into Site Explorer and find what other resources are referring to this broken page on Dale Carnegie Training. It has 27 referring domains!

After researching what the content on the dead page looked like (using Wayback Machine) and creating a newer, better version of that post, you can contact all other relevant referring domains to earn those backlinks.
Outreach Templates for Broken Link Building
After you busted your hump finding dead links, creating newer and better content for those dead links, and locating points of contact at domains that are linking to dead pages, it's time to sell your expertise.
You can find webmasters' email addresses using prospecting tools like LinkedIn or NinjaOutreach. Let's go through a few awesome options worth trying.
Email Finder Tools
Clearbit Connect
With 100 searches per month on free access, Clearbit Connect is a solid choice, especially for if you're looking for budget friendly options.
Plus, it's super easy to use! Here are a few steps to follow:
Install the free Chrome extension. It integrates with Gmail and Outlook.
Hit the Clearbit button within your inbox.
Add the domain you want to investigate.
Boom! Select an email address that pops up.
That's way easier than digging through Google or scouring other online resources for contact information.
Hunter
Hunter is just as user friendly as Clearbit Connect. Simply go to their homepage and enter a domain into the search bar.
For example, I looked up Bluleadz.com and it delivered five email addresses and showed the most common pattern used.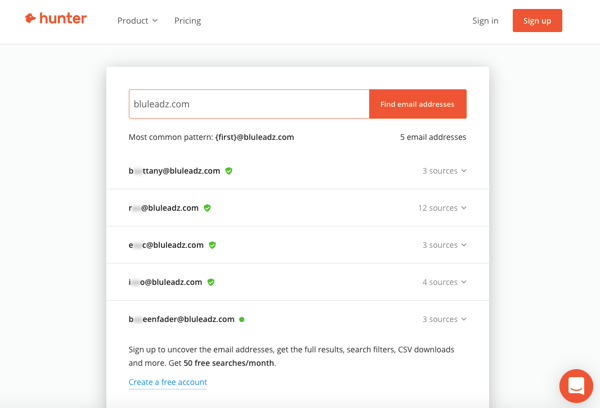 With a free account, you get 50 free searches every month and full access to the email address information provided by their email finder tool.
They provide several paid tiers, ranging from $49 to $399 per month. Each tier includes an allotted amount of "requests," which consists of domain searches, email searches, and email verifications.
This is a great solution if have the right budget, if you're scaling your outreach efforts, and if you plan on searching for thousands of emails each month.
Voila Norbert
Another excellent extension for Chrome comes from Voila Norbert. The extension itself is built solely for finding email addresses. Within the Gmail plugin, you can:
Schedule times for emails to be sent.
Set up automatic follow-ups.
Measure and track metrics, like link clicks and opens.
Add notes and reminders within your inbox.
The tool itself integrates with top tech stacks, including HubSpot, Mailchimp, Zapier, and Salesforce.
Just like most other email finders, this is as easy as putting a contact name and domain into a search bar and then waiting for the magic.
Voila Norbert is your best bet if you have the budget for it. Your first 50 searches are free, but then you have to select one of their tiers, ranging from $39 to $399 per month (pricing based on year commitments).
With the right tools at your disposal, you can find contact information in an instant, speeding up the entire outreach process. Once you have contact details, you're ready to write compelling emails.
Here are a couple of outreach templates to use for broken link building:
Outreach Template 1: Screenshot Approach
Subject line: I loved your post on [topic of article that includes the broken link]
Hello [name],
I was reading your awesome blog when I found it by [explain how you discovered them – social media, Google, etc.]. I love your post on [topic of article].
However, I wanted to let you know that I noticed a broken link here:
[add screenshot of blog post with anchor text to broken link]
When I click on [anchor text], I arrive here:
[add screenshot of 404 error page]
Fortunately, I just wrote this piece recently that could be a great resource for this topic. I think your readers would really benefit from it. It's called [title with a link to your new content]. It would be a great replacement for the broken link.
I hope this helps you and your audience!
Best,
[Signature]
Outreach Template 2: Short and Sweet
Subject line: Your site needs a small update
Hello [name],
Can you fix this small issue on your site?
I loved your post on [topic of article], but I found a broken link where it says [anchor text that leads to 404 page]. Can you update this with a link to newer content?
Fortunately, my team just wrote [blog title of new post], which aligns perfectly with the topic of the dead page. If you're interested, here's the link: [paste link to your article].
I hope this helps!
Best,
[Signature]
Even Better...Write Your Own
Templates are good if you're in a pinch, but you should add your own style and personality to all your correspondence. Sometimes, I can say from a content manager perspective, email templates can really suck.
So if you want to be so bold, write personalized emails to each target domain. Keep these best practices in mind when you're doing so:
Personalize it! Use the contact's name in your message. "To whom it may concern" needs to go the way of the rotary phone and die.
Be concise and specific. Let's be real, best case scenario, your recipient is skimming your message while wolfing down his 7-Eleven sandwich in his car while rushing back from lunch break. They're busy. Respect their time and get to the damn point.
Focus on the value you provide. Simply saying, "Here's a link to my content" is not enough sometimes. Highlight the unique value you brought to the content when you created it.
And don't forget to follow up between two and five times. Any less, you'll be buried in the inbox. Any more, you'll be blocked with an eye roll. Keep your follow up respectful and concise.
Worst case, you get ignored. It happens. Grin and bear it. Move onto the next opportunity.
There you have it! Now go start fixing the internet, one broken link at a time.