The Best Sales Prospecting Tools
1.

Prospect.io

2.

RingLead's DMS Capture

3.

Bloobirds

4.

NinjaOutreach

5.

CrunchBase

6.

Mattermark

7.

Datanyze Insider

8.

BuiltWith

9.

VoilaNorbert

10.

BuzzStream Buzzmarker
11.

LinkedIn Sales Navigator

12.

Detective

13.

Mention

14.

Skrapp

15.

Mailshake

16.

Snov.io

17.

Propeller CRM

18.

AeroLeads

19.

Leadfeeder

20.

Hunter
Want to get a leg up on the competition with the best sales prospecting tools around?
Good sales prospecting tools accelerate the whole prospecting process while making it that much easier to close the deal. There are many software options that are essential to taking your prospecting game to the next level.
What Is Sales Prospecting?
Sales prospecting is the process of searching for potential clients, customers, or buyers to help grow your sales pipeline. The goal of sales prospecting is to generate more interest in your products or services until you can move leads and prospects through the sales funnel so they ultimately become paying customers.
The most important part of sales prospecting is identifying customers who make a good fit for your offerings. This means searching for prospects who you can truly provide value to by solving their issues and remedying their pain points with your solutions.
The Difference Between Leads and Prospects
At first glance you may think leads and prospects are interchangeable, but they have some marked differences that make each of them standout.
Leads are individuals who have shown interest in your products or services by taking desired actions, such as subscribing to a blog, viewing a website, or signing up for a free trial period.
On the other hand, prospects are leads that fit your ideal customer profile, which means they are qualified and more likely to become revenue-generating customers.
Although prospects and leads are different, your goal with them should be the same. The goal is to nurture both leads and prospects until they purchase your product or service.
What Is a Sales Prospecting Tool?
A sales prospecting tool is software that helps you to automate small repetitive tasks so your sales reps can save time and deliver the right messaging to prospects.
Essentially, prospecting tools help you gather more information, move faster, and engage prospects in a more meaningful way that closes more deals.
There are a variety of sales prospecting tools for the modern sales process. You can use tools to accomplish a number of tasks, such as:
Building your prospect list

Finding contact details

Engaging your prospects

Booking meetings
What to Look for In Sales Prospecting Software
Finding the right sales prospecting tools for you may take some careful consideration. Here are a few things you should look for in your sales prospecting software:
Email Marketing
One of the most effective ways to qualify prospects is through email marketing campaigns. In fact, email marketing can provide you with the highest return on investment.
You should search for sales prospecting tools that have great email marketing features that let you send out bulk emails to a list of leads or prospects using customizable email templates.
In addition to the bulk email sending capabilities and templates, you should also make sure you can track open rates and other email marketing campaign performance factors.
This way, you know what works and what doesn't for future email campaigns.
Visualization
You want to know where each prospect stands in your pipeline. This means you need good visualization. Your sales prospecting tools should tell you key details about your prospect and your correspondence with them.
For instance, if you haven't reached out and introduced yourself to a prospect yet, you want your prospecting software to make you aware of that so you don't contact them with information they aren't ready for.
With a simple way to visualize where each prospect is in the pipeline, you can be more effective each time you make contact.
Automation
Timeliness is important to get prospects' attention. There are so many ways to collect prospects and their information, but there's so little time to enter data and reach out to all of them. This is where automation comes in handy.
Automation can really help to limit the manual and repetitive tasks so you can make sure each prospect is contacted. Search for prospecting tools with great automation features to ease your sales team's workload.
The 20 Best Sales Prospecting Tools
Let's look at some of the most powerful and reliable tools around:
1. Prospect.io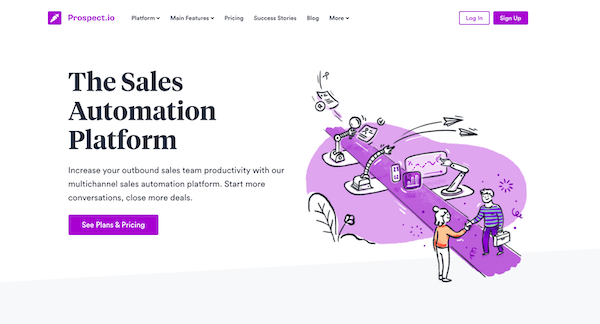 Price: $79 - $129 per month
Average Rating: 4.1 stars via G2
One of the most powerful sales automation tools available, Prospect.io delivers an excellent suite of features that empower you and your sales team to thrive.
The prospecting feature helps you find and verify important details about your prospects, like their emails, phone numbers, job titles, and more. The Google Chrome extension makes this feature even easier to use. For outreach, you can build templates and drip campaigns to automate follow ups.
Also, this tool provides you with important metrics (like email opens and conversions) to analyze your efforts. The best part – it fully integrates with your existing sales tools, like HubSpot and Salesforce.
2. RingLead's DMS Capture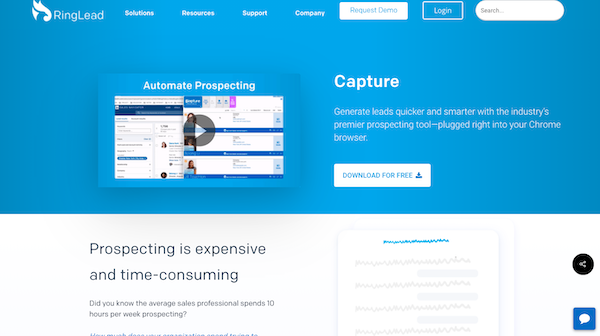 Price: Free
Average Rating: 4.2 stars via G2
One of the fastest and easiest ways to minimize the manual labor involved in prospecting, RingLead's DMS Capture is well worth the investment.
It can derive and record contact information from all kinds of online sources, making research a snap. That allows it to build prospect entries from scratch or append fresh, accurate information to your existing contact database.
3. Bloobirds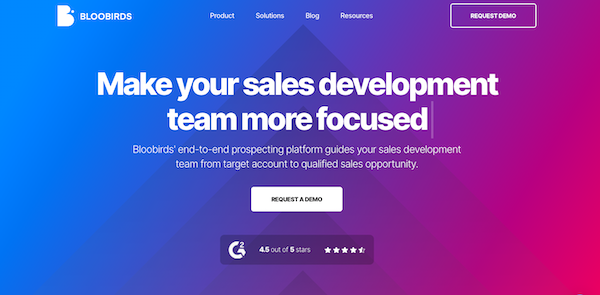 Price: N/A
Average Rating: 4.4 stars via G2
Bloobirds assists sales development reps throughout the whole prospecting process. The tool offers real-time messaging help based on your email strategy.
They take a different approach to email marketing by suggesting messages based on the buyer persona, target market, and the prospect's unique information.
This adds personalization to each email instead of sending out the same message in a mass email send out. The other great thing about Bloobirds is that you have the ability to build your sales playbook into the tool so you can measure your success every step of the way.
4. NinjaOutreach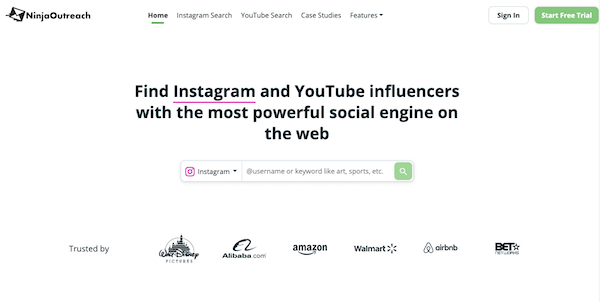 Price: $119 - $199 per month
Average Rating: 4.1 stars via G2
NinjaOutreach is a purpose-built tool that helps you find influencers in your niche. This is a great way to cultivate connections for joint ventures, guest blogging, and much more.
Though it may have been designed with the inbound marketer in mind, the modern sales pro will find it's a great way to scope out the "Who's Who" of any target niche in an instant.
5. CrunchBase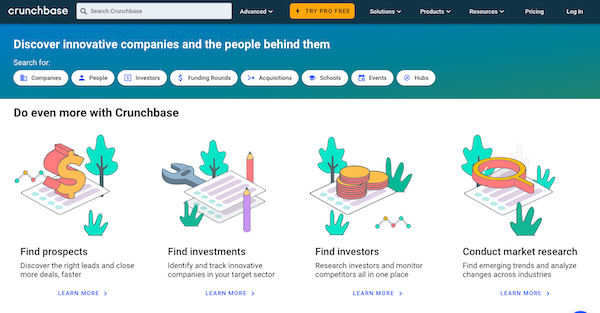 Price: $0 - $29 per month
Average Rating: 4.1 stars via G2
If you are interested in targeting young and growing companies, you simply can't go wrong with CrunchBase. It's an innovative database that offers information on the top startups.
Known for its deep search functionality, it can give you information that might take hours to compile on your own – including deep dive details like rounds of funding.
6. Mattermark
Price: $49 - $500 per month
Average Rating: N/A
Mattermark is a business database somewhat similar to CrunchBase, but it offers insights on a broader set of businesses.
In addition to all the background and contact information you would expect, it goes a step further by providing growth metrics on the companies in its listings. It's so good that Mattermark uses Mattermark to find customers for ... Mattermark.
7. Datanyze Insider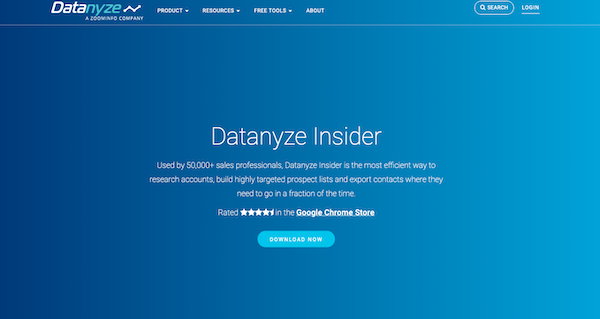 Price: N/A
Average Rating: 4.2 stars via G2
Any time you have the opportunity to simplify your technology stack while still getting great results, you should go for it. As a Chrome extension, Datanyze gives you that chance.
Datanyze lets you pull information from social media, Alexa, and much more to learn what kind of tools prospects use for their web presence. That makes this a great tool for any software company.
8. BuiltWith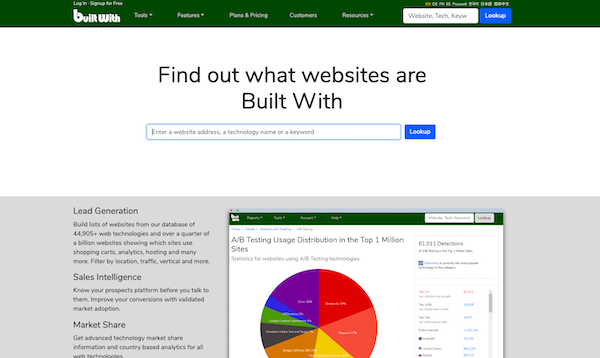 Price: $295 - $995 per month
Average Rating: 4.2 stars via G2
This is another great tool specifically for sales pros looking for prospects who use certain types of software. BuiltWith evaluates sites on the web and returns listings of sites that use particular software solutions.
It's easy to generate a complete list of prospects that have certain solutions active or have used them in the past. This makes it great to use alongside Datanyze Insider.
9. VoilaNorbert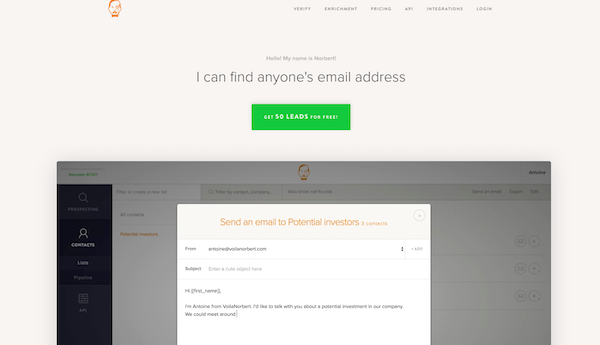 Price: $49 - $499 per month
Average Rating: 4.8 stars via G2
Let's say you're halfway through the process of gathering your prospect list. You've got names, companies, maybe even job titles – but the email address you need is nowhere to be found.
Now it's time to pull in VoilaNorbert, quirky name and all. All you need to find the person you're looking for is their first name, last name, and the company website's URL. Voila!
10. BuzzStream Buzzmarker
Price: $24 - $99 per month
Average Rating: 4 stars via G2
If you still enjoy the personal touch of manually searching for leads, BuzzStream Buzzmarker is essential. It comes complete with a robust tool for pulling contact details, plus a very convenient browser plugin.
The plugin lets you "mark" and centralize information on prospects as you do your daily web browsing or check social media. A handy way to keep track!
11. LinkedIn Sales Navigator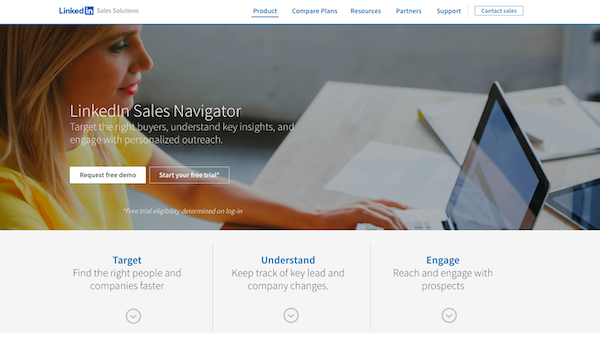 Price: $64.99 - $103.99 per month
Average Rating: 4.2 stars via G2
Any piece on sales prospecting tools would be incomplete without LinkedIn taking an honorable mention. LinkedIn Sales Navigator stands tall in the sales prospecting software marketplace.
Sure, LinkedIn's prices are rising with the size and scope of its network, but it may be worth it to try out those premium accounts: Experts have estimated that LinkedIn is responsible for the vast majority of social B2B leads online, far surpassing Facebook and Twitter.
12. Detective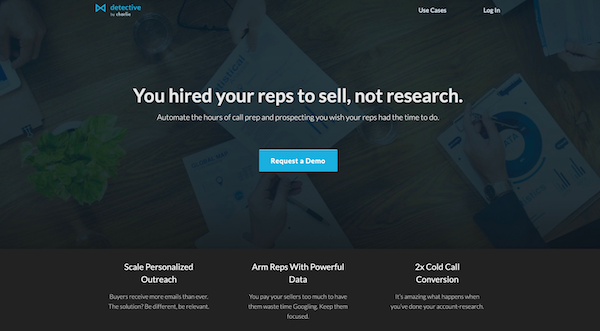 Price: N/A
Average Rating: 4.7 stars via G2
No matter how you find your prospects, sooner or later comes the exciting part – first contact! Start off on the right foot with Detective by Charlie.
It compiles a dossier of whoever you're about to meet, combing social media and news sites for the juicy details that create a true connection. You can find out who you know in common, how their company is doing, and what their passions are.
13. Mention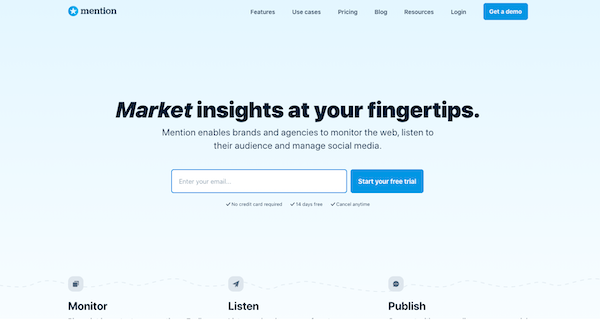 Price: $29 - $99 per month
Average Rating: 4.3 stars via G2
Mention helps with the long-term relationship nurturing that might precede the big sale. It works like Google Alerts on its second pot of coffee, searching for all the big news that comes out of a prospect's company.
Whenever a company hits a milestone, wins an award, or releases a new product, you'll be the first to know. Plus, you can use it to monitor your own firm's @mentions.
14. Skrapp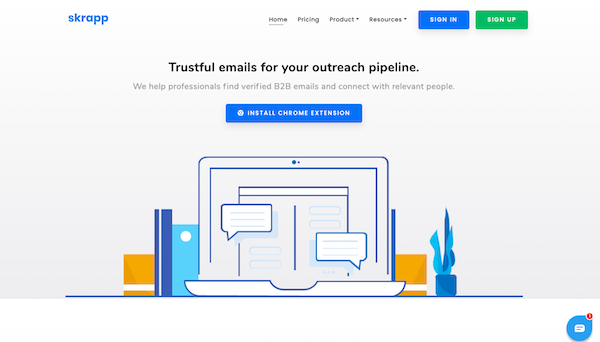 Price: Free for up to 150 emails and $209 for up to 50,000 emails
Average Rating: 3.5 stars via G2
Skrapp is an awesome tool that allows you to search for the email addresses you need for important people in B2B companies.
You can find these emails through LinkedIn and company websites with the Google Chrome Extension, or you can use the in-app features to help you build your email list.
15. Mailshake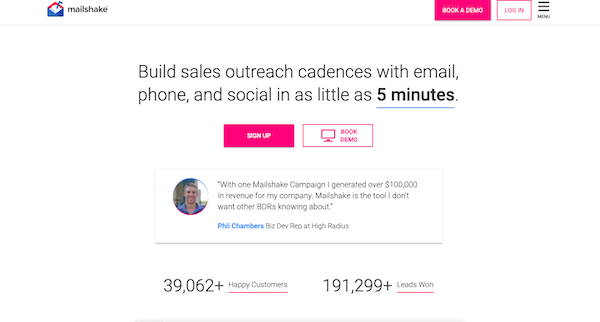 Price: $59 - $99 per month
Average Rating: 4.7 stars via G2
Mailshake is the simplest solution for cold outreach.
Built for marketing professionals and salespeople, Mailshake lets you send personalized emails, set up trigger-based follow up emails, and track how recipients engage with your emails.
16. Snov.io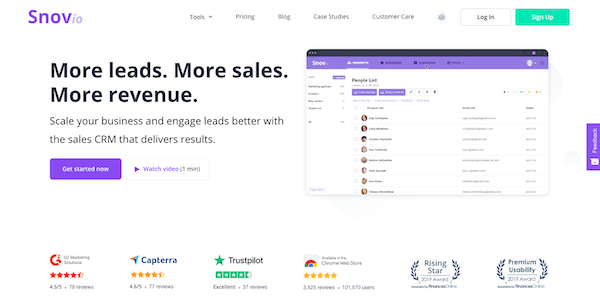 Price: $39 - $199 per month
Average Rating: 4.6 stars via G2
Another excellent cold outreach automation platform, Snov.io supplies you with plenty of tools for lead generation.
Some of the most impressive tools are the email finder, which looks through domains to find contact information, and the technology checker, which helps you identify the tech stack being used by businesses.
The platform continues to earn a lot of attention in the sales and marketing world. It generated nearly 2,000 five-star reviews in the Chrome Web Store.
17. Propeller CRM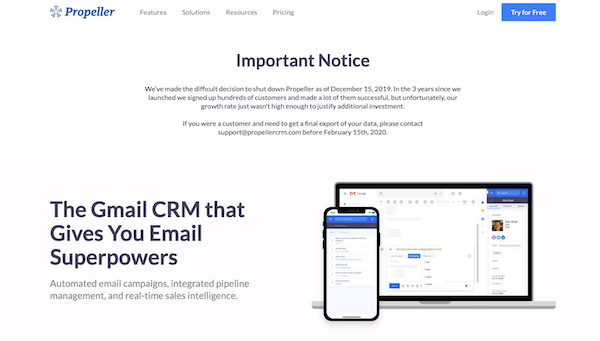 Price: $35 per month
Average Rating: 4.5 stars via G2
Noted for its integration with Gmail, Propeller CRM is another awesome tool your sales team can use for prospecting. Aside from the awesome integration, this tool is impressive for many reasons.
The pipeline management aspect helps you oversee your ongoing prospecting from a bird's eye view. Customize pipelines for different markets you're prospecting in, and qualify your leads in real time when you're running email campaigns.
18. AeroLeads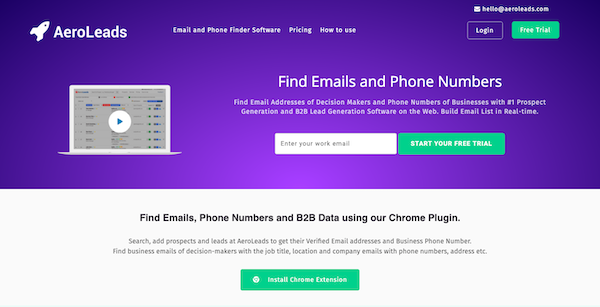 Price: $49 - $499 per month
Average Rating: 4.1 stars via G2
Another amazing option is AeroLeads. Start by simply downloading the AeroLeads Chrome plugin, then go to LinkedIn search.
This is where you can upload names and companies to access up to 15 data points on each prospect, including job title, location, business phone numbers, and much more. Then, export your list or transfer the data into common CRM tools, like Salesforce and HubSpot CRM.
19. Leadfeeder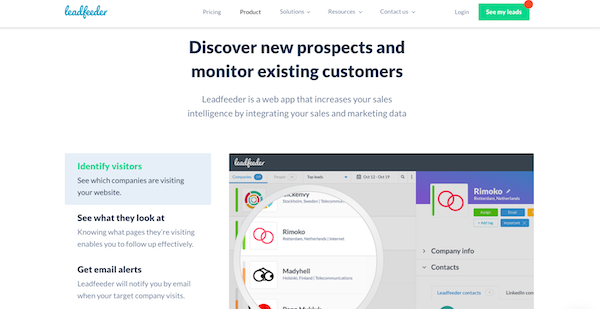 Price: $55 per month
Average Rating: 4.5 stars via G2
Leadfeeder allows you to find new leads and prospects by tracking your website visitors, even if they don't contact you or submit a form.
It connects to your Google Analytics account. Then, you can easily track and analyze your traffic and the pages they visit. This helps you to find opportunities for outreach and engagement based on your leads' behavior.
This tool also helps you to find the contact information for the employees at any company that visits your website. This means you can easily find the decision maker to get in touch with them.
20. Hunter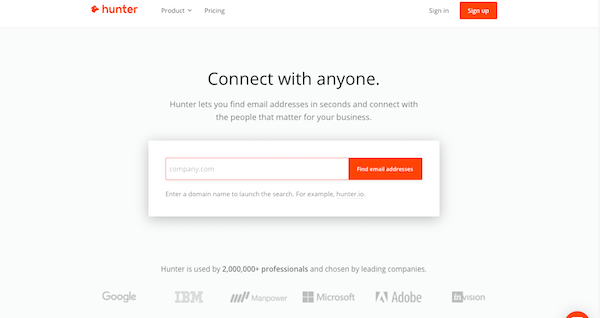 Price: Free for 50 monthly requests up to $399 per month for 50,000
Average Rating: 4.3 stars via G2
Hunter is a Google Chrome extension that finds the associated email addresses for any domain. It can even give you a score that rates how likely someone is to reply to your email message.
When you aren't able to find a prospect's contact details, Hunter provides you with a pattern behind the associated email addresses that allows you to find your target prospect's contact details.
When it comes to sales prospecting tools, these are the best around today. Introducing just one or two to your prospecting process can make it dramatically faster and smoother.
Over time, you can craft a technology stack that works right for you – with one "go-to" app for each step in your process, backed by others that can fill in the gaps whenever the preferred solution doesn't cut it. With the backing of a complete inbound marketing campaign, these tools will help you rake in the sales.