Your content production for your marketing team makes or breaks the success of your efforts. If you simply wing it day in and day out, you're likely falling short on publishing high quality content on a regular basis.
But when you have a structured plan for content production in place, you have a repeatable, scalable foundation for sustainable output.
A 2019 study from Content Marketing Institute and MarketingProfs found that 65 percent of the most successful content marketing performers have a documented content marketing strategy.
Having a documented strategy yields two important advantages: you align your team around common goals and a shared mission (81 percent), and you make it easier to identify which content types to develop (81 percent).
A structured plan and process are essential, and with the right content team in place, your marketing will be unstoppable.
To better understand the content production process, we asked leading experts for their insights.
Not every content production process is going to be the same. Your process depends on the size of your team, the amount of content you're creating, and the amount of resources you have at your disposal.
Let's review the common challenges content marketing teams face, tips for teams that are growing, and examples of how experts conduct their content production.
The Expert Roundup for Building Your Content Production Process
The first thing we wanted to dive into was common challenges experts face as their team creates content.
Common Challenges For Content Marketing Teams
It's rare to have a well-oiled machine continuously chugging along and pumping out awesome, relevant content for your target audience. You're bound to hit a few roadblocks along the way.
via GIPHY
Here are a few experts weighing in on their common challenges.
Balancing Quality and Speed
Anu Ramani, the managing director at Isoline Communications, a B2B content marketing agency, sheds light on this common obstacle of teams being able to create high quality content at the right pace.
"Maintaining content quality and velocity is the biggest challenge when campaigns scale - either for engagement and thought leadership, or when we move into more direct sales enablement by integrating them with marketing automation tools and other state of the art techniques.
"What tends to happen is that human-intensive, email based content creation and approval processes stop being as effective. They rely on people's memories and follow up; version control is difficult, and this generally becomes unmanageable at scale."
Kaitlin Cooper, the co-founder of 201 Creative, Inc., a digital marketing agency, shares this sentiment.
"The biggest challenge we have experienced with content production is creating numerous high-quality content pieces on a consistent basis.
"It requires time and people with the right skills to create quality content on a regular timeframe, and if a team member is not performing strongly enough or quits, it can cause the content production machine to stop or slow down."
Preventing the Missed Deadline Domino Effect
Rachael Cecko, the director of client delivery at Lake One Digital, a marketing and growth firm, warns of the consequences of how missed deadlines can become contagious.
"The biggest challenges for content production center around prioritization and adherence to deadlines. Prioritizing content creation is a challenge with hectic schedules and full workloads that can be subject to fluctuating client demands. Companies need to decide when the rubber meets the road, how important is content creation, and what priorities need to shift to make that happen.
"In tandem with the prioritization is adherence to deadlines. Like all initiatives, there are many moving parts and when one deadline is missed, it pushes down the rest of deliverables and schedules. It's a domino effect and sets a poor precedent."
Ideating for Niche Audiences
Earl Choate, the CEO of Concrete Camouflage, a concrete acid stain, sealer, floor wax, and supplies manufacturer, targets a very specific, unique audience with his team's content, which can make it hard to consistently develop ideas.
"The biggest challenge we face is that we have a pretty niche product, and coming up with blog ideas that are relevant to our site and drive a large amount of lead generating traffic can be difficult at times.
"Sure, there are a million topics on concrete, but people searching for those topics aren't necessarily interested in our product. That leads to a high bounce rate. It's also hard to figure out exactly what bullet points should be included in the article to sufficiently cover the topic."
Establishing Structure for Creatives
Yaniv Masjedi, the CMO at Nextiva, a cloud-based business communication solutions provider, knows the challenge of managing creative types who may be resistant to important processes, like creative briefs.
"Not enough structure. Folks think they can get by without a brief, since we are all creatives, right? I get it - creative license is a good thing.
"However, you do need a framework from which you operate within to make processes repeatable and scalable."
Cultivating a Consistent Brand Voice
James Milliron, the CEO and founder of Inflayt Marketing, a growth marketing firm, highlights how difficult it can be to get your team of content creators to truly capture the voice of your brand.
"Sticking to one voice is the most difficult part of content production. When we have multiple people working to build the same brand it's easy for there to be a few different writing styles and creative visions.
"Sometimes you really have to take the time to immerse yourself in the brand image before starting the creative phase. If a content creator can't become the brand, the brand will start to mimic that creator."
Tips for Growing Content Teams
As your company size grows, your processes might evolve. We wanted to know how growing content marketing teams can keep their content production efficient.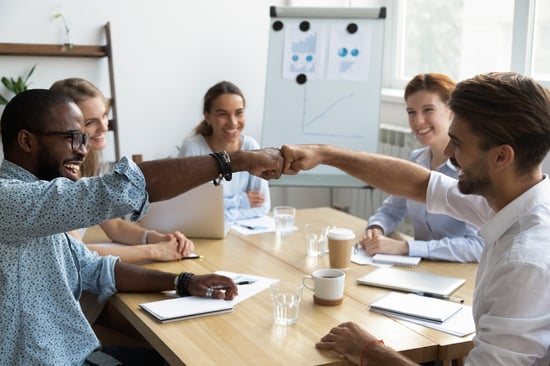 Combine Talent With Automation
Ramani suggests hiring the right people and investing in the right tools from the get-go.
"Companies who are serious about using content as a part of their marketing arsenal over the long term need to invest early on in the resources you need to keep production efficient. This can include the expertise you need - namely strong, efficient content creators with expertise in your industry and feature set, and this also means content and marketing automation platforms like Pardot, Kapost, Trello, etc.
"Anything that automates the content creation, editing, and approval process, and also helps to automate the delivery mechanism, will greatly help to scale a content campaign and take it to the next level. Apart from this, streamlining the internal approval process as much as possible is critical.
"For tech B2B companies, it is tempting to have an approval process involving everyone from product marketing to legal, to avoid making any mistakes. Inevitably this approach results in content approval cycles extending to the best part of a month. Content marketers need to think about the shortest, most effective content creation cycles so that they can scale."
Prioritize Quality Over Quantity
Choate favors putting out content that is higher quality, even if that means reducing frequency of publication.
"What I would consider our #1 tip for efficient content production would be to make a realistic goal. It is much better to put out less content that is higher quality and well researched.
"Also, being more realistic with your content goals allows you to make sure that content is well optimized to help it get ranking. It gives you time to really use SEO tools to complement your research and can save you a lot of trouble in the long run. Content that fails to rank won't help your cause."
Use Project Management Software and Templates
Cooper and her team use tools and templates for managing content projects and speeding up the production timeline.
"My number one tip for growing content marketing teams to keep content production efficient is to have the right systems in place. Without proper systems to keep the process organized, it can be easy for parts of the content production to fall through the cracks and not get completed.
"To streamline this process, we use Asana and have a specific content production project that includes our entire writing and publishing team within it. The project includes templates that we can quickly clone for each new article to ensure all of the steps are properly outlined and get assigned to the correct person.
"Along with this, Asana allows us to create deadlines for each part of the process so we can stay on track and complete articles in a timely manner. "
Streamline Each Task of Your Process
Masjedi thinks it's important to get focused on each task associated with your content production process.
"Learn how to optimize your processes (again, build structure around each step) so that when you repeat a task, it takes less time to complete it each time. You'll certainly reach a point where this effort plateaus, but you'll also be surprised just how far you can streamline operations."
Simplify Collaboration
Nate Masterson, the CMO and certified health expert at Maple Holistics, a personal care products company, emphasizes the importance of collaboration, and using communications tools makes it easy for your team to work closely together in real time.
"Efficiency is the name of the game with so many details and tasks involved in creating a proper content marketing campaign.
"This is where Slack performs so well, because it offers our marketing team the ability to work together, share information, track progress, and create a direct line of communication. One of the reasons Slack is so helpful for efficiency is because of its countless apps and integrations, including many automation tools."
Establish Brand Guidelines
Milliron and his team use a brand style guide for consistency and efficiency.
"One should always have properly defined brand guidelines. They can be color guides, image guides, a mood board, rules about how to structure sentences (active vs passive voice, for example), etc.
"These guidelines should be thoroughly studied and applied by everyone on a content marketing team. A central reference point provides creators with a way to self-assess the accuracy of their content. Without it, you end up spending double the amount of time on revisions and rewrites."
Create Time for Individual Tasks and Measure Efficiency
Jassjeet Kaur, senior writer at Signity Solutions, an IT consulting company, shares how important ideation time is for the entire content team.
"Set aside ideation time. Many writers will agree with me on this – the hardest part of content production is coming up with unique ideas. For this reason, you need to dedicate a certain window of time each week strictly for ideation.
"Because there will be times when you will need a topic arbitrarily and having a pre-created list of conceptualized topics will make these instances much easier."
Cecko makes it a priority to establish timeframes and find areas of opportunity to be more efficient.
"My number tip for growing content teams is to set time allowances for each task, track the time it takes you to complete the task, and run a report at the end of the month or campaign.
"Are you spending too much time drafting the content? Or are social posts dragging you down? How about the conversion funnels?
"First understanding where you are spending on your time is a great compass for pointing you in the direction you need to focus on for efficiency improvements. You can't measure improvement if you don't have a baseline."
A Peek Behind the Curtain of Content Production Processes
Finally, we wanted to take a look behind the scenes at what content production processes looked like for these experts.
via GIPHY
Here are some tips we culled from these responses:
Start With a Brief and Kickoff Meeting
Francesca McLin, the chief product officer of Snappy Kraken, a marketing automation provider for financial advisors, describes the importance of creative briefs and meetings at the beginning of the content production process.
"Everything starts with a brief. We have a kick-off meeting to discuss the brief and clear up any questions. From there, all action steps and responsible parties are added to a project in our project management software.
"We centralize our documentation and file storage in one place so that creation, annotation, and collaboration can be done and tracked easily. Everyone's deliverables and deadlines are established by working backwards from our project due date. A designated project owner oversees the entire production process at multiple steps to make sure we're on target and on track."
Think Beyond Hitting Publish
Choate looks at the big picture, giving his team enough time to maximize reach of their content.
"We follow that 'realistic goal' mentality. Our marketing team is involved in so much more than just content production, so we usually have a goal of at least one well researched and put-together piece per month.
"Since this goal is so low, it is always accomplished. It also leaves time for us to do other things like guest posting and promoting that content in relevant places to make sure people see it. Content marketing doesn't end when you hit publish."
Establish Checkpoints Along the Way to the Final Deadline
Masjedi shares his team's system, which he detailed in a step-by-step outline:
Study your competitors' top-ranking keywords.
Create a brief around that keyword. That brief must contain: working title, H2s and H3s, supporting details (or hypotheses), and reference material.
Assign to writer with a deadline that is 50 percent of the way toward your real deadline (or earlier, if it's not inhumane to your writer).

If they are an established writer, have them submit to your editor.
If they're a newer writer, quickly scan the piece to see if it fits the campaign/avatar, checks the main boxes, etc.

If so, pass it on to the editor.
If not, take 10-20 minutes to issue detailed constructive criticism.
"Issuing constructive criticism is key – you do not want to tear down your writer. Prop them up, empower them, and they will finish strong. If your piece needs feedback, give the writer a new deadline that is no later than 75 percent of the way toward your final deadline.
"Your editor should get the piece in their hands before you're 75 percent of the way to deadline, and get it back to you by ~90 percent of the way to deadline. Now, it's time for your wicked quick content manager to upload, polish, and publish."
Encourage Brain Dumping in the Beginning
Bernice Quek, the chief content writer of Bumble Scoop, a lifestyle website, says her team encourages each other to pitch as many ideas as they can in the early stages of ideating.
"When it comes to idea generation for content, our team believes that quantity triumphs over quality. Therefore, we hold biweekly brainstorm sessions where everyone would just throw in ideas for three minutes. Thereafter, we would see how these ideas can possibly work together or be refined into something better.
"Once the topics have been confirmed, we would organize everything into a content calendar and delegate tasks and deadlines to each relevant team member. Tasks for every article include researching, outline planning, writing, many rounds of editing, uploading, beautifying and editing again. We use a task management tool (Asana) to monitor work progress and keep track of all projects."
Define the Ideal Reader Experience
Milliron and his team get crystal clear on the exact reader experience they want to create with each piece of content.
"Before creating anything, we spend some time reviewing or formulating a customer profile for the target audience. Then we decide what emotion we want to evoke from that person when they interact with our content.
"From there, which action should they take? Once these are decided, we shortlist a few types of content that we can make to reach the desired outcome. We choose based on the best existing data.
"Then our content creators set out to develop that content against best practices and brand guidelines. After a series of reviews and revisions, the content goes to a campaign manager for publishing."
What Does Your Content Production Process Look Like?
With all these ideas and insights from content marketing experts, you're well prepared to refine your content production process.
But remember, every team is different. You need a process that aligns with your own goals, your company size, and your budget and the amount of resources you have available.