Facebook is an important social media channel every business should use to their advantage.
But your efforts shouldn't stop at simply creating a company Facebook page and throwing up a few photos – there's a lot more you can do for your Facebook digital advertising strategy.
Utilizing Facebook ad campaigns is a great way to drive engagement, and generate and convert leads.
Facebook ads can be useful throughout every stage of the buyer journey, so you'll likely need to create different ads for different audiences. Doing so will help you reach a much wider group of target customers, and create a much higher ROI.
But in order for your ad to be effective, there's a few best practices that you should follow.
Facebook Ad Best Practices
To create a successful Facebook ad, you need to consider a number of different elements. The best Facebook ads will be directed to a specific target audience, incorporate impactful visuals, and include a strong call to action.
In case you need help laying out the structure of your ad, let's take a closer look at some of these best practices:
Know the Difference Between Cold Traffic and Remarketing.
There are two primary categories of advertisements on facebook – cold traffic campaigns, and remarketing campaigns.
Cold Traffic Campaigns
Cold traffic campaigns are used to target fresh audiences who are unaware of your brand. These ads are used to generate brand exposure and drive interest in your products and services.
Remarketing Ads
Remarketing ads are for audiences that have already engaged with your brand and shown interest in your products. These ads are primarily used to close sales and encourage customer loyalty.
Determine Your Target Audience.
Facebook actually lets you decide who your ad is going to be shown to, defined by location, age, interests, and general demographics. Consider the demographics of your ideal target audience to direct your ads toward relevant groups that will engage with them more than others.
Consider the Buyer Journey Stages.
Consider which stage of the buyer's journey your ad is going to target: awareness, consideration, or conversion.
Facebook breaks up these three stages into campaign objectives so you can clearly focus on what you want the ad to achieve. Considering which stage of the buyer's journey your customer is in will help you build a more effective facebook ad.
Use Visuals for Impact.
It's important to include strong visual elements in your ads to engage your audience and draw them in. Successful facebook ads incorporate either photos or video to attract attention, entertain their audience, and boost engagement.
Include a Call to Action.
Make sure you have a strong call to action. There's ultimately no point to your ad if you don't encourage your audience to click, buy, like, or take some other kind of action to engage with your brand. The best facebook ads create urgency and incorporate impactful CTAs.
5 of the Best Facebook Ads We've Seen
Now that you know all about Facebook ad best practices, let's see them in action.
Below, you'll find a list of successful Facebook ad examples from a variety of different brands, each of which incorporates most of the best practices described above.
When looking through this list, consider how you might be able to utilize these ad ideas in a unique way to shape your own.
1. Nordstrom's "How To" Ads
Nordstrom has started a series of "how to" facebook video ads that display their clothing in a unique, engaging way. Their latest video in the series, "How To Wear Neon" has acquired over 32,000 views in its first two weeks.
The video works well because it provides valuable information to their target audience – tips and tricks of how to style your outfits – and does so while showcasing their products.
2. Nike "Just Do It"
Nike's "Just Do It" campaign has taken the world by storm. Their ads are successful because they're highly impactful.
Take the following ad for example: it depicts an image of an enlivened athlete, and a tagline that sparks emotion within the audience – "Everyone loves an underdog." The tagline is something that the audience can relate to and connect with.
While the advertisement doesn't include a call to action, its utilization of strong visual elements peaks the audience's interest and generates a strong interest in Nike's brand. The photo is centered to the left, with the text on the right, creating a pleasing balance within the design.
3. JetBlue "Fly Faster than You Think"
A few years ago, JetBlue released a series of video advertisements to promote their new credit card. The videos make for effective facebook ads because they combine strong visuals with humor to entertain the audience.
Incorporating humor into your ads is an excellent tactic to entertaining your audience and boosting interest in your brand.
Additionally, they actually consider their target audience and use a buyer persona story to shape the narrative of the video – Brian the businessman / aspiring entrepreneur.
The overall structure of the video is highly effective. It first tells a short story to draw in the viewer and then goes into the specific benefits of the JetBlue card.
4. Pura Vida Bracelet's Social Drive

Pura Vida Bracelets was founded back in 2010, and they quickly became a hot commodity. They've made the most of using social media to their advantage.
This particular ad is an example of remarketing and directed toward an audience that is in a very particular point of the buyer's journey – conversion.
This ad promotes brand loyalty by using a strong CTA to encourage their audience to use a branded hashtag to be featured on their Instagram page.
Additionally, the ad also features a colorful visual design that showcases their products while keeping in theme with Pura Vida's brand style.
5. Geico's Smart Dogs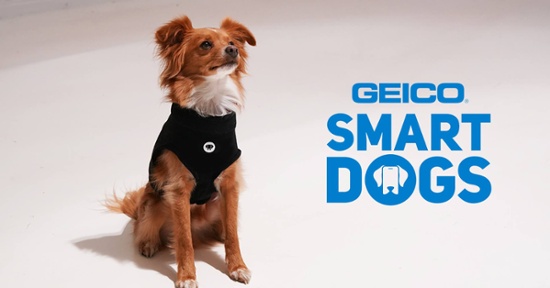 Geico has hacked into a source of true brilliance and leveraged the whole world's love of dogs to their advantage. The ad is simple in design, but the imagery they use – an adorable dog – is highly effective.
They include a CTA in the captioned text of the image, which leads the audience to what Geico is actually promoting – the 'do not disturb' function in their app, to be used when you're driving.
10 Facebook Ad Templates to Spark Inspiration
If you have trouble with the visual design element of Facebook ads, you're in luck. There are limitless templates available to help you create engaging, impactful advertisements.
Websites like Canva have tens of thousands of templates available. Canva alone has 50,000 templates designated solely for Facebook ads.
That being said, you don't necessarily need to use their templates to find them helpful. Simply looking at a variety of different templates can help you determine how you want to design your ads, based on what you do and don't like.
We've included some of our favorite options from Canva, but know that there are plenty of other websites that also provide templates.
1. Nature Hour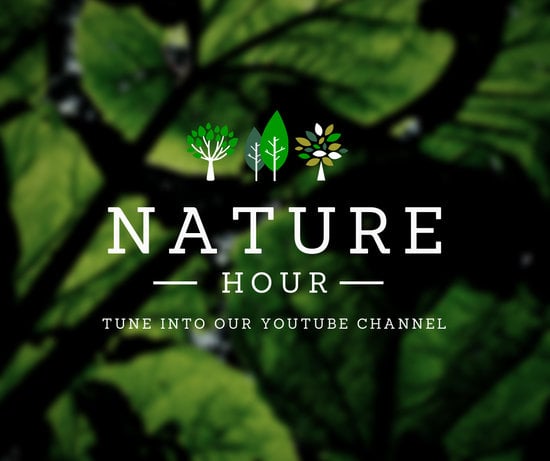 This template is effective in sparking emotion within the audience, as the dark, blurred background overlaid with bold text creates a strong ambiance.
If you're going to use this template, make sure that stick to the contrast between dark background and light text or a light background with dark text.
2. Valentine's Day Sale
This template features a classic look, optimizing the use of two photos, but putting the text in a clean center bar to make it clear and focused. If you're going to use this template, make sure your photos are horizontal!
3. Union Class Eatery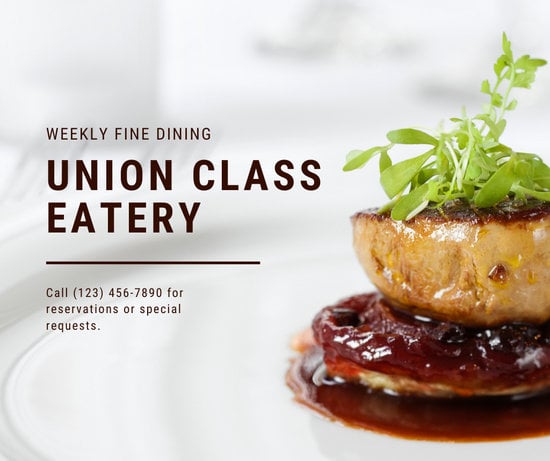 While this template features a square ad, it has a nice balance between the right centered photo and the left centered text in the negative space. This style would not work for a photo that was centered in the middle or a had a lot of visual content all over.
4. The Wilshire Bakery
This template incorporates company branding! The clean white logo in the center balances out with the busy, colorful background. This kind of ad is likely to be used to boost brand awareness early in the buyer journey.
5. Clearance Sale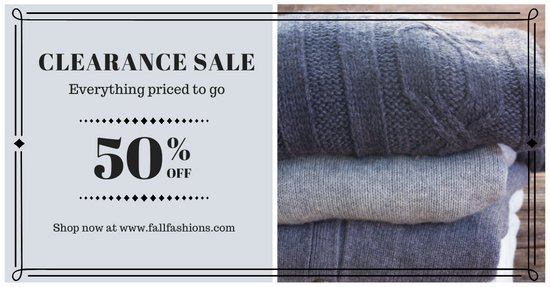 This template works well because it incorporates a balanced design – a photo on one side, and solid color block for text on the other.
Notice that the color block stays within the color scheme, and the border ties the two sections together. The text stands out because it has its own designated section within the design.
6. Woodfired Pizza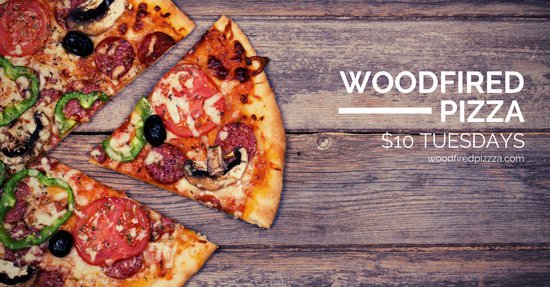 This template is another excellent example of left or right oriented photos with text centered on the opposite side.
The photo has a primary subject matter (the pizza) but still leaves enough negative space for the contrasting text on the opposite side. This is the kind of design style that you see used for Nike's "Just Do It" ads.
7. The Silton Shack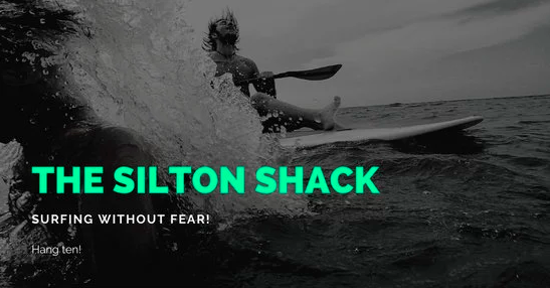 This design template is high impact – the bold, colorful text over a darkened black-and-white photo features extreme contrast and thus grabs the audience's attention right away. If you're going to use this design, make sure the text font and color stays in theme with your company's brand.
8. Sublime Collection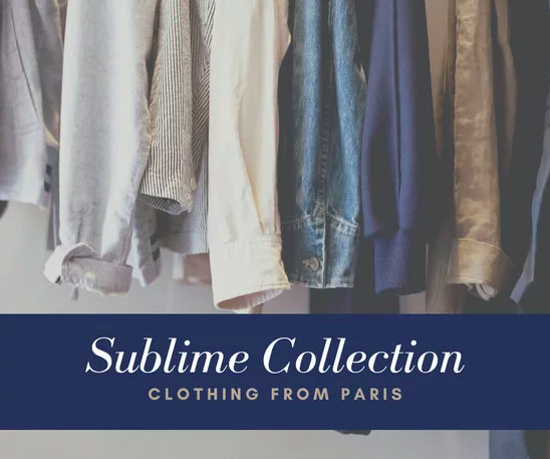 This square template is effective because it makes the product (the clothing) the central focus by allowing it the majority of the design space, but, at the same time, it still delivers a clear message with a clean banner at the bottom.
Notice that none of the key subject matter in the photo is cut off – the banner primarily covers negative space. Consider this balance if you choose to use this template.
9. Havana Tropicana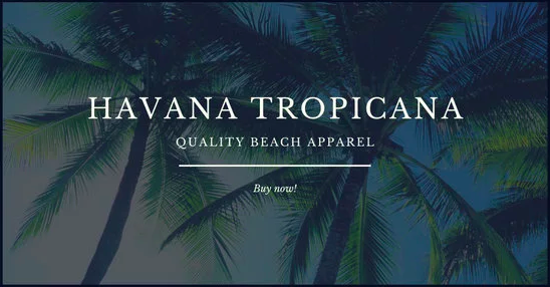 This template is effective because the company message is clearly at the center of the ad. However, the photo in the background also creates ambiance for the audience to react to.
Notice that a dark, faded photo is used to create contrast with the light text to ensure that the text is clear and readable.
10. Black Friday Sale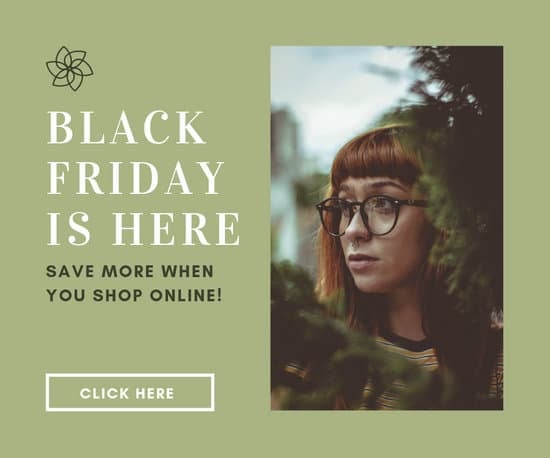 This template is effective because it uses lots of white space (or rather, green space) to its advantage, making it aesthetically pleasing to the viewer's eye. The text is clear, and there's an obvious call to action button.
Additionally, we once again see a utilization of left to right balance between the photo and the text.
Design Your Own!
Now that you've sifted through the Facebook ad templates and seen some strong examples of successful ads that utilize the best practices, use this knowledge to shape your own ads.
Remember, your facebook ads shouldn't simply mimic that of another company's, but you can use them for inspiration to design your own.
In fact, we recommend you take inspiration from others! Take a look at other effective Facebook ads and craft the base of their ideas into something that fits the theme and message of your own brand.
Geico used dogs as a way to draw attention to their ad – how might you be able to use adorable animals to attract attention for your brand?