The Best Free Social Media Management Tools for 2019
Now more than ever, your social media presence matters.
People turn to social to learn more about your brand, what you do on a daily basis, and how your products and services stack up to your competitors.
Social media is a major element of any comprehensive inbound marketing strategy. And with so many different social channels to manage – Facebook, LinkedIn, Twitter, Instagram, Pinterest, YouTube, and more – it can be like juggling too many balls in the air.
All of these platforms are important for effective social media marketing, but keeping track of your channels and regularly posting and engaging on them can take time. Like, a lot of time.
So, to save you the stress, the best way to manage your engagement across multiple channels and platforms is through the use of social media management tools.
Social media management tools allow you to not only keep track of your posting and engagement with prospects; you can also schedule posts across multiple channels, monitor any mentions of your company, track and analyze performance, and much more.
The variety of social media management tools out there can be a bit overwhelming, for both the novice and the advanced user.
How do you choose the best management tool to meet your needs? How do you know what features to choose?
Luckily, some of the best tools don't require you to give up your credit card. Yes, they're absolutely free (with in-app purchases and upgrades, if you so choose).
Here are some of the best free social media management tools available to help you manage your social media presence in 2019 and beyond!
Organization is the key to successful marketing.
These free social media management tools will help you track and manage multiple social media profiles in a single interface, schedule posts, track analytics across multiple platforms, and more. Now, keeping up to date with both your Facebook marketing and Twitter marketing will be a breeze!
Want to up your social media game? Check out these free tools.
The Best Free Social Media Posting Tools
1. Hootsuite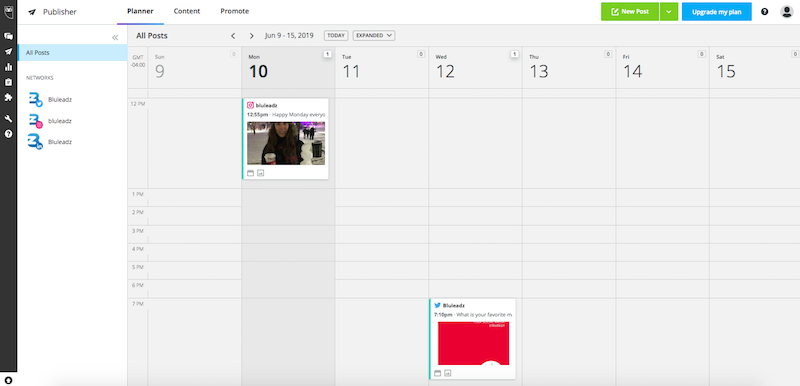 Like many of these tools, Hootsuite offers both free and premium plans. Their free plan is pretty robust and allows you to:
Manage three social profiles in one place.
Schedule up to 30 posts in advance.
Generate leads using social contests.
Easily integrate with 150+ free and paid apps.
The free plan also includes some basic analytics to help you track followers, various growth and content stats, and two RSS feed integrations. Not too shabby for a free tool.
We love using this tool to schedule out our social posts because of the way it's organized – a visual calendar dashboard shows you what you'll be posting and when. Now that's organization.
Hootsuite Upgrade Options
Professional: $29/month
Team: $129/month
Business: $599/month
Enterprise: Custom plan; contact for pricing
2. Buffer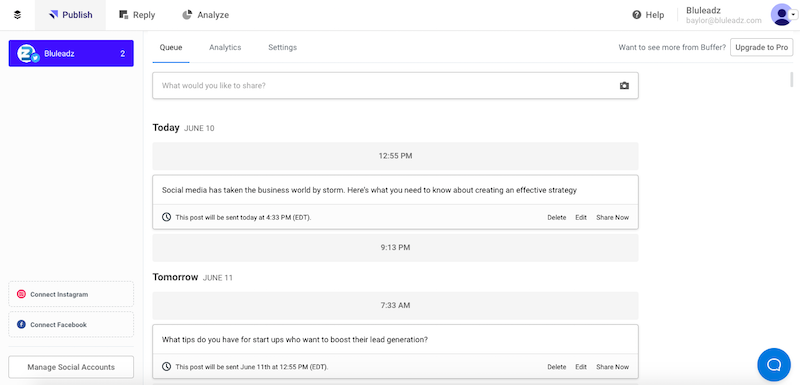 Like Hootsuite, Buffer has been in the social media management space for a long time.
Buffer is a respectable platform. It allows you to manage multiple social media profiles easily and includes many of the same features as Hootsuite.
This platforms organizes your scheduled posts in a queue list format so you can easily scroll and monitor the posts that will go out on your various social platforms. Neat and simple.
It also allows you to schedule content while browsing the web with Chrome extensions. Where Buffer shines is its ability to monitor user activity and then suggest the perfect time to post based on your followers' activity. Pretty cool!
With a basic free Buffer account, you can link three social accounts, 10 scheduled posts at a time, and can have one user.
Buffer Upgrade Options
Pro: $15/month
Premium: $65/month
Business: $99/month
3. Later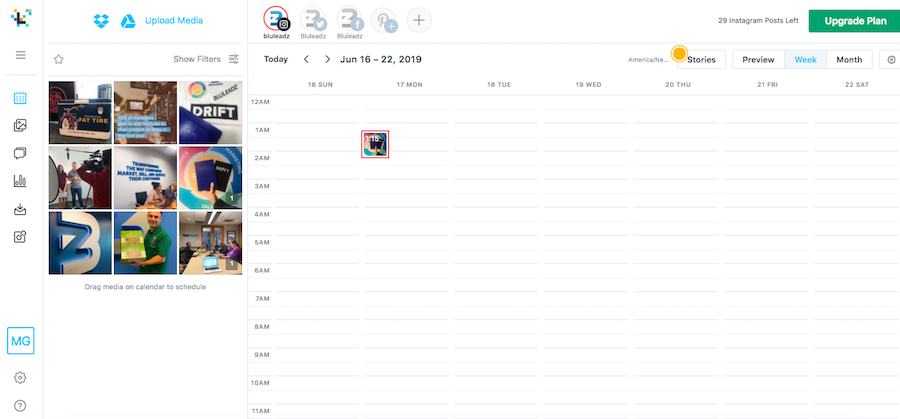 Later is a free, easy-to-use platform for starter businesses looking to schedule photos and videos on their social media. (You cannot schedule text-only posts with Later.)
Later works with Instagram, Twitter, Facebook, and Pinterest, and has a 30-post limit each month for each platform (50-post limit for Twitter). You can add one social profile per platform.
To schedule a post, all you have to do is upload your media, and drag the photo or video you want to schedule onto the calendar. Put your caption in the comments section and pick your time to post!
For marketers on the go, Later even has a free app you can download for Android or iOS. A big plus with this app is its Instagram preview feature.
When scheduling your Instagram posts, you can actually preview what they will look like on your existing feed. You can drag and reorder your scheduled posts how you please to ensure your aesthetic is just the way you want!
Later Upgrade Options
For Individuals

Plus: $9/month OR $7.50/month billed yearly

For Businesses

Premium: $19/month OR $16/month billed yearly
Starter: $29/month OR $24/month billed yearly
Brand: $49/month OR $41/month billed yearly

Read more about

pricing options here.
The Best Free Social Media Editing Tools
4. VSCO (Phone App)
Pretty much every millennial has VSCO downloaded on their phone. (I admit, I do too.)
But VSCO is actually an amazing photo editing tool your business can utilize to create bold, captivating visuals for your social media channels.
With this phone app, editing is a breeze. Use any of the many free presets, or take your own path and create custom color and filter edits to suit your aesthetic.
VSCO saves all the photos you edit into a "studio" for you, so you'll never lose track of any images you want to post.
Happen to like one of the edits you made on a post? Click on the edited image, press the ··· button on the bottom right, click "copy edits." Then, click on your unedited image you want to replicate the edits on, press the ··· button and click "paste edits."
Voila! Don't worry if it doesn't look perfect right away – you can easily pop back in to the image and adjust edits as necessary.
VSCO Upgrade Options
VSCO Membership: $19.99/year (free trial available)
5. Photoscape X (Desktop App)
As an all-in-one photo editing software, Photoscape X can do a lot.
Download the app for Mac or Windows 10 to access a full editor right on your desktop. Its editing platform is easy to use and you can see your edits appear in real-time directly on your image. Plus, you can even create animated GIFs – who doesn't love GIFs?
Create cut-outs, collages, merge photos, clone and remove elements from images – the possibilities with this tool are endless. And it's totally free!
Photoscape X Upgrade Options
6. Adobe Photoshop Express (Phone App)
Adobe is known for having some of the best of the best when it comes to marketing software. One of these top-notch softwares everyone wishes they had is Photoshop.
But, what if I told you that you can get Photoshop for free? No, this isn't a dream – just head to the app store on your phone and type "Adobe Photoshop Express."
This basic version of Photoshop still has plenty of tools to help you edit and create beautiful images for your social media channels. Use preset filters or create custom edits – cropping, lightness, color, sharpen, blur, and more – to bring your images to perfection.
Looking to spice things up? Easily add textual elements or stickers to your images for a pop of fun.
Adobe Photoshop Express Upgrade Options
No in-app upgrade options, but you can license Adobe Photoshop
7.Typito
Video is one of the fastest growing online marketing tools in use today. Typito is an easy to use, free app that can help you deliver high quality visuals in no time.
It's a drag-and-drop interface that lets you make videos using images, videos, and stunning typography.
Typito even gives you format options based on each social platform (LinkedIn, YouTube, Facebook, Instagram, and Twitter) to ensure you always have the right aspect ratio for the channel you're posting to. Plus, it recommends what each format is best for (e.g., feed, cover video, story, etc.)
Typito Upgrade Options
Starter: $29/month OR $25/month billed annually
Professional: $66/month OR $55/month billed annually
Premium: $149/month OR $125/month billed annually
Enterprise: Contact Typito for a custom plan
The Best Free Social Media Monitoring Tools
8. TweetDeck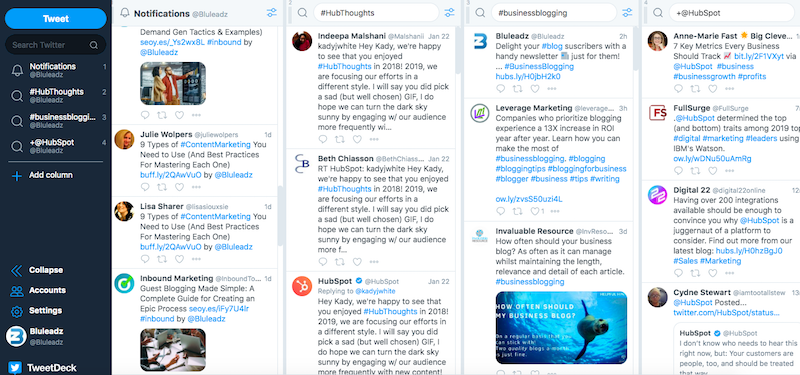 Twitter is a great platform for engagement. It's easy to use, allows you to connect with any user on the planet directly, and you can start a conversation with your very first tweet!
That being said, Twitter is a very noisy platform. Spending a few minutes checking your feed can easily turn into hours!
If you are an active Twitter user, take a look at TweetDeck. This management tool allows you to remove some of the noise, making the time you spend researching and engaging on the platform much more efficient.
TweetDeck also allows you to create a customized interface where you can monitor specific users, hashtags, your own channel list, or search terms. If you're a serious Twitter user, you'll love TweetDeck.
TweetDeck Upgrade Options
None: this platform is free for everyone.
9. Followerwonk
If you're looking for a deep dive into your Twitter presence compared to your competitors, you need Followerwonk.
The basic, free version of Followerwork allows you to sign up with a Twitter account. View your social authority rankings, search bios, and compare your social graph to your competitors and industry leaders.
You can see who your competitors are following, who is following your competitors, how many followers they have, and even their most active hours on Twitter.
With their search bios tool, you can search for related keywords to help your business discover potential customers, employees, or just thought leaders. It's definitely a free tool worth trying.
Followerwonk Upgrade Options
Target: $29/month OR $23/month billed annually
Multitask: $79/month OR $63/month billed annually
10. Google Alerts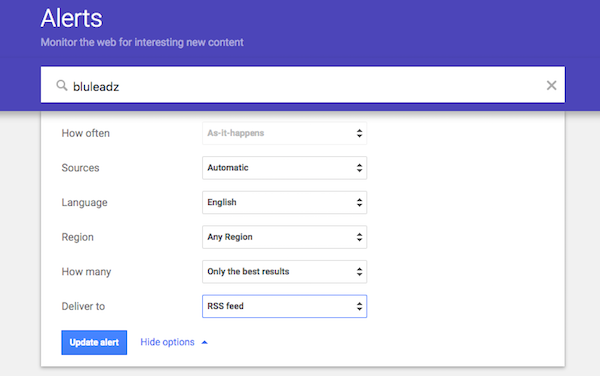 The all-powerful Google: it can even help you monitor your brand presence on the internet! Set up Google Alerts to see where people are mentioning your business.
Add alerts for specific terms related to your brand and industry – when you set them up, you will receive email updates on all the newest mentions.
Google Alerts Upgrade Options
None: this platform is free for everyone.
The Best Free Social Media Analytics Tools
11. SumAll
SumAll can provide insights into your followers and engagements on a multitude of social channels, including Facebook, Instagram, Twitter, and LinkedIn.
Set up a daily or weekly digest email to receive instant analytics on likes, followers, mentions, replies, retweets, and more right to your inbox. Choose which accounts you wish to track to keep your highest-priority insights at top of mind.
You can even automate posts that share milestones, top products, or company performance – just set it up, and SumAll will do all the hard work for you.
SumAll Upgrade Options
None: this platform is completely free! (for now)
12. Google Analytics
via GIPHY
No matter what channels you employ for your social media marketing, without a way to measure your return on investment (ROI), all of your efforts mean nothing. You need to be able to analyze your results and answer important questions, like:
How much traffic to your website comes from social channels?
What pages do visitors spend time on and engage with?
How much time do visitors from social sites spend on your website?
Google Analytics can give you these answers and a whole lot more. Simply set up analytics on your website to monitor and analyze your traffic. It's a total must have app to see how your social media efforts are bringing in new leads and traffic, and best of all, it's free!
13. Your Built-In Analytics on Each Platform
Don't forget that a lot of social media networks have built-in analytics that track your performance!
Twitter Analytics, Facebook Analytics, Instagram Insights, and LinkedIn Analytics are all valuable tools you can use to track your visitors, followers, and engagements.
And, since they're already built in to each channel, there's no excuse not to use them!
The Best Free Social Media Graphics Tools
14. Canva
If you want to create amazing, custom graphics to post on social media, Canva gives you a lot of tools to choose from.
Canva makes it easy to create breathtaking graphics and designs – and, if you'd rather start from scratch and create your own, that works too!
Beyond social media, this design website offers tons of tools for creating documents, flyers, marketing material, and more. Regardless of what you're doing on social media, you'll probably want to check Canva out.
Canva Upgrade Options
Canva Pro: $12.95/month OR $9.95/month billed annually
Canva Enterprise: Contact Canva for more details
15. Stencil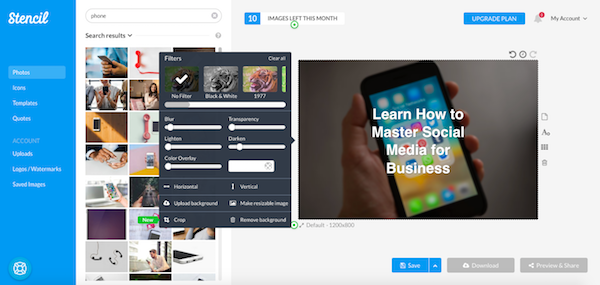 Like the other graphic creators, Stencil has a simple drag-and-drop tool that allows you to make any social graphic you want.
Search through over two million royalty-free images to use as backgrounds and add fun text to provide context and value to your readers.
Not in the mood to design your own? Choose from any of their pre-made templates and customize it to fit your brand. Once you're done, all you have to do is download it!
Stencil Upgrade Options
Pro: $15/month OR $9/month when paid annually
Unlimited: $20/month OR $12/month when paid annually
16. Piktochart
Infographics continue to be a valuable sharing tool to distribute knowledge to your audience. And, if you need a simple creator to make some kickass infographics, Piktochart is your guy.
Piktochart features tons of amazing templates you can fully customize to suit your brand, your information, and platform.
There are even presentation templates if you plan on creating informational slideshow, LinkedIn SlideShares, and more.
Piktochart Upgrade Options
PRO: $29/month OR $24.17/month billed annually ($290 a year)
PRO Team*: $92/month OR $76.67/

month billed annually ($920 a year)

*The PRO Team price is calculated for four team members. Price depends on number of team members.

Read more about pricing options here.
Try Before You Buy
While social media can seem daunting, using these social media management tools can help you organize your effort, and keep them focused.
Note that a lot of these tools perform more functions than stated here, and the more robust and versatile they are, the more beneficial they can be for your business. For example, Hootsuite, while an amazing scheduling software, can also be a great social mentioning tool!
As you become more proficient with their use, you'll become a much better social marketer and will reap the benefits of this powerful online marketing medium.
These 16 tools come at no cost to you – no limited trial period, just free tools that can help you build a better brand on social media. But, if you ever want to commit to one of these tools and utilize them to their full potential, there's always room to upgrade!