How to Find the Best Demand Generation Agency
1.

Understand Your Needs.

2.

Conduct Research.

3.

Find Out if They Have the Services You Need.

4.

Learn About Their Team.

5.

Ask Thorough Questions About Their Processes.

6.

Get More Than One Proposal.

7.

Consider the Results You Need to Achieve Successful ROI.
Demand generation helps fill the gaps between your marketing and sales teams.
With the right strategy in place, you can put your company on the right path toward more growth with qualified leads. But should you go it alone or look for some external help?
Outsourcing your demand generation is an important decision for business leaders to make. It involves a lot of research to ensure that you are investing in the right agency for all of your unique demand generation needs.
When you begin the process of searching for a team of demand gen specialists, you should pay special attention to their qualifications, past success, services, and the return on investment you can gain.
Let's explore the basics of demand generation, along with seven key tips to help you choose the best agency for you, along with some of the best agencies for 2021.
How Demand Generation Works
Demand generation is a digital marketing strategy that leverages data and technology to create brand awareness and interest in a brand's products or solutions.
Demand generation strategies take advantage of several paid media platforms such as influencer marketing, Google Ads, Facebook Ads, LinkedIn, and others to generate more immediate and targeted traffic.
Demand generation begins with identifying audiences that are the most likely to be receptive to a brand's specific messaging. Then, it involves qualifying prospects through inbound marketing tactics, email campaigns, direct response, and events.
Next, a business development team nurtures and qualifies these prospects further before sending them off to the sales team to close the deal.
The goal of demand generation is to identify future prospects based on their actions before nurturing them to serve up only the highest quality leads to sales teams. This often results in higher conversions, which ultimately equals more sales.
What to Look For When Hiring a Demand Generation Agency
When searching for a new agency, there are a few things you should take into consideration. Here are six aspects to look for before you make your final decision about hiring an agency.
Previous Success Stories
Check out the case studies and testimonials for the agencies you are considering to get an accurate idea of the results they've had with companies similar to yours in the past.
You want to make sure they have experience with your industry's specific pain points and that they can deliver you the results you need based on your unique challenges.
Good Communication
Demand generation specialists work closely with sales and marketing teams to ensure campaign success.
The right agency will communicate campaign performance well and work with your sales and marketing teams to gather the information they need about buyer personas. This informs how they leverage information, like an ideal buyer's pain points, throughout different marketing campaigns.
The Ability to Adapt When New Data Is Presented
Demand generation is something that requires high levels of adaptability because it is not an exact science. A good demand generation agency won't make promises they can't keep before they try different tactics out and analyze the data they retrieve from those tactics.
Make sure the agencies you are considering feel comfortable experimenting with new techniques or testing old ones before they tell you what campaigns they believe will be the most successful.
A Demonstrated Understanding of Marketing Automation Tools
Marketing automation tools are essential for demand gen strategies. The agency you choose should be familiar with a variety of these tools in addition to demand generation tools.
These tools allow them to understand your customers and competitors so they can position your marketing messaging and campaigns carefully to capture you more qualified leads.
7 Tips for Finding Your Demand Generation Agency
Choosing a demand agency is a decision that should not be taken lightly. Here are some tips that can help you make the best decision for your needs.
1. Understand Your Needs.
Before you go on a journey to find the best demand generation partner for you, define what your needs are. This involves finding gaps in your marketing and sales processes to see where you need the most help.
Get together with your team members to identify these gaps and figure out what you need from a variety of perspectives. After you identify your company's needs, list them in order of priority along with your goals.
This will help you to better understand what you and your new demand partner agency should work on first to help you reach the goals that are at the top of your list.
2. Conduct Research.
Take to the internet and compile a list of possible demand agencies. Before you narrow down your list, consider these following aspects:
Do they have experience in my industry? Have they had success with companies in my industry?
What is their reputation in the marketplace?
Review their content to get an idea of how well their services can work for you.
These considerations should leave you with a shortlist of about three to five agencies to choose from.
3. Find Out If They Have the Services You Need.
Not all demand generation agencies are created equal. You may need to talk to some of the reps from the agencies you're interested in to get a true sense of the services they actually offer.
Some of them may claim they offer end-to-end demand generation services, but you may find out through your inquiry that they only specialize in certain areas.
Make sure they can offer you examples about the success they've had in the specific services areas you are interested in for your business.
4. Learn About Their Team.
A demand agency's team becomes your team. Typically, you'll be required to work very closely with this team, so you'll need to know how they can help you. Search for a team that is easy to collaborate and communicate with as though they are an extension of your company.
Seek out an agency that has one contact or account manager who is responsible for all levels of your arrangement with them. This person should be able to answer all questions and provide access to subject matter experts as needed.
5. Ask Thorough Questions About Their Processes.
There are many unknown factors that you may be faced with when you first start checking into outsourced demand generation. Ask these questions to make sure an agency's processes work for you before you choose them:
Is your team skilled at working with [X] marketing technology?
How long does it typically take to see results?
Will your team conduct a content audit and develop a content strategy?
Does your process have all of the necessary pieces for a comprehensive approach?
How are deadlines managed?
What does your onboarding process look like?
How do you update your clients and share reports?
You want to learn as much as you possibly can about how they will work with you. Transparency is key. If the organization attempts to avoid answering some or all of your questions, it's an indicator that you should move on to the next agency.
6. Get More Than One Proposal.
Make sure you talk to and meet with more than one agency. You'll need to see exactly what each agency is offering and for how much. When you get two to three proposals from agencies you are talking to, you get to compare them against each other and your goals.
You may find that one agency offers you more services for less, thereby allowing you to get the most value for what your business needs to succeed.
7. Consider the Results You Need to Achieve Successful ROI.
This is when you'll compile all of the information you have in order to make the right decision to outsource to the demand generation agency of your choice.
Some of the information you need to have handy to determine the results you'll need for a good return on investment include success metrics for your organization. These may include average sale price, sales pipeline value, MQL-to-close ratios, and revenue generated.
You also need to understand the total cost from all of the services and what exactly you'll need to provide in terms of resources. Remember, this is a collaboration. When you hire the best of the best, you need to be an active participant to actually hit your goals.
The 5 Best Demand Generation Agencies to Help You Crush 2021
Review these five demand generation agencies to see how they can help crush your goals.
1. Bluleadz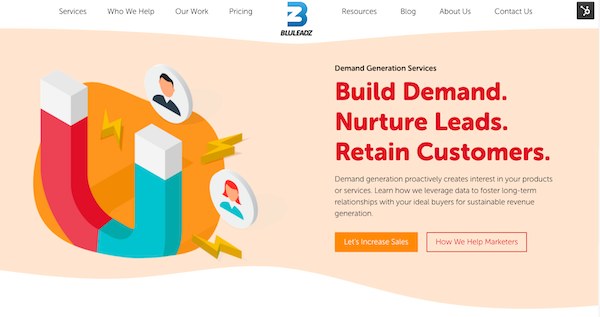 Bluleadz is a top inbound agency with a comprehensive set of demand generation services. They work to customize their client's growth strategy to boost brand awareness, while making sure to capture existing demand in the proper target markets.
They can help you to create new demand, attract quality traffic for your sales team, and generate more leads, all while keeping customer acquisition costs at a minimum.
2. Overit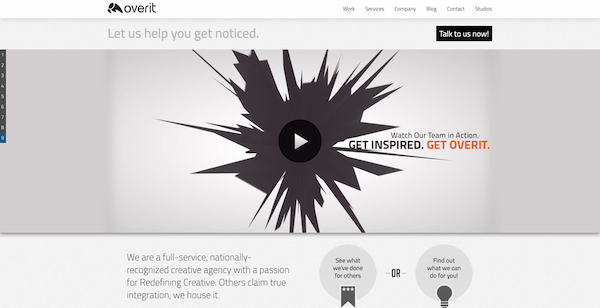 Overit is a full-service marketing agency that provides their clients with digitally focused campaigns that serve up more qualified leads to generate the maximum amount of sales growth.
3. Kuno Creative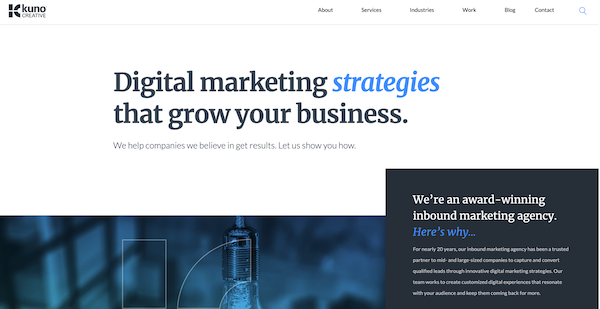 The professionals at Kuno Creative are experts at demand generation. They partner with mid- and large-sized companies to capture more qualified leads that are bound to convert.
Kuno focuses on creating specialized digital experiences that attract your audience and keep them engaged so they can shorten your sales cycle.
4. Bluetext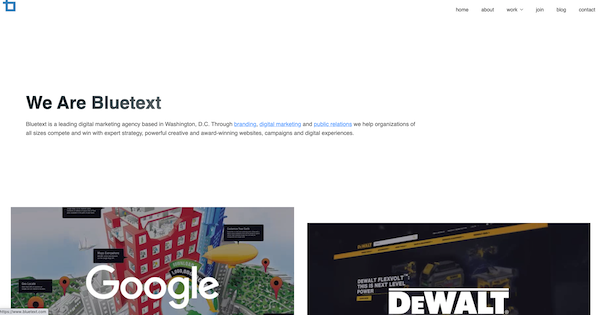 Bluetext is a highly sought after digital marketing agency that helps companies of all sizes to stay competitive in the marketplace. They do this with their expert creative strategies, campaigns, and excellent digital experiences that drive demand in the markets that matter.
5. Single Grain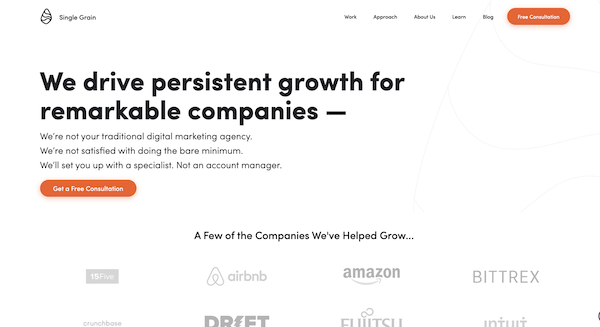 Single Grain is a Los Angeles-based company that focuses on leveraging data to help companies grow fast. They apply their industry-leading strategies to generate engagement and awareness across a variety of digital marketing channels.
Hiring the right demand generation agency will change the way you attract leads and qualify prospects, which can help you grow your company faster than ever before. Make sure the agency you choose will be with you every step of the way to help you evolve and change your digital lead capturing strategies.