You'll hear it in every business classroom or setting throughout the world – supply and demand. It's the foundation of every company. In order to distribute your supply, there first needs to be demand for it.
Demand generation is the base for creating a buzz around your product or service, and it will largely determine whether your goods are a hot commodity or stale within your industry.
Whether you're a new company looking to create a fresh need for your product in the market, or an established company looking to boost interest in your goods, demand generation holds a place in the foundation of every successful business.
What Is Demand Generation?
via GIPHY
Demand generation is the process by which you create a need within your audience for your products or services. In very simple terms – you generate demand for what you're selling. How do you make your audience actually want to buy your product or sign up for your services? With a demand generation strategy.
But hold your horses – there's a bit more to it than that.
Demand generation is focused on a strategic growth plan for your company and developing long term customer relationships. It's an all-encompassing strategy that touches upon all stages of the buyer's journey, and in order to do this, it needs to be well planned.
Demand Generation vs. Lead Generation
Demand generation and lead generation are often mistaken as interchangeable terms. However, they are far from it.
Lead generation is actually a subcategory of demand generation in which you collect information about your audience that can be used to convert them from prospects into eventual closed sales.
Lead generation focuses on a single section of the sales funnel, while demand generation focuses on the entire thing. Lead generation tactics within a demand generation strategy include content marketing, targeted paid advertisements on social media or in search engines, landing page forms, webinars, and live events.
Where Does Inbound Marketing Come Into Play With Demand Generation?
via GIPHY
Similar to lead generation, there's a lot of ambiguity floating around the role of inbound marketing within demand generation. But just like with lead generation, they are not one in the same.
Inbound marketing plays a big role in demand generation, but it's still just one strategy within a larger scope.
Inbound demand generation tactics revolve around creating content to establish your company as a powerful thought leader, which builds credibility amongst your audience. It's about aligning your brand with the interests of the customer.
Inbound content like blogs, podcasts, videos, newsletters, and ebooks are all resources that are used within the process of demand generation. However, there are many more tactics in addition to these that are involved in developing a successful demand generation marketing campaign.
3 Steps to Building a Demand Generation Strategy
While demand generation covers the entire sales funnel, there are just three primary steps to creating a successful demand gen strategy.
1. Create a Need.
via GIPHY
How do you create a need for your product within your audience? Target the problem that your product or service provides a solution to. This might be a problem that your audience doesn't even know they have.
For example, the creation of Uber filled a demand that many consumers weren't even aware of. But once the app was launched, people realized that it was a solution to a problem that was previously unidentified.
2. Boost Brand Awareness.
Brand awareness is everything. If buyers don't know you're there, then they won't buy from you. But if you put yourself at the forefront of the market, then they'll turn to you first when a need arises.
Having powerful brand awareness not only creates a greater demand for your products but also establishes you as the go-to business within your industry.
3. Educate Your Audience on Your Solution or Product.
What makes your product or service the best solution for this problem? Once you've generated a need and boosted brand awareness, you'll need to follow through with the delivery of your product.
Make sure you've got plenty of content at the ready that explains the features and benefits of your product, so your audience knows exactly what to expect.
Additionally, what other kind of content can you create that's relevant to the lifestyle focused around your product? Cover a wide scope, and you'll reach a greater audience.
The Ultimate List of Demand Gen Tactics
via GIPHY
There's a wide range of means through which you can generate demand around your product or service.
Unfortunately, there's no easy or quick trick to getting it done – when it comes to these tactics, you'll get out what you put in. But if you commit yourself to doing it well, the payoff can be huge.
Don't devote all your efforts to just one of these tactics – in order to generate some seriously powerful demand for your product or service, compile multiple tactics to develop a well rounded strategy.
That being said, don't do anything halfway; otherwise you won't get very far. It's better to pick a few of these tactics and execute them well, rather than to try your hand at all of them with minimal effort.
Content Marketing
Content marketing covers a wide span of material – blogs, ebooks, whitepapers, videos, photos, and pillar pages, among others. Creating hot content that attracts an audience generates a buzz around your product or service.
But more than that, once there is a buzz around your business, you'll need quality content to educate customers on absolutely everything about it – overall purpose, unique features, all of that good stuff.
Content marketing will allow you to help your audience understand how your product solves a problem that they weren't previously aware of.
Podcasts
Podcasts are becoming the latest hot commodity in recent years. I swear, every other day, one of my friends or coworkers says to me, "Have you listened to X podcast? It's so good!"
Gaining exposure on a podcast is a great way to get the word out and generate buzz around your business. People are loyal to the podcasts they love, and they follow their words almost religiously.
There's two ways to go about this – you can either host a podcast, or you can be a guest speaker on one that is already established. Having your product or service recommended by an established, well-known podcaster will go a long way.
Free Stuff
There's nothing people love more than free stuff. Stock up on branded company swag – t-shirts, stickers, water bottles, beer koozies, really anything that you think the general public would love.
Hand it out at events; set up a stand on a busy street corner; do whatever you have to in order to get your name out there! It will generate exposure and spark curiosity in people to check out your business.
If you've already got an existing customer list, don't neglect them! Send them a little care package of free company swag, too. This is a great way to build stronger brand loyalty.
Discounts
via GIPHY
This option isn't quite as good as free stuff, but it's close. People love a good bargain, and offering discounts when you're just starting out is a great way to draw people in. First time customer discounts is one of the most effective ways to draw in new business.
Plug in my email address to get 20 percent off my first purchase? Gets me every time.
Email Marketing
Despite what people might think, email is not dead. Nothing targets your audience better than a message landing directly in their inbox.
Email marketing campaigns are a great way to distribute your content to readers, offer discounts, and keep your customers up to date on the latest features of your products or services.
Tutorials
Video tutorials are a great way to explain how your product or services work and the specific features of it. People are attracted to ease of use, so a guide showing how simple your product or service is will generate a lot of hype.
People want quick, easy solutions to their problems. Creating a short tutorial to highlight how your business can do this will stir up some serious buzz – especially if you make it shareable to social media.
Free Tools
This might sound along the lines of free branded company swag, but it's not quite the same. Creating a tool that people can use and giving it to them for free will attract customers to your company. This tool could be anything, dependent on your industry.
If you're a ride service, you could create an app that allows people to search for gas stations with the cheapest prices. If you offer an image editing software, you could create an online tool that lets people easily resize their photos for social media or website use.
The possibilities are endless – where is there a gap in the needs of your customers?
If people are already using – and loving – the free tool that you offer them, then the odds are high that they'll come to you when they're ready to pay for a related service to further meet their needs. This tactic works well for both B2C and B2B companies!
Event Marketing
Hosting and attending events is a great way to boost brand awareness and generate buzz around your product! It shows that you're hands on with the business and your customers, which builds strong client relationships.
Additionally, getting out in the field and talking to people face to face demonstrates passion for your industry. People want to buy from businesses who truly care about the work they do because it ensures a higher level of quality standards.
Social Media Marketing
The more people talk about your product, the more demand there will be for it. And what's the best way to get people talking? Social media.
In this day and age, social media is a huge part of gaining brand awareness and introducing a new product or service to the world. Facebook, Twitter, Instagram, LinkedIn – you should be promoting your stuff all over these platforms.
Partner Marketing
via GIPHY
Partner marketing involves a mutually beneficial B2B relationship in which you team up with a related organization (but not a competitor) in order to promote each other. With partner marketing, you're able to tap into each other's audience and customer base, greatly expanding your own.
10 Examples of Inspiring Demand Generation Campaigns
Now that you know all about the best tactics for demand generation strategies, let's see them in action! Each of these campaigns exhibit one of the key tactics from the previous section.
As you go through this list, consider how you might be able to adapt these efforts to fit your own demand generation strategy.
1. Content Marketing – Rip Curl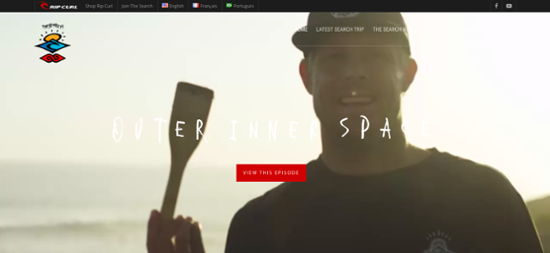 Rip Curl is a leading retailer of surfing sportswear and gear. They've established a highly effective content marketing strategy to establish authority in their industry and attract customers.
Their blog The Search covers a wide base of topics about surfing lifestyle and tips from the pros on where to find the best surfing spots.
Rip Curl's blog provides useful information to their target audience, thus establishing them as thought leader in their industry. It both draws in new customers and helps to retain current ones.
2. Email Marketing – L.L. Bean

Founded in Freeport, Maine, L.L. Bean is a retail company that specializes in outdoor clothing and equipment. They send out regular newsletters and engage in email marketing campaigns to offer discounts and promote their products.
Delivering a discount directly to your customer's inbox is a great way to create urgency and drive sales.
3. Social Media Marketing – Dove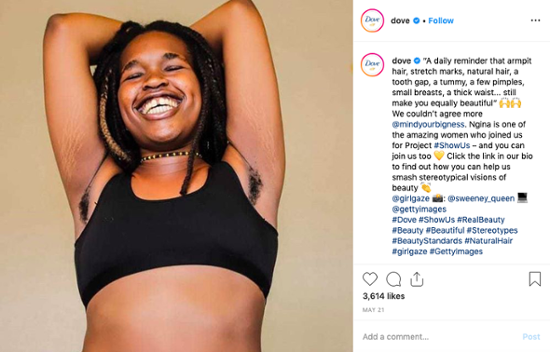 Dubbed one of the 21st Century's top 100 campaigns by AdAge, Dove's Real Beauty campaign has made a big impact on the way women are portrayed in advertising. The campaign was launched through multiple mediums – print, online, and social media.
Their social media campaign operates under #RealBeauty and is especially effective on Instagram. Featuring photos of natural, un-retouched women, the campaign not only targets their female audience but also seeks to "smash stereotypical visions of beauty."
By creating an inclusive, empowering campaign for women, Dove not only widely expands their customer base, but also establishes themselves as a company that seeks to improve societal norms in a positive way.
4. Podcasts – Sephora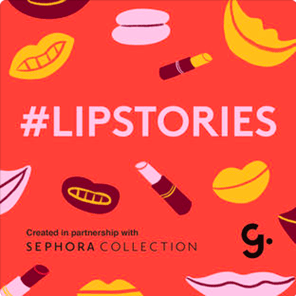 When makeup retail giant Sephora launched a new line of lipstick under the name #LipStories, they created an innovative campaign to market it. The lipstick was focused around the tagline "lipstick for real life," and on this base they launched their podcast, also named #LipStories.
Instead of simply discussing their makeup products, each episode of the podcast features an influential female figure telling a story about their everyday life, whether inspirational or funny. The purpose of the podcast was to target the audience that Sephora was looking to sell their lipstick line to.
By creating a branded podcast and drawing in their audience, they raised brand awareness and further established themselves as a reputable figure within their industry.
5. Discounts – Mala Prayer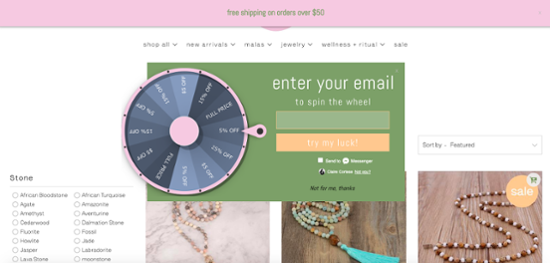 Online retail companies often offer first-time buyer discounts. Take the jewelry company Mala Prayer for example – as soon as you go to their website, a pop up appears within a few seconds. It asks you to plug in your email and then lets you spin a wheel to determine the size of your discount – from $5 off to a completely free product!
6. Tutorials – HubSpot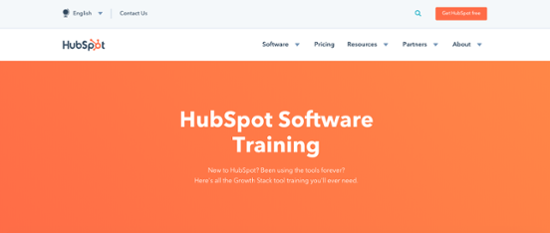 HubSpot is a platform company that creates software for marketing, sales, and service automation, to help their clients "Grow Better". While incredibly useful, their platform has a lot of different features, so it can take a while to learn.
To help with this process, HubSpot made a series of tutorial videos to teach you how to navigate their software.
The tutorials are easily accessible through their educational platform, HubSpot Academy, and they're all directed by HubSpot employees who are well versed in the software. The tutorials are quick and clear, and they make a huge difference in the learning curve required to get started.
7. Free Tools – Canva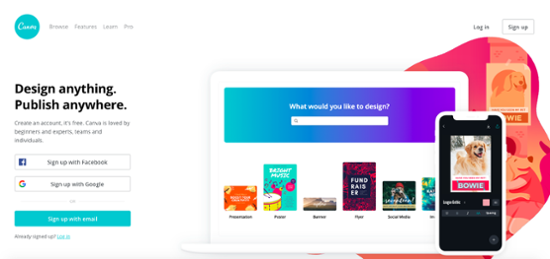 Canva provides countless free templates to design just about anything – business cards, posters, booklets, pamphlets, you name it. It's geared toward both novices and design-savvy users.
However, Canva also has a more in-depth graphic design tool called Canva Pro, with a monthly subscription that runs you $9.95/month.
For those who love to use Canva's free tools, they'll likely look to Canva's Pro option if and when they need more advanced design features.
8. Event Marketing – JetBlue and Palm Springs
JetBlue and partner Palm Springs came up with a truly innovative way to promote their new direct flights from New York to Palm Springs, California. They combined event and experiential marketing with the enticing draw of free stuff.
The companies froze free tickets, along with products that could all be used on the trip, in a six-by-six-foot ice block, plopped it onto a sidewalk in New York City, and told pedestrians to have at it. People were allowed to use whatever they had in their pockets to get through the ice and claim their free rewards.
This was an original way to boost brand awareness for both companies and generate hype around the new flight path – and it's not likely to be forgotten any time soon by those who came across it.
9. Free Stuff – Urban Decay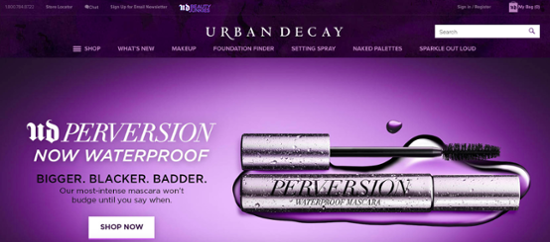 There's loads of different ways to dish out free swag to your target audience and customers. But one of my personal favorites? Urban Decay's tactic. With select purchases, this makeup company will send you free sample products to try out.
For example, I bought one of their eyeshadow pallets, and they sent me a free sample of their eyeshadow primer to go with it. You better believe that I'm now hooked on that product too, and when my sample runs out, I'll be purchasing a full tube of it.
10. Partner Marketing – Red Bull and GoPro

Red Bull is so much more than an energy drink company – they've become established as a massive athletic lifestyle brand. And who better to partner with than GoPro – the tech company who makes cameras geared toward athletes and adventurous lifestyles.
In 2016, the two companies signed a content production partnership to "inspire the world to live a bigger life."
While these companies operate within a shared industry, they offer very different products, so they're building off of each other instead of competing with each other in their partnership.
3 Demand Generation Software Options You Should Try
Developing a successful, well-rounded demand generation campaign can take a lot of work. If you're worried about how you're going to manage, fear not – there's a lot of software on the marketing side to help you with the task.
Using software for your demand generation strategy impacts its efficiency and effectiveness. Demand generation software provides customer relationship management and allows you to track and measure marketing and sales analytics.
HubSpot
As mentioned before, HubSpot is an all-purpose marketing automation software centered around the inbound marketing methodology. It has an expansive set of features to help you with campaign strategies, sales, and tracking.
As an all-in-one platform, HubSpot can help you through each step of the demand generation process – creating a need, boosting brand awareness, and educating your audience.
HubSpot offers content and customer relationship management systems, email marketing tools, a pillar page building tool, and analytics tools to measure data on response to campaigns.
It also organizes contacts based on quality of leads and where they are in the buyer's journey. They allow you to keep close track of new and existing customers, and helps you nurture those relationships.
With HubSpot, you'll not only be able to create campaigns; you'll be able to track how effective they are to better understand your audience, too.
Marketo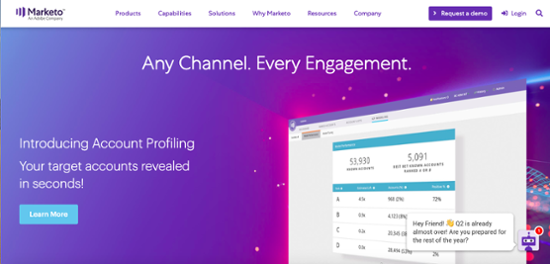 As HubSpot's top contender, Marketo is a great option for already established companies who are looking to refresh interest in their products and do some heavy tracking of analytics on the efficiency of campaigns.
If you're looking to generate some heavy demand, Marketo is equipped to handle a large influx of contacts and leads, and they're pricing setup is based on specific strategies for you to choose from – email marketing, lead management, consumer marketing, customer base marketing, and mobile marketing.
Act-On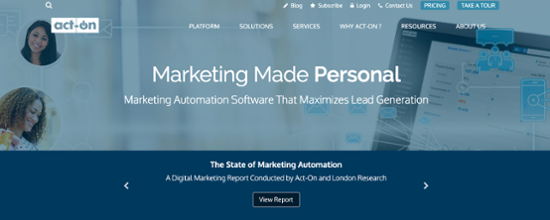 Act-On seeks to provide an all-in-one platform similar to HubSpot.
It's known to help businesses organize their campaigns in order to track them for optimum efficiency. You can even host your website from their platform, so the hub of your business is in the same place as your marketing software.
Additionally, they offer a range of features to pursue some of the key tactics for demand generation, including email marketing tools, analytics, lead generation, social media management, and more.
This is a good budget-friendly option for startup companies!
Build Your Product Before Your Strategy
While it's great to build anticipation around products and services arriving soon, it's only effective when done strategically.
Before you build and launch a demand generation strategy, make sure you have fully fleshed out your services and have a finalized product to deliver to customers – a prototype won't fly here.
Generating demand and then making customer's wait for a final product delivery can cause them to quickly lose interest.
In the fast-paced world of business, brand names are easily forgotten if they can't quickly deliver what's promised. If your demand generation strategy proves to be highly effective and a buzz develops around your brand name – that's great!
But make sure you have the supply to meet that demand, or you'll end up with a highly frustrated group of would-be potential customers.