Have you ever walked past a restaurant with a line of customers outside eagerly waiting to get in? Did you join the line because you thought that with a line like that, the food must be outstanding? That's social proof in action!
In the digital marketing world, social proof is a key element of success. Nielsen reports that the most effective form of advertising is a recommendation from family and friends. Their report found that 83% of consumers in 60 countries say that they trust these recommendations over any form of advertising.
We get recommendations from many different sources, like experts, celebrities, users of a product or service, "the wisdom of crowds" (our restaurant example), and our friends, family, and peers. When it comes to marketing, social proof can be used in various forms, like case studies, testimonials, and including client logos on website pages.
Social proof is a central element of any form of persuasion, and today it's a bigger piece of the marketing puzzle than ever before. Here are 20 great social proof examples along with why they work to increase your brand, conversions, and sales.
Social Proof Examples:
Expert Recommendations
An expert recommendation is a strong form of social proof. They work because we have respect for thought leaders who have credibility within their industry.
1. Ostrich Pillow
The Ostrich Pillow is a pretty cool product. Basically it's a "padded hat" that's lightweight, easy to carry, and really comfy! Their website features testimonials by a sports psychologist and a neurologist praising the product's effectiveness at providing a quality napping experience.
2. CNET.com
CNET is a great example of both peer reviews written by users and reviews written by their in-house team of experts. The site allows you to compare reviews side by side.
3. Nature Made Vitamins
Using a third party expert certification is another of the varied social proof examples. Nature Made uses certification by the USP (US Pharmacopeial Convention) as social proof of the benefits of their product.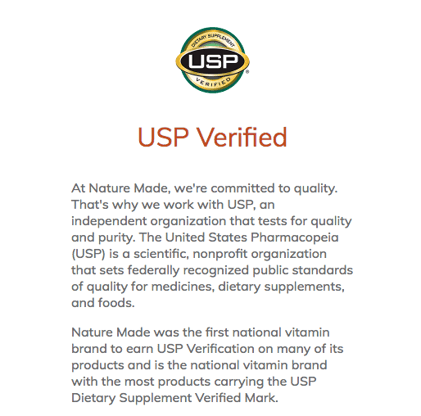 4. Workday
Workday's Newsroom offers visitors a link to an article in Fortune magazine about their company. Fortune is a well-known magazine with expertise in business. By linking to a positive article, visitors are impressed as they learn more about the company.
5. FitBit
Fitbit dedicated an entire page to expert endorsements. The "Buzz" section of their website lists multiple publications and experts singing the praises of FitBit. Having multiple publications and experts all saying the same positive things is probably why they're often rated the top fitness tracker on the market.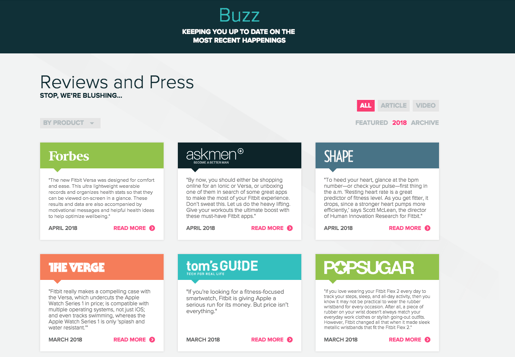 Celebrity Social Proof Examples
Paid or unpaid, celebrities are walking billboards. We pay attention to any product they use or recommend because we give their celebrity status a lot of weight. Any product with a celebrity endorsement is bound to get a lot more attention.
6. iGrill
iGrill had no idea Mark Zuckerberg was a fan. When he created a single post on his Facebook page about the iGrill grilling thermometer, the product website crashed with 1,000 visitors hitting the site every minute. Plus, their app downloads exploded as soon as Zuckerberg's post appeared.
7. Starbucks
Not that they need it, but every paparazzi photo that features a celebrity toting a cup of Starbucks coffee reinforces the social impression that Starbucks equals cool.
8. The Colbert "Bump"
During his run at the Colbert Report, Stephen Colbert regularly gave guests and products a boost by just mentioning them on his show. Politicians especially benefitted from the Colbert Bump.
via GIPHY
9. Tropical Popical
During an interview on Ellen, the actress Saoirse Ronan praised Tropical Popical, an Irish nail salon. After the interview, in an article, the owner stated that customers began to boast about their visits immediately after Ronan's endorsement.
Paid Celebrity Endorsements
In our society, we value celebrity, so much so that even paid endorsements can provide products or services with social proof.
10. Clash of Clans – Liam Neeson
Combine macho actor Liam Neeson and a "cartoonish" animated video game, create an ad and run it during the Super Bowl, and you have instant social proof.
11. Jenny Craig – Kirstie Allie
Jenny Craig is famous for their use of paid celebrity endorsements. One of their most effective social proof campaigns was with Kirstie Allie. We all got to watch Kirstie lose the weight through a series of YouTube videos, TV ads, and other content.
User Social Proof Examples
A consumer study by BrightLocal found that 88% of consumers read online customer reviews to help reach their buying decision. The same study found that 85% read up to 10 reviews before trusting a business. Customer trust is an excellent form of social proof.
12. Cotopaxi
Customers can rate products using a star system directly on the product page. Other users can then give a thumbs up or thumbs down to these reviews. At Cotopaxi, even the reviews have a social proof element!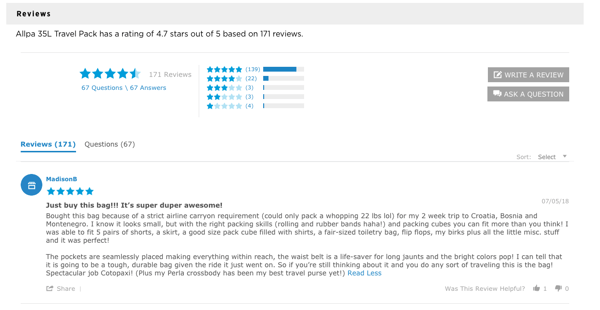 13. Yelp
The entire premise of Yelp is social proof. The site relies on users rating restaurants, bars, and businesses. As a valued source of social proof, the site benefits as well, generating roughly 145 million visits a month.
14. SKYTRAX – Airlinequality.com
SKYTRAX is the "Yelp" of the airline industry. The website allows users to rate and review airlines and airports from around the world. The reviews are also "quality controlled" by other users.
15. IMDb
Visitors of the IMDb website can check the review directory to see what other movie lovers are saying about films they're interested in. Its use of social proof has made it the top movie review site online.
16. Amazon.com
Amazon is a great example of how social proof sells. Customer reviews and testimonials are one of the strongest forms of social proof, and Amazon excels at this, which is why it's the largest online retailer in the world!
Testimonials
Testimonials put your company's best foot forward. Presenting the most positive reviews by your prominent customers offers the most social proof for visitors.
17. LinkedIn
LinkedIn allows users to write each other recommendations. Because most LinkedIn users are professionals, these recommendations serve as real-time proof of skills and work ethic and can carry a lot of weight.
"The Wisdom Of The Crowd"
Many retail websites have gone as far as automating social proof because they know it works.
18. iTunes Store
If you've ever seen the prompt that "people who bought this, also bought...," then you've experienced automated social proof. By giving users examples of other music that previous customers consumed, iTunes is adding value to their initial purchase, as well as selling additional product.
19. Book Depository
Like Amazon, iTunes, and a host of other sites, social proof algorithms offer books purchased by like-minded readers. Book Depository's twist is that they are offered at a discount.
20. Kickstarter
Kickstarter provides visitors with clear social proof by listing individual projects and the total number of backers. Kickstarter projects also have a time limit, which creates a sense of urgency.
Human beings are social animals. Social proof gives us validation and helps us to better research online purchases.
There are many different sources and forms on social proof. As shown by these social proof examples, it's one of the most persuasive forms of marketing.