The Best Social Proof Examples That Drive Marketing Success
1.

Boxed Water

2.

Herschel Supply Co

3.

The Knot

4.

Lancome

5.

Wix

6.

Capital One

7.

Yelp

8.

Goodreads

9.

Amazon

10.

G2 Crowd
11.

Sprint

12.

Step

13.

Spotify

14.

Fitbit

15.

ZenDesk

16.

HubSpot

17.

Codeacademy

18.

Nature Made

19.

quip

20.

1Password
Have you ever walked past a restaurant with a line of customers outside eagerly waiting to get in? Did you join the line because you thought that with a line like that, the food must be outstanding?
That's social proof in action!
In the digital marketing world, social proof is a key element of success. Nielsen reports that the most effective form of advertising is a recommendation from family and friends. Their report found that 83 percent of consumers in 60 countries say that they trust these recommendations over any form of advertising.
Let's review some of the important elements of social proof, the different types of social proof that exist, and how you can use them for your marketing strategy.
What Is Social Proof?
Social proof is a concept that refers to the social influence that people have over one another, which causes them to follow the actions of others when they do not know what the proper behavior is. They look to social proof to see what they should be doing and then they conform their actions based on it.
Put simply within the context of marketing, people seeing what others purchase and like are impacted and often influenced to make buying decisions.
Social proof shows up in a variety of ways in the online marketplace and beyond. Let's check out the types of social proof that you can use to boost your conversions.
10 Types of Social Proof
Here are 10 types of social proof that brands use to market to their target audiences.
1. Celebrity Endorsements
Celebrity social proof is when a well-known celebrity endorses your products. This is typically a paid endorsement, and they may post a picture with your product on Instagram or mention the product on Twitter.
Social media celebrity endorsements ensure that you get the maximum exposure, as most celebrities have millions of followers.
2. Expert Proof
Expert proof is when an industry expert or thought leader vouches for or recommends your products or services.
For instance, they may leave an expert testimonial on your website, tweet about your product or service, or write a blog about their experience using your product or service.
3. User-Generated Content
User-generated content (UGC) is rather self-explanatory. The concept of this tactic consists of content being created by people who are actually using your products or services.
Some common UGC examples include pictures of regular every day people using or interacting with your products and services in some way. You can encourage your customers to create and share their own content.
For instance, you may create a hashtag on Instagram for your customers to use when they post pictures with your products. You can then repost the pictures to your Instagram to showcase how much your customers like your brand.
4. Influencer Endorsements
Influencer marketing is the new celebrity endorsement of the modern internet age. Online personas and content creators have built up their reputation and following without the celebrity title. And they come with a built-in platform of hundreds of thousands, if not millions, of followers and fans.
Influencers have several niches such as travel, fitness, beauty, and adventure to name a few. Make sure the influencer you choose is relevant to your business.
5. Customer Reviews and Ratings
Online reviews are one of the most important forms of social proof. Most consumers today check product reviews before they make purchases, read books, or visit restaurants and hotels.
Sites like Yelp, Tripadvisor, and Amazon have popularized reviews and ratings. Google reviews are also really beneficial for companies looking to showcase their happy customers.
6. Testimonials
Testimonials are reviews from verified happy customers. They can be particularly persuasive, especially for more expensive and intangible products like software.
These valuable pieces of social proof are often showcased in noticeable areas on your website.
7. Media Coverage
Media coverage can be anything ranging from an interview to an article that mentions your brand or products. An "as seen in" section on your website is a good way to showcase the reputable publications your brand is mentioned or featured in.
8. Social Shares
Social shares refer to the number of social followers and social mentions your brand has throughout various social media channels. Showcasing these shares on your blog or website can encourage people to join in the conversation about your brand.
This builds brand awareness and may increase your popularity.
9. Certifications
If you have any certifications in your industry, this can also be considered social proof. When you list certifications on your website, you're displaying your expertise and demonstrating that others (the organization that awarded you the certification) think you're qualified enough in your industry.
10. Rankings
When you make any purchase decision, you most likely look up the top provider in that category. Showing information on how highly ranked you are in your industry can help you earn trust.
Rankings often show up on sites with best of lists or crowd favorites. Typically, the higher ranked your brand is, the more credibility you earn.
How to Use Social Proof for Marketing
Here are five ways you can use social proof in marketing.
1. Highlight Customer Reviews and Testimonials on Your Website.
Add your great reviews and testimonials right on your homepage. Don't make your site visitors search for social proof. Provide it for them upfront.
If your homepage design doesn't have room for reviews, create a landing page dedicated to your social proof to positively impact your potential customers before they make a purchasing decision.
Highlighting reviews and testimonials of people who benefit from and love your product or service creates the 'fear of missing out' in your target audience.
2. Leverage Your Relationships With Brand Ambassadors and Industry Experts.
People trust the opinions of other people who have similar interests and tastes to them. Products and services that are recommended by an expert in any given industry are automatically boosted by their specialized knowledge.
People want to look and feel like people we admire whether they are celebrities or popular online influencers, which is why they are more willing to use brands that these special individuals endorse.
To leverage your relationships with these recognizable people, consider having them take over your social media profiles for specially curated social media events. They can take over for a day and do live videos and post on your behalf.
This helps you to capture a new audience and provides interesting and engaging content for your current audience.
3. Show Appreciation for Mentions.
When someone mentions your brand, whether it's on a blog, website, on social media, or from the press, show that you appreciate it. We know you won't be able to respond to every mention if you get them often, but replying to some will encourage continued mentions and engagements.
For instance, you may repost mentions to your own social media channels, or you may write back the person or organization and tag them in the post.
Avoid coming across as boastful by always using expressions of sincere gratitude when you share this social proof across your marketing platforms.
4. Share Milestones.
Keep your audience up to date on what is going on with your brand. Your loyal followers will want to know information about how your brand is doing and want to share in the joy of celebration with you.
Some of the milestones you can celebrate are:
Reaching X users
Reaching X customers
Reaching X app downloads
Anniversaries
Reaching a certain amount of followers on social media
Do something special for your milestones, like a special photoshoot, or use this opportunity to provide your audience with a special giveaway for extra special milestones.
5. Encourage Your Customers to Leave Reviews.
You can't post reviews and testimonials if your customers are talking about you. Encourage them to leave reviews after they use your product or service. Ask them what they think.
You can ask them to do this on third party websites, or you can create your own reviews for them to fill out with customer feedback tools.
Alternatively, you can also ask your customers to share their experience on social media. Provide them with a hashtag so you can find their pictures or posts to easily post them to your profile.
The 20 Best Social Proof Examples
Let's take a look at the best social proof examples to help inspire your own use of social proof in your marketing strategy.
User-Generated Content
1. Boxed Water
Boxed Water is a drinking water company with sustainable packaging. They often repost their customers' content onto their Instagram account. Almost all of their Instagram photos are pictures from real customers who are simply enjoying the product while doing what they love.
2. Herschel Supply Co.
Herschel Supply Company sells accessories and luggage that are built for functionality. They often repost and feature their users' pictures on their Instagram story highlights. In an effort to create user-generated content, all their customers do is tag @herschellife on their story with a picture of their product in a unique place.
3. The Knot
The Knot is a popular wedding magazine and website that provides brides with inspiration and the ability to create a wedding website for their planning needs. They post wedding related content from their users on their Instagram page.
They repost pictures of engagement and wedding inspiration generated by users for other brides on their website. The best part is that their website content is free. Users just have to create an account!
Celebrity Endorsements
4. Penelope Cruz for Lancome
Penelope Cruz posts pictures on her Instagram using Lancome skincare and beauty products. She simply tags Lancome in her photos so her five million followers can start engaging with the brand.
5. Heidi Klum for Wix
In 2015, Wix teamed up with Heidi Klum for their #Itsthateasy Super Bowl campaign. The marketing campaign leveraged their relationship with Heidi to illustrate how easy it is to make a professional and beautiful website for a variety of businesses.
They used this campaign to start cross-channel marketing that made use of social media sites like Twitter, YouTube, Facebook, and Instagram.
6. Jennifer Garner and Capital One Venture
Jennifer Garner is a well-known actress from movies like 13 Going On 30 and Daredevil. Did you also know that Capital One uses her as a spokesperson for their credit cards?
She has partnered with Capital One for many years and often shows up in their commercials and on their social media platforms.
Customer Reviews and Ratings
7. Yelp
Yelp is a well-known site that many people use to write and read reviews for a variety of businesses. Businesses can set up their Yelp profiles to start receiving reviews that other prospects and customers will see.
Yelp often has hundreds of millions of visitors every month and is one of the most popular websites in the United States.
8. Goodreads
Goodreads is site for book recommendations and book reviews. Users can find books they'll love by searching through genres and authors to find books they are interested in.
This site also curates book recommendations for users by asking them for taste preferences when they sign up and by using data from their "Read" and "Want to Read" sections on their profiles.
There are millions of book reviews from real readers and experts that users can refer to in order to make a decision about the next book they'll purchase and read.
9. Amazon
Amazon uses social proof in the form of reviews and testimonials from customers who have purchased products. On any given product, users can look at product reviews to compare and contrast products from other vendors on Amazon.
Good reviews, naturally, garner more attention and purchases.
10. G2 Crowd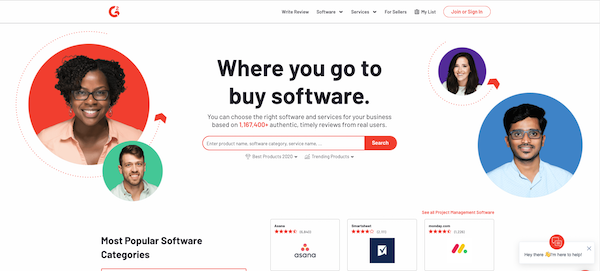 G2 Crowd is a website that lets users compare business software and services. Real customers can post reviews and ratings about their experience with the software products for other potential customers to see.
The users post what they do and don't like about the product and give them a star rating between one and five.
Influencer Endorsements
11. Sprint – Lele Pons
Lele Pons is a popular Instagram, YouTube, and TikTok influencer, with over 42 million followers on Instagram alone. She posts funny videos with other influencers and engages her audience with pictures and videos of her living her life in LA.
In 2017, Sprint teamed with a host of influencers to test out their cross-channel marketing to reach a new audience, generation Z.
12. Step – Charli D'Amelio
TikTok star and influencer Charli D'Amelio became the face of the Gen Z-centered financial startup Step. The CEO mentioned that "Charli is our core demographic and is smart, creative, and authentic" when asked about why they chose her to represent the brand.
It also helps that she can expose Step to an audience of over 90 million, which is more than any other TikTok creator.
13. Spotify – LianeV
Spotify teamed up with mega influencer LianeV for their campaign #spotifytimecapsule. In her post, she recreates one of Britney Spears' famous outfits from her video for "Toxic" to market Spotify's time capsule playlists, a feature that brings their users back to their memories with iconic throwback songs.
Testimonials
14. Fitbit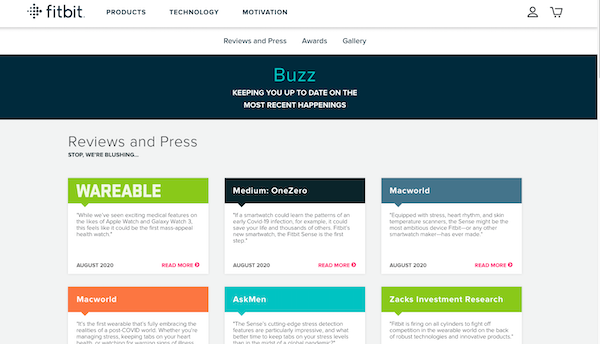 Fitbit uses social proof in the form of a Buzz page that includes a compilation of press and reviews. They display badges of mentions from popular health publications that coin Fitbit products as being the best smartwatches and fitness trackers.
They also have a cool portion of their site called "Fitbit in the Wild" that displays celebrity social posts that mention Fitbit or pictures of celebrities wearing Fitbits casually.
15. Zendesk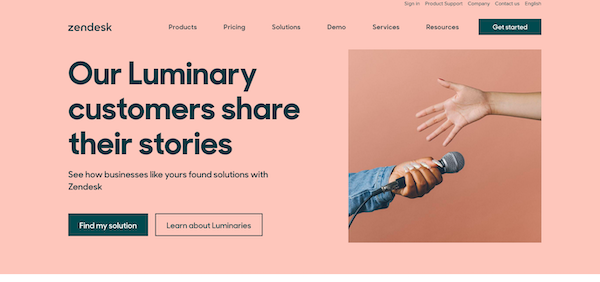 Zendesk has a beautifully laid out and functional customer testimonial page to showcase the happy customers that use their help desk software.
Users can find the testimonials they want with the filter that allows them to sort by company size, location, industry, and use case. This helps prospects to find uses cases and testimonials from customers who are similar to them. This way, they can get the assurance they need to see if Zendesk is a worthy investment.
16. HubSpot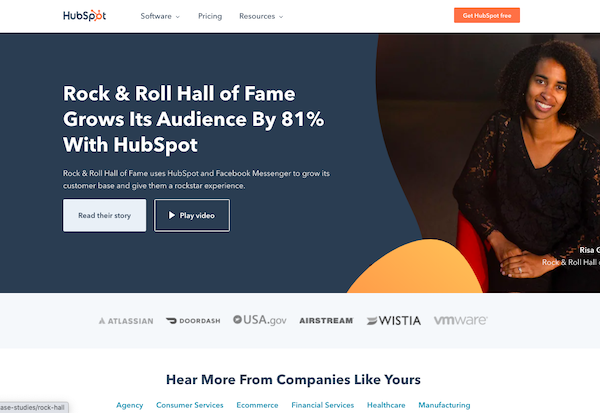 HubSpot is a software company that provides inbound marketing, sales, and customer service platforms that help businesses grow. They have great software that can be a hefty investment for businesses. Potential customers likely need to see HubSpot's social proof before they make a decision .
HubSpot provides a customer testimonial and case study page with quotes and pictures of happy customers to show how happy their customers are.
17. Codeacademy
Codeacademy is a popular website that teaches people how to code. They have a landing page dedicated to Codeacademy stories. This page features a library of user stories from individuals who changed their lives through coding.
At the top of the page, they have a video of alumni interviews with three former students.
Expert Proof and Trust Seals
18. Nature Made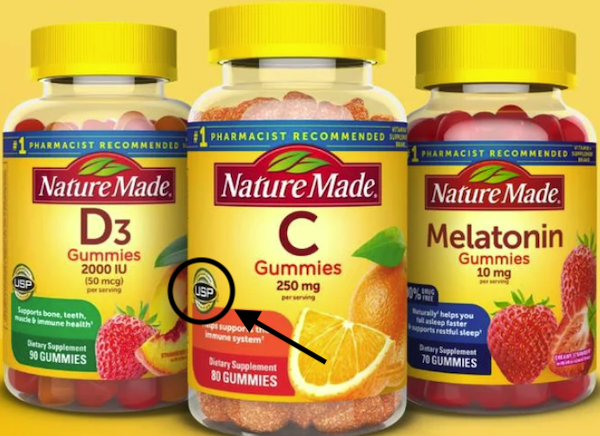 Source: Nature Made
Nature Made leverages a stamp of expert approval by including the certification of USP (U.S. Pharmacopeial Convention) to demonstrate the quality of their vitamins instead of talking about their quality in their marketing messages.
19. quip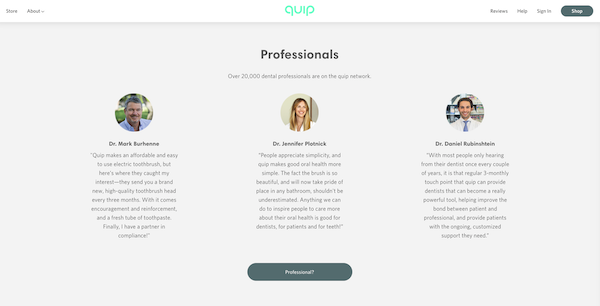 quip posts testimonials on their reviews page from real dental health care providers to leverage social proof for their potential customers.
They also showcase a stamp of approval on their homepage from the American Dental Association.
20. 1Password
1Password displays trust seals on their website with a whole page that is dedicated to their compliance and certifications.
Trust seals and stamps add a certain confidence to your brand that can help to increase your conversion rate when they are displayed on your homepage.
Consumers today have an endless stream of choices to make and many paths to purchase. This makes social proof more important than ever before. Social proof can help move your prospects through their buyer's journey.
When you leverage social proof that is both written and visual along with the proper CTAs, you can easily convert leads into buyers.