Did you know that 84% of B2B marketers use social media in some form? If your company isn't utilizing social media, you should start now. There are a variety of current updates, trends and behavioral patterns going on in the world of social media that can both positively and negatively impact your company's social media presence.
This article will help enlighten you on the major changes in social media, so you can tweak your company's marketing efforts for channels such as Facebook, Twitter, LinkedIn and Pinterest.
Facebook's Organic Reach is Dead
I'm sure you've noticed some changes with your company's Facebook Page in the last few months. One major change in particular: your posts are rarely showing up in the News Feed. If your posts aren't showing up, how are you reaching your followers? The answer is quite simple, you're not.
In November 2014, the social media giant announced that, beginning in January of this year, users will see less promotional posts appearing in their News Feeds. Brian Boland, the VP of Advertising Technology at Facebook, stated that the "News Feed is already a competitive place – as more people and Pages are posting content, competition to appear in News Feed has increased. All of this means that Pages that post promotional creative should expect their organic distribution to fall significantly over time."
With that being said, is there anything you can do to make your company's posts show up more? The only option is to pay for your posts to show up. For large, successful companies, this may not be such an issue. For smaller companies, however, there may not be much excess funds available to pay for their content to be seen. Another problem also arises: even if you pay, it's still uncertain whether or not your content will actually be seen by followers and potential customers.
In 2012, HubSpot's State of Inbound Marketing stated that 42% of marketers said Facebook was critical or important to their business. We can assume that this number has decreased in the last few months. Although organic reach through Facebook may be a bit diminished for businesses, there are 1.39 billion active users each month, meaning it's not something your company should outright ignore. It's size and usability make it one of the most easily accessible networks for many users and potential customers.
Did Google Partner with Twitter?
On February 5th of this year, Twitter CEO Dick Costolo announced that Twitter had reached an agreement with Google to provide them with full access to Twitter's stream. Costolo said, "we've got the opportunity now to drive a lot of attention and aggregate eyeballs, if you will, to these logged-out experiences, topics and events that we plan on delivering on the front page of Twitter."

Twitter has 288 million active monthly users, who send out 500 million Tweets per day. Before this agreement, Google used to crawl Twitter to find relevant tweets for its search results. Considering the 500 million Tweets per day, that didn't work very well. A survey by the Pew Research Center found that Twitter had the lowest percentage of online adults using their platform in 2014. Facebook had the largest, followed by LinkedIn, Pinterest and Instagram. This partnership with Google will drastically increase Twitter's visibility due to the integration of tweets into search results.
As far as your company's marketing efforts are concerned, remaining active on Twitter is important. Its real-time news feed, with ever-changing information and updates, allows your business to stay up to date on industry news and trends. Staying engaged and maximizing your reach will undoubtedly help you get a head start in this partnership.
Ramp Up Your LinkedIn Pulse

Did you know LinkedIn has its own publishing platform? While this may be news to you, it's been up and running since February 2014. LinkedIn Pulse allows you to post your own blog articles on your company page through the LinkedIn platform. Those who have used Pulse in the last few months have noticed a decrease in views and engagement since their first few posts. How can your company fix this?
Pick a topic that will interest your audience. The most popular topics on Pulse are careers, business and self-improvement, so try to keep your articles along those lines.
Come up with an attention-grabbing headline. Your audience is going to click on posts that sound stimulating and informative. When people click on your headline, LinkedIn's algorithm will display your company's post to more users, hopefully creating views and engagement.
Do NOT talk about sales. LinkedIn Pulse was created for content marketing, not sales content. If your posts are trying to sell your product or service, rather than providing your audience with valuable content, your post probably won't be very successful.
Promote your post on social media. Sharing your post on various social media outlets creates visibility and can potentially increase views and engagement.
If your company has yet to utilize LinkedIn Pulse, we recommend giving it a shot, especially now that you have some steps to follow. Remember that everything is better in moderation, so finding the balance between posting too often and not often enough could help you find that sweet spot to ramp up your Pulse engagement.
Pinterest May be the Up and Coming Social Giant
Is Pinterest part of your company's marketing strategy? Probably not yet, but you should consider changing that. According to Experian, Pinterest is the 3rd most popular social media platform in terms of traffic. Since Pinterest started in 2010, it has a total of 50 billions Pins on more than 1 billion boards.
Another astounding statistic: Pinterest provides more than 1.5 trillion recommendations each year. In addition, nearly 2 million products and more than 14 million articles are Pinned every day. If these statistics alone aren't enough to convince you of Pinterest's rapid growth and potential business benefits, maybe a closer look into some features of the up-and-coming social media giant will help.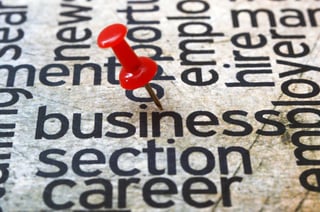 As 2015 rolled in, Pinterest made reservation-based Promoted Pins available to all advertising partners. This was an early indication that the ad format could be a major source of revenue for the company. Promoted Pins are just like regular Pins, but they show up more often and have a special "Promoted Pin" label. Learn how to promote a pin for your company here.
Pinterest has a browser button available for Google Chrome, Mozilla Firefox, Internet Explorer and Safari. The browser button makes it easy to Pin almost anything on the internet with one click. If someone is on your company's website and finds something of value to them, they can easily Pin it to one of their boards. This feature is essential for businesses, because once something from your website is Pinned, there is a very high chance you will receive increased traffic to your website.
Pinterest was recently valued at $11 billion, with a growing international user base, making it a valuable place for you to grow your company's brand, as well as engage with your audience and potential customers.