The rise of social media has changed the way we keep in touch with family and friends, and in business, has given us the ability to supercharge our online networking and sales prospecting efforts.
And when it comes to sales prospecting, you need to find the social tools to streamline processes to effective engage with great prospects in a timely manner.
What Is Sales Prospecting?
One of the most important aspects of your sales strategy, prospecting refers to how your team actively locates potential customers who would benefit from your company's products or services.
A solid prospecting strategy consists of the following steps:
Research: Qualify potential leads using certain dimensions, like how aware the prospect is of your company and their potential lifetime value as a customer.
Prioritize: Using the research from step one, you can calculate lead scores and build a list of contacts who are prioritized based on their score.
Outreach planning: This is when you determine how to personalize your outreach messaging and identify ways to stand out from your competitors.
Connect: Based on your outreach strategy, start engaging to make a positive first impression, then dig a little deeper using the CGP TCI BA framework.
Education and assessment: At this stage, evaluate concerns, address them, and provide information to properly guide prospects through the buyer's journey.
Close: The make or break stage, this is when you either turn the opportunity into a customer or lose the deal.
During the research step, you can see how impactful social media networks can be. Facebook, Twitter, Google, and Instagram all have some benefits for sales prospecting with general consumers, but the real powerhouse for business networking and prospecting is the business-focused social media site, LinkedIn.
How to Use LinkedIn For Sales Prospecting
When it comes to business, LinkedIn has over 645 million members worldwide, making it the top social media choice for business networking and sales prospecting.
via GIPHY
For many, LinkedIn has been somewhat pigeon-holed as the go-to social site when you're looking for your next job. While it certainly has value for this purpose and is extensively used by recruitment specialists worldwide to find and contact prospects, looking at just this function is doing yourself a huge disservice!
Astute business people are using LinkedIn more and more as a revenue-generating, sales prospecting tool. In fact, LinkedIn is a perfect tool to make lead and sales prospecting smoother, quicker, and ultimately profitable.
More and more, LinkedIn is being used as a go-to source for generating new leads and tangible revenue. It is an extremely cost effective tool for business development.
Modern sales techniques have changed, and LinkedIn allows you to connect directly with and gather information on companies and prospects as well as develop relationships and contact decision makers directly.
A study conducted by International Data Corporation (IDC) found that 75 percent of B2B buyers and 84 percent of C-level or vice-president level executives use social media while they make decisions on purchases. That's a lot of potential buyers to connect with!
Let's look at some proactive, easy-to-implement strategies for using LinkedIn as a tool to turbo charge your sales prospecting and grow your business revenue.
1. Connect and Engage.
The first thing to do when beginning to get serious about using LinkedIn for prospecting is to take a long hard look at your contacts.
Contacts are the bread and butter on the site. If yours are predominantly family, your college buddies, and friends, you need to do a little work!
Connections spawn more connections. Your primary contacts open a route to a wide range of second and third level connections. This is how to scale up your efforts.
Whenever you meet anyone online or at real world events, always follow-up quickly with a note and a connection request, while you're still fresh in their mind.
2. Target And Map Your Leads.
LinkedIn is a great site for mapping out your approach to a new prospect. There can often be numerous decision makers in a larger corporation that you will need to reach out to and engage with in order to make a sale.
LinkedIn users generally put a tremendous amount of information on their profiles. Everything from which teams they work with, what projects they are focusing on, which office they work out of, and more.
With a little research you can quickly determine who you need to be talking to, what they're all about, and what they've done before.
via GIPHY
You can use this information to develop a map of who the decision makers are and how they can be reached and influenced to make the sale. (Start by checking out the "viewers of this profile also viewed..." box on their profile.)
Moreover, if you are using LinkedIn Sales Navigator, you could create a list of potential prospects, scrape the lead data and export them to your CRM for your sales outreach campaigns.
3. Use Groups to Engage With Prospects.
Groups on LinkedIn are collections of people with similar likes, needs, skills, and more. They are a great way to learn about the industries you target for sales and can be a great source for new prospects.
Engaging with member questions is a great way to build trust and authority while raising your thought leader profile, which can lead to sales inquiries. They are also a great "soft" way to make contact with a prospect. In addition, groups can:
Deliver insights into what is happening within a prospect's business, their activity, if they're hiring, projects they may be planning, etc.
Give you a greater understanding of an individual's details – their full name, and more, which is usually restricted to "first level" contacts.
Create reasons to increase connections. It's one of the criteria you can select when requesting a connection.
4. Turn Your Profile Into a Lead Generator.
Much of what we've touched on so far has been outbound information, where to go to find prospects, how to engage, etc. This is purely inbound.
The prospects you've engaged with through connections and groups will most likely seek out your profile to learn more about you (Information flows both ways on LinkedIn!). So it only makes sense to optimize your profile to drive sales.
Make sure you have current links to your company site, your Twitter account, and your Facebook page. Include some high-quality recommendations from existing happy customers – think quality, not quantity.
This can give visitors a better idea of who you are and what you're all about. Remember, effective sales is all about building trust and relationships!
Finally, always add a photo to put a face to the name. It makes you more "real" and creates a good impression. Keep it professional (no need to add a shot of your last Cabo tequila party) and make sure to smile!
5. Publish Content to Establish Thought Leadership.
Publish on LinkedIn to establish yourself as a credible resource in your industry.
Create content to address your target market's pain points, provide solutions, and engage with prospects. Content is hugely powerful as a tool for establishing relationships and trust.
By creating articles on LinkedIn, you have the opportunity to share your insights through your professional knowledge. It also allows you to reach an audience instantly.
As with any social media site, you need to regularly contribute, make new connections to grow your network, engage with your groups, and publish content regularly to develop your profile and demonstrate thought leadership.
5 LinkedIn Prospecting Tools
There are plenty of amazing tools you can use to up your LinkedIn sales prospecting game.
1. LinkedIn Sales Navigator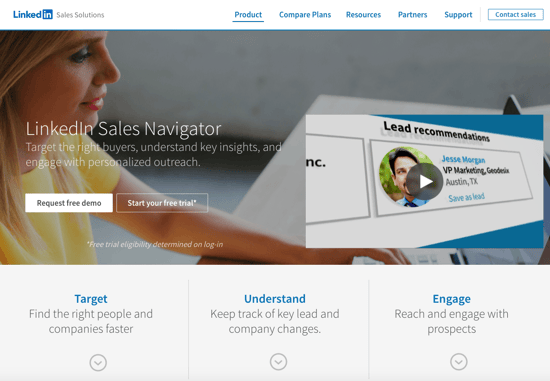 One of the best paid tools for sales teams, LinkedIn Sales Navigator brings a ton of amazing benefits.
It integrates seamlessly with your CRM, extends the size of your network you can access, provides lead recommendations, and delivers several other advantages.
While it comes at a hefty price, ranging from $64.99 per month to $129.99 per month, you can justify the costs if your team uses it efficiently to streamline their prospecting efforts.
2. Crystal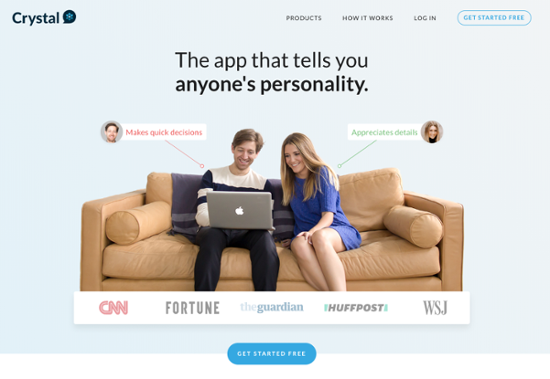 Touted as the ultimate personality app, Crystal sheds light on a person's personality, based off of their social media presence.
By analyzing millions of data points, the personality AI shows you what personality type each prospect is, what their likes are, and what they want to avoid.
via GIPHY
Essentially, this tool coaches you on how to connect and engage in the most impactful way. You can start using it for free, then upgrade to different tiers based on your needs and budget.
3. Discoverly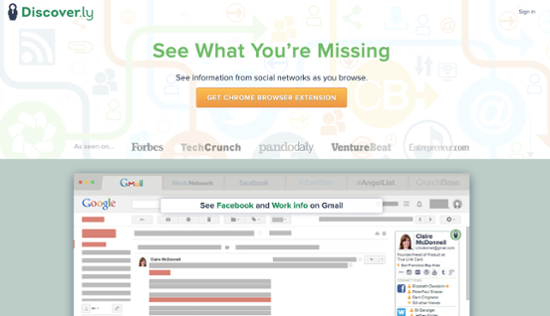 One of the best Chrome extensions you can use for getting to know prospects, Discoverly combines all the information you need based on a prospect's presence. You get the full perspective on someone as the tool combines all the data from a contact's Gmail, Facebook, LinkedIn, and Twitter profile.
Overall, this is an excellent free tool that gives you a lot more context that you may not see just by assessing a prospect's LinkedIn profile.
4. Guru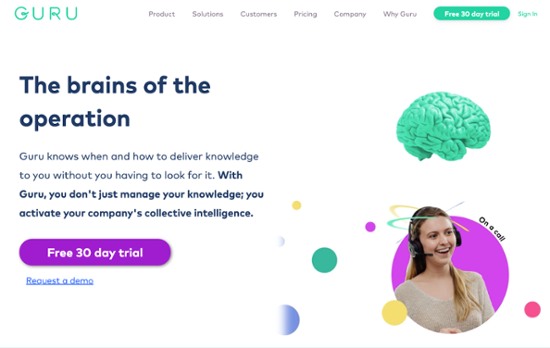 For even more information about prospects, you can use Guru, which acts as a knowledge network to combine all of your company's competitive intelligence into one space. This keeps all your teams on the same page, organizing prospect data in a structured manner.
After a free 30-day trial, pricing ranges from $14 per user each month to $24 per user per month.
5. SalesLoft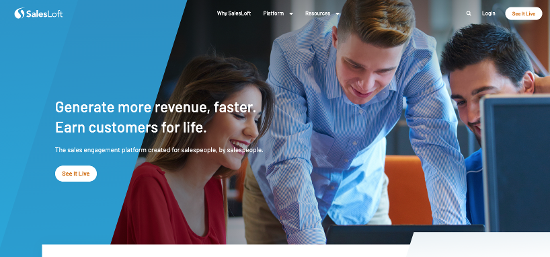 As a leading sales engagement platform, SalesLoft offers a ton of amazing features that can help your team with prospecting.
Their intelligence features aggregate lead data and produce in-depth reports that can give your team critical insights on how to properly connect with, engage, and nurture leads.
They don't provide any pricing on their site, but you can request a demo.
Start Prospecting Via LinkedIn Now
LinkedIn is a perfect vehicle for developing and managing your sales pipeline.
While LinkedIn won't make the sale for you, if you use it wisely, it can be a tremendous tool for developing the contacts, building relationships, increasing your authority, and earning trust to move a prospect from the lead column to the sales column.
Using LinkedIn can give you a tremendous advantage over your competitors, and it offers you a tangible advantage for developing and growing sales.
Effectively and efficiently working with the platform can give you the crucial edge that can translate into more sales and higher close percentages.
So, get out there, explore, engage, and grow your business!