Ways to Use the HubSpot Gmail Integration
1.

Prospecting

2.

Email Marketing or Drip Campaigns

3.

Scheduling Meetings With Clients

4.

Tracking Communication With Your Prospects
HubSpot comes with a variety of integrations that can make your work processes more streamlined. One of their popular integrations is for Gmail, which links some of the awesome features of HubSpot CRM right to your Gmail inbox.
This helps to reduce friction in some of your sales and marketing process so you can ultimately focus on providing the best value for your customers.
Let's walk through some of the benefits of the integration, teach you how to set it up using our three step process, and provide you with some of the best uses for the HubSpot Gmail integration.
The HubSpot Gmail Integration
The HubSpot Gmail integration is a cool feature available in your HubSpot account that allows you to connect your CRM and inbox. This integration makes it easy to engage with prospects and clients in order to serve them better.
Here are a few of the benefits you gain access to when you take advantage of the HubSpot Gmail integration.
It Allows You to Track Email Analytics in Real Time.
You can easily log emails into the HubSpot CRM with one click when they are sent from Gmail. You are also able to track opens and clicks in real time, which allows you to see the path your prospect is taking on their buyer's journey.
It Gives You Access to Productivity Tools in Your Inbox.
Sales productivity tools are available with the integration, which provides you with the things you need to work more efficiently throughout the day. For instance, you can make use of HubSpot templates, view and schedule meetings, and set sequences from your inbox.
It Saves Time.
With the HubSpot Gmail integration, you can see important messages from your contacts right in your inbox without needing to switch to your HubSpot account. There's no need to switch apps or platforms every few minutes to check on messages because they will all be in one convenient location.
Before you can make use of the option to have all of your emails sent from your Gmail account recorded in HubSpot, you'll need to know how to set up the integration.
How to Conduct the HubSpot-Gmail Integration
A personal email should be a company email or another email address that you use most often to send emails to your contacts.
Keep in mind that you must have access to account access permissions or sales access permissions before you can connect a Gmail account to HubSpot.
If you have the proper permissions, use the following steps to help you connect your HubSpot and Gmail.
1. Go to the Settings Icon in HubSpot.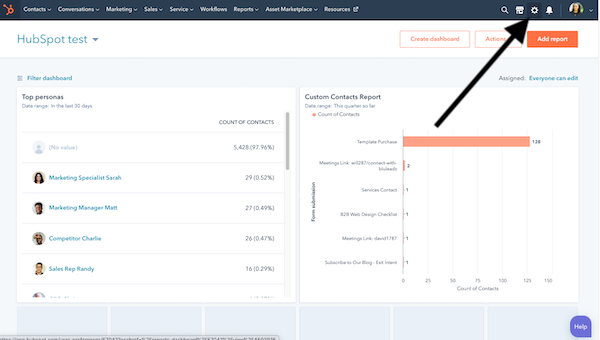 On the left side bar menu, navigate to and click Integrations > Email Integrations.

2. Select Connect Personal Email.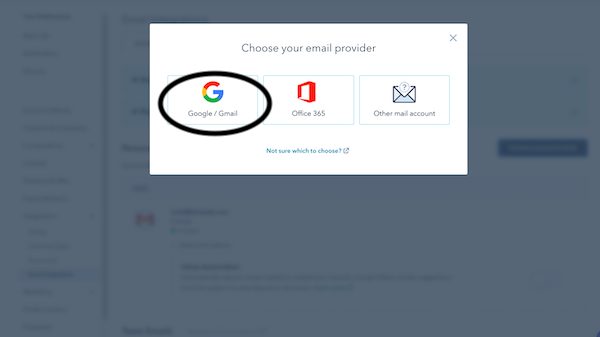 Read the information about what you can expect to happen when you connect your Gmail account and HubSpot.
3. Log Into Your Gmail Account.
Review the permissions, then click Allow.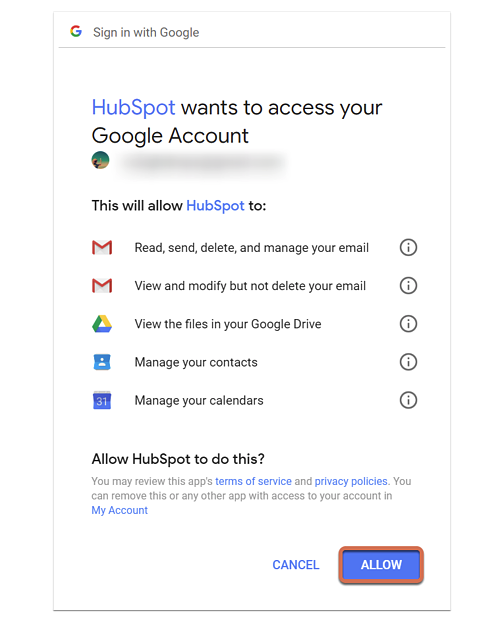 A pop-up for your settings will come up on your screen letting you know that your Gmail inbox is connected to HubSpot.
How to Use the HubSpot Gmail Integration
HubSpot gains access to all information about your emails once you connect to your inbox.
Some of the information HubSpot gains includes the email address you're using to send emails, the email addresses of recipients, the subject line, and the body of the email.
There are several ways you can make use of the HubSpot Gmail integration, including important sales and marketing tasks, such as:
Conduct Sales Prospecting.
A broad use for this integration is sales prospecting. With all of your productivity tools already in your Gmail inbox, you gain access to templates and snippets to use for a variety of prospecting situations. This way, you don't have to type out every single email.
This makes your work more streamlined and allows you to reach out to more prospects via email in less time.
If you're a business development rep or a sales rep, you may spend most of your time reaching out to potential customers. A HubSpot Gmail integration allows you to skip the back and forth that is often required when you make use of multiple platforms at a time.
Execute Email Marketing or Drip Campaigns.
You can set up a sequence of emails that are set to be released on specific dates and under specific circumstances right through your Gmail inbox with this integration.
For example, if you have a prospect who needs to be nurtured and you don't want to forget to send them the necessary emails and email attachments, you can set up a sequence of emails to be sent at scheduled dates and times.
This means you don't have to physically click send every time you need to follow up with them, unless they respond back to you from one of those emails.
Schedule Meetings With Clients.
It's easy to schedule a meeting in Gmail with the HubSpot Integration. All you have to do is click on the calendar icon on the menu bar, and a list of meeting options pop up for you. You can send your meeting availability, and the prospect can choose a date and time by following a link you add to the text in your email.
For instance, you might write something like, "If you're interested in discussing this further, please take a look at my calendar to book a date and time", and you could hyperlink your calendar to the "book a date and time" portion of the sentence.
This creates less back and forth about scheduling and availability, which may entice your prospect to go ahead and book a small slot of time right away.
Track Communication With Your Prospects.
Your sales team likely communicates and sends messages to more people in a day than they can remember. They may often forget what they emailed or discussed with prospects, and without a way to see if a prospect opened an email or attachment, they can easily let qualified prospects slip through the cracks.
The HubSpot integration allows you to log and track every email you send, if you enable those features. All you have to do is check the boxes labeled "log and track" in the upper righthand corner of the email message.
When you do this, you gain access to open rates and clickthroughs. The integration can even send you an alert when someone opens your email message or attachment.
If you are already one of many happy HubSpot users, make your sales processes more streamlined by using this effective and time-saving integration. Start logging and tracking your emails the easy way, while still making use of some of HubSpot's best email tools.