One of the most important things you should always ask yourself when investing in new software is if it's user-friendly. This will make your team's lives easier and will likely yield better results than an option that makes them want to quit.
A second question that's just as crucial is whether the solution you're considering would integrate well with your existing tech stack. After all, nothing works in silos, and this element is an essential component of efficient business operations.
But what are the factors you should keep in mind when talking about integrations? And what makes HubSpot such a boss in this area?
Software integration is the process of connecting different softwares together. This can be done manually or automatically, and is often necessary to ensure that all your applications work efficiently.
Integrating software can be a complex and time-consuming task; although more user-friendly SaaS providers (such as HubSpot) require a simple process. That said, it's important to note that not all software programs are compatible with each other. When this occurs, they cannot share data or communicate with each other. As a result, you end up with duplicative efforts and one department not knowing what the other one is doing — which can be detrimental to those who work in synergy, such as marketing, sales, and customer service.
The benefits that come with software integrations are so impactful, it would be downright foolish to ever consider software that doesn't sync up to what you already have. Some of the most important ones include:
Improved Business Operations
Think about how much you would hate it if your smart phone didn't connect to your favorite social media platforms. Or what if you couldn't schedule video calls through your Google calendar? How much more complicated would your life be? Software integrations set the stage for all of your teams to be able to access any information they need, when they need it — without the need to log out of a system and into another; and having to manually enter data into one software when it's already been done in another.
Employee Satisfaction
Finding the right talent is hard. Retaining them long-term is even harder. Therefore, it behooves you to look for ways to make sure your employees have all the resources and tools they need to do their jobs effectively. This would have a significant impact on their job satisfaction, as well as generate higher productivity and a healthier work environment.
A Better Customer Experience
Imagine Customer Kate calls your support team for a question regarding how to use a particular product. If your service desk is integrated with your customer relationship management (CRM) system, your service rep will be able to see Customer Kate's entire history with your company, such as previous communications, purchase history, preferences, etc… This enables your rep to provide a significantly better customer experience.
30 of the Best HubSpot Integrations
Now, below is a lengthy list of some of the most popular HubSpot integrations. However, keep in mind that this list is not exhaustive. To find out whether an application that's not listed integrates with HubSpot, please make sure to visit their App Marketplace.
1. Gmail
HubSpot's Gmail integration enables you to connect your inbox to your HubSpot CRM. This makes it a lot easier to track email analytics in real time. You can also take advantage of HubSpot tools such as email templates and setting sequences directly from your inbox. So your emails look nicer, you can automate communications, and save the time it would take to constantly switch from your Gmail and HubSpot accounts if they weren't integrated.
2. Google Calendar
Since your Google calendar is already synced with your gmail, it's also a lot easier to schedule client meetings, discovery calls, or support conversations. You can log everything in your HubSpot CRM and send invites to meeting guests. This information will also appear in your contacts' record.
3. Outlook
Everything that's stated above about Gmail also applies to your Outlook email accounts. Plus, you can also track email opens and clicks in real time. Do keep in mind that being able to integrate Outlook to HubSpot requires that you have one of Outlook's 365 Business subscription plans.
4. Calendly
Calendly makes it so easy to find a meeting time that works for everyone, without the usual back-and-forth that comes with proposing available dates and times. You send out your schedule, and boom! The recipient selects what's available on your own calendar. And integrating this app with HubSpot means being able to create leads, contacts, and activities within your HubSpot account every time someone schedules a meeting with you. Talk about easy follow ups!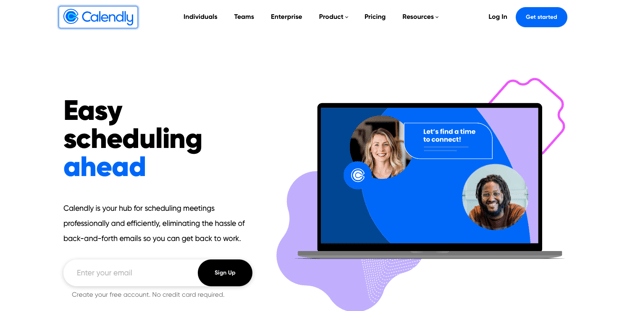 Source: Calendly
5. WordPress
People who still haven't used HubSpot's content management system (CMS) may still be stuck using WordPress. And that's ok. We get it. The platform's pretty useful. And when you integrate it with HubSpot's CRM, you can automatically sync your contact's email addresses when they enter it into landing page forms (you can even build the forms and pop ups with HubSpot's drag-and-drop functionalities). You can also sync it with HubSpot's Service Hub for live chat and chatbot capabilities.
6. Slack
Slack makes it so easy to communicate with coworkers — which has become even more important in an increasingly remote workforce. And when you integrate it with HubSpot, you can create support tickets directly from a Slack message. You can also send Slack notifications through Workflows and respond to live chat messages via Slack. And this is just the tip of the iceberg. The HubSpot-Slack integration is the gift that keeps on giving.
7. LinkedIn
It's becoming increasingly popular to run marketing campaigns on LinkedIn. And when you integrate your social media platform with HubSpot, you can load your posts in bulk and monitor your audience's engagement. In addition the performance of each campaign is logged automatically into your HubSpot analytics dashboards.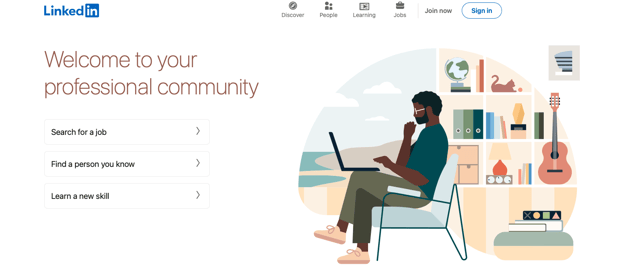 Source: LinkedIn
8. Facebook
Facebook is still one of the easiest ways to easily share content with your audience. And when you sync it with HubSpot's CMS, you can automatically share every blog at the same time you publish it on your website. In addition, you can reap the same benefits as with LinkedIn — prescheduling your editorial calendar and track engagement analytics.
9. Facebook Messenger
Something else that has become mainstream is for contacts, prospects, and customers to reach out to businesses through Facebook messenger. And if you're not staying on top of that inbox, you're leaving money on the table. Integrating Messenger to HubSpot means that you can automatically create support tickets and receive communications directly to your email inbox. You can also create chatbots for your business page and assign communications to the appropriate sales and support reps.
10. Hootsuite
If you're managing all of your social media accounts through Hootsuite, you already understand the advantages of working from one centralized location. Integrating this platform with HubSpot enables you to utilize even more beneficial features, such as segmenting your audience to deploy more effective marketing campaigns.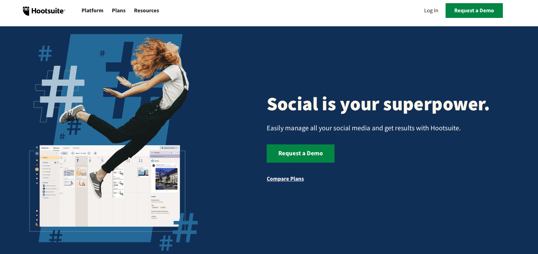 Source: Hootsuite
11. MailChimp
Ok, listen. HubSpot's Marketing Hub has all the tools you need to create and deploy beautiful and effective email marketing campaigns. But since MailChimp is also a star in the email marketing world, I'll go over this one. Integrating MailChimp with HubSpot's CRM enables you to take information your website visitors enter into pop up forms, autofill it into your database, then design email campaigns around them. And as with the rest of the email applications, you'll be able to track all of your email analytics on HubSpot.
12. Monday.com
Connecting your monday.com account with HubSpot enables you to create Workflows based on specific projects stages. All information regarding leads, contacts, and companies also get updated on both platforms when you enter new information in either one; and you can easily collaborate with customers during onboarding and project delivery.
13. Salesforce
Integrating Salesforce lets you send lead scores into Salesforce, send revenue information from closed deals into HubSpot, and automatically send crucial data to your sales reps, such as form submissions and opened emails so that they can follow up at the most ideal times.
14. Shopify
Integrating Shopify to HubSpot means that you can automatically sync orders with the contacts in your database, as well as segment contacts based on their purchases. You can also automate eCommerce marketing campaigns, personalize lead nurturing emails, and send abandoned cart email reminders. And of course, you also get reporting dashboards on all your efforts.
15. SurveyMonkey
Getting customer feedback is essential to provide the optimal customer experience. And when you connect your SurveyMonkey account to HubSpot, you can set up Workflows to deploy emails based on their responses. In addition, their replies will be included into each contact's CRM record, so that you always have full context when engaging with them.

Source: SurveyMonkey
16. Drift
If you're looking for real-time chat on your site, Drift will help you start the conversation. You can get in touch with your leads as they browse your site. Not only do you get a branded chat experience, but all your lead data and interactions are captured under one roof.
17. PandaDoc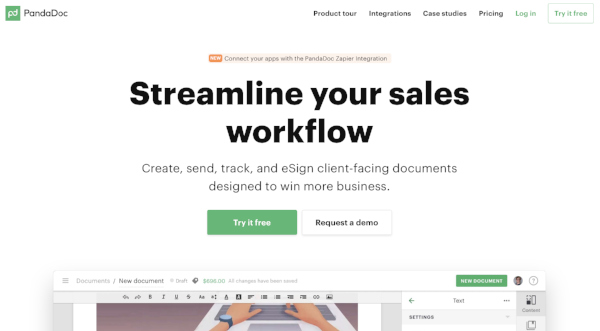 Now, you can finally get everything you've always wanted out of your proposals and other templated documents with PandaDoc.
It auto-populates forms with data direct from HubSpot CRM so you can close more business faster. It's great for contract management, too.
18. Proposify
If you have a proposal-driven business, you won't want to miss Proposify. It's the best tool for creating templated proposals and tracking the process. You'll see leads open your email and even be able to keep track of deal stages and amounts more easily than ever.
19. Seventh Sense
Seventh Sense correlates all the valuable engagement data within your HubSpot CRM to help you orchestrate email campaigns more effectively. Your future emails will be dispatched at the ideal time for each of your contacts, maximizing engagement on an individual basis.
20. Bitly
Bitly is the long-running URL shortener that marketers rave about. Its built-in analytics are snappy, but you'll fall in love with the core functionality. Shorter URLs mean you can get more meaning into every post. Plus, you'll get insight into which posts perform the best and how they spread.
21. Unbounce
One of the most valuable skills any digital marketer can have is landing page design. Unbounce is an acclaimed tool for designing landing pages that convert. The convenient drag and drop interface makes it easy to put landing page best practices into action in the real world.
22. Databox
Lots of businesses still use Excel, but let's face it — nobody's thrilled about it. Databox helps you move into the 21st century with truly customer-focused reporting. It synthesizes your HubSpot CRM data into gorgeous dashboards your clients can check out any time they feel like it.
23. Hotjar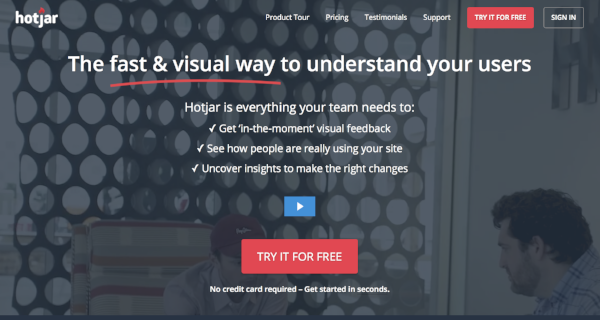 Hotjar brings the fascinating world of heatmaps into the realm of the average marketer. With it, you can see precisely how far users scrolled and where their cursor rested. That's great for your landing page optimization, especially when you look at aggregate data from all your traffic!
24. CallRail
If you're prospecting by phone, either with a call center or individually, CallRail will help you dig up data that's hard to capture. With it, you can track and record calls, understand the purpose of a call at a glance, and get source details. It's one of the top HubSpot integrations for telephony.
25. ReadyTalk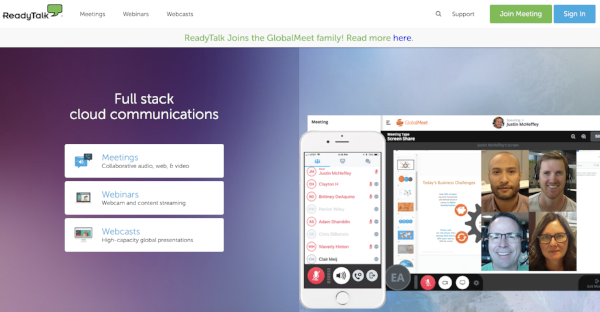 Webinars are among the best lead generation tools you can have, but the bevy of competing platforms are tough to blaze a path through. ReadyTalk simplifies the webinar, giving you an end-to-end solution: Everything from registration to confirmation to delivery and follow-up are centralized.
26. SnapApp
Interactive content is compelling for leads at all stages of the buyer journey. Now, you can build that content without fiddly hand-coding or intensive designer resources. SnapApp is among the leading HubSpot integrations for qualifying leads with quizzes, forms, and more.
27. HelloSign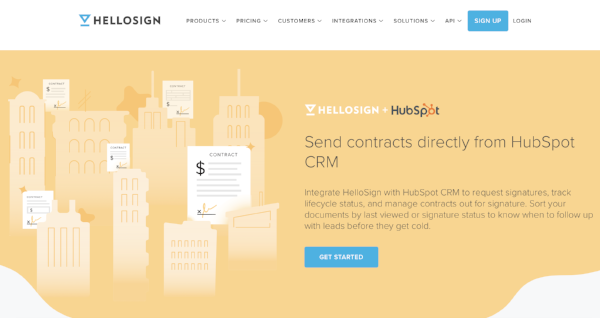 PandaDoc and Proposify get your documents built and populated — HelloSign is what gets them signed. When it's time to get the ball rolling on a new deal, you can automate away a lot of wasted time by simplifying the signature and finalization workflow.
28. Beacon
Everyone knows that marketers should get more punch from their content by upcycling blogs into other types of content, especially ebooks. Skip the nights painstakingly hunched over a specialized design suite and let Beacon do the work of beautiful ebook conversions for you. It's fun and fast!
29. Smartling
If you're crafting content for an international audience, Smartling is part of a handful of HubSpot integrations that can accelerate the localization process. Its Global Fluency Platform allows you to abstract away your translation projects while you manage and track them with ease.
30. Enthusem
Not everyone is using old-fashioned direct mail in their campaigns ... but if you are, you might as well do it right! That's where our final pick comes in. Enthusem lets you produce ultra-custom direct mail collateral with a huge amount of eye-catching customer personalization.
Connecting apps to HubSpot is pretty easy, especially since all of the apps in their marketplace have been reviewed and certified by their development team.
Find an App.
HubSpot's marketplace is a huge library full of different apps with various features and purposes. To get there, simply click the "Marketplace" button on the top right corner of your navigation bar and select "App Marketplace."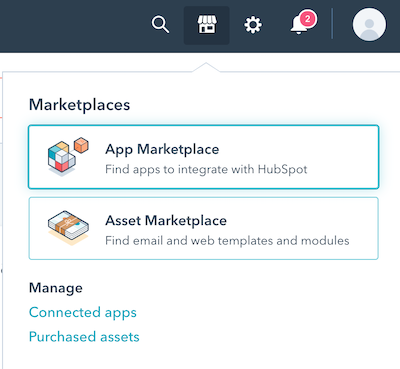 You'll be brought to the integrations catalog, where you can either scroll through your options or search for a particular app.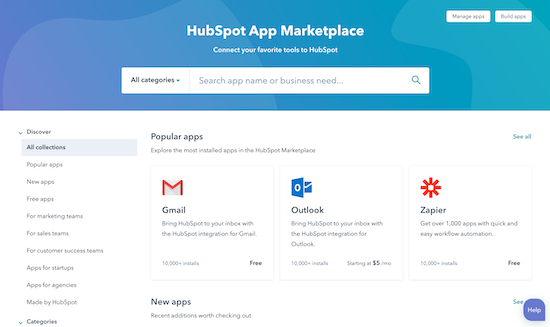 Make sure you review the app's details. Certain integrations have specific HubSpot subscription requirements that you have to meet in order to use them.
Review Pricing Options.
Depending on the app, you can choose from one to three pricing options. Each one will give you access to different features and processes. Some apps are free entirely.
Choose the price and features that work best for your business.
For example, here's how much it would cost to integrate Outlook.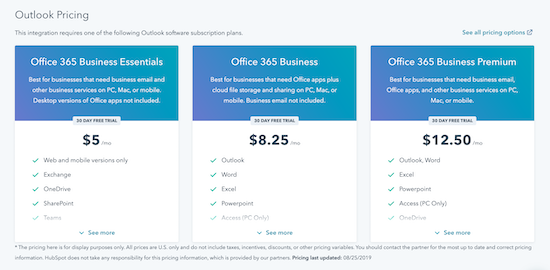 Turn on Necessary Permissions.
You can see how data between the app and HubSpot will be shared, as well as what permissions require approval in order for the app to be used.

Connect the App.
Once you've reviewed all the necessary details, you're ready to connect the app.
Click "Connect app" in the top right corner of the app's page.

You'll be guided to a connection flow that will prompt you to log in to your account and approve the necessary permissions in-app.
Just like HubSpot itself, the right set of HubSpot integrations can be a complete game-changer.
The whole purpose of marketing automation is to, well, automate — getting rid of tedious busywork so you can focus on what really makes your campaigns be as effective as possible. It only takes a few minutes to get started with any of these HubSpot integrations, and you'll see the difference from day one.
HubSpot truly transforms the way you market, sell, and service your customers. Yet, it has so many features that it's possible for you to not be aware of everything the platform can do for you. Let us help you align your needs with its tools with a free HubSpot audit! We'll also provide you with a list of action steps so that you can increase the ROI on your marketing and sales efforts.