Inbound marketing is leading the evolution of marketing in the digital age for good reason – it aligns with customer behavior.
HubSpot's State of Inbound 2018 report found that 75% of global organizations primarily conduct inbound marketing, and 75% of organizations using inbound marketing say their strategy is effective.
Why is it effective?
The bread and butter of the inbound methodology is being human, helpful, and holistic in everything you do. That applies to sales, service, and, of course, marketing.
From healthcare and B2C to ecommerce and every industry in between, inbound is the best solution for all marketers.
In the world of marketing to businesses, there are plenty of obstacles hurting marketers.
The Challenges of B2B Marketing
B2B marketers face several challenges, and they are in line with other industries. Most marketers share similar woes, no matter the size of their company, their competitive space, or their budgets.
HubSpot's research found these are the top marketing challenges: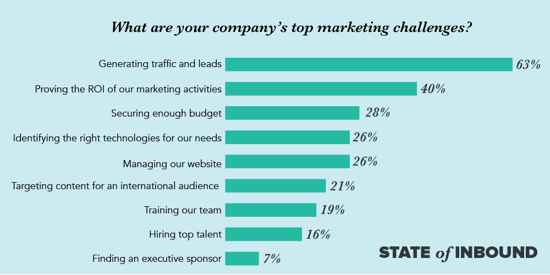 These challenges can be addressed when B2B organizations adopt the inbound philosophy.
The Inbound Philosophy in B2B
via GIPHY
B2B decision makers rely heavily on informative content when they're researching products and services. Research found the following:
Nearly 73% of online consumers get frustrated with websites when content (e.g., offers, ads, promotions) appears that has nothing to do with their interests.
9 out of 10 B2B buyers say online content has a moderate to major effect on purchasing decisions.
80% of business decision makers prefer to get company information from a series of articles versus an advertisement.
Do you notice the recurring theme in these stats? An astounding majority of people seek out informative, helpful content that is relevant to them.
And the inbound marketing approach addresses this because it marries content and context. Awesome B2B marketers create and deliver content specific to each of their potential buyers at every step of the buyer's decision making process.
First, you need to start with buyer persona research. This helps B2B marketers determine what content is most relevant for each buyer at each lifecycle stage.
Once you know who you're creating content for and who you want to attract to your website, you can build a documented content marketing strategy, which is a big piece of your inbound marketing approach.
When documenting your content marketing strategy, map your content assets to each buyer persona and to each stage of their journey. Your audience will be looking for helpful content, and you can be the first one to show up in their Google search.
When your content is relevant and helpful, you become an authority in readers' minds. As an authority, you earn trust.
Trust is an important emotion to foster in B2B sales. It builds a human connection between decision makers and your brand.
In terms of content marketing, there are two awesome benefits you can expect.
Earn Relevant Traffic
As you publish more awesome content on your blog, you can climb the search engine rankings and earn attention in relevant search queries. And frequency plays a vital role in your blogging strategy.
HubSpot's research found that B2B companies that blogged 11+ times per month had almost three times more traffic than those blogging zero to one times per month.
Generate Leads
Inbound marketing thrives when you provide relevant content offers to convert visitors to leads. But even if your offer is awesome, you won't reap the rewards if you're not encouraging visitors to download the offer in an engaging way. This is where landing pages come in.
Landing pages need to be concise yet informative. Describing the offer in a way that highlights the value and specifically explains how the offer will address specific pain points is crucial.
They're a must have for B2B marketers. In fact, strategic landing pages are used by 68% of B2B businesses to acquire leads.
Bottom line: inbound marketing drives real results for B2B organizations.
Inbound Success Stories In B2B
via GIPHY
In the B2B world, the sales cycle is often long and complicated. Inbound is effective because it helps throughout that long buyer's journey. The focus on education is what keeps your brand on top of mind with your audience.
HubSpot shares several real stories of success from B2B marketers. Here are two that shine:
Using the Right Tools
A plant display management company working with commercial customers was struggling with messaging in their marketing. They were using different tools for email, CRM, analytics, and more.
As mentioned above, finding the right tech is a huge obstacle for B2B marketers, so their experience with a disjointed tech stack is common.
Plus they outsourced other marketing efforts like social media. In other words, nothing fulled synced, and their messaging continued to suffer.
The company found HubSpot and used the growth stack, combining marketing, CRM, and sales software in one place. On top of the right tools, their sales and marketing manager learned about the inbound methodology through HubSpot Academy.
After going all in on HubSpot, they saw big results. Not only did they boost their website traffic by 119%; they also generated over 1,000 new leads.
Delivering Content to Earn Leads
A mental skills training company shifted its strategy in 2016, adding more potential buyers to their plan. Their target audience expanded from just athletes to schools and businesses.
The shift in their marketplace and added competitors made a new approach necessary. Their strategy only consisted of cold calling and non-integrated marketing practices.
Once they moved to the HubSpot Marketing platform, they integrated that with HubSpot CRM and hit the ground running. With some time, they built out a great body of content assets. Between an active blog, content offers, forms, and email nurturing, they started earning big wins.
Their leads and website visitors doubled, which ultimately lead to a 20% increase in revenue.
Within the B2B world, there are countless examples of inbound marketing taking businesses to the next level and setting them up for sustainable growth.
That's the inbound effect.