4 min read
Today, whether you're aware of it or not, more of your business starts online than ever before.
Customers will begin their buying process by searching for information about the product and service they're seeking. If they find your website, it will likely be the point of first contact with your company.
For many businesses that do not understand the process, their website is little more than a static "advertisement" for their business. The fact is, with a little work, your website can become the biggest generator of high-quality leads and new business for your company.
Taking a marketing 101 approach to optimizing your website to generate leads requires some adjustments.
Let's look at some steps you can take that can turn your website into a lead generating machine that will drive your business and provide you with high-quality leads that are ready to close!
The Lead Generation Process
To gain an understanding of how to optimize your website for lead generation, you'll first need to understand the process. Lead generation starts when a visitor on your website clicks on a "call-to-action" or CTA located somewhere on your website.
The CTA directs them to a "landing page," which includes a form that collects the visitor's contact information. This page can offer them premium content in return for their info, or it can simply be a "request more information" page.
When they fill out the form, they are taken to a thank you page. This is the basic lead generation process.
Marketing 101: Driving Traffic
Understanding who your customers are and where they come from is the first step towards optimizing your site. You need to take a look at how your website currently functions in order to determine where you can optimize.
Start with a basic marketing 101 review of your current online efforts. For example:
Email marketing – Drive traffic through email campaigns that direct recipients to your website.
Live Chat – Traffic may come from visitors to your "live customer service" portal on your site.
Social Media Engagement – Visitors may start by reviewing your social media posts on sites like Facebook, Instagram, or LinkedIn and then visit your website to learn more.
Blog Posts – Your blog can be an excellent way to drive traffic to your website.
Once you've identified the source of your traffic, you can then take steps to optimize that channel.
For example, if you find the majority of traffic comes from your blog posts, create new content to keep visitors engaged and direct them, through the use of CTAs, to landing pages on your website that are about a related topic. Here you can offer them further information in exchange for their contact information.
Marketing 101: Optimizing the Lead Generation Process
Optimizing the conversion process can help you to increase high-quality leads. For example, you've written a piece on the "top kitchen appliances for your home remodel" that uses the keyword "kitchen appliances."
A user searching for "best kitchen appliances" on Google is directed to your blog post. In that post, you include a CTA that links to a landing page on your website.
This is where the visitor is offered a free ebook on "Choosing the Best Kitchen Stove" in return for their contact information. Once you've received their contact information, you add them to your customer relationship management (CRM) software.
A few days later, you send them an email with a coupon for 10% off of a new stove and follow-up with a phone call. This process is called "nurturing."
By understanding their path through the conversion process (They've read your blog on "Top Kitchen Appliances," visited your website, given you their contact information, and downloaded your free ebook on kitchen stoves.), you can tailor your marketing to meet their needs.
Each step of the process can be optimized to target your ideal customer:
You create unique blog content around the keyword "kitchen appliances."
When your prospect searches for "best kitchen appliances," they're directed to your site.
In the blog post, you include a CTA to visit your website and download a free ebook about kitchen stoves.
They give you their contact information and are sent an email for a discount on a new stove. When they open the email you then have qualified the lead and can follow-up with a sales call.
The power of inbound marketing lies in the ability to track a customer to better qualify their needs. Optimizing your website for lead generation means understanding who is visiting your site, what content they are engaging with, and then tailoring your marketing approach to meet their unique needs and pain points.
By optimizing each step of the process, you can turn your website into a constant source of new leads and sales.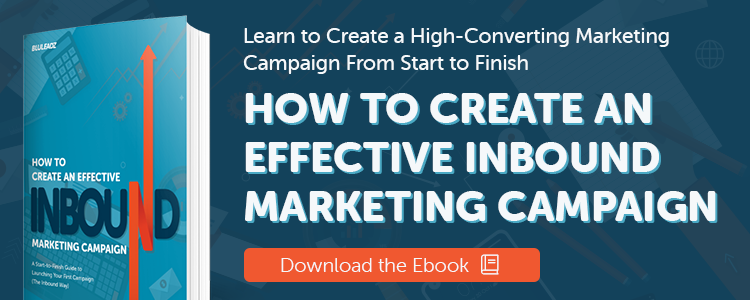 Published on August 9, 2018