Your clients and customers expect immediate and direct assistance whenever they need it. Unfortunately, it can be difficult to be on call for questions or advice all the time. However, when you have customers and clients located all over the world, you need to find a way to provide them with the help they need.
While phone numbers and email are tried-and-true ways to provide customer support, they're quickly becoming outdated. Today, online live chat is a customer service alternative benefiting both companies and customers.
Should you consider adding a live chat feature to your website? Let's take a look at a few of the biggest benefits.
1. Faster Solutions for Customers
Before live chat, customers needed to send an email or pick up the phone if they wanted assistance. Unfortunately, both of these options can take time to get a response. With a phone call, customers may be left on hold for extended periods of time, and email can get lost pretty quickly. Because neither of these options presents an ideal solution, companies could lose customers who aren't willing to wait for an answer.
Live chat presents a better alternative because it is a fast solution for customers. They can simply open the chat while shopping online, get their question answered in just a few minutes, and complete their transaction as normal. There's no delay, so companies are less likely to lose customers.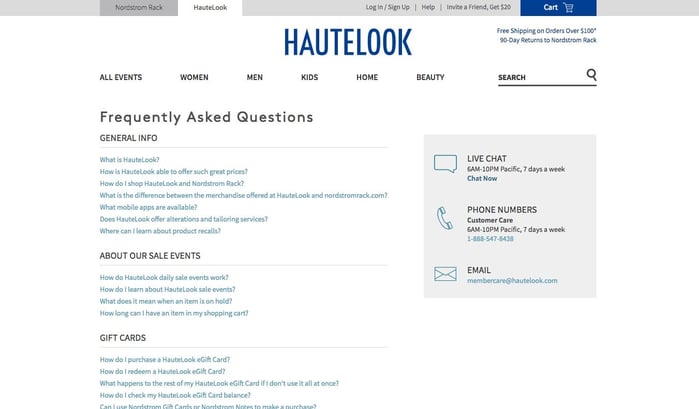 Hautelook places the link to their live chat on their FAQ page. This allows customers to begin a chat with a representative if they're unable to find the answer they're looking for in the commonly asked questions.
2. Make It Easier for Customers to Connect — Even Offline
Customers and clients may be hesitant to connect because picking up the phone or sending an email is an extra step.
Adding a live chat option can give your website visitors an opportunity to send a message without ever leaving your website. By including the option to fill in a contact form when your live chat is offline, you can ensure you don't miss a message from clients no matter the time. Placing this form right on the homepage of your site can encourage confused visitors to send you a message you can reply to later.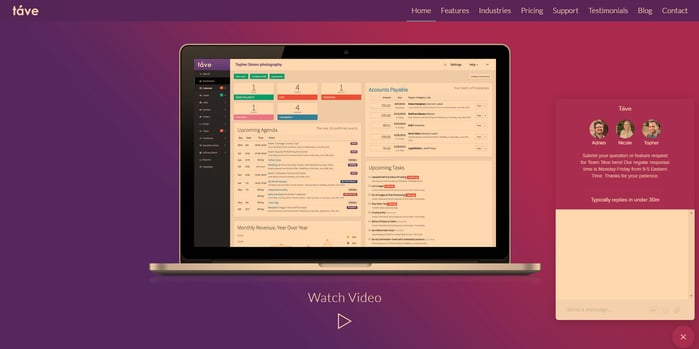 Tave does a great job of setting up a chat box for people to use when the live chat feature is unavailable. They provide their regular response time and show images of the people you will speak with later. This adds a personal touch and feels more conversational than robotic and automated. Plus you can enter your email address and be notified when your message receives a reply.
3. Easily Save Conversations
When you use an online chat program, the data can be stored so you can refer to it when necessary. This is great if you want to check up on a customer service representative or if multiple customers are experiencing similar issues. Having a record of your past communication can improve the way you respond to situations in the future.
Saving these conversations can also help you create a more personalized experience for your customers. Because you can store this data to create profiles for your customers and clients, you can get to know more about them through chatting online. When they return to your site, you can provide more specific information.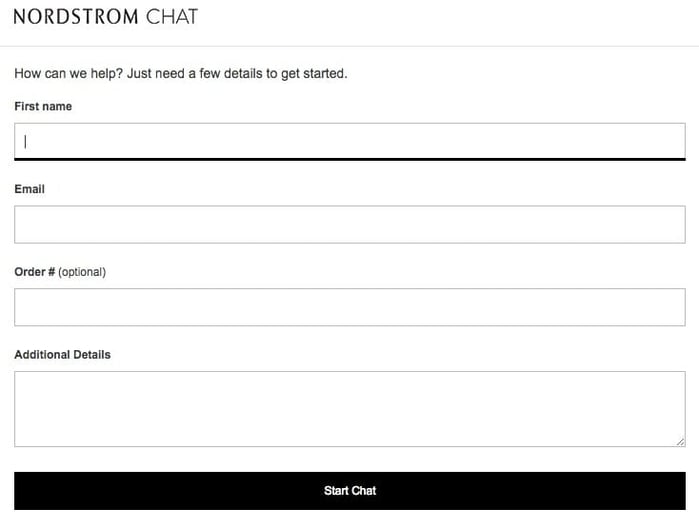 Nordstrom asks for your name and email address before beginning a chat. Not only does this allow them to collect your information for newsletters and other marketing materials, it allows them to recognize who you are and whether or not you've chatted with them before. They can then store this information to provide you with a more personalized experience.
4. Find Customer Pain Points
Companies are always looking to better understand the problems their target audience faces on a day-to-day basis. Knowing these pain points allows them to refine their strategies and processes to make things easier on the customer. However, traditional customer service pathways may have prevented customers from talking about their problems, simply because they weren't big enough to go through the hassle of calling or emailing.
Live chat allows customers to easily let you know what is wrong, so you can better record pain points at all levels. This will allow you to improve your website, marketing or customer service to better fit the needs of your customers and target audience members.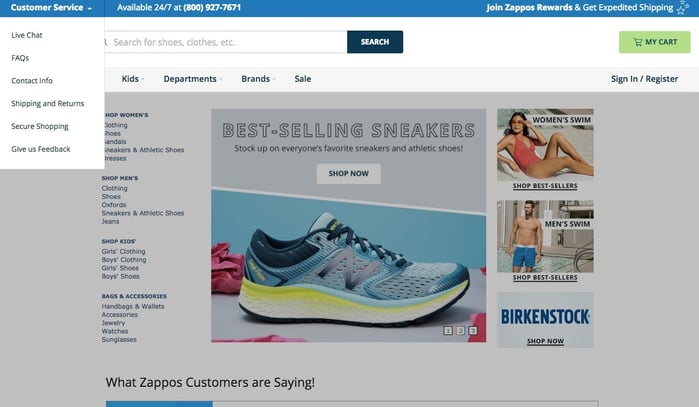 It's no surprise that Zappos has a customer service bar at the very top of their website. As one of the leaders in customer support, Zappos makes it a mission to know how they can help customers with any issue — no matter how small. Making it easy to find the live chat option is a great idea if you're serious about providing excellent customer service.
Adding a live chat option to your website can dramatically improve your relationship with customers and target audience members. As an easy way to connect with someone experiencing a problem or looking for a bit of advice, a live chat option is beneficial for both your company and your customers. Make it easy to use your live chat and always consider the needs of your audience.