You've spent hours creating your website, developing content and building your brand, only to overlook your 404 page. It's easy to rely on the generic code your host provider offers, but the real question is, should you?
Creating a custom 404 page is easy, and a great way to continue your brand development. A creative, fun, or informative 404 page can make even a broken link, or missing page, fun for visitors.
It can make light of an unfortunate situation, redirect visitors to similar valuable content, or even add an amusing brand message to what would normally be a disappointment for your visitors.
Here are 15 incredible 404 pages that can help you to unlock your creativity and create a page that your visitors will be happy to land on, and won't likely forget!
Fifteen 404 Pages To Delight and Inspire You
1. Amazon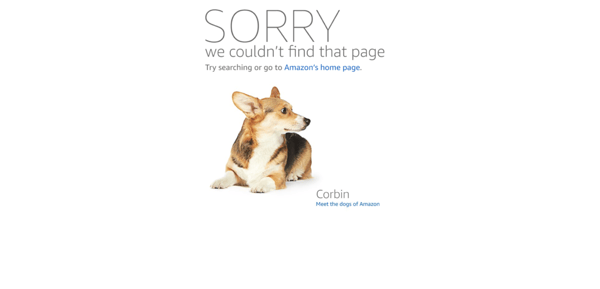 Amazon has a lot of balls in the air at any one time. Their error page is one area that they never need to worry about. It's outstanding! It's part recruiting tool, part brand identifier, and a lot of fun!
When you land on their 404 page your treated to images and copy on the many dogs who hang out at the company's offices. From there you can click into bios of the pooches, and reach further down to real stories of their employee owners talking about what a great company Amazon is to work for.
2. Bernie Sanders Campaign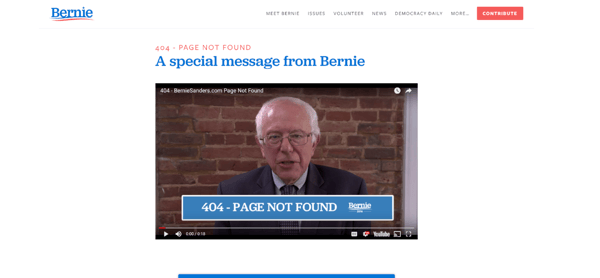 Shortly after launching his campaign, Bernie Sanders created the most memorable error page of any presidential candidate in history!
Land on the page and you're greeted by a video of Sanders explaining what went wrong and how to get to the website's homepage. "Just scoot down to the bottom of the page and you'll find your way back home to where you should be!" Awesome!!
3. Pixar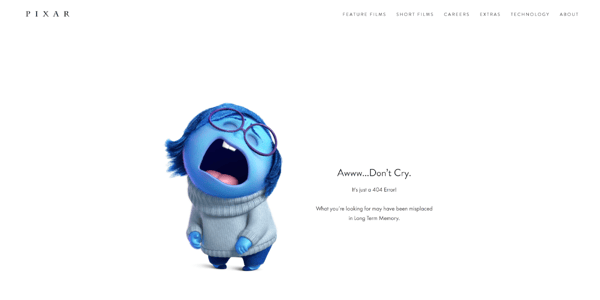 Pixar's 404 page features Sadness from 2015's Inside Out along with the message "Awww...Don't Cry, It's just a 404 error."
Pretty simple and straight forward and it does the job. It also is a visual brand identifier for Pixar that's really cute!
4. Fox Movies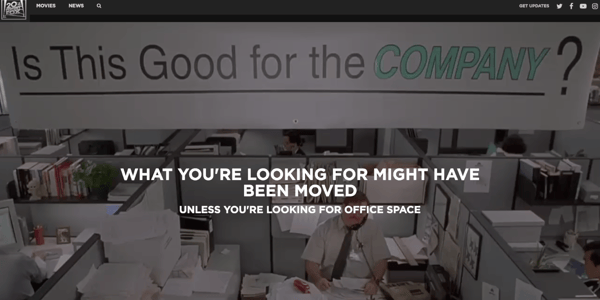 Land on Fox Movies' 404 page and you're treated to a random cult movie clip., with a sarcastic caption and a selection of other films you might be into watching.
Snippets have included Edward Scissorhands, Office Space, Revenge of the Nerds, and Napoleon Dynamite.
5. Bitly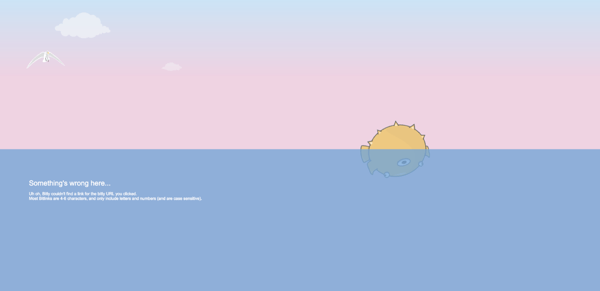 Bitly's error page features interactivity and motion art. Land on their page and you'll be greeted by a creature floating in the sea.
Use your cursor to make the waves roll. It's surprisingly calming and almost makes you feel like it's ok to be lost on their site...
6. Bluegg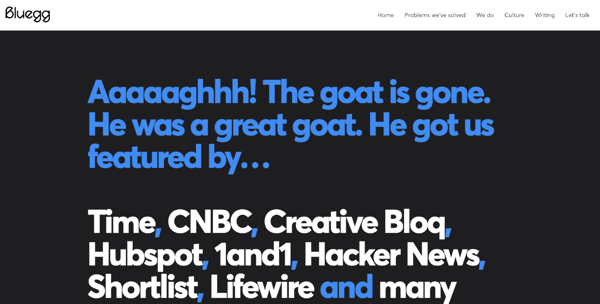 Bluegg had a pretty cool 404 page that got a lot of buzz online. It featured a viral video of a human-sounding laughing goat. OK, it's a little weird but it matched the culture of the company.
It was hilarious and people loved it, so when they redesigned their error page, they had to talk about the goat, even including a list of articles about the goat.
7. The Australian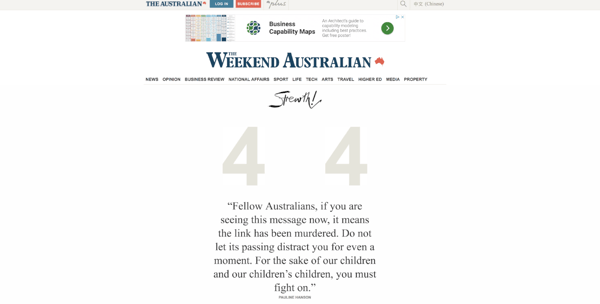 Australia's national newspaper owned by News Corp, The Australian has a unique error page that fits perfectly with their extensive coverage of government and politics. It pokes fun at political language and politicians' public screw-ups.
When you land here you select a politician from a drop down menu to explain the error like only a politician can. Perfectly on point, and a lot of fun!
8. Codecademy Codecademy is a website that helps people learn how to code. This is example is cool because its very contextual. What's better than having their 404 page include a call-to-action to a lesson on their site about HTTP errors!
9. Eastern Market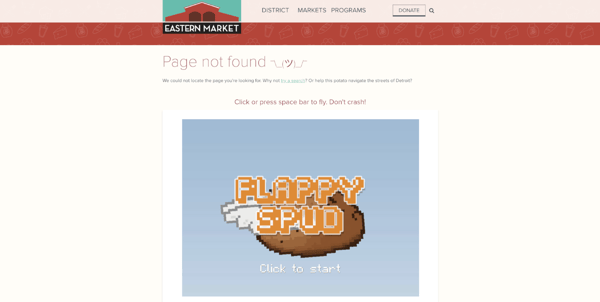 People love games, especially flappy games where you tap a key to fly an object through the sky avoiding obstacles.
Eastern Market in Detroit has an error page that features a game called "Flappy Spud" where you fly a potato through walls. When you hit an obstacle it explodes into a pile of french fries. Nice touch.
10. The Useless Web Index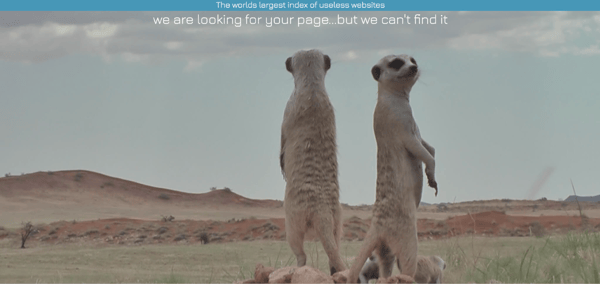 The Useless Web Index is the largest index of completely useless websites online. Even they have off days.
When they can't find what your looking for it's ready with the perfect error page; a video of meerkats being meerkats and other amusing stuff.
11. HeyZap Another error page that features a game. This time it's a classic version of the vintage game "Asteroids." Fire your laser at flying space rocks and soon, you'll forget you actually clicked on a dead link.
12. IMDb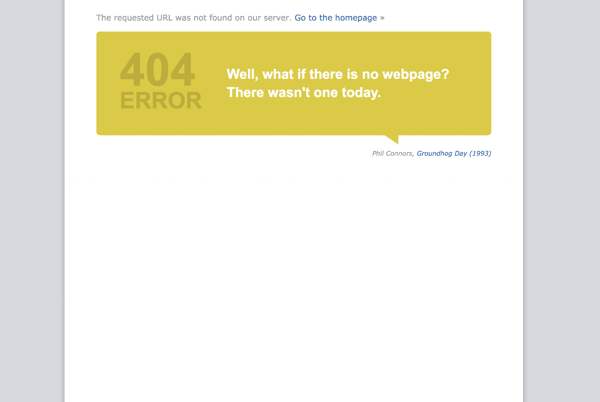 IMDb's error page is a great example showing that an error page doesn't have to use static copy. Pages can scroll through a library of copy, images or artwork to give you a unique page for every visitor. IMDb's page features altered movie quotes. Refresh it a few times and check it out.
13. Falvey Memorial Library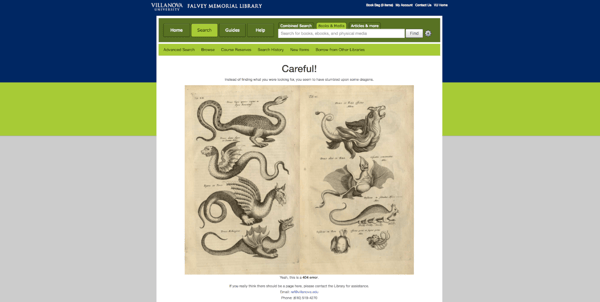 Falvey Memorial Library is located on Villanova's Campus in Pennsylvania. While it's not a world class library, it's 404 page is pretty fun.
It features the headline "Careful – Instead of finding what you were looking for, you seem to have stumbled upon some dragons." Then you're given options to navigate away from these beautiful illustrated beasties.
14. Emirates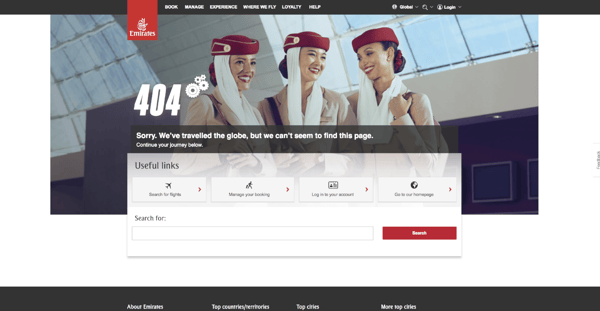 Emirates is the UAE's ultra-chic international airline that's known for it's luxury, style and high-quality. Their error page ties in perfectly with the rest of their website.
It's a perfect reflection of their brand image and provides you with plenty of options to easily find exactly what you're looking for on the site.
15. Lonely Planet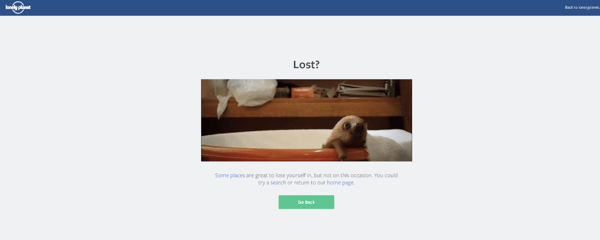 You don't always need to have some grand scheme, brand connection, or metaphor on your error page. Sometime all you need is a sloth in a bathtub to get your point across!
Shameless Plug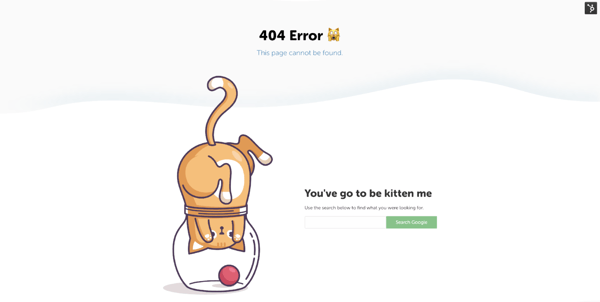 So call us biased, but we love our 404 page! With the coined phrase "You've got to be kitten me" it probably expresses how most people feel when they reach a page that no longer exists. The cat on the page probably shares that same sense of frustration trying to get the ball that's just out of reach. With a nifty search bar, you should be able to find content similar to what you were originally looking for.
Custom 404 error pages don't have to be boring. With a little creativity, they can serve as another element in your brand development and online marketing strategy. These examples use everything from humorous text, to informative search capabilities, animation, video, and more to turn an unfortunate occurrence (a broken link) into another touch point for their brand.
Clicking on a broken link doesn't have to result in a potential lost sale or future client. With a witty, well designed error page you can turn a negative into a fun, informative experience for your users, and after all, isn't that what it's really all about?