Chat software is quickly becoming an integral part of any website. With the best live chat software, your agents have the opportunity to answer questions and build rapport with potential customers.
This keeps them from getting lost and produces higher engagement.
A lot has been said about AI-based chatbots lately, but thousands of businesses are still getting great mileage out of conventional chat interfaces with live agents.
It really wasn't that long ago when live, responsive chat for website visitors was a new idea. But now, it has come into its own.
What Is Live Chat Software?
This form of chat is embedded directly into your website and allows representatives to interact with your site visitors in real time.
via GIPHY
As users journey through the site, the app captures the activity in distinct user sessions. Chat interactions can be initiated by customer service reps or by each user on the website.
Some user activities that show specific intent may also prompt automated chat messages.
Should I Use Live Chat on My Website? 4 of the Biggest Benefits
Your clients and customers expect immediate and direct assistance whenever they need it.
However, when you have customers and clients located all over the world, you need to find a way to provide them with the help they need.
While phone numbers and email are tried-and-true ways to provide customer support, they're quickly becoming outdated. Today, online live chat is a customer service alternative benefiting both companies and customers.
Let's take a look at a few of the biggest benefits to live chat:
Provide Faster Solutions for Customers.
Before live chat, customers needed to send an email or pick up the phone if they wanted assistance. Unfortunately, both of these options can take time to get a response.
With a phone call, customers may be left on hold for extended periods of time and emails can get lost pretty quickly.
Since neither of these options presents an ideal solution, companies could lose customers who aren't willing to wait for an answer.
via GIPHY
Live chat presents a better alternative because it is a fast solution for customers. They can simply open the chat while shopping online, get their question answered in just a few minutes, and complete their transaction as normal.
There's no delay, so companies are less likely to lose customers.
Make It Easier for Customers to Connect — Even Offline.
Customers and clients may be hesitant to connect because picking up the phone or sending an email is an extra step.
Adding a live chat option can give your website visitors an opportunity to send a message without ever leaving your website.
By including the option to fill in a contact form when your live chat is offline, you can ensure you don't miss a message from clients no matter the time.
Placing this form right on the homepage of your site can encourage confused visitors to send you a message you can reply to later.
Easily Save Conversations.
When you use an online chat program, the data can be stored so you can refer to it when necessary.
This is great if you want to check up on a customer service representative or if multiple customers are experiencing similar issues. Having a record of your past communication can improve the way you respond to situations in the future.
Saving these conversations can also help you create a more personalized experience for your customers.
Because you can store this data to create profiles for your customers and clients, you can get to know more about them through chatting online. When they return to your site, you can provide more specific information.
Find Customer Pain Points.
via GIPHY
Companies are always looking to better understand the problems their target audience faces on a day-to-day basis. Knowing these pain points allows them to refine their strategies and processes to make things easier on the customer.
However, traditional customer service pathways may have prevented customers from talking about their problems, simply because they weren't big enough to go through the hassle of calling or emailing.
Live chat allows customers to easily let you know what is wrong, so you can better record pain points at all levels.
This will allow you to improve your website, marketing, or customer service to better fit the needs of your target audience.
How to Use Live Chat in Your Sales Process
In the digital world and the prevalence of touch-tone help systems and pre-recorded messages, adding the convenience of real-time chat with a live person to your arsenal of customer service offerings is invaluable.
This is especially true if your competitor doesn't. Live chat can be the selling point that encourages a prospect to choose to do business with your firm over your competition.
Using Live Chat in the Sales Funnel
The online sales funnel differs significantly from the traditional sales approach.
via GIPHY
In a traditional setting, you are working with a live person who is educated about the product or service they're selling and can direct you to a buying decision on the spot. In fact, often the traditional "brick and mortar" sale is more impulse driven.
Online, prospects spend time exploring and comparing products before making direct contact with a sales person.
Remember, online sales is a nurturing process.
There are stages to an online sale beginning with awareness of your business, moving into interest in your product or service, through the decision process, finally leading to action and the sale. Live chat falls somewhere between the interest and decision stages of your sales funnel.
Live chat can become a tactical part of your approach for moving prospects through your sales funnel to the close. By simply being on your website, your prospect is aware of your business and your products or services.
As they explore and gather information from the content, testimonials, and specifications on your site, they build an interest in your product.
Adding live chat at this point in the process can further educate and empower customers with specific and relevant information about your product or service.
Because it's a live interaction, your customer service representatives can answer specific questions prospects may have in real time.
Education + Engagement = Sale
via GIPHY
Introducing live chat during the interest stage gives you the ability to engage with prospects and educate them about your product as they begin the decision making process.
Chats allow you to position your business as an authority and build trust during this critical stage in the sales funnel.
Even as the buying process has migrated from in-person interactions to online engagements, people are still wary when it comes to purchasing online.
While ecommerce is growing almost exponentially, this hesitation still persists, especially when it comes to a new brand that doesn't have a huge profile in the marketplace.
This is why live chat is such a valuable asset on your website. People still trust people when it comes to reaching a buying decision.
Live chat is a way to provide the best real time, personalized customer service. In a crowded marketplace, this can be the differentiator that closes the sale.
Messaging Apps Vs. Live Chat
There are two major ways chat is making its presence known in modern inbound marketing:
Messaging Applications
With the "OG" chat apps like AIM and Yahoo Messenger shutting down or relegated to niche use, Skype is probably the most visible and familiar of today's messaging apps. Newer names like WhatsApp, WeChat, and Viber also dominate the modern chat scene.
Traditional social media lets you amplify your voice and broadcast your message to many people at once.
via GIPHY
In an era ultra-focused on authenticity, however, chat apps do something that may be even better. Provide a convenient, confidential way to interact one-to-one.
The latest wave of chat applications evolved as a way to bypass SMS texting fees, but they have rapidly become much more.
Since so many apps now come with native support to send and receive payments, they represent a self-contained solution for commercial transactions.
There's virtually no cross-compatibility built into most of these apps, leaving communities that use each one as inhabitants of their own islands. Initiatives should be planned with this in mind.
In short, there may be hundreds of uses for modern messaging apps. The biggest challenge, however, is adopting and adapting to the platform that your ideal customers are already using.
Live Chat Widgets
The core reason why live chat is so popular? It works.
Timely intervention by live representatives can make the difference between a prospect bouncing or making a purchase.
Direct interaction with a representatives makes it much easier for visitors to access the information they want quickly. Many prospects prefer to ask questions of a live operator rather than look up very similar information in an FAQ.
via GIPHY
No matter what live chat solution you select, you'll get access to all of your website visitors. This is usually as simple as adding a little code to the pages where you want chat to be active and then installing a client for chat operators to use.
No article about chat would be complete without pointing out one of the biggest reasons it has companies so excited: artificial intelligence.
Many companies are already experimenting with AI-driven chat bots that can produce interactive experiences with customers. As of today, bots adoption is cautious, but optimistic. In the long run, however, many experts predict they will be able to deliver seamless customer care that is much more scalable than using individual service reps.
Live Chat Vs. Chatbots: The Pros & Cons of Each
A chatbot is an automated communication channel, using if/then logic and flows to engage with visitors. They can answer questions, send users to specific pages, and qualify visitors before routing them to a real person.
There are many pros and cons for both live chat and chatbots.
Some of the most notable pros of using live chat include the following:
You instantly connect with visitors and customers.
You can improve loyalty and retention by providing a positive experience.
The cons of live chat include:
Monitoring live chat requires a lot of your team's time.
Customers might wait for your agents, which hurts their experience.
Chatbots similarly come with plenty of advantages and disadvantages. The most notable pros include:
They're fast and customizable, streamlining lead qualification.
They're active around the clock.
And the downsides of chatbots include:
They don't work for businesses that call for thorough consultations or have complex services/products.
Some chatbots might feel too automated and turn off visitors.
Understanding the pros and cons of both live chat and chatbot functions will give you better insight into which is best for your business.
If you're in the market for live chat, you have a ton of amazing tools to look into.
Best Live Chat Software Options of 2020
Let's look at some of the most powerful, intuitive, and just plain useful live chat software options in 2020.
1. HubSpot Live Chat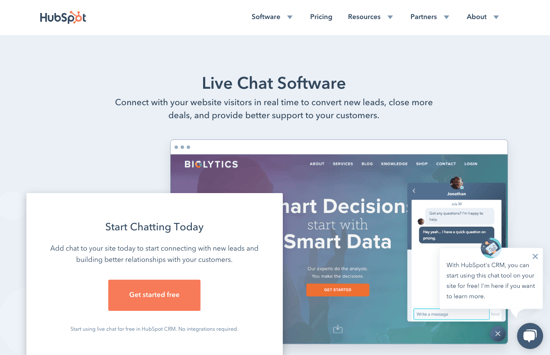 HubSpot Live Chat is just another awesome tool from the best of the best. There are plenty of amazing benefits you can enjoy using this free live chat software.
It works well on any platform and can be easily customized to match your website's look and feel. You can also build custom chatbots that fully integrate with live chat.
The software integrates seamlessly with Slack, making it easy for your team to respond to ongoing conversations from anywhere at any time.
Each of these conversations is automatically stored in contact records, making it easy for your teams to review past discussions to engage in more informed communications.
We're personally big fans of HubSpot's software here at Bluleadz. They meet all of our needs.
2. LiveChat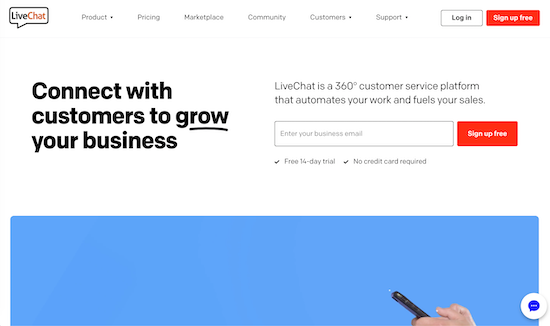 One of the pioneers of live web chat as we know it today, LiveChat has a robust feature set while still being easy to use. It allows you to review user activity throughout your site and invite users to chats proactively. Plus, customers can start a conversation any time.
LiveChat allows you to increase sales and improve customer satisfaction with 24/7 support. Each agent can have their own name, avatar, schedule, and much more.
Plus, it's easy to keep track of questions users have left when no agents are available, so following up is a snap.
LiveChat has a 4.5 star rating on G2 Crowd.
One user left a review saying, "LiveChat is a very complete tool, it is very easy to use and very effective when it comes to live chat communications, it can be accessed from your computer or mobile phone, which makes work faster and easier. It gives us information to follow up on our clients' requests, also allows us to communicate with several clients at the same time."
3. SnapEngage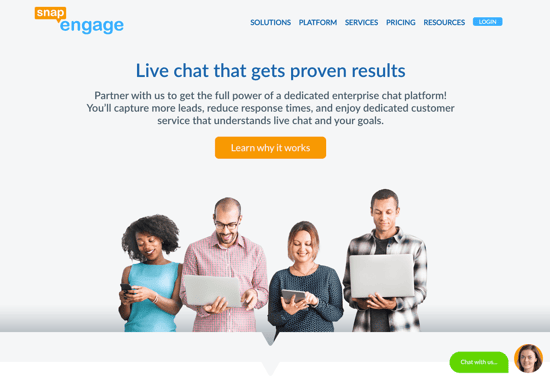 SnapEngage is well known as the chat choice more people switch to when they are dissatisfied with their current solution.
What's the draw? For one thing, it's fully customizable, providing a unique toolset that allows you to create the look and feel you want without a graphic designer.
SnapEngage boasts of being one of the most scalable, robust, and secure platforms around, so you will definitely want to consider it if you are in an industry where security is central. It is even compatible with the notoriously strict PCI and HIPAA standards.
What makes SnapEngage stand out for marketers is its deep analytics platform. You can access high-value insights into your user and agent behavior to improve your business.
G2 Crowd's rating of SnapEngage sits at 4.4 stars.
A user said, "SnapEngage is a very easy interface. With the added features of being able to customize to your companies needs and system. SnapEngage does a great job with asking questions and help meet the needs of your company and help you get the most out of their service."
4. HappyFox Chat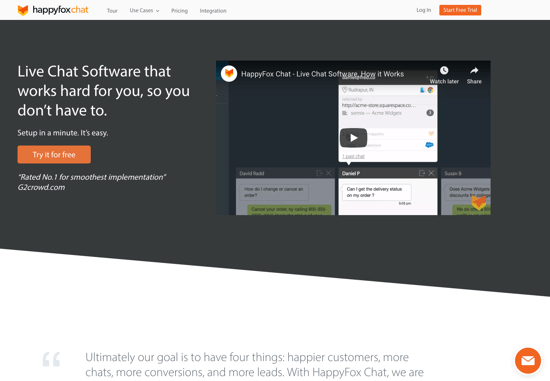 HappyFox Chat's reputation is built on its blazing fast speed and ultra-simple integration with a variety of apps and plugins you already use. You can streamline your business by synching up HappyFox Chat with Slack, Salesforce, and many others.
Simple, lightweight, and engagement-focused, HappyFox comes out of the box looking like the sharpest mobile apps. In addition to premium performance, its streamlined agent interface gives it an easy learning curve so you can get started right away.
HappyFox stands out by delivering all the info on specific customers, as well as "30,000-foot" trends, directly to you so you can use your data without losing track of the conversation.
G2 Crowd gives HappyFox a rating of 4.4 stars.
A HappyFix user shared, "After searching relentlessly for a live chat vendor, we finally came across HappyFox Chat and we have not looked back since. With so many integrations, we have been able to accommodate almost all of our needs directly through the interface. Moreover, the staff at HappyFox are always willing to help."
5. Zoho SalesIQ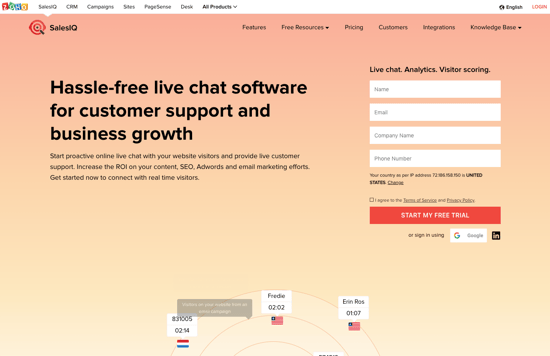 Zoho SalesIQ isn't the most famous name on this list of best live chat software, but it's winning fans across a range of industries for its various standout features.
In addition to a full compliment of tools for tracking and engaging visitors, it provides real-time lead scoring to help agents focus their efforts.
Zoho allows you to take a fine-grained approach to targeting web visitors for conversion with customized responses triggered by actions on your website. This gives you the opportunity to create a seamless user experience from your email campaign through to your website.
Zoho SalesIQ integrates beautifully with the company's own CRM, which can create powerful results for both sales and marketing pros. It's also compatible with Zendesk, Shopify, HubSpot and more. It's one of the only picks with a simplified "forever free" plan too.
Zoho SalesIQ has a G2 Crowd rating of 4.4 stars.
One user reviewed, "With Sales IQ, your company has the ability to easily allow customers to chat in with any questions they might have. This is very helpful especially being an associate that often times has to answer the phones at the same time somebody tries to chat in. With chat, we can walk customers through the purchase process, as well as discuss which product might best fit their situation."
6. Premium.Chat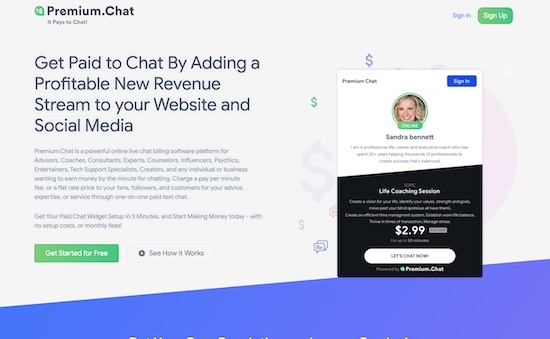 Premium.Chat is a live chat software built for billing by the minute. With the ability to set your own prices or charge a flat fee, your customers can speak with your sales reps or consultants to resolve their needs.
An omni-channel software, users and customers can engage through any mobile device or desktop browser. You can set your availability by setting a schedule or turning the chat off as well.
Premium.Chat is all about engaging with customers on your own terms, which, for certain businesses, is ideal.
7. Olark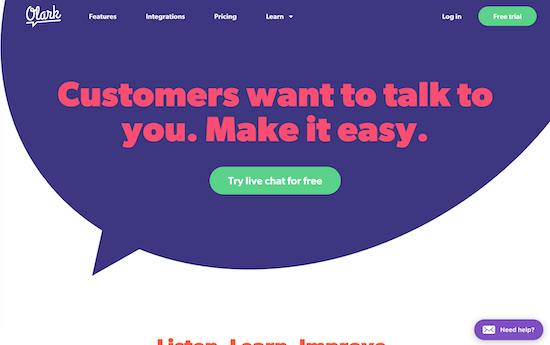 A highly customizable software, Olark is known for its user-friendly interface.
With triggered messaging, custom in-chat forms, and offline messaging capabilities, it's no mystery as to why it's a popular choice among businesses.
The offline messaging operates smoothly, allowing customers to leave a message that you can respond to via email. That way you don't miss a beat when following up with customer requests or questions.
Unlimited integrations and customer profile building tools build a pretty hefty deck as well.
G2 Crowd has a rating of 4.3 stars for Olark.
A user left a review saying, "With Olark you get a full customer support team for a fraction of the price. I love being able to create automated messages that pop up depending on the different web pages the visitor lands on. I choose what messages the visitor is greeted with and can A/B test each."
8. Smartsupp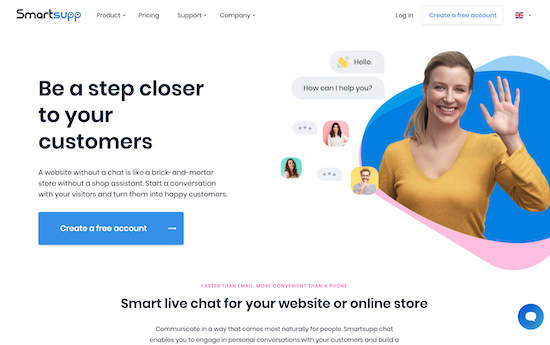 Smartsupp's chat allows you to instigate a personal conversation with your website visitors and convert them into customers. You'll have access to visitor info, a well-built dashboard, and mobile capabilities.
Automated messaging makes engaging with customers easy. And keeping up with metrics is even easier as you track statistics and user data on customer behavior.
With integration capabilities with platforms like WordPress and Shopify, you can bolster your website and bring personalization back to ecommerce.
Smartsupp has a 4.4 star rating on G2 Crowd.
One user left a review saying, "I've been using SmartSupp for a couple of weeks now and have been very impressed with how easy it is to setup and get going. They already offer free modules for some of the top e-commerce platforms, however it is just as easy to insert their javascript into the footer of your application."
9. Freshdesk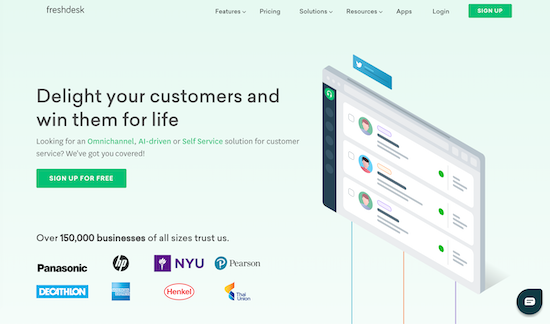 Freshdesk works as a centralized solution for communicating with customers and prospects. Any chat you capture through the app can be converted into a support ticket and delegated to another agent or staff member.
Plus, you can pull in messages from channels like email and social media.
This software might be the ideal solution for a business that handles lots of detailed support calls.
By automatically routing chats to the right person, you can streamline support and resolve issues the first time. Naturally, you can also start chats with your users proactively.
On G2 Crowd, Freshdesk has a rating of 4.4 stars.
One user left a review saying, "I really appreciate the built-in dashboards and actual ticket management features. There are some fairly obvious status indicators, which make it easier to find and address tickets in order of priority. Some the metrics have been very useful."
Unlock Your Website's Potential With the Best Live Chat Software
While you're reading this, your visitors are out there, clicking and scrolling through your site.
Are they finding what they need? Are they running into problems?
Live chat is one way you can rescue them. By using chat strategically and with a deft touch, you enhance engagement and accelerate the sales cycle.
But let's face it. With so many apps to choose from, finding the right option for your needs can feel overwhelming. There are dozens of other live chat software options that are built with unique features that might be the perfect fit for your company.
No matter your goals and your specific needs, you're sure to find the right tool that's the missing piece in your online customer service.
There's no better way to make a great impression and get prospects more comfortable with your brand.