So you've ramped up your online marketing efforts and worked hard on some campaigns—but you just aren't getting the conversion rates you want. Why is that, you may ask? Saying it's not in the cards just isn't a good enough reason.
We're inbounders, and we rely on hard data to figure out why our strategies aren't as effective as they should be. Much of this lies in targeting and engaging your audience and personas, and knowing what resonates with them.
This takes an entire team of people, from well-crafted content generators, marketers and website designers. As an article from Inbound Marketing Agents prompts you to think, "how do you know that your campaign or strategy is experiencing its full potential with your audience? How do you know that another method or strategy wouldn't be more successful?"
That's where A/B testing comes into play.
How Does A/B Testing Work?
Basically, it all starts with an audience, and testing that audience to see which content/site pages/etc. gets more interactions and clicks.
You can use A/B testing on:
Site pages
Landing pages
Emails
Design work
Take 50% of your audience, and allow them to see one version of your landing page, and the remaining half to see the other. From there, you can monitor each segmented list's reactions and see which has more engagement.
Then, you can mold and shape your future campaigns to match the ones that are the most effective from your visitors and leads. Pretty nifty, right? That's not all the bells and whistles from A/B testing. Yes, the obligatory, "Wait! There's more," is upon us.
Wait, There's More! The Benefits of A/B Testing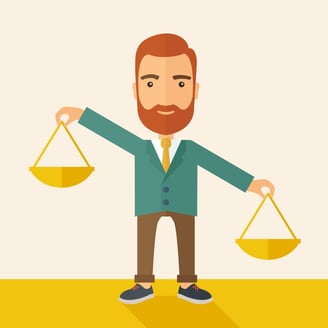 To answer your question—yes, there are a lot of ways that A/B testing can be used and implemented in your online marketing strategy. While it can be cumbersome and require twice the work, the long-time rewards you reap make the extra sweat worthwhile.
That said, don't let that deter you because there are a slew of benefits and ways you can utilize A/B testing to be a huge help for insights into your target audience.
Some of these strategies you can use are:
Format: The core of your inbound strategy should be to connect with your audience and encourage them to engage down the funnel from visitors, to leads and then customers. Sometimes, your target personas may prefer a video to a block of text with a picture. Other times, they may want pops of color or an easy-to-read interface in their email or landing page. Don't be afraid to experiment. Doing so can help you and your team discover what's most effective for your audience.


Time: When are your people online the most? This doesn't include niche time, which is 5 minutes before work or while at a red light. What time are you going to catch your target persona's attention the most? It might not be as easy as you think. For example, send something at 8AM to part of your list and wait until 2PM to send to the others. If you have more engagement from the 2PM email, it's quite possible that's when your audience will gain more value out of your content and campaign.


Tone: Have you ever written or said something and then thought afterward "I'm not sure if that came across the right way." It happens to the best of writers, orators and marketers alike. One tip to exploring this is split up and write content two different ways; for one, try having a more serious tone, and the other, be more conversational. See what people respond to more. While your business may already set a precedent for how your tone is, it's always important to reevaluate this. Even if you're very professional and corporate, consider lightening up a little (and vice versa, you don't want to be saying "Sup bruh" on a prospect email). No one wants to read stuffy text in their email— a middle-ground exists where you can keep it professional and fun.
The Takeaway
In short, A/B testing can gain "quantifiable, statistical information" about what resonates with your audience. It's these hard data goodies that can separate good marketers from great ones. Even if they don't necessarily buy from you, something as simple as following you on Twitter (hint hint) or being a supporter/evangelist of your brand is invaluable.
Being able to craft future campaigns and build on the success and knowledge gained from A/B testing makes it a very useful marketing tool to keep in your arsenal. Whet your stones, sharpen your swords and get out there and A/B test your campaigns!