One of the most exciting things for any business is to get new customers. Granted, you love your existing ones and go out of your way to keep them happy, but having a steady stream of leads is crucial to keep the dream going.
That said, it's also true that not everyone who visits your website is ready to make a purchase. And that's ok. It's part of the buyer's journey, and it behooves you (and them) to court them as you would any important relationship in your life.
You want to let them know you noticed they stopped by. You want to let them know that you want to help them — and that even if they're only looking for information right now, you'll happily provide them with helpful tips and tricks to make their lives easier.
Therein enters lead nurturing.
Lead nurturing is akin to watering the plants. You're taking the time to build relationships with potential customers during every stage of their buyer's journey, which encompasses three stages:
Awareness
Consideration
Decision
When you nurture your leads, you educate them on your brand — not just on how great it is, but on all aspects of the industry, such as common challenges they may face and how to solve them, helpful tips to solve minor pain points, and anything else that may relate to your goods and services.
Lead nurturing is key so that prospects will have your company in mind when researching their purchasing options.
Ok. Let's say that you're developing a new website. You have no idea how to get started, so you go on Google and type in: "How to create a new website." The results page shows you a list of step-by-step instructions. Some showcase cool features, depending on the platform.
It's all a bit overwhelming, but you enter your email address on one of the online forms you came across, because they offered to give you a 20 percent discount on their Professional Plan in exchange for it.
You start receiving marketing emails with genuinely helpful information, such as how to choose the right web host for your business, how to choose a domain name, available site plugins and what they can do, search engine optimization recommendations, etc…
You go down this rabbit hole of information, excited about everything you're learning. All of a sudden, what's valuable to you it's not just the 20% discount. It's all the helpful content that will make it a lot easier for you to set up your site.
It may take months, but when you're finally ready to make a purchase, that company who sent you all those emails will likely be top of mind — and you'll probably purchase from them over long-forgotten companies from when you first started doing research.
The lesson? Always be customer-centric when nurturing your leads. Provide them with information that is useful to them. Educate them, walk them through processes, and pretty much become an industry expert they come to rely on.
Listen, we know you're busy. But there are certain things that require your attention. And if you don't have time to give it, you can always hire someone who does. Below are several good reasons why developing a lead nurturing strategy is one of those things:
It can be tailored to the reader's individual needs.
Sending cookie-cutter emails shows that you're out of touch. It also sends the message that you're treating readers like fungible goods. That's not a good look for your business. But with the right tools, you can segment leads according to their categories (new blog subscribers, people who've requested demos, etc…). Doing this sets the stage for you to craft emails that are relevant to them.
Leads read it at a time that's convenient to them.
The beauty of email marketing is that it's not disruptive. Your leads can read your messages while they wait in line for their Starbucks coffee, or while they're killing time five minutes before their next Zoom meeting. Therefore, you have their focused attention, if only for a short amount of time.
You can use it as educational, promotional, or reengagement strategies.
B2B sales cycles are longer because they require a bigger investment and research process. Email marketing lets you educate them on things that may not even be on their radar. You can also inform them of new products, features, or services; as well as reengage people who've disappeared for a bit.
You remain in communication with your target audience.
Out of sight, out of mind — especially in a world of instant gratification and where people have the attention span of a gnat. Email marketing lets you stay at the forefront of their mind so that whenever they have a query or are ready to buy, they think of you first.
It helps build long-term relationships with your audience.
Remember that longer sales cycle thing? Well, you want to figuratively hold their hand every step of the way. People aren't always ready to buy. But you can send them useful information that's not salesy, birthday wishes, industry news, or let them know about fun little things like a loyalty or referral program. The sky's the limit.
It helps establish yourself as an industry expert.
When it comes to baking the perfect apple pie or making your home look like a Nantucket summer rental, people often go to Martha Stewart's website for ideas. Why? Because she puts out so much content about those topics, that people already know she's the queen of homemaking. Email marketing is a crucial component of sharing your expertise in ways that help people right here, right now, pretty regularly.
Lead nurturing can take many forms. Which one you'll want to use depends on who's your buyer persona and their preferred method of consuming information. Common examples include:
1. Email Drip Campaigns
An email drip campaign involves sending a series of automated communications to prospects over a predetermined period of time. The name comes from "dripping" these messages on a consistent basis.
The content of these emails has to be related to an action they have recently taken. For example, if someone downloaded an ebook on how to use HubSpot's Service Hub, you can create a stream of content showcasing different features, walking the reader through the steps they need to take to accomplish their customer support goals, listing tech stack software that integrates with HubSpot, etc.
These types of campaigns provide value and keep prospects engaged.
2. Newsletters
You want to deliver newsletters on a predictable schedule. You also want to remain consistent with the design, so that readers can know exactly where to refer to depending on their particular needs: product/service announcements, event calendars, a link to your most recent blog, educational resources, industry news, etc.
Develop a strategy prior to crafting them. What's your main goal? Is it to generate more leads? Is it to increase user engagement with your website? To get more people to subscribe to your blog?
Once you know their main purpose, craft your content to move the needle in that direction.
3. Blog Posts
Blog posts are a staple in inbound marketing campaigns because they often show up in search engine results pages (SERPs) when people do online searches. They are a great way to generate leads because they consistently provide value to the reader.
Write them with your buyer persona in mind. What are their pain points? What information would alleviate some of them? What are some of their hesitations and how can you help them overcome them?
Then promote it! On your marketing emails, newsletters, and social media posts.
4. Personalized Messages
Personalized messages are effective because they show leads that you value them. These types of communications can include suggested readings based on the content they viewed on your page, product suggestions based on previous inquiries, or simple congratulations on their birthday (if you have that information in your database).
Other tips include addressing them by their name, following up on previous communications, reminding them of their abandoned cart, or helpful tips about something they're currently going through or an upcoming event.
For example, if you're a running store and Running Rhonda mentioned she was training for the New York City marathon when she inquired about your inventory, send a message regarding training, stretching, or fueling properly.
5. Free Long-Form Content
While blogs can certainly be long (like this one), certain topics can delve into so much detail that it makes sense to organize it as a whitepaper or ebook.
Or maybe you've created an extensive report on a specific topic. If you have created such content, offer it for free to people who sign up to your email newsletter. This is called a lead magnet for a reason.
6. Video Tutorials
Video content is popular because it helps consumers better understand a product or service. They're also easy to share.
You can include them as part of your marketing emails, newsletters, or social media posts, and you can include specific call to actions within it to compel users to take a desired action.
And just as with blogs, you can create a video series for more complex concepts. Make sure to invite your prospects to subscribe to your marketing materials to continue receiving subsequent installments.
There are several components that will help your lead nurturing campaigns run smoothly and effectively:
Omni-Channel Experiences
You want leads to have a seamless cross-channel experience. Also, you want to nurture leads through cross-channels because even though email marketing is effective, not everyone will open them.
If someone was browsing a product on your website, you can send targeted ads and messages through social media. You can also use social media management tools to monitor all mentions of your business (or industry conversations) so that you can engage in one-on-one conversations with prospects.
Personalization
Personalization lets prospects know you're paying attention. If you use a content management system (CMS) like HubSpot, you can provide smart content and dynamic calls to action based on the web visitor's category.
And as previously mentioned, you can send marketing emails and targeted ads based on previous user behavior.
Workflow Triggers
It's important that you define which actions will trigger your lead nurturing automation.
For example, sending reminders of items in abandoned carts, a welcoming message to people who just subscribed to your newsletter, or follow up information for leads who downloaded an ebook.
Testing, Analysis, and Adjustments
You'll always want to double — maybe even triple — check your campaign before you make it go live. Check for technical errors, spelling, grammar, and personalization. Make sure that the entire flow is cohesive and smoothly moves from one stage to the next.
As you collect data, perform a comprehensive analysis of every aspect of your campaign. What does your click-through rate look like? How's your conversion?
Once you start seeing some return on what's working and what isn't, you can make adjustments to try and refine your strategy.
​​Lead nurturing doesn't have to be as complicated as it may sound. It can actually be quite simple, becoming a natural process in your marketing strategy once you've figured out a plan of approach.
Here are some best practices to help you map out an action plan for your brand:
1. Develop Buyer Personas.
To better understand your prospects and the lead nurturing process, you should turn to buyer personas.
These profiles are a representation of ideal customers, allowing marketers to determine whether leads are likely to convert based on their demographics, pain points, and more.
Create buyer personas and collect lists of quality leads who will most likely buy your products or services by gathering information like:
Geographic location
Gender
Job title and role
Industry/company
Income
Commonly listed challenges or problems
This information will help you strategize and develop content that is targeted not only to potential customers overall, but tailored for each stage of the buyer's journey.
2. Segment Your Contacts.
Once you have enough buyer personas to identify all of your potential leads, segmenting them into more specific lists becomes easier.
Your email open rates increase by roughly 15 percent when your outreach is more targeted. There are multiple ways to segment your leads. Here are just a few:
Sign-up date
Subscriber activity
Customer's interest
Job type
Industry
All of that sounds fine and dandy, but how does it help streamline the process? That's where automation comes in handy.
3. Automate Processes.
Lead generation software provides a variety of tools meant to improve CRM strategy and management. Many are multipurpose, providing services from automating your emails to creating forms and surveys meant to convert visitors.
Automating your outreach helps keep you organized. You'll be able to send the right emails to the right people — in the right groups at the right time. Automation also follows up with leads, and helps prevent qualified leads from falling to the wayside.
4. Use Personalized Content.
After converting leads, you should craft personalized content that is essential for building closer business-customer relationships. Examples include:
Greeting customers with their names in emails
Offering exclusive deals and coupons
Sending personal responses to customer questions or social media posts
These interactions show prospects that they are acknowledged and valued. So stay away from one-size-fits-all responses, such as canned statements to customer complaints.
5. Implement Interactive Content
Interactive content keeps users engaged and gives you insights into who they are and their specific needs. This is crucial to provide a customized experience.
So include items such as surveys, quizzes, calculators, playlists, food ordering, and/or anything else that lets them provide information to their heart's content.
6. Follow Up With Leads Promptly.
Get back in touch with leads as soon as possible. Every moment you wait gives them ample opportunity for them to do business with a competitor. Use service software that streamlines this process by selling notifications to your support team as soon as a new message is received.
Also, reply with tailored content. Do not use boilerplate language, even if you're receiving a frequently asked question. You always want to give the impression that your prospects are important to your business — because they are.
7. Pace Your Marketing Communications.
Don't be obnoxious with your communications. You want to be helpful; not spammy. Plus, if enough people report you as spam, your emails are going to start getting directed to that folder.
Depending on your industry and business, weekly or biweekly may be ideal. And make sure each of them serves a purpose. Don't just send context to tick a box.
8. Regularly Look for Ways to Improve CX.
Everyone and their mother sends marketing emails. So you'll have to go the extra mile to provide an extraordinary user experience.
Work on compelling subject lines, and deliver on that promise, every time. Make your content appealing and scannable.
Make it easy for leads to move around your content intuitively — being able to click on your logo to reach your website, allowing them to schedule appointments directly from the communications, and providing an unsubscribe link at the bottom.
9. Develop a Lead Scoring Strategy.
Lead scoring is a means of identifying where leads are in their journey specific to your business model.
Every strategy varies between brands and industries, so it's important that your marketing and sales teams work together to develop the scoring system.
Even though the details may vary, there are four elements that should be implemented into every strategy in an effort to properly evaluate lead:
Lead Fit
This is where you should examine how a lead matches your business' ideal buyer.
If they're a qualified prospect, then they fit. You can evaluate if they are worth pursuing by looking at the data your receive from them early on through gated content:
Demographics: The lead's job title, location, company size, etc.
Firmographics: The company's name, location, size, revenue, etc.
Budget, authority, need, time: Does their budget allow for your services? Do they have the authority to purchase? Can you ease their pain points? What is their timeline?
Lead Interest
Monitoring lead activity will let you in on if a lead is actually interested in buying or not.
Observe how long they spend on your website and if they're active on social networks. You can keep track of where individual leads are ranking in interest by assigning a numerical value to each behavior.
Lead Behavior
You can learn if a lead actually intends to buy or is just looking up information by monitoring their behavior on your site.
For example, a lead that has downloaded gated content is more serious than one who has clicked on only a couple of blogs. Score these behaviors as well and assign them in the same way you track lead interest.
Buying Stage
This is where scoring becomes a lot more specific to your business' own brand.
Using your own sales model as reference, score based on where a lead is within your sales funnel, which can be assessed from how they scored in the other categories.
We mentioned before that a successful marketing and sales strategy is developed with the buyer's journey in mind, but what does that mean?
Each stage can be used as a tent pole for your strategy, especially when it comes to generating leads via content.
Awareness Stage Lead Nurturing Ideas
Content in this stage starts the visitor-to-lead conversion process on your website. It's meant to educate them on what your business offers and encourages them to engage to find out more.
Offer content that will help your visitors identify their problems or goals and if they're in a place to prioritize them or not. Some content ideas for this stage include:
Blog posts: Educate all of your website visitors through regular blog posting. Make sure you cover all industry and brand specific topics so that you're providing true value to those reading.
Videos: How-to and training videos are a great means of educating your audience in a more engaging and personal way.
Social media posts: Being active on social media shows that you're staying relevant and consistent. Nowadays, it's also the best way to promote your company and raise awareness.
Infographics: These content offers are a great resource for visitors who need a little help identifying what their specific problem is.
Consideration Stage Lead Nurturing Ideas
In the consideration stage, your lead has already figured out what problem or goal they're facing and are ready to move toward resolving them.
They'll be looking for content that will inform them on different solutions and avenues to take. Provide them with what they're looking for through these content forms:
Email newsletters:

Create a brand-specific newsletter to keep your audience current on all of your campaigns and offers.
Ebooks: Probably the most valuable way to provide educational content to visitors, you can provide insight into their specific problems while promoting your business as an expert on the matter.

Whitepapers:

A more in-depth means of learning specific information, serious buyers will find whitepapers incredibly valuable.
Case studies: Attract buyers by showcasing how your campaigns have helped others with statistics and research results.
Webinars: Engage with your leads directly through webinars, allowing them to put a face to the brand name. It's a more personalized way of educating.
In-person events: The best way to form relationships with leads is to interact with them directly. Host and promote live events where your leads can receive valuable information on solutions and your company.
Decision Stage Lead Nurturing Ideas
This is the end of the race. Here's where your content is meant to encourage your leads to take the leap.
Your buyers want last-minute confirmation that they're making the right decision, so you should provide them that comfort with this stage specific content:
Product or service demos: Demos are a great way to shine your brand in a positive light and earn customer loyalty.
Free trials: Everyone loves free things, especially buyers. They'll be grateful to know they can try what you are offering before they hand over their credit card information.
Pricing page: Make this page as accessible as possible, because a lead that's at the bottom of the funnel will be looking for it. Seal the deal quickly by erasing the hassle of purchasing.
There are certain steps that you don't want to skip unwittingly. Here's a step-by-step guide to building a great lead nurturing strategy:
Align Sales and Marketing.
Even though it's a notoriously difficult thing to do, it's crucial to your strategy for you to get marketing and sales on the same page.
You can start by defining who qualifies as a lead for both teams. Your lead scoring strategy will be useful here. Sales will be able to identify which visitors are a greater priority after the marketing team attracts them in.
Create Lead Management Processes.
Once generating leads is no longer a problem, you'll need a means of organizing them all.
You don't want your CRM to become cluttered with unqualified leads and dead ends. The sales team's time and resources should be spent nurturing leads that can actually be moved down the sales funnel.
Define a system that will dictate how leads will be registered, qualified, when follow-ups should happen, and what lead information data is needed so that the nurturing process can be successful.
Have buy-in from both the sales and marketing team so that there's no slowdown once your campaign goes live.
Collect Data on Leads.
Your goal should be at the forefront of your buyer's mind when they think about finding a solution to their problem.
The best way to achieve that is by thoroughly understanding your lead and providing them with relevant information at every point of interaction.
Gather all of this data through customer interviews, identifying topics of interest, monitoring their online activity, and researching the lead and/or their company as completely as possible. The more you can cater to their needs and interests, the more likely they'll make a purchase.
Create a Lead Timeline.
It's important that you give attention to each and every relationship that you create with your leads.
Doing so can get very complicated very fast as you struggle to remember which lead is at which stage in your sales cycle and if you followed up with them.
Simplify the process by creating a content timeline where you can log each interaction with specific leads. Great CRM and automation software is invaluable during this step.
Promote Your Brand Through Email Marketing.
You can communicate just about anything you can imagine to your leads through email, so wield that power strategically.
Whether it be via email newsletters, educational content, or event invitations, keep in touch with your subscribers and leads to stay current in their minds.
Email marketing is a big part of lead nurturing since emails are how you keep in touch with your prospects.
Put effort into making sure your content, templates, and even images are going to entice them to keep their relationship with your brand. Don't forget to personalize what you send out, keeping them straightforward but engaging.
Track Your Metrics.
The only way to find out whether your efforts are effective is to track their performance. If there's a flaw in your campaign, the whole strategy could be at risk of being scrapped if you can't identify where the problem is occurring.
Track and analyze metrics that are related to your goals so that you have actual results to show how your efforts are performing. You should evaluate what content generates leads and how well while also identifying where your leads are coming from.
Alright. Let's tie this up neatly in a HubSpot bow by taking a closer look at all the platform's tools that will help you optimize your lead nurturing efforts:
1. HubSpot Customer Relationship Management (CRM)
Any time a lead calls your business, emails you, reaches out through a contact form, or any other touchpoint, the information should be saved into your customer relationship management (CRM) software.
In addition, you want to segment your contacts, so that you have a leads category. This will make it easier to provide them with relevant information every time you reach out to them. And of course, I'm going to tell you that HubSpot's is the best one, because it's true. And you have nothing to lose by trying it out, because the basic plan is free. You read that right. It'll cost you nothing. And that tier is still big enough to store up to a million contacts. That's a lot of people to nurture.
2. Custom Objects
Standard objects is how you organize your data in your CRM: contacts, companies, deals, and tickets. Pretty straightforward. But all businesses are not created equal, and you want your database to be organized in a way that makes sense for you. Enter custom objects.
You can create custom objects on HubSpot for things like vendors, webinar registrants, newsletter subscribers, or [insert whatever you want]. This feature is only available to enterprise subscriptions, and you can either set them up manually or import them automatically.
3. Email Marketing Templates
HubSpot also has a wide array of email marketing templates. Make them look the way you want, create compelling calls-to-action, have them match your brand style and colors, and anything else that strikes your fancy — without the need to learn anything about coding. And just as with the CRM, they have a free email templates builder. Or design one from scratch, if that's what makes your heart sing.
4. Automated Workflows
There are things that are nuanced and complex, and thus require your undivided attention. But there are also plenty of repetitive tasks, or to-do items that require paying close attention to every user behavior in order to get them done timely. Having any of your team members do the latter is impractical. HubSpot solves this problem by enabling you to set specific triggers to deploy certain communications.
You can also set up alerts within these automated workflows to notify members in your marketing and sales teams when leads have moved along your pipeline or have remained stagnant for too long.
5. Smart Content
First time website visitors and returning leads should not be viewing the same content. Use software that will allow you to display different messaging depending on the lead's category, such as HubSpot's smart content feature. This lets you draft alternative versions of your information that would serve them best — increasing the likelihood that they engage with your content.
Examples include: "Welcome back!" or "Here are product suggestions, based on your specific needs."
6. Content Management System (CMS)
HubSpot's CMS is truly a life saver. Just as with emails, you can use templates, create call to action buttons, anchor links, and edit easily. It's extremely user-friendly and comes with additional features that are typically third-party plugins in other CMS platforms, such as SEO recommendations, mobile optimization, AMP support, and analytics.
7. Service Hub
Every time someone reaches out to you, HubSpot makes it a cinch to have someone from your team reply as soon as possible — through conversation routing, shared inbox, live chat, and help desk ticketing.
It keeps all communications in one centralized location, regardless of whether they come through via email, social media, landing page form, or through replying to a marketing text message. No more leads falling through the cracks.
By the same token, ensure that multiple tickets submitted by the same person are consolidated into one, to keep everything organized.
8. Lead Scoring
There are different types of leads, and you want to focus the majority of your efforts on those who are most likely to convert into customers (please don't ignore the rest, though).
HubSpot analyzes the entire history of your past sales to evaluate how likely your leads will ultimately make a purchase from you. You can set up point values to each action, so that you can better determine which stage in the buyer's journey a particular lead has reached. Criteria may include factors such as job titles, industry, page views, etc…
9. Custom Dashboards
All of these tools are divine and all that jazz, but you still need to measure the effectiveness of each campaign. HubSpot lets you create customized dashboards to measure the metrics that are important to each team member. No need to panic if something's not working as expected. Discovering these insights is part of the process and lets you pivot to something that resonates better with your audience.
While all of these tools are useful for businesses across all industries, the best way to use them may vary depending on your specific campaigns. For example, if you're promoting new services, your email marketing strategy should include well-timed deployed messages; or communications that vary depending on a user's stage in the sales funnel. Thus, what to automate and when to automate it may vary.

Also, creating workflows is very user-specific, and requires being well-acquainted with the nuances of your marketing strategies to use them effectively. But not to fret, dear readers. If all of this is too overwhelming or if you're wondering whether you're using any of these tools ineffectively, you can always conduct a HubSpot audit — or better yet (infinitely better), we can do it for you.
There's no denying that lead nurturing takes time and thought, but it's definitely worth it, when it comes to ROI. Here a just a few great examples showcasing lead nurturing done right:
Casper
Casper puts a cute spin on their follow up email for customers who have abandoned their cart.
It's straightforward while still begin clever, which gets the customer to actually read it. They're invited to revisit their online cart with a visual reminder of what they were purchasing.
A couple of CTAs and a well placed customer review encourages the customer to finish the deal.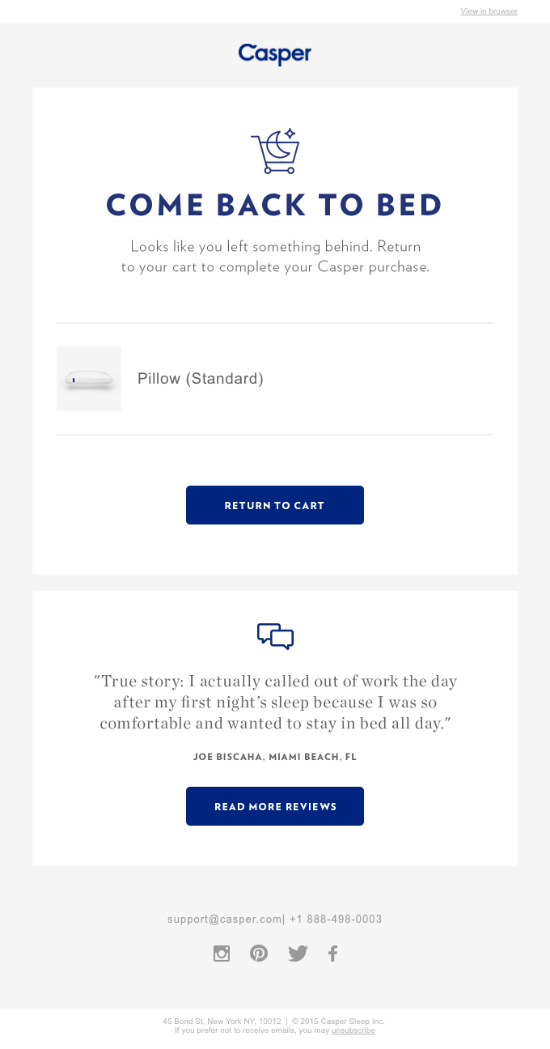 Source: ReallyGoodEmails
Typeform
Typeform is a great example of how to provide value in an email.
Their email copy is incredibly informative while staying warm and friendly. They aim to be relatable and straightforward, earning the trust of their leads and subscribers.
With a great workflow in place, they welcome new members, send outreach emails to inactive users, and promote their fun arcade game, Form Invaders!
Chubbies
This retail company maintains their reputation of being witty in their emails.
Chubbies leverages their strong social presence in their newsletter, implementing user content and promotions to attract leads while still being funny.
It's still chock-full of information, just painted under humor and cheek. They do a great job of keeping their content relatable, attractive, and engaging.

Source: ReallyGoodEmails
Airbnb
Airbnb has always done a great job of igniting a travel itch in their emails with breathtaking images of all the beautiful destinations where they provide accommodations.
It's a pretty blatant shot toward the goal of enticing someone to book a stay — but who's going to call them out on it if it works?
Their emails provide targeted location offers based on a user's past search history, with subtle CTAs that don't feel all that pushy. It's a curated touch that subscribers enjoy, regardless of whether they had been planning a tript.
Duolingo
Duolingo is known for being on top of their game when it comes to marketing and user retention.
While Duo, their owl mascot, has earned the reputation of hunting inconsistent users down, the company's newsletters lean a bit further away from guilt tripping.
With the introduction of language clubs and competitive learning, there's some great opportunity to revitalize app use while promoting a new feature in an email like the one below. The CTAs are very forward, but it matches the fun, competitive tone of the rest of the copy.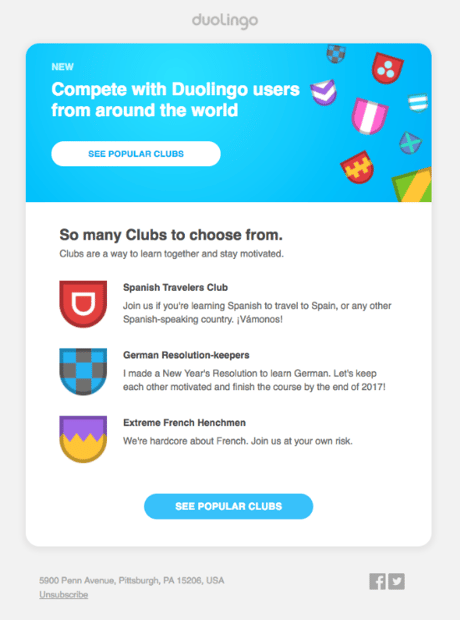 Source: ReallyGoodEmails
You're well on your way to grasping the true value of a lead nurturing strategy. And even if you're already implementing a lot of the best practices discussed above, it's always beneficial to have a certified HubSpot expert go over what you're currently doing to see if there are any ways to maximize your ROI. Let us be that person for you.