Say you have hundreds of thousands of visitors and a huge list of leads, but your conversion rates are still alarmingly low or your sales are fluctuating month to month.
You wouldn't be the only ones.
HubSpot's research found that 61 percent of marketers have reported that generating traffic and leads is their top challenge. Why is this such a huge obstacle? What's missing from your content marketing strategy?
The answer is lead nurturing neglect. Lead nurturing is crucial to develop sustainable customer and business relationships, but also consistently overlooked.
To be successful in converting leads into customers, marketers should focus on this practice first and foremost. Otherwise, they run the risk of spending money to grow their visitors, and then having them ultimately fail to convert.
What Is Lead Nurturing?
via GIPHY
This content marketing technique involves building relationships with potential customers during every stage of the inbound marketing and sales process. HubSpot breaks down the buyer's journey into the following:
Awareness Stage
Consideration Stage
Decision Stage
Use lead nurturing to first educate prospects on your brand and ensure prospects continue to move to the next steps in the sales funnel: the consideration and decision stages.
Lead nurturing is key in the consideration stage so prospects will have your company in mind when researching their purchasing options.
In the decision stage, when making their purchase decisions, prospects will compare their buyer-customer relationships and which brands' products and services are the best solutions to their problems before closing the sale.
Why Lead Nurturing Is a Must
Without lead nurturing, buyers are likely not ready to take meaningful action to convert and marketers will fail to close the sale. A MarketingSherpa report found 73 percent of B2B leads are not ready to become customers.
via GIPHY
This is where lead nurturing breaks through barriers so brands can continue to earn the trust of visitors and prospects can perform actions that make them closer to becoming customers.
With lead nurturing, your marketing and sales teams can more efficiently build relationships that are personable and sustainable – the goal of any company that wants to make a long-lasting impact in their industry and their customer base.
Lead Nurturing Best Practices
Lead nurturing doesn't have to be as complicated as it may sound. It can actually be quite simple, becoming a natural process in your marketing strategy once you've figured out a plan of approach.
Here are some best practices to help you map out an action plan for your brand:
Start with Buyer Personas.
To better understand your prospects and the lead nurturing process, you should turn to buyer personas.
These profiles are a representative of ideal customers, allowing marketers to determine whether leads are likely to convert based on their demographics, pain points, and more.
Create buyer personas and collect lists of quality leads who will most likely buy your products or services by gathering information like:
Geographic location
Gender
Job title and role
Industry/company
Income
Commonly listed challenges or problems
This information will help you strategize and develop content that is targeted not only to potential customers overall, but tailored for each stage of the buyer's journey.
Leverage Segmentation and Automation Processes.
Once you have enough buyer personas to identify all of your potential leads, segmenting them into more specific lists becomes easier.
Your email open rates increase by roughly 15 percent when your outreach is more targeted. There are multiple ways to segment your leads. Here are just a few:
Sign-up date
Subscriber activity
Customer's interest
Job type
Industry
All of that sounds well and good, but how does it help streamline the process? That's where automation comes in real handy.
Lead generation software provides a variety of tools meant to improve CRM strategy and management. Many are multipurpose, providing services from automating your emails to creating forms and surveys meant to convert visitors.
Automating your outreach helps keep you organized. You'll be able to send the right emails to the right people in the right groups at the right time, follow up with leads, and keep from letting qualified leads from falling to the wayside.
via GIPHY
Use Personalized Content for Leads to Grow with You.
After converting leads, you should craft personalized content that is essential for building closer business-customer relationships. Examples of personalized content include:
Greeting customers with their names in emails.
Offering exclusive deals and coupons.
Sending personal responses to customer questions or social media posts.
These interactions should show prospects that they are acknowledged and valued.
Prospects want to feel like they are special. So stay away from one-size-fits-all responses, like prepared statements to customer complaints on social media, because they'll likely have the opposite effect.
Create Content with a Lead-Nurturing Focus.
As a tool for lead nurturing, content should be designed to push prospects through the sales funnel, starting by gaining the attention of strangers and visitors.
Use specific forms of content to attract prospects to your site, like:
Search engine optimized pages and keywords
Social media and blog posts
Non-organic content like pay per click ads
Value-centered landing pages
In addition to making prospects more aware of their challenges, you can use content marketing to make content offers so visitors will provide information and become leads.
These offers are effective because they quickly show that your company provides value and gives them an intriguing look at what your brand has to offer in the long run.
Develop a Lead Scoring Strategy.
via GIPHY
Lead scoring is a means of identifying where leads are in their journey specific to your business model.
Every strategy varies between brands and industries, so it's important that your marketing and sales teams work together to develop the scoring system.
Even though the details may vary, there are four elements that should be implemented into every strategy in an effort to properly evaluate lead:
1. Lead Fit
This is where you should examine how a lead matches your business' ideal buyer.
If they're a qualified prospect, then they fit. You can evaluate if they are worth pursuing by looking at the data your receive from them early on through gated content:
Demographics: The lead's job title, location, company size, etc.
Firmographics: The company's name, location, size, revenue, etc.
Budget, Authority, Need, Time: Does their budget allow for your services? Do they have the authority to purchase? Can you ease their pain points? What is their timeline?
2. Lead Interest
Monitoring lead activity will let you in on if a lead is actually interested in buying or not.
Observe how long they spend on your website and if they're active on social networks. You can keep track of where individual leads are ranking in interest by assigning a numerical value to each behavior.
3. Lead Behavior
You can learn if a lead actually intends to buy or is just looking up information by monitoring their behavior on your site.
For example, a lead that has downloaded gated content is more serious than one who has clicked on only a couple of blogs. Score these behaviors as well and assign them in the same way you did lead interest.
4. Buying Stage
This is where scoring becomes a lot more specific to your business' own brand.
Using your own sales model as reference, score based on where a lead is within your sales funnel, which can be assessed from how they scored in the other categories.
Lead Nurturing Ideas for Each Buyer Journey Stage
We mentioned before that a successful marketing and sales strategy is developed with the buyer's journey in mind, but what does that mean?
Each stage can be used as a tent pole for your strategy, especially when it comes to generating leads via content.
Awareness Stage
Content in this stage starts the visitor-to-lead conversion process on your website. It's meant to educate them on what your business offers and encourages them to engage to find out more.
Offer content that will help your visitors identify their problems or goals and if they're in a place to prioritize them or not. Some content ideas for this stage include:
Blog posts: Educate all of your website visitors through regular blog posting. Make sure you cover all industry and brand specific topics so that you're providing true value to those reading.
Videos: How-to and training videos are a great means of educating your audience in a more engaging and personal way.
Social media posts: Being active on social media shows that you're staying relevant and consistent. Nowadays, it's also the best way to promote your company and raise awareness.
Infographics: These content offers are a great resource for visitors who need a little help identifying what their specific problem is.
Consideration Stage
In the consideration stage, your lead has already figured out what problem or goal they're facing and are ready to move toward resolving them.
They'll be looking for content that will inform them on different solutions and avenues to take. Provide them with what they're looking for through these content forms:
Email newsletters: Create a brand-specific newsletter to keep your audience current on all of your campaigns and offers.
Ebooks: Probably the most valuable way to provide educational content to visitors, you can provide insight into their specific problems while promoting your business as an expert on the matter.
Whitepapers: A more in-depth means of learning specific information, serious buyers will find whitepapers incredibly valuable.
Case studies: Attract buyers by showcasing how your campaigns have helped others with statistics and research results.
Webinars: Engage with your leads directly through webinars, allowing them to put a face to the brand name. It's a more personalized way of educating.
In-person events: The best way to form relationships with leads is to interact with them directly. Host and promote live events where your leads can receive valuable information on solutions and your company.
Decision Stage
This is the end of the race. Here's where your content is meant to encourage your leads to take the leap.
Your buyers want last-minute confirmation that they're making the right decision, so you should provide them that comfort with this stage specific content:
Product or service demos: Demos are a great way to shine your brand in a positive light and earn customer loyalty.
Free trials: Everyone loves free things, especially buyers. They'll be grateful to know they can try what you are offering before they officially buy in.
Pricing page: Make this page as accessible as possible, because a lead that's at the bottom of the funnel will be looking for it. Seal the deal quickly by erasing the hassle of purchasing.
How to Build a Lead Nurturing Strategy
Now, with lead nurturing being as important as it is, you definitely don't want to just wing it when it comes to creating your strategy.
There are certain steps that you don't want to skip on accident. Here's a step-by-step guide to building a great lead nurturing strategy:
1. Align Sales and Marketing.
via GIPHY
Even though it's a notoriously difficult thing to do, it's crucial to your strategy for you to get marketing and sales on the same page.
You can start by defining who qualifies as a lead for both teams. Your lead scoring strategy will be useful here. Sales will be able to identify which visitors are a greater priority after the marketing team attracts them in.
2. Create a Lead Management Process.
Once generating leads is no longer a problem, you'll need a means of organizing them all.
You don't want your CRM to become cluttered with unqualified leads and dead ends. The sales team's time and resources should be spent nurturing leads that can actually be moved down the sales funnel.
Define a system that will dictate how leads will be registered, qualified, when follow-ups should happen, and what lead information data is needed so that the nurturing process can be successful.
Have buy in from both the sales and marketing team so that there's no slowdown once your campaign goes live.
3. Collect Data on Leads.
Your goal should be at the forefront of your buyer's mind when they think about finding a solution to their problem.
The best way to achieve that is by thoroughly understanding your lead and providing them with relevant information at every point of interaction.
Gather all of this data through customer interviews, identifying topics of interest, monitoring their online activity, and researching the lead and/or their company as completely as possible. The more you can cater to their needs and interests, the more likely they'll make a purchase.
4. Create a Lead Timeline.
It's important that you give attention to each and every relationship that you create with your leads.
Doing so can get very complicated very fast as you struggle to remember which lead is at which stage in your sales cycle and if you followed up with them.
Simplify the process by creating a content timeline where you can log each interaction with specific leads. Great CRM and automation software is invaluable during this step.
5. Promote Your Brand Through Email Marketing.
You can communicate just about anything you can imagine to your leads through email, so wield that power strategically.
Whether it be via email newsletters, educational content, or event invitations, keep in touch with your subscribers and leads to stay current in their minds.
Email marketing is a big part of lead nurturing since emails are how you keep in touch with your leads.
Put effort into making sure your content, templates, and even images are going to entice leads to keep their relationship with your brand. Don't forget to personalize what you send out, keeping them straightforward but engaging.
6. Log Your Metrics.
All of this could be for not if you don't have a means of reflecting on what works and what doesn't. If there's a flaw in your campaign, the whole strategy could be at risk of being scrapped if you can't identify where the problem is occurring.
Track and analyze metrics that are related to your goals so that you have actual results to show how your efforts are performing. You should evaluate what content generates leads and how well while also identifying where your leads are coming from.
How to Create a Lead Nurturing Workflow
Developing a strategy and putting it into practice are two different things, right?
A marketer's most reliable means of nurturing leads is through an email workflow campaign, so we'll go over what that actually entails below:
1. Set Your Goals.
via GIPHY
In order to define the purpose of your workflow, you have to have specific goals to work toward.
Make sure that you have SMART goals (specific, measurable, attainable, realistic, and timely) in place, or you run the risk of being too vague. A goal that's too broad can either be too big to achieve or too general to measure for.
Clearly defined goals will also help with planning and curating content. If you're hoping to move a certain number of leads from the awareness stage to the consideration stage, then you'll need to create ebooks, webinars, and similar content offers that will assist in that transition.
Be picky and be clear at this stage. It sets the foundation for the rest of the workflow.
2. Determine Which Personas to Target.
Those buyer personas you developed earlier to help organize your leads? Well, as ideal as it would be to attract them all at once, it isn't the most practical.
Make sure to do another deep dive on your leads, lists, and segments. You can assign personas to any one of these filters to help make the workflow more comprehensive.
Certain content should only be going to specific leads depending on where they are in your lead nurturing timeline. Make sure that you truly understand your personas so that you can cater to each one specifically.
Remember, personalized and targeted messages are the most successful, so avoid the serious goof of sending an irrelevant email to the wrong person.
3. Plan Your Content Marketing Strategy.
Now that you know who you're reaching out to, you need to decide what you're going to send them. An email prompting a lead to go to content that doesn't exist or has little value is only going to end with you losing that lead.
Observe how your content can help lead a buyer down their journey and identify any holes that may exist through a content audit. You can create a map, literal or figurative, that will help you plan which offers you should bolster and prioritize.
4. Implement Email Marketing.
You've got the leads, you've got the content, now make those emails irresistible.
A great email marketing strategy does not call for you to flood a lead's inbox.
Make sure that every message they receive is intentional and valuable in some way or another. Try and align your goals with their problems so that your email reads in a mutually beneficial way.
In a workflow, you can have different templates assigned to different personas for different stages, keeping every interaction relevant.
5. Define Workflow Triggers.
It's important that you define which actions will trigger your lead nurturing automation to start.
Whether your goal is to get every lead in a specific persona list to subscribe to your newsletter or enroll every person who has visited your pricing page in the last month, you have to have those actions specified for your workflow to work as it should.
Once that's decided, build them into your automation software. Write your emails out and save them for the communication flow, then establish the rules of the automation.
Depending on the complexity of your software, you can add logic to prompt delays between emails, update a lead's priorities or skip emails based on their behavior, and more.
6. Test, Analyze, and Adjust Your Campaign.
You'll always want to double, maybe even triple, check your campaign before you make it live.
Check for technical errors, spelling, grammar, and personalization. Make sure that the entire flow is cohesive and smoothly moves from one stage to the next.
Just because it's automated doesn't mean it shouldn't feel natural. Test everything, and then test it again.
Next thing you know, you're going live!
As you collect data, perform a comprehensive analysis of every aspect of your campaign. What does your click-through rate look like? How's your conversion?
Once you start seeing some return on what's working and what isn't, you can make adjustments to try and refine your strategy.
Lead Nurturing Campaign Examples
There's no denying that lead nurturing takes time and thought, but there isn't much contest in saying it doesn't work either.
There have been some pretty successful campaigns from big companies. Here a just a few great examples showcasing lead nurturing done right:
Casper
Casper puts a cute spin on their follow up email for customers who have abandoned their cart.
It's straightforward while still begin clever, which gets the customer to actually read it. They're invited to revisit their online cart with a visual reminder of what they were purchasing.
A couple of CTAs and a well placed customer review encourages the customer to finish the deal.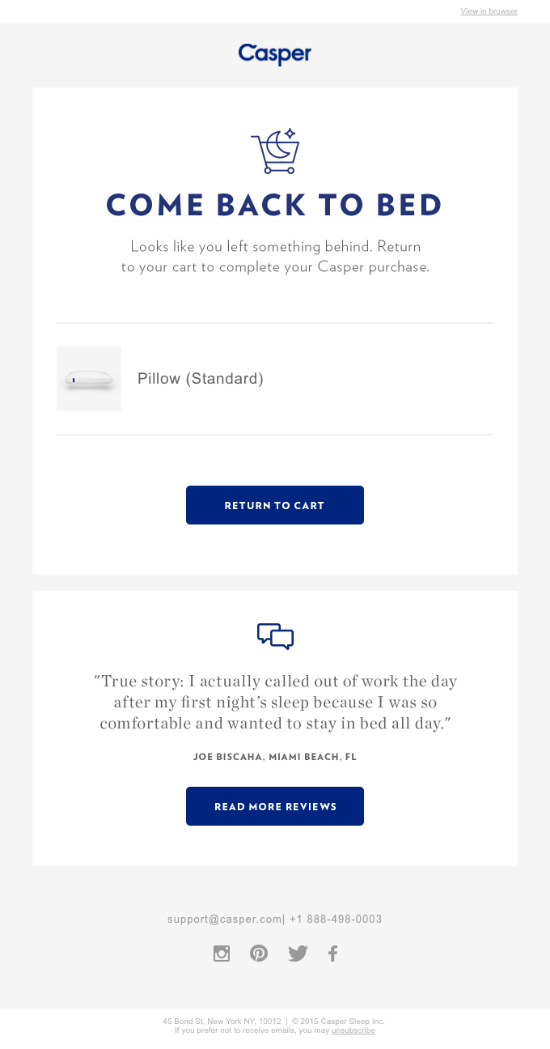 Source: ReallyGoodEmails
Typeform
Typeform is a great example of how to provide value in an email.
Their email copy is incredibly informative while staying warm and friendly. They aim to be relatable and straightforward, earning the trust of their leads and subscribers.
With a great workflow in place they welcome new members, send outreach emails to inactive users, and promote their fun arcade game, Form Invaders!
Chubbies
This retail company maintains their reputation of being witty in their emails.
Chubbies leverages their strong social presence in their newsletter, implementing user content and promotions to attract leads while still being funny.
It's still chock-full of information, just painted under humor and cheek. They do a great job of keeping their content relatable, attractive, and engaging.

Source: ReallyGoodEmails
Airbnb
Airbnb has always done a great job of igniting a travel itch in their emails with breathtaking images of all the beautiful destinations they offer services in.
It's a pretty blatant shot toward the goal of enticing someone to book a stay, but who's going to call them out on it if it works?
Their emails provide targeted location offers based on a user's past search history with subtle CTAs that don't feel all that pushy. It's a curated touch that subscribers enjoy, whether they had been planning a trip at the time or not.
Duolingo
Duolingo is known for being on top of their game when it comes to marketing and user retention.
While Duo, their owl mascot, has earned the reputation of hunting inconsistent users down, the company's newsletters lean a bit further away from guilt tripping.
With the introduction of language clubs and competitive learning, there's some great opportunity to revitalize app use while promoting a new feature in an email like the one below. The CTAs are very forward, but it matches the fun, competitive tone of the rest of the copy.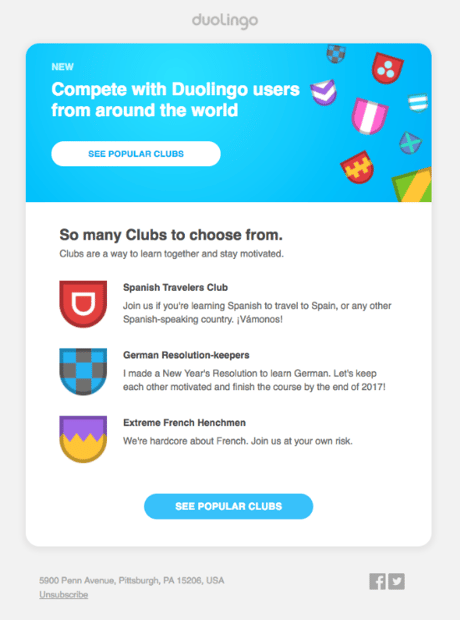 Source: ReallyGoodEmails
Start Nurturing Your Leads Now
You're well on your way to grasping the true value of a lead nurturing strategy. The only step left is to start building yours!
Push your marketing and sales strategies to be just that much better by attending to your leads in the way that they need.