Data, data, data – the more you have, the better!
And there's no better way to get immediate, actionable insights for your site than to use A/B testing.
A/B testing, also called split testing, presents two slightly different versions of a given page to a random selection of your website viewers. In general, one version of the page is the control, and the other has a small but meaningful tweak – for example, a different headline.
By putting versions head to head, you can quickly determine which one is the most effective.
In time, the iterative process of testing and refining a landing page can double conversion rates.
Here's the big problem: A/B testing is a pain in the butt!
We're in 2017, a world where even small e-commerce sites need a good content management system behind them to reach their full potential. Without modern A/B testing tools to automate split testing, you are practically heading back into the Stone Age of hand-coded HTML in Notepad.
Plus, if split testing isn't automated, the data you get simply won't be an "apples to apples" comparison of the two page versions. Your results will be less of an insight and more of a hunch.
Not good!
That's why we've developed this list of A/B testing tools that simplify the process. With any of these, you'll have the chance to get right down to the action – testing, adjusting, and getting more ROI from your pages – instead of spending all your time facilitating tests.
Sound good? Let's go for it!
A/B Testing Tools for Everyone: 7 Ways to Get Your Tests Up and Running Fast
As with anything in digital marketing, there's no one perfect tool that will work for everyone. In general, though, A/B testing tools represent one area where you want to simplify the technology stack as much as possible. Different tools may give slightly different outputs under the same conditions, so it's generally not advisable to run them side by side like you can with other apps.
1. Google Analytics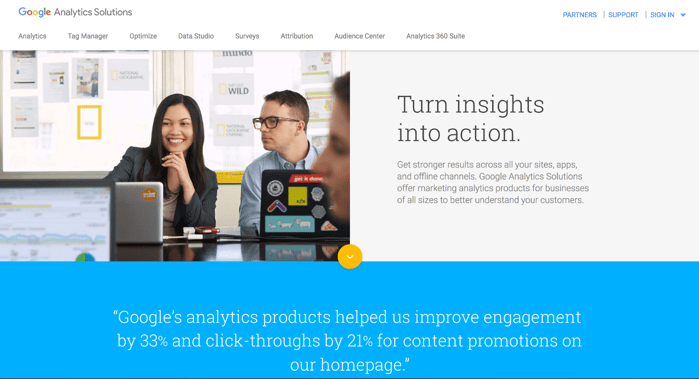 Google Analytics stands apart as the #1 analytics suite on the Web for two good reasons: First of all, it's supported by the biggest name on the Internet, and secondly, it's free. What many people don't know (thanks to Analytics' notoriously clunky interface) is that it can handle A/B testing.
You can find Google Analytics' A/B testing tools under the "Content Experiments" menu. Even though it has robust features and deep reporting, however, it is hampered by the lack of a visual interface. It can take a while to get a handle on Google Analytics, but it is worth it.
2. Optimizely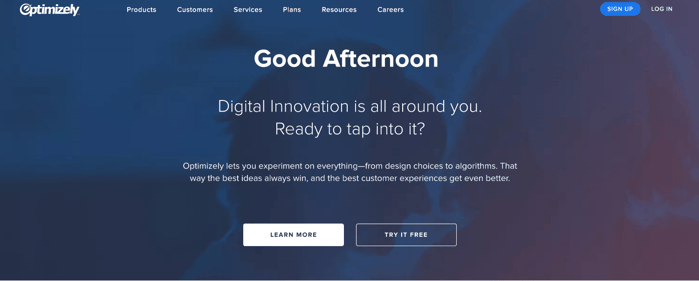 If you find GA's interface impenetrable but you want to get started and see the difference that split testing can make, Optimizely is a good "plan B." It starts at just $17 and delivers on an easy WYSIWYG interface. Digital marketing experts can pick it up in just a day.
In addition to conventional A/B testing, Optimizely also offers multivariate and mobile testing. This makes it more attractive than the simpler options out there, especially if you are pushing for a premium mobile experience. It gives you room to grow into advanced features as you learn.
3. Visual Website Optimizer (VWO)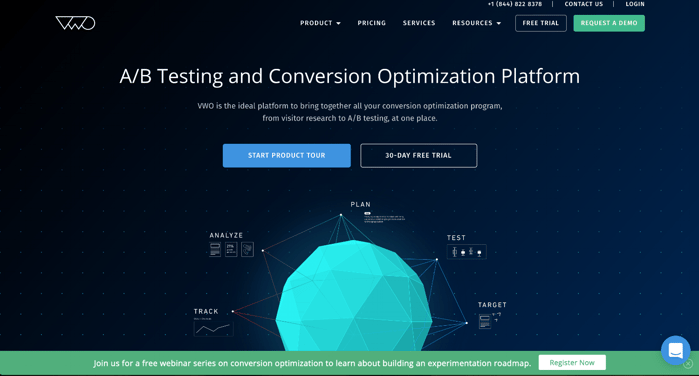 At first, VWO might look just like Optimizely. However, there are some vital differences just under the surface. Like Optimizely, it brings you a straightforward, visually-focused interface that's a pleasure to use, but it also rolls in a number of other tests you may be doing anyway.
VWO's built-in heatmaps allow you to get a clearer idea of what's really happening on your page, as you'll be able to track user attention and mouse movements. There's also built-in testing for usability and conversion tracking, helping you keep things centralized.
4. Unbounce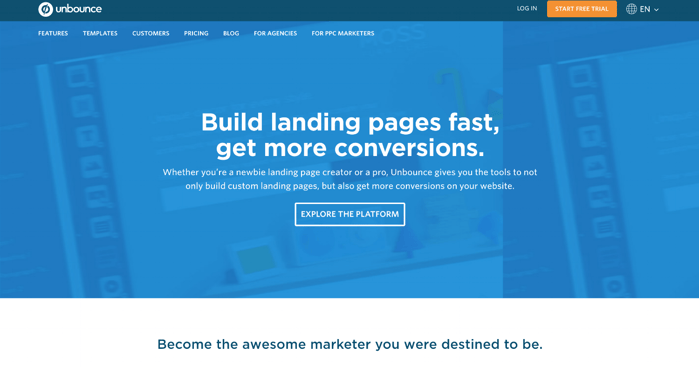 Unbounce has gotten pretty famous in certain corners of the digital marketing world thanks to its relentless focus on landing pages. After all, your A/B testing efforts should focus on your most important landing pages, especially at the beginning.
Unbounce is a great option if you want some inspiration for creating your landing pages. Each account comes with plenty of page templates and easy integration for the most popular marketing suites out there. It's quick, effective, and provides actionable intelligence.
5. KISSmetrics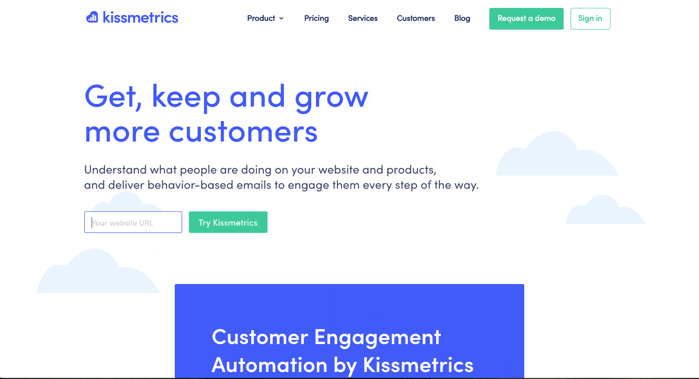 KISSmetrics is one of the more pricey options out there, but it has a novel premise. It enables its own testing and tracking based on distinct user sessions, allowing you to monitor individuals as they interact with your site. This gives you insights across the conversion funnel.
If you are in the market for a tool that will help you optimize your entire funnel, then KISSmetrics is worth a look. It has more reporting options than many of the alternatives, so it could be a breakout way to translate your results for clients or non-technical executives.
6. Crazy Egg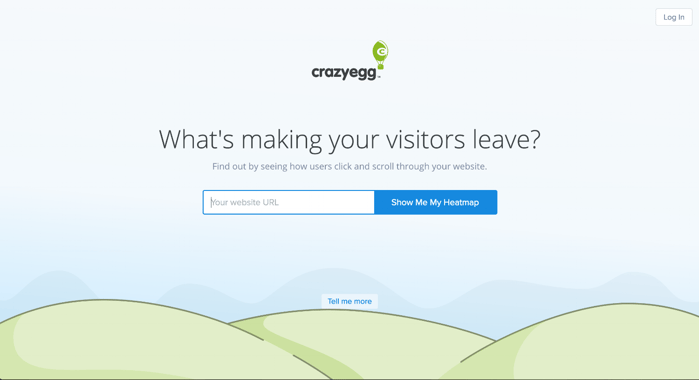 Crazy Egg prides itself on a visually-focused approach that helps you understand exactly what you're seeing at a glance. It comes with six different reporting styles and is intended to be the easiest to learn and use. Aficionados say that it can even be fun.
Crazy Egg can be a comfortable way for non-specialists to grasp what's going on without having to learn the ins and outs of data analytics. It's also a cost-effective option that will fit most budgets. That said, it doesn't have the depth or versatility of the more robust options out there.
7. Five Second Test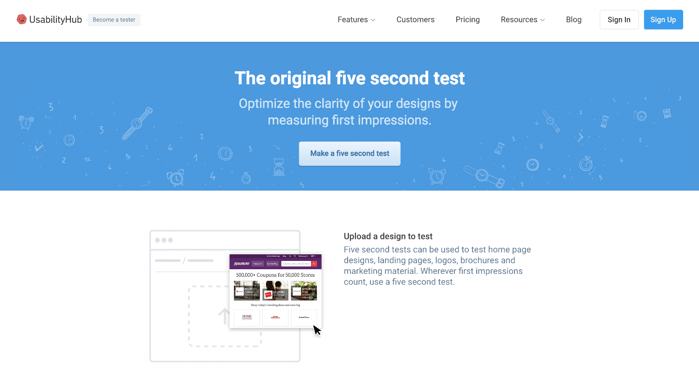 Five Second Test is one of the rare A/B testing tools that really dives in and focuses like a laser on the most important elements. Not all aspects of your page are likely to produce noticeable results when split tested, so this tool zooms in on elements that change users' first impressions.
With three tests to choose from and reporting that gets right down to the nitty gritty, Five Second Test gives you what matters. You'll discover things like what users are most likely to remember from your page and which elements are easy to navigate.
A/B Testing Tools Help You Get Conversions When it Counts
Your whole traffic strategy boils down to this: When people get to your landing pages, how do they react? Unless you can get that all-important first conversion, visitors might never stick around long enough to enjoy your carefully-crafted content and brand message.
Conversion optimization can be frustrating, especially when you don't have enough data to really get a peek into your viewers' heads. With the right A/B testing tools, the mystery is solved – at least to some extent – and you can start making measurable progress.
Depending on your current traffic, you may be able to run different tests every day, every week, or every few weeks. Whatever the case, A/B testing is like hitting the gym: You may not notice much at first, but you can build on your momentum with consistent effort.
To speed things up, enact best practices in landing page design and copy.
A/B testing is one of the little things that really matter – it can be the difference between success and failure. Hang in there and soon, you'll see the results.