Starting or running a successful business, takes planning and focus. Part of the process includes setting goals, running projections, and defining your purpose.
Your business plan is an outline of your overall business strategy including marketing, sales projections, target markets and your place in them, and more.
Two elements that are critical in defining your business objectives and should be included in your business plan are your mission statement and your vision statement.
Your company's goals and objectives are stated, summarized, and defined in these two documents. Each serves a different purpose for your business, but they are often confused with one another.
A simple way of remembering which is which is to think of your mission statement as a description of what you want to do now, while a vision statement outlines what you want to be in the future.
What Is a Mission Statement?
A mission statement defines customer critical processes and informs you about the desired level of performance. It basically talks about HOW you will achieve your business goals while defining the purpose and primary objectives related to your customer's needs and your team's values.
It should answer the question, "What do we do?" while outlining your company's competitive differences by answering, "What do we do that is unique or different?"
Your mission statement drives your company. It should have the effect of clarifying exactly what you do right now that will take your business into the future. Think about what, for whom, and why.
As a general rule, mission statements should be kept pretty short. A majority of mission statements fall between two and four sentences and are less than 100 words.
A mission statement may change slightly over time, but it should always tie back on your core company values, customer needs, and vision for growth. A good mission statement will clearly state purpose and corporate philosophy, define who your primary clients are, and what your responsibility is to them.
What Is a Vision Statement?
A good vision statement defines the future of your business and promotes growth, both internally and externally. It helps your team focus on what matters the most and invites innovation. It is aspirational and inspirational.
Your vision statement is longer than a mission statement and defines your vision of your company's future. It inspires your team to do their best and helps to shape and define why they are working for your company.
A well written vision statement should:
Be clear and concise.
Describe a bright future – a positive vision.
Be memorable and engaging.
Express realistic aspirations and achievable goals.
Be in alignment with your organizations values and corporate culture.
So... What's the Difference?
Your mission statement focuses more on the present, while your vision statement should focus on tomorrow and what you want to become.
Basically, a mission statement defines your cause and defines something you want to accomplish. A vision statement defines what you want to pursue for that cause and represents the future aspirations of your efforts.
Knowing where you are and where you want to go is crucial to achieving your business goals. It is the foundation of any organization's success. Make sure your company's mission and vision are clearly defined and understood by every member of your team.
A lot of times, businesses choose to combine the two statements into one long mission and vision statement. While it's not essential for a business to create both, it can help you determine the differences between what you want your business to do and how you want to grow in the long term.
Examples of Effective Mission and Vision Statements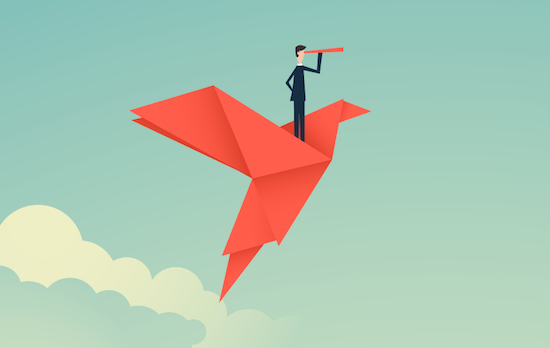 Not all businesses plaster their mission and vision statement on their website – it's more important that your employees are aware of the values and aspirations your company has internally to help motivate them.
But, some businesses are proud of the goals they have for their business and the vision they hope to reach in the future. Here are 10 businesses with highly effective mission statements and vision statements.
1. LinkedIn
Mission: To connect the world's professionals to make them more productive and successful.
Vision: To create economic opportunity for every member of the global workforce.
What They Mean: LinkedIn is all about building connections with other professionals across the world. By connecting others, LinkedIn hopes that members will be able to share valuable information and knowledge that can help them become more successful at their job.
LinkedIn's vision shows their aspiration to help provide new opportunities to everyone who joins. It shows they really care!
2. Uber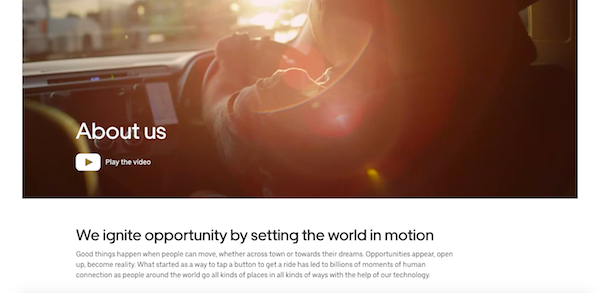 Mission: We ignite opportunity by setting the world in motion.
Vision: Smarter transportation with fewer cars and greater access. Transportation that creates more job opportunities and higher incomes for drivers.
What They Mean: Uber is a super easy way to get around town when you can't drive yourself (I mean, who takes taxis anymore?). Uber's mission statement uses a powerful verb – ignite – to inspire them to keep working on providing transportation around the world. Their services really do set the world in motion.
Beyond just a quick ride, Uber thinks about the economic opportunities that their app can provide drivers. They aspire to maintain safe and budget-friendly rides as long as they're around.
3. Tesla
Mission: To accelerate the world's transition to sustainable energy.
Vision: To create the most compelling car company of the 21st century by driving the world's transition to electric vehicles.
What They Mean: Tesla is one of the leading brands when it comes to electric transportation. Their mission is pretty straightforward – help bring sustainable energy to the world by selling their products.
Their vision looks beyond their mission to aspire to be the best car company today and tomorrow. They aim to continue creating and selling electric vehicles to help make the world more sustainable and healthy for the future population.
4. Alzheimer's Association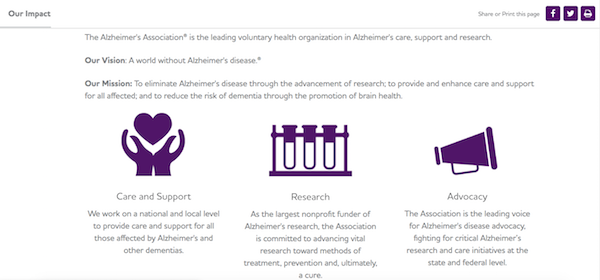 Mission: To eliminate Alzheimer's Disease through the advancement of research; to provide and enhance care and support for all affected; and to reduce the risk of dementia through the promotion of brain health.
Vision: A world without Alzheimer's Disease.
What They Mean: The Alzheimer's Association dedicates its efforts to research that can help eliminate Alzheimer's Disease. Beyond that, they aspire to help provide the support and care to anyone diagnosed. Their mission motivates their day-to-day work.
Their vision? No one suffering with Alzheimer's. Their vision statement is only five words, but it makes a heavy impact and really shows their dedication to finding a cure and helping those in need.
5. Hulu
Mission: To captivate and connect people with stories they love by creating amazing experiences.
Vision: We aspire to be a must-have entertainment & technology brand that is celebrated for continuing to redefine TV.
What They Mean: As a subscription video on demand service, Hulu is loved by many. For me, it eliminates the need for cable!
But the company wants to do more than just give people access to thousands of shows and movies; they want to create new, powerful experiences for their members. By giving them access, they hope to open a gateway that will help people connect with new stories.
And, in the future, they hope to be a must-have in every household. I can definitely see that happening.
6. PepsiCo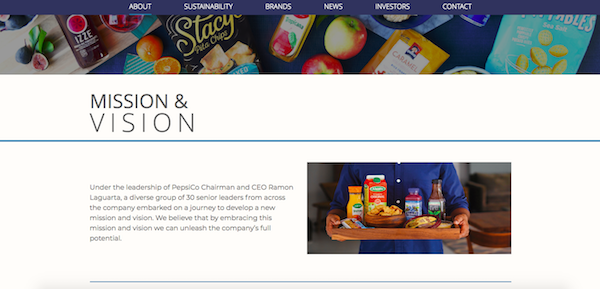 Mission: Create more smiles with every sip and every bite.
Vision: Be the global leader in convenient foods and beverages by winning with purpose.
What They Mean: PepsiCo wants to put a smile on everyone's face. A very easy mission, but one that can have a lasting impact on their consumers and their overall brand.
You might not know that PepsiCo owns more than just Pepsi. Sabra hummus, Doritos, Quaker Oats, Tropicana, Miss Vickie's... the list goes on and on.
Each product they put out brings them closer and closer to their vision: being a global leader in food and beverage. They don't just want to be good; they want to be the best.
7. State Farm
Mission: The State Farm mission is to help people manage the risks of everyday life, recover from the unexpected, and realize their dreams.
Vision: Our vision for the future is to be the customer's first and best choice in the products and services we provide.
What They Mean: As an insurance company, it's obvious that State Farm aspires to help their customers manage and prepare for everyday life injuries and risks, but that's not just it.
The end of State Farm's mission statement highlights their goal of helping customers "realize their dreams." They want to be there for every customer and help build them up to help them succeed.
Their vision of the future sees them as the #1 choice for insurance and the other services they offer. Like PepsiCo, State Farm wants to be the best of the best.
8. Caterpillar Inc.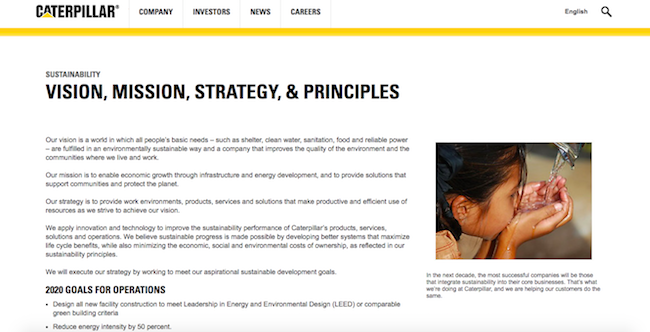 Mission: Our mission is to enable economic growth through infrastructure and energy development, and to provide solutions that support communities and protect the planet.
Vision: Our vision is a world in which all people's basic needs – such as shelter, clean water, sanitation, food and reliable power – are fulfilled in an environmentally sustainable way and a company that improves the quality of the environment and the communities where we live and work.
What They Mean: You might just think of Caterpillar Inc. as the company that sells machinery. But this Fortune 100 company looks beyond what it creates and sells and considers the impact it can make on the economy and ecosystem.
Caterpillar Inc.'s mission aims to bring economic growth to the world, and their vision reflects their passion for a sustainable environment. They wish to improve the communities around the world.
9. Sherwin-Williams
Mission: We aim to "cover the earth"—to become the world leader in the world of paint.
Vision: To be the world leader in the paint industry committed to satisfying customer needs through quality products, excellent service and a highly trained and professional workforce.
What They Mean: Sherwin-Williams is a go-to brand for many paint jobs, and their mission statement uses a clever phrase that highlights their company goals – "cover the earth" (like, metaphorically with paint, you know?).
While their mission states their desire to be the world leader in paint, their vision statement takes it one step further to declare their commitment to helping customers with service, professionalism, and kickass products.
10. MasterCard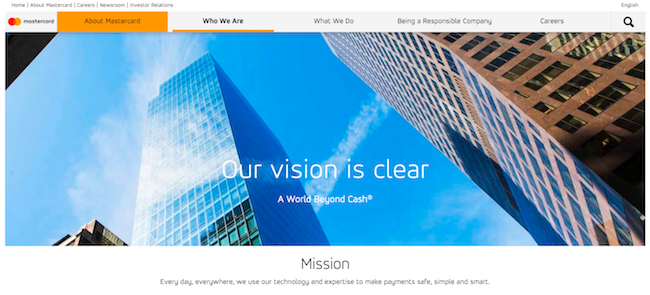 Mission: Every day, everywhere, we use our technology and expertise to make payments safe, simple and smart.
Vision: A World Beyond Cash
What They Mean: Mastercard's vision statement is so important to them, they even registered it as a trademark.
Mastercard wants to make sure your money is safe and easy to use, so the company uses its mission statement to keep them dedicated to their customers and their security.
Their vision reflects how they see the world – one that doesn't just require cash. Their products and services allow people to pay for anything and everything, no matter what time of day.
Mission Statement and Vision Statement Templates to Use
When it comes to writing your own company mission and vision statements, you really have to sit down and think: who is your company? What do you do, and why do you do it? What motivates your company every day, and how do you see yourself in 10+ years?
To be honest, there is no true "template" for how to write your own mission and vision statement. It all depends on what goals you've set for your business and how you envision your company growing and evolving in the future.
But, to help you start brainstorming your goals and purpose, here are two worksheets you can fill out.
Download the Mission Statement Worksheet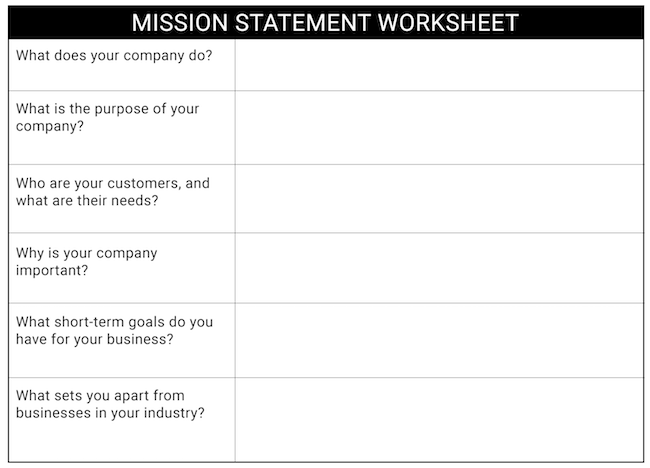 Download the Vision Statement Worksheet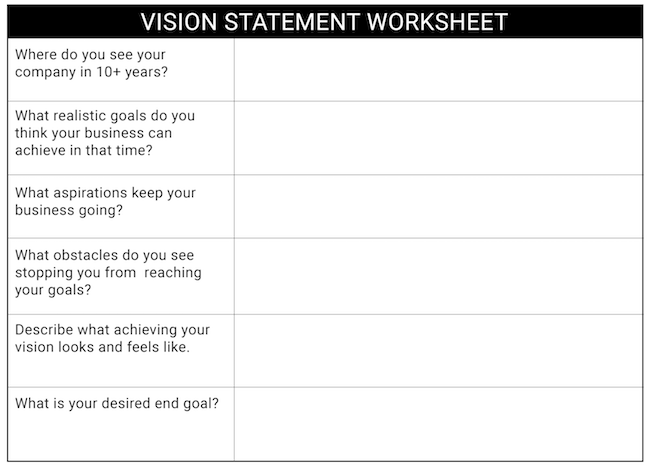 Establish Your Vision, Then Go For It
Once you finalize your business aspirations, goals, and future growth, your day-to-day efforts can motivate you more and more to help you reach them.
Use your mission statement to drive your business to success, and use your vision to help shape and mold your company into whatever you want it to be.
These 10 mission statement and vision statement examples can help give you an idea of how to write your own, and you can use the free worksheets to help your team start brainstorming your desired results.
Remember: You want to challenge yourself to accomplish more than just selling a lot of products. Shoot for the stars!