Mission Statement Examples
1.

Uber: We ignite opportunity by setting the world in motion.

2.

Google: To organize the world's information and make it universally accessible and useful.

3.

Kickstarter: To help bring creative projects to life.

4.

Tesla: To accelerate the world's transition to sustainable energy.

5.

Life is Good: To spread the power of optimism.

6.

Wawa: Fulfilling Lives, Every Day.

7.

Squarespace: Squarespace empowers people with creative ideas to succeed.
Every business strives toward something – one common goal that unifies your organization and keeps each individual focused on the number one priority.
And, one of the best ways to push for this goal is to put it in writing, plaster it on your website, and let it resonate through your office in your day-to-day efforts.
This, my friends, is a mission statement.
What Is a Mission Statement?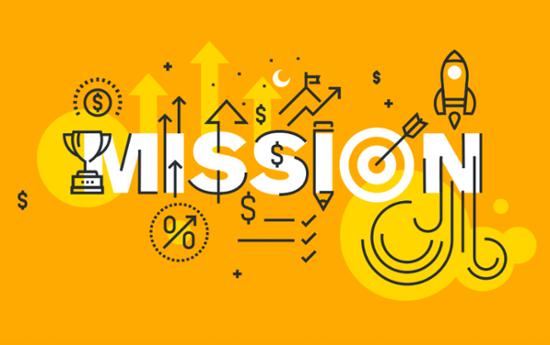 A mission statement is a formal summary that explains:
What you do.
How you do it.
Why you do it.
A good mission statement can surprise, inspire, and transform your business. They provide a clearly stated purpose of your business and the goals you have for succeeding.
The best mission statements go hand-in-hand with corporate philosophy and culture and help guide a company from the present into the future.
How Is a Mission Statement Different From a Vision Statement?
People often get these two terms confused – don't worry, a year ago I didn't even know what either of them was.
Defined by BusinessDictionary, a mission statement is "a written declaration of an organization's core purpose and focus that normally remains unchanged over time."
They also define a vision statement as "an aspirational description of what an organization would like to achieve or accomplish in the mid-term or long-term future. It is intended to serve as a clear guide for choosing current and future courses of action."
Basically, a mission statement defines your cause – something you want to accomplish. A vision statement defines what you want to pursue for your cause – it represents the future aspirations of your efforts. (Vision = future. Get it?)
Here are a few examples of mission statements vs. vision statements from three well-known corporations:
Make-A-Wish
Mission:

The mission of Make-A-Wish International is to grant the wishes of children with life-threatening medical conditions to enrich the human experience with hope, strength and joy.
Vision:

We are dedicated to making every eligible child's wish come true.
Feeding America
Mission:

Our mission is to feed America's hungry through a nationwide network of member food banks and engage our country in the fight to end hunger.
Vision:

A hunger-free America.
Goodwill
Mission:

Goodwill works to enhance the dignity and quality of life of individuals and families by strengthening communities, eliminating barriers to opportunity, and helping people in need reach their full potential through learning and the power of work.
Vision:

Every person has the opportunity to achieve his/her fullest potential and participate in and contribute to all aspects of life.
How Long Should a Mission Statement Be?
This is a tricky question to answer because there isn't really one "right" answer. Most mission statements fall between two and four sentences and are not more than 100 words.
Ultimately, your mission statement should be just the right length to get your point across, and it should be designed to be an internal document that tells how you inspire your team to achieve your company goals.
The art of writing a purposeful mission statement is a valuable skill. Because they are internal documents, finding examples can be challenging.
But, the best way to understand effective mission statements is to look at a collection of them from across a variety of industries. You can learn a lot about writing an effective mission statement by reading some from the most successful companies.
How to Write a Mission Statement
So, how do you write a comprehensive mission statement for your business? A good pre-cursor for writing your own is to study other companies' to give you a basic understanding of the language and impact.
Then, you should ask and answer some key questions to define the fundamental purpose of your brand, business, and goals. A few great questions to start with include:
Why Are You in Business?
What do you want for your company, your employees, and your customers? What was your primary purpose for starting your business?
Who Are Your Customers?
Branching off of the first question, be sure to identify who your business serves. Think about your main audience and what you want them to take away from your company.
What Makes Your Business Stand Out From the Competition?
Differentiation is an important element when building a business and developing a brand. What makes you different than your competitors?
What is Your Brand's Public Image?
Defining your brand means thinking about its impact on the rest of the world. Therefore, identifying how you do business can help to clearly define your mission.
Once you've answered these questions, sit down with your team to discuss the main points you made and draft it up into a shorter, more targeted statement.
Your final statement should encompass the three characteristics of a great mission statement: concise, outcome-oriented, and inclusive.
Once you've done your research, your team should work together to distill all of the information into a concise description of who you are, what you do, and why you do it.
Review your statement, send it to your employees for suggestions, and make necessary edits to remove jargon, fluff, and buzzwords to create the most concise, impactful mission statement.
Great mission statements aren't just written in a day; it takes time, experience, and trial and error to create a mission statement that represents and motivates your brand.
Mission statements inspire others to act. They are the driving force of your business and keep your organization focused on accomplishing something greater in the long term.
Here are 18 companies you probably know and the mission statements that keep their business going.
1. Microsoft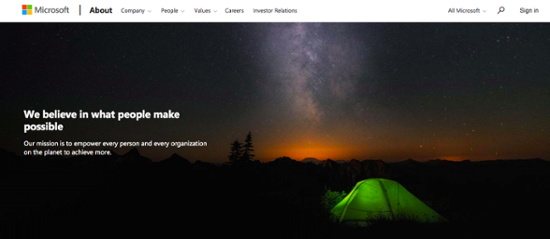 "Our mission is to empower every person and every organization on the planet to achieve more."
You wouldn't expect a mission statement like this coming from a technology company, would you? But Microsoft believes they can be more than that.
Beyond making top-of-the-line products for consumers, they strive to lead the way in sustainability, promote diversity and inclusion, and encourage transparency in the workplace.
Microsoft's mission statement expresses their belief in what people make possible. These beliefs and values are translated directly into their products and corporate culture.
2. Nordstrom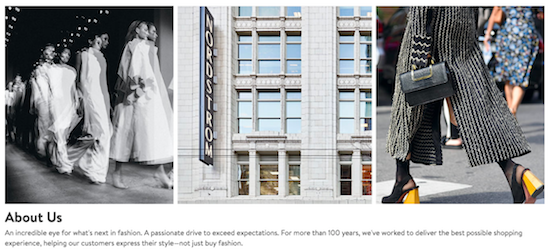 "To give customers the most compelling shopping experience possible."
When you step into Nordstrom, the employees want to give you the best experience possible with excellent service, selection, quality, and value.
This philosophy of superior customer service came from founder John W. Nordstrom. But it doesn't stop there.
They continue to work on improving their customer service efforts daily to give customers the best compelling experience possible – the mission statement really does motivate their accomplishments.
As written perfectly on their about us page: "Fashion changes. Shopping changes. Our commitment to happy customers doesn't."
3. Southwest Airlines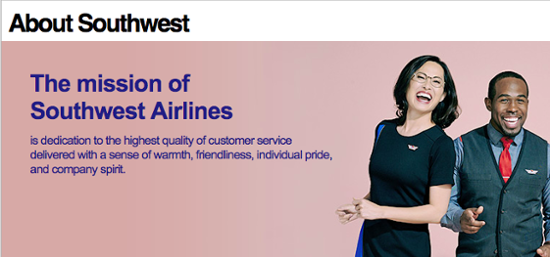 "The mission of Southwest Airlines is dedication to the highest quality of customer service delivered with a sense of warmth, friendliness, individual pride, and company spirit."
Southwest believes that their employees are what makes them different. I mean, I've never been on a Southwest flight I didn't enjoy!
Therefore, they made sure their mission statement reflected their team philosophy down to the core. They strive for top-quality customer service by being friendly and showing off their company spirit with a smile.
Even more, the company logically follows their mission statement with a commitment to their own employees:
"We are committed to provide our employees a stable work environment with equal opportunity for learning and personal growth. Creativity and innovation are encouraged for improving the effectiveness of Southwest Airlines.
Above all, Employees will be provided the same concern, respect, and caring attitude within the organization that they are expected to share externally with every Southwest customer."
4. Squarespace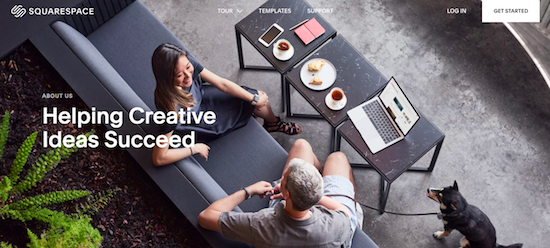 "Squarespace empowers people with creative ideas to succeed."
Squarespace's mission statement encompasses every part of a "perfect" mission statement: The what, the how, and the why.
What do they strive to do? Empower millions of people. How do they do it? Offer a platform where customers can share and distribute their innovative ideas. Why do they do it? To help these creative individuals build a successful online presence.
In eight simple words, you completely understand Squarespace's intentions and their purpose. And, since their launch in 2003, millions of websites have been created through their platform – I'd say mission accomplished.
5. Uber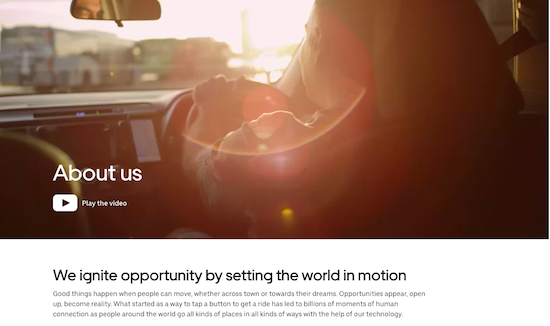 "We ignite opportunity by setting the world in motion."
Uber is a popular rideshare app where users request a ride, get picked up from wherever they are, and get dropped off wherever they want.
Yet their mission goes beyond getting people from point A to point B: With their technology, they hope to bring about new opportunities for their passengers, helping them meet new people and explore new places.
It's quite simple, really: They want to set the world in motion.
6. Google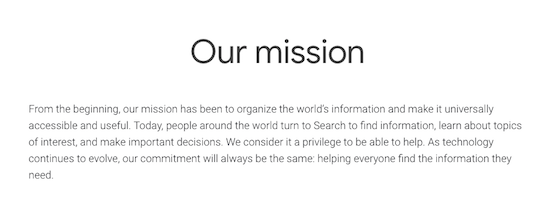 "To organize the world's information and make it universally accessible and useful."
Think about it: Google gets over 63,000 search queries a second. Honestly, I don't know the last time I had a question Google couldn't answer. Well, because it's easy to search and find the answers you're looking for.
It seems that everything Google does revolves around its mission statement – they want to put all the information in the world into one useable platform so that people can find the information they need.
There's a lot – I mean a lot – of information that gets put out onto the internet every day. And, somehow, Google is able to gather every single piece of information and provide them to us when we're looking for something related.
Google, I want to personally thank you for this. You've made my shopping experiences much more pleasant.
7. Kickstarter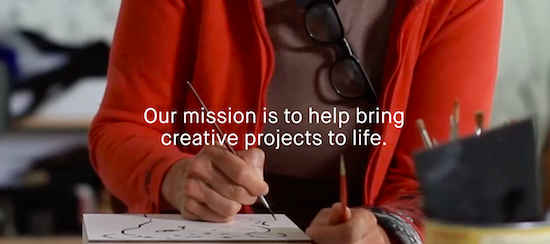 "To help bring creative projects to life."
Kickstarter is the world's largest crowdfunding platform that has helped tens of thousands of projects come to life through community support and donations.
The company not only lives by its mission, but it measures its success based on accomplishing the mission, not just making money.
In 2015, they became a Benefit Corporation, which is a for-profit company that considers "the impact of their decisions on society, not only shareholders. Radically, positive impact on society becomes part of a Benefit Corporation's legally defined goals."
8. Tesla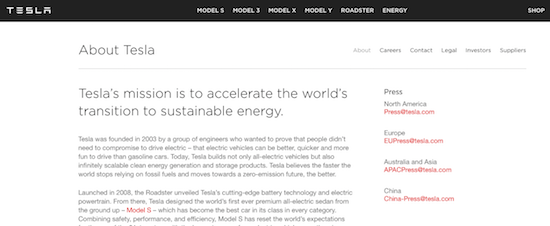 "To accelerate the world's transition to sustainable energy."
We should all know the word Tesla by now – it's those fancy-looking cars that practically have computer screens attached to the dashboard. (By the way, you can set the screen as a moving fireplace to create a nice ambience.)
But Tesla's mission isn't just to create rocket ship cars – they put the environment first by creating top-notch electric vehicles.
Every model they've released thus far (which, funny enough, spells out S3XY with a three in place of an E) brings them a step closer to creating a sustainable energy ecosystem.
9. The Coca-Cola Company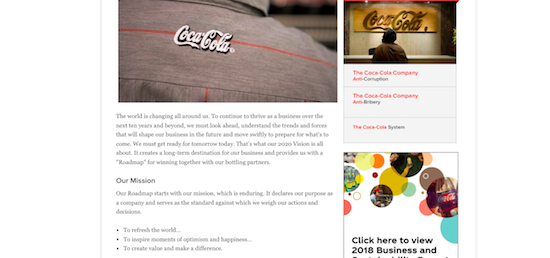 "To refresh the world in mind, body and spirit. To inspire moments of optimism and happiness through our brands and actions."
Ah, the refreshing taste of a Coke.
I can't help but think of the movie previews where they show the cashier pouring Coke into a cup full of ice – they always make sure to get a close-up of the carbonation bubbles spilling over the edge.
But beyond a refreshment brand, The Coca-Cola Company wants you to know how a Coke should make you feel. They aim to bring happiness and positivity to their audience, and they treat their mission and vision as a roadmap for their company's success.
10. Caterpillar
"To enable economic growth through infrastructure and energy development, and to provide solutions that support communities and protect the planet."
As the world's leading manufacturer of construction and mining equipment, Caterpillar hopes to make sustainability possible and drive positive change in the world.
Caterpillar's mission statement explains what they do and why they do it – ultimately, they want to protect the planet.
And, to foster transparency with their customers, the company posted their 2020 goals on their website, which includes:
Reducing energy intensity by 50 percent.
Reducing greenhouse gas emissions intensity by 50 percent.

Reducing water consumption intensity by 50 percent.
11. Whole Foods Market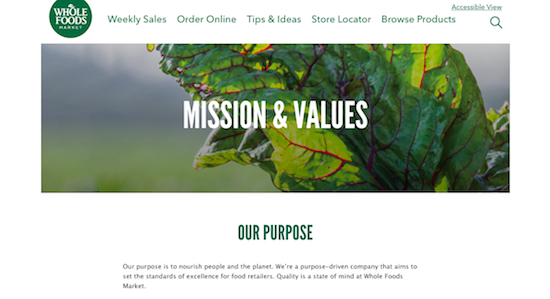 "To nourish people and the planet. We're a purpose-driven company that aims to set the standards of excellence for food retailers. Quality is a state of mind at Whole Foods Market."
Whole Foods Market is dedicated to providing quality food options to their customers – and they want to set a high example for all food retailers to do the same.
To inspire their efforts toward fulfilling their mission, the company pulls from its six core values.
From selling high-quality natural and organic food and establishing win-win partnerships with suppliers to promoting team member growth and happiness, Whole Foods Market strives to take care of everyone.
12. American Red Cross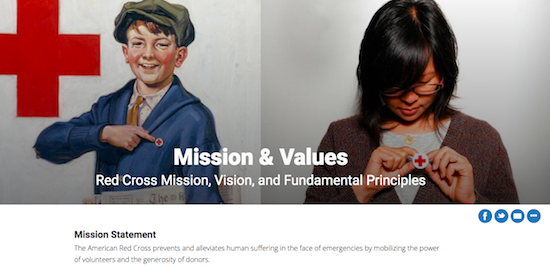 "The American Red Cross prevents and alleviates human suffering in the face of emergencies by mobilizing the power of volunteers and the generosity of donors."
The American Red Cross is a non-profit, volunteer-based organization that helps crisis areas in a time of need.
The powerful words in their mission statement resonate through the organization and push volunteers, donors, and partners to work even harder.
The fundamental principles of the Global Red Cross Network – humanity, impartiality, neutrality, independence, voluntary service, unity, and universality – seem to be another driving force toward their mission of helping those in need and inspire others to help out.
13. Life is Good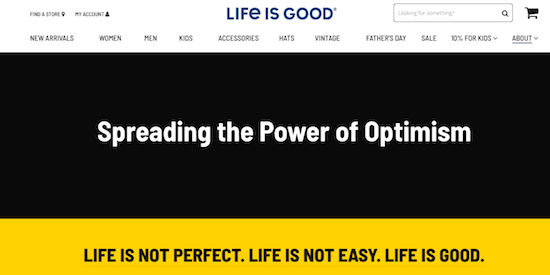 "To spread the power of optimism."
Try to find a Life is Good T-shirt that doesn't make you smile. I dare you.
I promise you won't be able to find one. Why? Because every product the company puts out is a little ode to its core purpose: spreading the power of optimism.
In this day and age, we all could use a little positivity, and that's what Life is Good aims to provide the world. In their words, "Optimism empowers us to explore the world with open arms and an eye toward solutions, progress, and growth. It also makes life a hell of a lot more fun."
They even make sure their audience spreads optimism throughout the universe by encouraging them to use #growthegood on social media. I'm sure if you search this hashtag on Instagram or Twitter, your day would get a whole lot better.
14. TED
"Spread ideas."
Two words, but a powerful impact.
TED was founded in 1984 and has since become a large non-profit dedicated to spreading ideas in the form of talks and speeches. (If you don't live under a rock, you've most likely heard of a TED Talk.)
Yet, through all that they do, the mission has remained constant and simple: They want to use their platform and brand to share new ideas in an attempt to change attitudes, lives and, as a result, the world.
They incorporate their mission statement into all aspects of the business – from TED Talks, conferences, TEDx, and even to the TED-Ed lesson series. That's how you embrace your mission: diffuse it throughout your entire organization so every employee is locked in on the same purpose.
15. Starbucks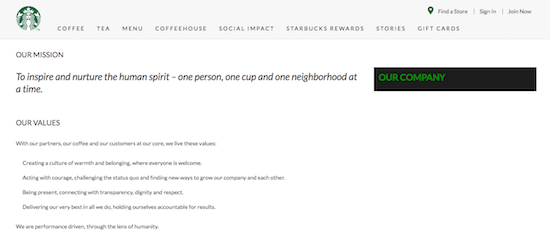 "To inspire and nurture the human spirit – one person, one cup and one neighborhood at a time."
Starbucks is a fan favorite for many coffee lovers, and the company's dedication to their customers seems to be one of their top priorities.
But, the Starbucks mission statement goes into detail to define its intentions even further. It's more than just about a cup of coffee.
Like many of the other companies on this list, Starbucks uses its main values to promote progress toward achieving its goals. They aspire to create a warm environment, challenge the status quo, be transparent and respectful, and deliver the best in all they do.
In the end, every effort works to inspire and nurture the people who come walking through the doors.
16. LinkedIn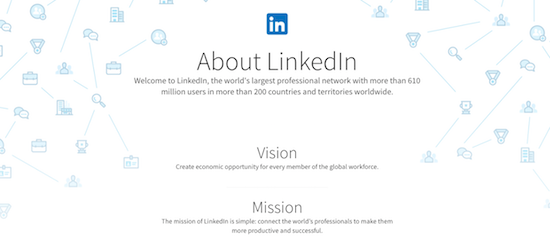 "The mission of LinkedIn is simple: connect the world's professionals to make them more productive and successful."
We've all heard of LinkedIn. It's the place to be to build connections and discover thought leaders. And, their mission is sure to pursue just that.
We go to LinkedIn to help us be more successful in our industry – and LinkedIn wants just the same. Through their platform, they aim to bring you closer to professionals and connect with them in new ways to learn and grow in your career.
17. Wawa
"Fulfilling Lives, Every Day."
Another short and sweet mission statement that still means a lot to a company.
At surface level, you might not quite understand Wawa's mission statement. But, as you look deeper into their core values, you begin to realize and respect their purpose.
Value people. Delight customers. Embrace change. Do the right thing. Do things right. Passion for winning. All of these values tie together into one core goal – fulfill the lives of both their customers and employees.
And, I gotta say, every time I step into Wawa for an iced coffee, I leave very happy. So, they must be doing something right!
18. Spotify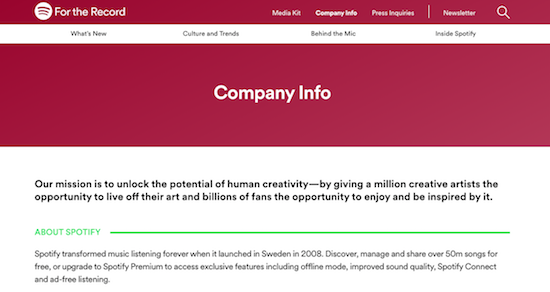 "Our mission is to unlock the potential of human creativity—by giving a million creative artists the opportunity to live off their art and billions of fans the opportunity to enjoy and be inspired by it."
Spotify is my go-to app when I am craving new music. I can discover new artists, create custom playlists, and take my music on the go.
So, I'm happy to hear Spotify's mission – because it's exactly how it makes me feel! Spotify seeks to provide every individual the opportunity to discover and share.
They don't limit their mission statement to just listeners, either. Since the audio streaming service also allows artists to share and publish their music, they're sure to set clear goals for them as well.
All in all, it seems Spotify wants to foster creativity and spread inspiration to others – and I'm all here for it.
Let Your Mission Statement Guide Your Growth
Your mission statement is what defines your company and what sets you apart from others in your industry. Having a dedicated mission statement can build a unified organization and ensure your business grows in the right direction.
At the end of the day, you want to be able to say, "mission accomplished."