Every business strives toward something – one common goal that unifies your organization and keeps each individual focused on the number one priority.
And, one of the best ways to push for this goal is to put it in writing, plaster it on your website, and let it resonate through your office in your day-to-day efforts.
This, my friends, is a mission statement.
What Is a Mission Statement?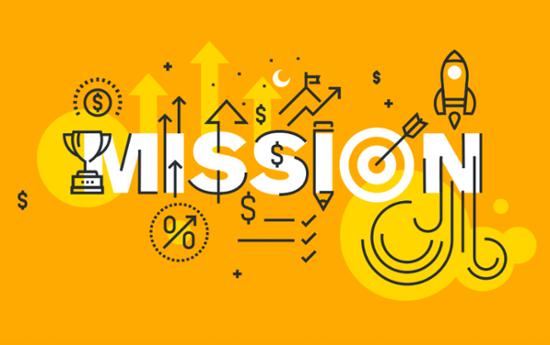 A mission statement is a formal summary that explains:
What you do.
How you do it.
Why you do it.
A good mission statement can surprise, inspire, and transform your business. They provide a clearly stated purpose of your business and the goals you have for succeeding.
The best mission statements go hand-in-hand with corporate philosophy and culture and help guide a company from the present into the future.
How Is a Mission Statement Different From a Vision Statement?
People often get these two terms confused – don't worry, a year ago I didn't even know what either of them was.
Defined by BusinessDictionary, a mission statement is "a written declaration of an organization's core purpose and focus that normally remains unchanged over time."
They also define a vision statement as "an aspirational description of what an organization would like to achieve or accomplish in the mid-term or long-term future. It is intended to serve as a clear guide for choosing current and future courses of action."
Basically, a mission statement defines your cause – something you want to accomplish. A vision statement defines what you want to pursue for your cause – it represents the future aspirations of your efforts. (Vision = future. Get it?)
Here are a few examples of mission statements vs. vision statements from three well-known corporations:
Make-A-Wish
Mission:

The mission of Make-A-Wish International is to grant the wishes of children with life-threatening medical conditions to enrich the human experience with hope, strength and joy.
Vision:

We are dedicated to making every eligible child's wish come true.
Feeding America
Mission:

Our mission is to feed America's hungry through a nationwide network of member food banks and engage our country in the fight to end hunger.
Vision:

A hunger-free America.
Goodwill
Mission:

Goodwill works to enhance the dignity and quality of life of individuals and families by strengthening communities, eliminating barriers to opportunity, and helping people in need reach their full potential through learning and the power of work.
Vision:

Every person has the opportunity to achieve his/her fullest potential and participate in and contribute to all aspects of life.
How Long Should a Mission Statement Be?
This is a tricky question to answer because there isn't really one "right" answer. Most mission statements fall between two and four sentences and are not more than 100 words.
Ultimately, your mission statement should be just the right length to get your point across, and it should be designed to be an internal document that tells how you inspire your team to achieve your company goals.
The art of writing a purposeful mission statement is a valuable skill. Because they are internal documents, finding examples can be challenging.
But, the best way to understand effective mission statements is to look at a collection of them from across a variety of industries. You can learn a lot about writing an effective mission statement by reading some from the most successful companies.
How to Write a Mission Statement
So, how do you write a comprehensive mission statement for your business? A good pre-cursor for writing your own is to study other companies' to give you a basic understanding of the language and impact.
Then, you should ask and answer some key questions to define the fundamental purpose of your brand, business, and goals. A few great questions to start with include:
Why Are You in Business?
What do you want for your company, your employees, and your customers? What was your primary purpose for starting your business?
Who Are Your Customers?
Branching off of the first question, be sure to identify who your business serves. Think about your main audience and what you want them to take away from your company.
What Makes Your Business Stand Out From the Competition?
Differentiation is an important element when building a business and developing a brand. What makes you different than your competitors?
What is Your Brand's Public Image?
Defining your brand means thinking about its impact on the rest of the world. Therefore, identifying how you do business can help to clearly define your mission.
Once you've answered these questions, sit down with your team to discuss the main points you made and draft it up into a shorter, more targeted statement.
Your final statement should encompass the three characteristics of a great mission statement: concise, outcome-oriented, and inclusive.
Once you've done your research, your team should work together to distill all of the information into a concise description of who you are, what you do, and why you do it.
Review your statement, send it to your employees for suggestions, and make necessary edits to remove jargon, fluff, and buzzwords to create the most concise, impactful mission statement.
Great mission statements aren't just written in a day; it takes time, experience, and trial and error to create a mission statement that represents and motivates your brand.
18 Company Mission Statement Examples to Inspire Your Own