Website accessibility is no longer an optional feature for your site to have. It is now mandatory for you to have a website that is inclusive for all users.
Having an accessible website means you must comply with certain standards included in the Website Compliance Accessibility Guidelines (WCAG) and ADA laws.
To achieve full compliance, it's helpful to use web accessibility tools and software that make it easy for you to maintain accessibility.
The Importance of Website Accessibility Compliance
Website accessibility ensures that everyone can consume content and engage with communities online. More specifically, the concept of web accessibility helps individuals with disabilities who may have difficulty navigating and perceiving information on the internet.
This includes people with disabilities ranging from auditory, physical, and cognitive disabilities to neurological and speech impairments.
via GIPHY
The internet is now an essential resource that helps us in every area of our lives. We use the internet for many important areas of our lives including employment, government services, education, ecommerce, and healthcare. And it is vital that these websites are available for everyone to use.
When you make sure to comply with website accessibility guidelines, you open your business to a whole new section of customers. You also minimize your chances of legal action and enhance your brand image by ensuring everyone has access to your online products, services, and information.
There are easy ways to fix your website accessibility with great software and tools.
8 Features to Look for in Website Accessibility Software
Technological advancements have made website accessibility compliance easy. Here are eight important features your website accessibility software should have:
Automatic Evaluation Tool
This web accessibility tool, also known as the web accessibility checker, monitors and audits your website and pages to make sure they are compliant with all updates to the Website Compliance Accessibility Guidelines (WCAG).
It points out things about your website that aren't compliant or compatible with accessibility software such as screen readers. The evaluation tool either presents you with changes that need to be made or it makes the changes for you depending on the software you choose.
Closed Captioning Services
Closed captioning assists individuals who are deaf or hearing impaired. Automatic captions often lag behind visual video content, which is why businesses opt for closed captioning services that ensure accurate captions that record exactly what is happening in a video or audio recording.
via GIPHY
Closed captioning tools are extremely important for businesses that use video content often to market to their customers.
Customization Options
Accessibility tools and features that integrate and make changes to your website help save you time, but some of them aren't customizable. To keep your brand identity and uniformity on your website, it is important to select software that provides you with customization tools.
Color Checker
Color checkers check your website's foreground and background color combinations to see if they have enough contrast for site visitors who have trouble seeing color. The color tests should be based on the regulations outlined by the World Wide Web Consortium (W3C).
Voice Recognition
Voice recognition is available on many phones and computers today. This tool can help visually impaired people to navigate aspects of the internet.
There are web accessibility software services that can provide this for your website to allow people to use voice recognition in a more meaningful way. Voice recognition can help disabled individuals to copy and paste, scroll through information on your website, fill out forms, and activate menus.
Automatic Screen Reader
Screen readers are software tools that translate text-to-speech on a webpage. These tools help visually impaired individuals understand the information on your website. This software reads the headers on your webpage and the alternative text for your images providing visually impaired users with an accurate idea of what your site has to offer.
via GIPHY
Code Detector
Code detectors read the coding for your website to search for violations in your code that aren't compliant with the WCAG. Code detectors can be used by developers who create custom coding standards to enforce a defined coding standard.
Keyboard Navigation Optimization
Most websites aren't compatible with keyboard-only navigation. Individuals with motor issues or other impairments may not be able to operate a computer using a touchpad or mouse. Make sure your web accessibility software has keyboard navigation optimization so everyone can navigate your site with ease.
10 of the Best Web Accessibility Solutions
Adapting your site to web accessibility compliance standards may be difficult to do on your own. Despite how hard it can seem to get started, achieving compliance should be a top priority.
Check out these 10 best web accessibility solutions that can help you achieve ADA compliance.
1. accessiBe

When it comes to web accessibility, accessiBe is an industry leader. They use AI technology to automate the compliance process. Their solutions incorporate major accessibility changes for your website such as screen readers and keyboard navigation adjustments.
They also make sure to scan your site daily to ensure you adhere to WCAG 2.1 compliance guidelines, S508, ADA, and more. It's also worth noting the simplicity of using accessiBe: You only need five minutes to install a JS code, and within 48 hours, the tool solves any accessibility compliance gaps.
2. DYNO Mapper
DYNO Mapper tests the accessibility of websites and other internet applications. It takes inventory of your content, audits content, and tracks keywords.
This program allows you to monitor your web compliance easily with a schedule that you set for the program to automatically scan your site to provide you with a monthly accessibility score. It follows the compliance guidelines for WCAG 1.0, 2.0, and 2.1.
3. A11Y Compliance Platform
The A11Y Compliance Platform is offered by the Bureau of Internet Accessibility. This compliance platform provides you with tools, services, and reports to help you maintain web accessibility on your website.
It allows you to test your website and generate evaluation results reports with step-by-step guidance. It also automatically checks various webpages including password protected or restricted web pages. A11Y follows the guidelines in the WCAG 2.0 and Section 508 of the US federal procurement standard.
4. EqualWeb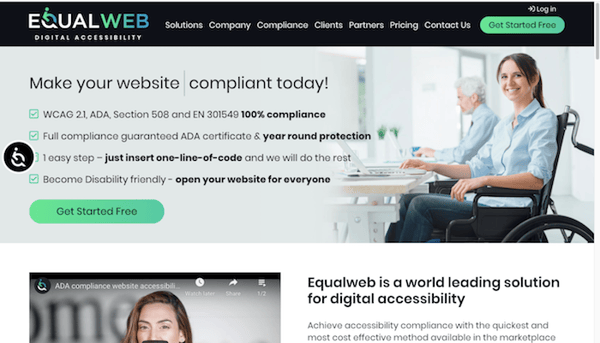 EqualWeb uses AI algorithms to help your site achieve digital accessibility compliance without changing your coding. They offer a host of tools and accessibility plugins for your site such as a text reader, screen reader adjustment, accessibility menu, blinks blocking, and more.
It also supports platforms like WordPress, Wix, and Shopify and achieves compliance with ADA laws and WCAG 2.1 guidelines.
5. Crownpeak Digital Quality Management
Crownpeak offers a tool called Digital Quality Management that automates scans of your content to highlight accessibility issues. It scans all parts of your website including rich media, metadata, content presentation, links, URLs, mobile experience, images, and PDF accessibility.
Additionally, it tracks and reports the progress you make on your website toward website accessibility, and it allows you to view the issues it scans in-context straight on your webpage. Crownpeak Digital Quality Management ensures that your site will be in compliance with Section 508, ADA, and WCAG 2.1 laws and guidelines.
6. MaxAccess
MaxAccess offers AI-powered web accessibility scans instantly every 24 hours. It provides you with features such as color blindness reports, color contrast customization, ARIA label manager, alt tag manager, advanced toolbar and screen options, and detailed compliance reports.
It works with any website and helps your website comply with WCAG 2.1 and parts of the WCAG 2.2 that is currently in progress.
7. Accessible360
Accessible360 helps you to become compliant with ADA and WCAG guidelines by providing you with an accessibility roadmap that assesses your website, enables accessible processes, and helps your website stay complaint.
They conduct live user testing and leverage innovative technology to provide you with an easy path to building an accessible website. This platform also assists you with continued support to help you achieve compliances with ADA and WCAG 2.0 AA standards.
8. Deque Systems axe Plug-In
The axe accessibility plugin is available for Chrome and Internet Explorer. The plugin tests websites for accessibility and performs full WCAG audits on all content and web applications.
The plug-in allows you to perform step-by-step accessibility tests so you don't miss any potential accessibility issues to help you stay compliant.
9. Silktide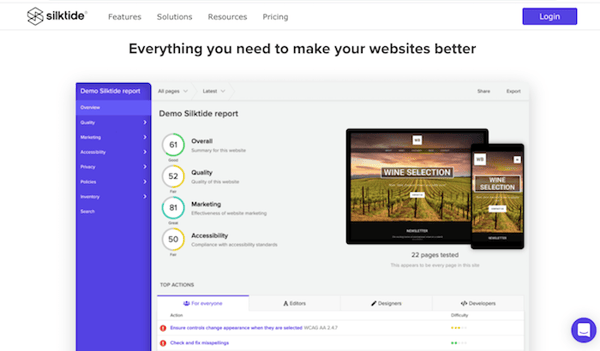 Silktide tests your website automatically and provides you with tasks that are broken down into small parts to help you track and manage your progress on your way to complying with WCAG 2.1 standards. It explains every accessibility issue and provides ongoing accessibility training through phone, chat, webinar, and video tutorials.
10. DubBot
DubBot checks your website for accessibility compliance outlined in WCAG 2.0. It assess each of the three compliance levels and prioritizes them based on the severity of the issue. It also provides a detailed description of the issue and assists you with troubleshooting to come up with a solution.
Website accessibility may be new to you, so it may take time to select the right software options or plug-in tools for your website. When it comes to choosing the right website accessibility software and tools, it's important to consider your budget and the amount of time you want to dedicate to maintaining compliance 24/7.
Find a tool that best fits your needs and start delivering a superior user experience for all your visitors.