Knowing the basics of on-page SEO is vital to the performance of your content.
But if this is your only set of SEO best practices, you're likely overlooking some amazing opportunities to drive organic traffic and build brand awareness.
You might be missing out on these blind spots in your SEO strategy:
Social Media Marketing and SEO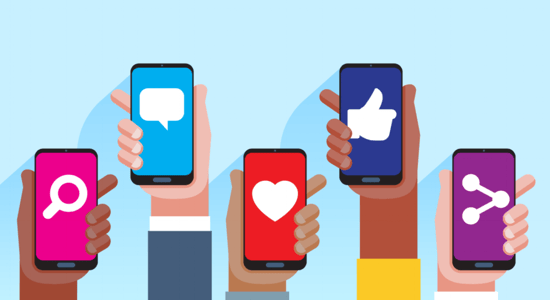 Your social media presence, no matter your industry, can produce real SEO results.
Back in 2010, Google confirmed that they do in fact use Twitter and Facebook links in ranking. These social links inform them about the authority and reputation of you and your brand.
With that in mind, consider all the other benefits you can enjoy by building a social media marketing strategy. These benefits include:
Building brand awareness: Audiences will take notice of you when they find your social content.
Creating more authority: As you build your following, you look more credible in your industry.
Expanding your content reach: Fostering relationships with influencers can help you spread your content.
Driving traffic: Linking back to your site and your content will bring visitors who want to learn more.
And don't forget -- your social profiles directly influence the content of your search results. In fact, many times, your profiles are among the top results for those who search your brand.
For example, when you search 'Bluleadz,' you will find our Facebook and Twitter profiles in the third and fourth ranking.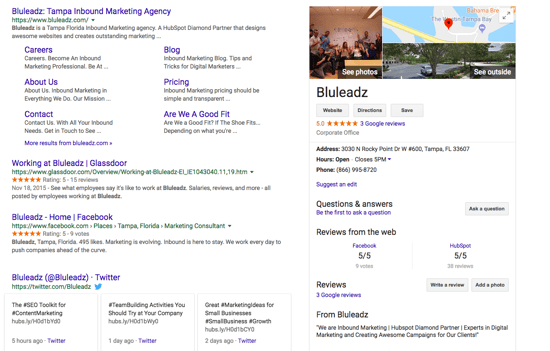 All of these benefits combined can make a big impact on your domain authority (DA).
Best Practices:
Influencers and social
Connect with influencers to amplify your content. Start by researching who in your space has a large following that is relevant to your audience.
Use tools like Buzzsumo to research influencers and find who you can reach out to.
One of the best examples of a B2B company leveraging influencers and social media comes from Cisco. They use their Cisco Champions program to share knowledge from their IT advocates, which is used in their social media marketing strategy.
Their #CiscoChat Twitter campaign unites tech and business experts in a social chat series. They also host Cisco events where they invite celebrities, like Bryan Cranston, to speak, which they live stream via Facebook.
Keyword research
Just like your on-page SEO, you should use keyword research to inform your social media content strategy.
Social media networks have their own search engines, and many users are engaging in social media search. Facebook, for instance, gets a billion search queries per day.
Find keywords you want to rank for on social media networks, and include those keywords in relevant social content.
For example, use a branded hashtag for a Twitter campaign to generate social engagement with those searching for keywords relevant to your brand.
Social media can bolster your search rankings. As Social Media Examiner's 2015 Social Media Marketing Industry Report found, improvements in search engine rankings were most prevalent for those using social media for over a year. Over 54 percent of them reported this rise.
The human side
Your audience wants to feel like they're engaging with real people, not a stuffy corporate entity. Use your social media presence to show a more personal side of your brand while engaging your audience.
A great example of leveraging social media features to be both informative and personal comes from General Electric. They used Facebook Live to broadcast from the Radiological Society of America (RSNA) conference to build awareness around their 3D printing in healthcare.
Email Marketing and SEO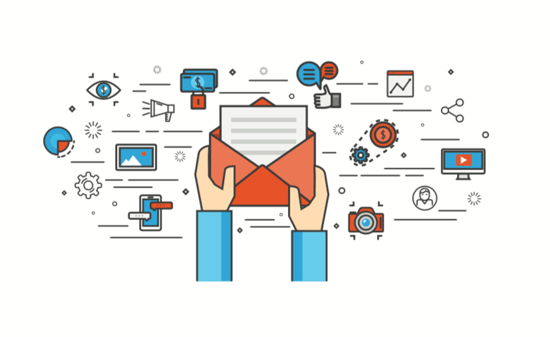 Your email marketing strategy is often used for engagement, but there are several SEO benefits you can earn in email.
While email doesn't directly impact your search rankings (your emails aren't indexed by search engines), it has plenty of benefits that can indirectly boost your SEO.
Emails keep your brand at top of mind for your subscribers and build satisfaction among visitors, who then can link to you, which is a huge factor in SEO.
Best Practices:
Newsletters and engagement
Use email newsletters to invite onsite engagement. For example, encourage email subscribers to leave comments on your latest blog posts.
This kind of onsite engagement builds your authority in the eyes of search engines. It also encourages more visitors to link back to your content.
Mint uses email marketing to drive engagement in a simple way. They send personalized reminders to drive subscribers to their site to check their credit score.
This is a valuable offer for their audience. Those who are satisfied with using their credit score tool can easily share the email by clicking the social sharing buttons at the bottom.
Content promotion
Create digests to promote your best content to subscribers, which can boost visibility and traffic.
For example, we send daily email newsletters to our blog subscribers so they can stay in the loop of our latest content.
Moz goes a step further and sends in-depth content that is exclusive to subscribers. Their long-form email content helps further develop trust with their audience.
Live newsletters
If you're distributing informative, exclusive email newsletters to your subscribers, consider repurposing them as blog posts.
Ensure your email copy is keyword optimized. This way, when you take your newsletter live as a blog post, it's already optimized for search engines.
YouTube and SEO
According to Alexa, YouTube is the second most visited site. But you shouldn't treat YouTube like just another social media site.
It actually acts as the second largest search engine, processing 3 billion searches each month. Not only should you be creating video marketing content, but you also need to be optimizing it so your audience can actually find it.
With a strong YouTube presence, you can build more brand awareness and further establish your brand as credible. Plus, you can drive more traffic from YouTube to related content on your site.
Best Practices:
Keyword research (again)
Just like your on-page SEO and social media SEO strategy, you need to identify what topics and keywords your audience is interested in.
What video content are they searching for?
When you know this, you can create video content that they actually want to watch. Awesome, relevant video content boosts your click-through-rate (CTR), improves audience retention, and increases the number of return visitors.
When you're uploading content to YouTube, optimize the following:
Title: Keep this concise and include your keyword in it.
Thumbnail: Customize it with fun graphics and themes.
Description: Add a link to your website above the fold, provide additional information related to the video, and of course, use keywords.
Transcript: Edit the automated transcription YouTube provides to ensure accuracy.
Tags: Use phrases and single keywords, and research your competitors' tags by using the vidIQ Chrome extension.
Links: Don't just add links to your website in the description; link to your other videos and your social channels.
CTA: Add an outro message at the end of your video with a clear CTA button to boost YouTube subscribers.
Analytics
Use YouTube Analytics and Google Analytics together to get a full picture and track important metrics, like number of viewers and subscribers, watch time, traffic sources, and audience retention.
When you're regularly analyzing your data, you can adjust your YouTube strategy. Also, track how your viewership impacts your overall search ranking.
To put it simply, views and video engagement show search engines that your video content is valuable. This can lead to more viewers and more traffic to your site.
Brian Dean from Backlinko has built an impressive following on the Backlinko YouTube channel. He details how he grew his channel in a recent blog post.
These areas of your marketing strategy can directly and indirectly help you rank higher in search engine results. When you make the most of these SEO blind spots while sticking to your on-page best practices, you're bound to see awesome results.