The Best Free Email Subject Line Generators and Testers
1.

SubjectLine

2.

Headline Analyzer

3.

The Hemingway App

4.

PutsMail

5.

Send Check It

6.

ISnotSPAM

7.

Subject Line gold by Touchstone

8.

TestSubject

9.

Email Subject Line Grader

10.

Subject Lines That Work
11.

Outtale

12.

ActiveCampaign

13.

Kopywriting Kourse

14.

Reply.io

15.

Automizy
Every second, there are nearly 3,000,000 emails sent.
Today's inboxes fill up rather quickly, and consumers are becoming more and more picky about which emails they open and which they simply send to trash.
As marketers, we know that email marketing is a huge component of attracting leads and prospecting good-fits. Therefore, you need to make your emails stand out from the crowd, compel them to click, and sell them on your business.
This is where your email subject line serves its role.
Why You Need Good Email Subject Lines
Your email's subject line is, simply, the most important thing you'll write in an entire message.
Why? More people will read your subject line than any of the inside text – and they use that three-second first impression to determine whether they'll even click on your email or not. You only get one chance, and it could decide the fate of your entire marketing campaign.
In fact, 35 percent of email recipients open an email based solely on the subject line.
The subject is your email's "headline," and just like blog post headlines, that's where it lives or dies.
With that in mind, it's no surprise that email marketers spend plenty of time looking for ways to make their subject lines more powerful.
Email Subject Lines Tips and Best Practices
Tips for Optimizing Email Subject Lines
Keep It Short.
Create a Sense of Urgency.
Use a Recognizable Sender Name.
Personalize Your Message.
Get Clever.
Try Using Emojis.
Conduct A/B Tests.
When it comes to writing subject lines, there are a few tips and tricks you should be aware of to boost open rates and compel action.
Keep It Short.

The longer your subject line, the more likely it will get truncated in an inbox, especially if they're skimming their inbox on a mobile device.
Therefore, it's important to keep your subject line short, sweet, and to the point so your recipients know what to expect when they open your email.
Create a Sense of Urgency.
Action-oriented, time-sensitive phrases can carry a lot of impact. By creating this sense of urgency with your subject line, they're more likely to open your email or act on it in some way (maybe even buying into your awesome offer!)
Just remember not to over-use urgency-focused subject lines as you don't want to seem to salesy. Use them sparingly to spark engagement around new deals and expiring offers.
Use a Recognizable Sender Name.
How many times have you skipped over an email from info@company.com or no-reply@company.com? I'll speak on behalf of myself and say I'm 99 percent likely to delete an email from a general address without even viewing the content inside.
The last thing you want is to make your leads and customers feel like they're being contacted by a robot.
Keep the conversation human by setting the sender name to someone at your company, like tommy@bluleadz.com. It's more personal and won't sway people away. Speaking of being personal...
Personalize Your Message.

Personalization in email subject lines (and body content, for that matter) isn't anything new, but there's a reason it's stuck around.
Just like how you may be able to pick out your name being called on a busy street corner, your readers react stronger when they read their own name.
This type of personalization is typically done within email automation or marketing automation software and can be used as little or gratuitously as your business sees fit.
However, while you can include personalization tokens that bring in a contact's full name, business, region or interests, we suggest keeping it simple with a versatile first name token.
According to HubSpot's Science of Email report, emails including the recipient's first name in the subject line had higher clickthrough rates than those that did not.
Get Clever.
Catchy subject lines can definitely go a long way – they grab attention and compel recipients to read more.
Try to avoid the classic "boring" email subject lines that don't spark any engagement or give too much away. That element of surprise or excitement is always what gets a reader to open an email, so you want to present them with a subject line that will do that.
Speaking of being clever, our next tip is an excellent way to add a little spice to your subject lines!
Try Using Emojis.

In the past few years, many email service providers and marketing automation platforms actually began offering emoji options built-in with their email creators.
You may love them or you may brush them off as tacky, but the fact is that emojis in email subject lines work.
Research from Experian revealed that 56 percent of businesses who used emojis in their subject lines saw higher open rates. They've been shown time and time again to increase open rates and separate emails from the dozens or even hundreds of emails that target audiences receive each day.
So, demographic/audience-permitting, you should think about adding actual emojis to your email subject lines.
If you're going to use emojis in your subject lines, just make sure they're relevant to the content and you don't overdo it. We should also note that some devices or email providers may not display emoji images properly, so make sure to test any emoji icons you feature!
Conduct A/B Tests.
Not sure which subject line is better? Utilize the power of A/B testing to answer that question for you!
There are tons of A/B testing tools available to help you compare two versions of an email and identify which one results in the most clicks.
At Bluleadz, we utilize the built-in A/B testing tool within HubSpot's email marketing tool. We set the winning metric to open rates and test out two slightly different subject lines for our emails to analyze and identify the subject line styles that speak to our audience the most.
Luckily, you don't have to be the world's top direct response copywriter to make your emails more effective. Even small improvements to your email subject lines can yield big bottom-line returns.
And you can achieve these improvements with user-friendly, affordable tools.
The 15 Best Subject Line Testers and Generators
Each of the following tools is free and incredibly easy to use. The more you test these tools out, the more you'll learn about what your preferences are and find one that best suits your needs.
The Best Email Subject Line Testers
Need to see how your current subject lines measure up? This is where email subject line testing tools come in handy. There are many awesome options available for you to test your current efforts and gain real-time feedback.
Here are 10 of the best email subject line testing tools:
1. SubjectLine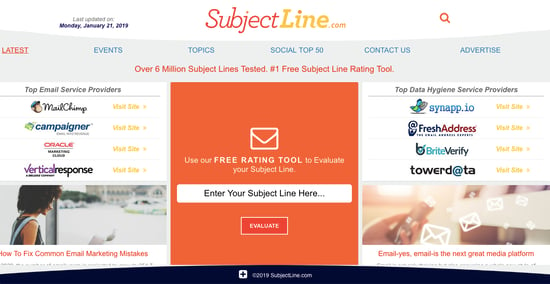 Touted as the #1 free subject line rating tool, SubjectLine is a must-have for all marketing teams. This tool evaluates any subject line according to email marketing best practices and gives you an instant score.
The score ranges from zero to 100, but you get much more than just some arbitrary score. It also provides context on why your subject line is under 100 points. For example, if your subject line fails to entice users, you might get docked points for not creating a sense of urgency.
You also get actionable advice immediately, so you can continue tweaking your subject line until you get the results you want.
2. CoSchedule Headline Analyzer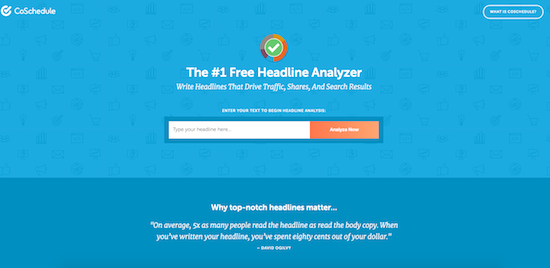 CoSchedule's free Headline Analyzer is an excellent resource for improving your headlines. This helps marketers nail their blog post titles, but it can also be used for email marketing purposes.
The tool digs deeper on how you structure your subject lines and what kinds of words you're using. Are you balancing the words you use? How effective is your use of words that are emotional or powerful? Is your subject line easy to digest?
Your score provides you with plenty of awesome insights. It helps you tweak the reading level as well as the "word balance" – helping you tap into audiences with more evocative words.
Plus, you can easily compare past headlines. This way, you can test different variations and record how higher-scored subject lines fare against lower-scored lines in terms of open rates and overall engagement.
3. The Hemingway App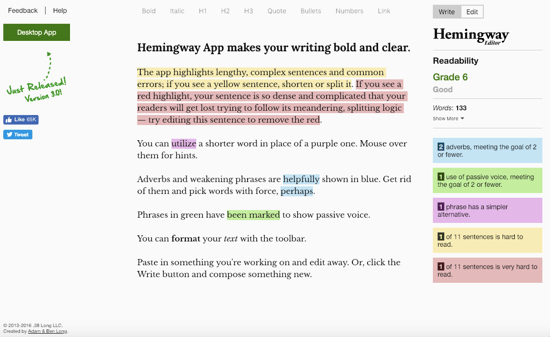 Concerned that your message might be going over your readers' heads?
Inspired by the man most celebrated for his short sentences, the Hemingway App focuses in on the readability of any content you create. In fact, this is a tool many marketers use to analyze their entire blog posts.
It provides a grade for readability, and it also highlights several potential mistakes within your copy, including:
Passive voice
Adverb placement
Phrases with simple alternatives
Sentences that are either hard or very hard to read
In the context of subject lines, this tool can be a huge help. Simply add your subject line to the text editor and wait for the tool to show you where you can make improvements.
4. PutsMail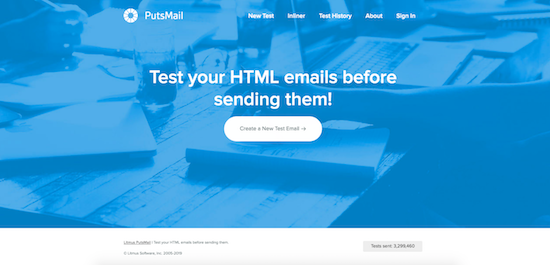 You might feel like you've finally narrowed it down to the perfect subject line – but what will it look like when it actually reaches your readers' email inbox?
PutsMail helps you answer that crucial question by providing a complete HTML mock-up of how your message will look. This is incredibly important because you get to step into the shoes of your recipients and see exactly what they're going to open when they read your subject line.
This helps you avoid subject lines that are too long. Plus, you can also ensure your coding is good to go. The tool detects if there is an issue and finds what it might be.
5. Send Check It

Another awesome, easy-to-use email subject line tester, Send Check It provides similar insights as the other tools listed, including scanability, reading level, and length in both characters and words.
However, it also delivers a lot more information, including:
A preview of how your subject line reads on desktop and mobile
A comprehensive sentiment analysis
A scan for potentially spammy words
Analysis of punctuation, capitalization, and other word choices
A scan of other elements, such as use of emojis and personalization
This tool gives you a comprehensive view of every aspect of your email, making it a must-have for all marketers.
6. ISnotSPAM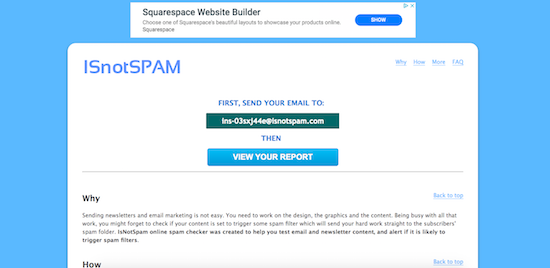 If your readers get confused by your subject line, they're much more likely to mark your email as spam – reducing your email campaign deliverability in the future.
Fortunately, you can avoid the spam folder thanks to the ISnotSPAM tool. It analyzes your message, including the subject line, to protect you from the spam filter.
It conducts various spam tests, including SPF Check, Sender-ID Check, SpamAssassin Check, and more.
7. Subject Line Gold by Touchstone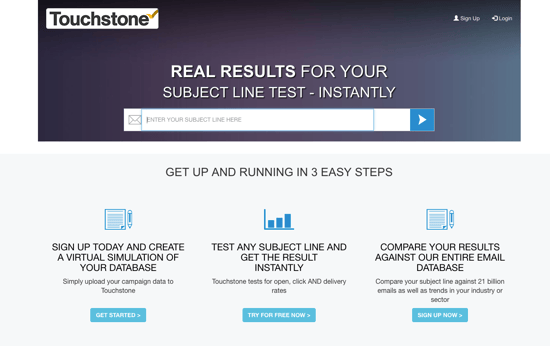 It's not as convenient as the others – making you sign up for a free trial before you can get to the good stuff – but the Touchstone tool is definitely worth checking out.
This tool is the only one that lets you create a virtual simulation of your email marketing database to test subject lines for open, click, and delivery rates. While you only get to try this for free for seven days, you might find it valuable to start with their Essential package.
The full reporting dashboard can help you optimize every email marketing initiative. Plus, the tool is built to help while you scale and expand the size of your subscriber base.
8. TestSubject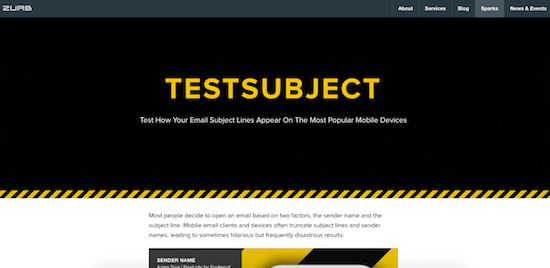 No matter how robust your email marketing campaigns are, your audience is likely consuming your email content on mobile devices. If your subject lines aren't optimized for the limited space on a smartphone or tablet interface, you could be hurting overall engagement in a big way.
Enter TestSubject, one the easiest tools to use on this list. You simply add the sender name, subject line, and pre-header text into the appropriate fields. Then, the copy populates on a graphic for the corresponding devices you want to test on.
The devices you can test your subject lines on include iPhone 6 and 6 Plus, as well as the Samsung Galaxy Note 5.
9. Email Subject Line Grader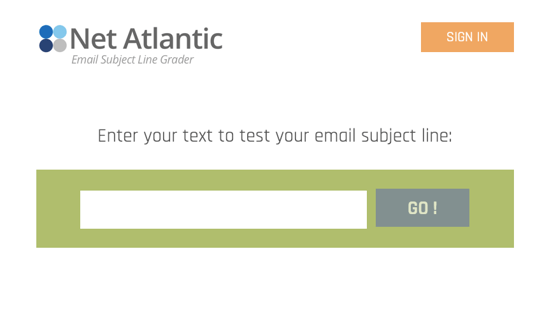 Another simple tool worth checking out is the Email Subject Line Grader by Net Atlantic. It's as easy as adding your subject line to the field on the homepage, then hitting 'Go.'
The tool delivers a short description of the type of subject line you're using, details the character and word count, and analyzes the word mixture and balance. It's that simple.
10. Subject Lines That Work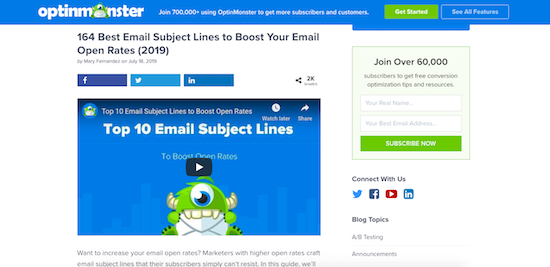 Last, but not least, check out this compilation of 164 email subject lines that really work, curated by OptinMonster. The subject lines are broken down into 11 powerful categories, including pain point subject lines, personal subject lines, and funny subject lines.
If you need new inspiration to make your email campaigns work better than ever, try seeing how your current subjects stack up to these.
The Best Email Subject Line Generators
Perhaps your team is feeling stuck, or the subject lines they keep testing are falling short. If you need a spark of inspiration, you can turn to email subject line generators.
These tools provide a ton of awesome recommendations. All you need to do is provide keywords and submit.
Check out five of the best email subject line generators:
1. Outtale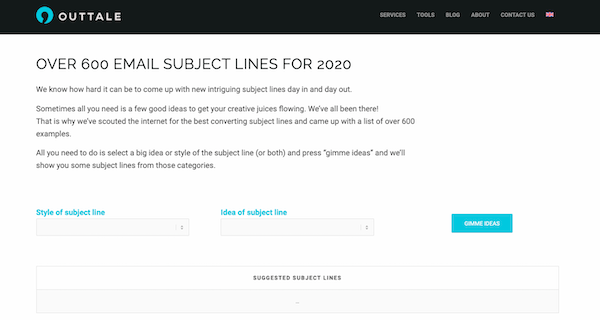 This email subject line generator is so easy to use! It lets you choose your subject line style and idea and crafts a great subject line for you based on your selections.
Outtale's generator is built to help spark ideas so you can create your own customized email subject line. Best of all – it's free to use!
2. ActiveCampaign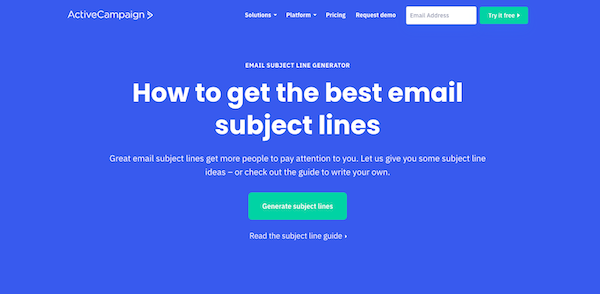 ActiveCampaign's subject line generator provides more in-depth subject lines based on a specific keyword. They offer three keyword categories: Pain Point, Benefit, and Topic. You select which one works best for your email, then you type in any keyword you want, and hit generate.
For instance, I chose "topic" as my category and typed in "sales prospecting." One of the subject lines generated was, "4 questions answered about sales prospecting." Simply put, this is an excellent resource for brainstorming subject line ideas.
3. Kopywriting Kourse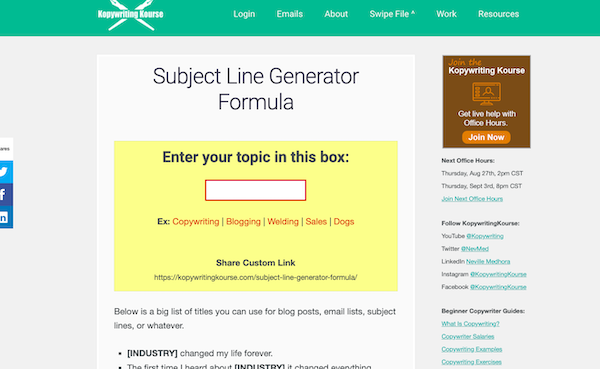 This subject line generator has preset subject lines with blanks that you can fill in using whatever topic or keyword you want. However, not every topic you type into Kopywriting Kourse's generator will work with every preset subject line.
You have to sort through each one carefully to make sure it matches your email and will work well for your audience.
4. Reply.io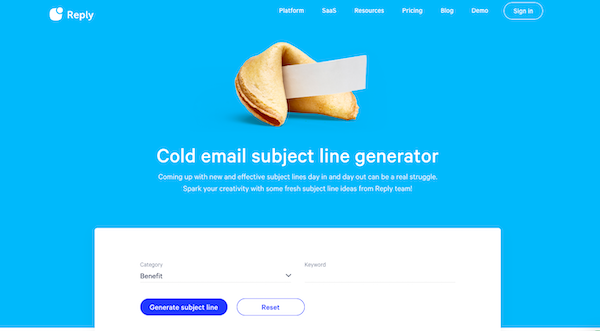 Reply.io's tool provides a cold email subject line that can be personalized and used for B2B email marketing.
They give you a place to add in your company's name, your prospect's company name, and the subject. This makes the email subject more personal, which means that the recipient will be more likely to open it.
5. Automizy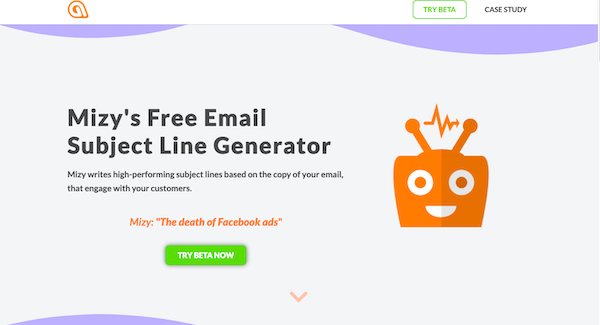 Lastly, Automizy provides Mizy's generator, which gives unique and enticing email subject line suggestions.
This tool is one of our personal favorites because it allows you to copy and paste the body of your email into the generator. Then, the technology scans your content and creates the perfect subject line for your email!
This tool truly gives you a tailored and customized email subject line!
10 Subject Line Examples to Help You Write Your Own
Below are some of our favorite subject lines from emails our Bluleadz team has actually received. Take notes on what we liked about them to help you when writing your own subject lines.

As a female, finding a pair of jeans that fit perfectly for your body type is an absolute pain. This email subject line is enticing because it emphasizes the fact that you, the recipient, will find the best pair that fits you perfectly by clicking the email and browsing the company's selection of jeans.
It speaks directly to a common pain point for all shoppers. Plus using the peach emoji is pretty cute.


Ghosting is a pretty popular term in the millennial world this year, and incorporating it into a subject line with a ghost emoji seemed to catch one of our developer's attention when scrolling through her inbox.
By adding the 30 percent discount offer, it informed her of a current deal going on, which enticed her to check it out!


Customer feedback should be a huge factor in improving your customer experience and analyzing how your efforts are performing.
This subject line caught my eye because it showed that the company valued my feedback to help them improve their business. The phrase "help us" made me feel needed!



A short and simple subject line with big impact – Venmo knows what they're doing!
With few words, I was able to understand that Venmo had added Bitmojis to their app, and it seemed to be a great collaboration between the two.


This subject line came from an email newsletter from a philosophy blog. It stands out because it poses a philosophical question that directly relates to the newsletter content, which can give you a little inside scoop as to what the newsletter is about.



Talk about a happy day – I was ecstatic to see this subject line in my inbox informing me that one of the clothing items I liked and saved recently dropped in price.
This celebratory subject line was just what I needed to entice me to open the email and find out what item was on sale.



I want to win a vacation to the Caribbean!
This subject line immediately lets you know of an upcoming contest where the winner gets a vacation to the Caribbean. Plus, the use of the palm tree on the beach emoji gets you really excited about sitting under that palm tree with a fruity cocktail in your hand once you win.



Rather than using an emoji, Jeep spiced it up by using common keyboard symbols to replicate the look of the iconic Jeep grill. It's still clever and fun, but it's sure to show up in every kind of inbox (since emojis don't appear on certain platforms).



This personalized subject line made me feel like I was the ultimate VIP. It's quick and witty, but lets me know what's in store when I open the email.



Ok, a little self-brag: This subject line is from our monthly employee newsletter that we send out to all our employees to keep them up to date on company information, employee birthdays, and upcoming culture events.
The phrase "hot off the press" is fun and related to the old days of newspaper printing. While our newsletters are more e-delivered than freshly printed and dropped on your doorstep, it's a lighthearted way to let our employees know that the latest edition has arrived.
A Good Subject Line Is Worth (Many Times) Its Weight in Gold
At first, subject lines might look like a troublesome subject. A lot is riding on them!
But think of it this way: there's no easier and more exciting way to raise your email campaign performance in just a few minutes of work. A single phrase, usually less than 40 characters, can transform your business... that's even more power per character than a tweet.
No matter what methods you use to craft your subjects, one thing is certain: You need to analyze your performance to figure out what really works for you!
Make sure your email marketing platform offers detailed data on delivery rates, open rates, and click-through. With this information, you can refine your subject line selections over time by focusing on what resonates with your audience.
Remember: always ask what your prospects and customers would be delighted to find in their email. When users realize that your messages always add value to their lives, they are that much more likely to open them, regardless of subject.