7 min read
With all the talk about landing pages we do as digital marketers, it's vital not to overlook the role of a website's homepage.
The homepage may not be where people start, but it is where they go when they need to navigate quickly or when they return to your site later.
A homepage might not leave the first impression, but it leaves the lasting impression.
Let's look at fifteen amazing examples right now:
1. Airbnb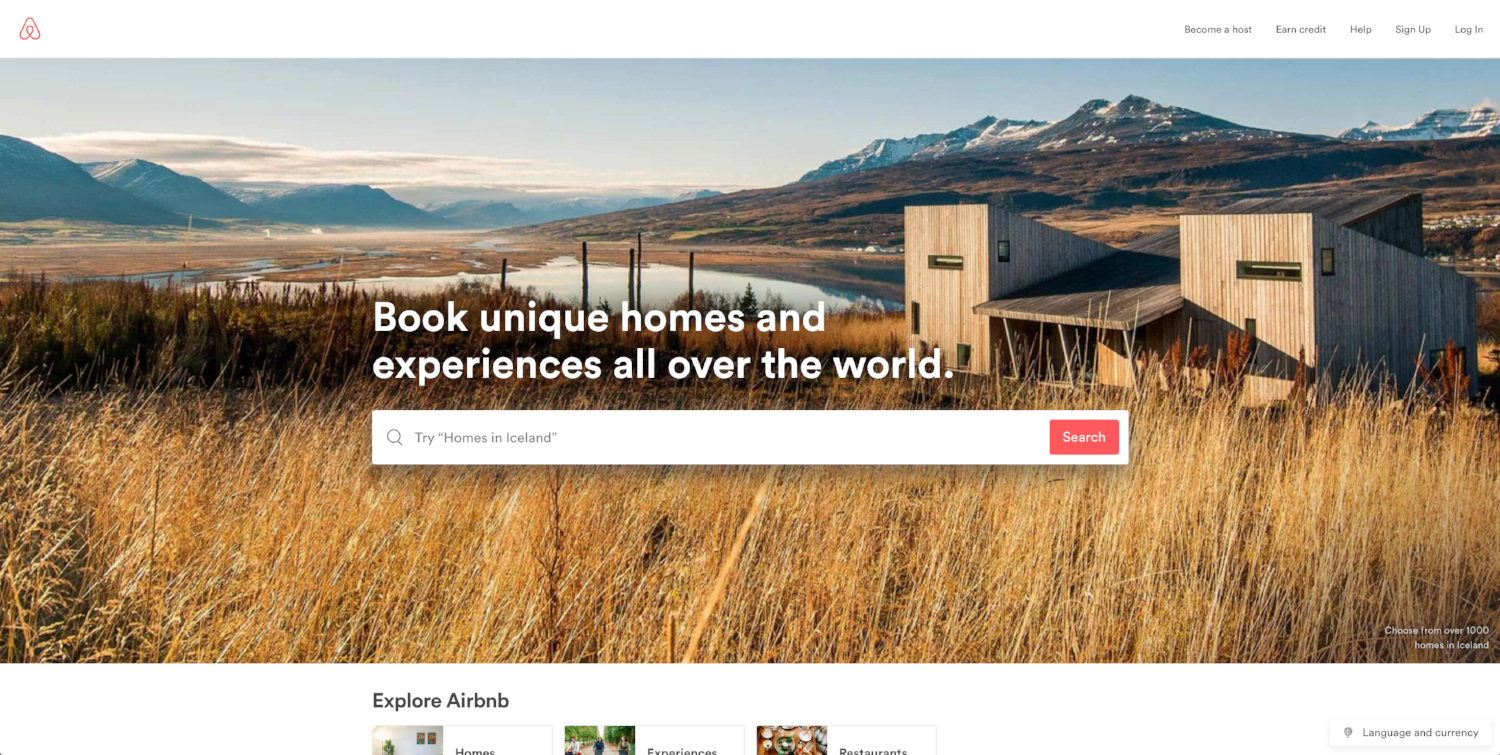 Airbnb's brand has seen better days, but its homepage design has never been better. Minimalism is often a sign of a modern homepage that communicates quickly and provides great mobile experience.
In just one sentence, Airbnb draws you in and gets you ready to start searching its site. Breathtaking visuals evoke a spirit of exploration users with wanderlust are sure to love.
2. Dropbox
Dropbox has been described as the company everyone is trying to kill. Its homepage design is no doubt one of the things that's made it resilient: In less than 20 words, it tells you everything you need to know to get started with its solutions and how you stand to benefit.
Those looking for complex or custom solutions can scroll on to a snappy side-by-side comparison.
3. eWedding
Nine words at the top of the homepage firmly establish eWedding as the leader in personalized wedding websites.
Two buttons with clear CTAs appeal to qualified leads at different steps in the decision-making process – with social proof and site snapshots impossible to overlook. Plenty of whitespace and the perfect color scheme gives it a light, airy, welcoming feel.
4. Medium
Medium is a publishing platform that has attracted thousands of would-be thought leaders, as well as many established voices.
Although it bucks convention by leaving its value proposition halfway down the page, by the time you get there you've almost certainly been hooked by one of the many magazine-like articles on the ever-changing, curated space above the fold.
5. KIND
From total obscurity and dismal performance, KIND Snacks have burst onto the scene with some of the strongest branding around.
KIND invites you to jump in and start shopping for healthy snacks in the banner. The traditional top navigation is all but replaced by image-driven product categories. Bright colors and friendly, value-driven text say "healthy" and "wholesome."
6. REI
REI has made its name in two ways: As a top supplier of outdoor gear and a leader in related content.
REI's key goal is to drive membership in its co-op, and this is reflected everywhere in the colorful, customized CTAs and image panels. Customers who have no interest in all that also instantly see the online store's thirteen major product areas.
7. Zenni Optical
Zenni Optical thrives on personalization and offers a chic, yet cost-effective alternative to stores like Lenscrafters.
As you'd expect, its homepage design thrives on the visual: The main image carousel focuses on timely offers, while unique features, common questions, and top products are found just below. Both the stylish glasses and their hip wearers are the heroes.
8. Udemy
Udemy specializes in online video courses developed by independent experts. The homepage underscores its selling point – low price – while orienting customers to the huge library of material.
With a customized list of general topic areas at the top and an ever-evolving list of personalized course recommendations below the banner, this page is magnetic.
9. Amazon
Amazon's homepage design is a result of years spent crunching terabytes of data. The goal: To create a compelling e-commerce experience that gets people browsing even when they don't plan to buy. With offers and even entire design elements customized to user behavior, it's almost impossible to visit without seeing something you're interested in.
10. Netflix
The Netflix homepage design positions the brand as the #1 alternative to traditional movie-going in just seven words!
Its bright, eye-catching "Join free for a month" button is a world-class CTA example. New users interested in learning more – and those with common objections – can find out everything they might want to know in three minimalist, yet highly visual page segments.
11. Etsy
Etsy is a site where independent merchants, many of them crafters, can display and sell unique wares.
The header image orients users to the hottest site-wide offer. Just beneath, new users learn the basics of the site in three quick headers. It's hard not to get pulled into the ever-rotating "Popular Right Now" items – and that's certainly intentional.
12. Nike
Nike is one of the most recognized brands in the world, so its homepage design won't waste time on a bunch of details you already know.
You can reach any category of Nike shoe in just one click, so most people won't spend much time on the homepage. Those who do will find exciting, ultra-visual hooks for flagship products.
13. Chipotle
Chipotle has some heavy lifting to do to maintain its value-driven "food with integrity" brand.
With its current homepage design, it's on the right track. The food remains the star, but an unobtrusive, yet effective ticker has been added to the top of the page to drive mobile app downloads. Online ordering and delivery are prominent, too.
15. Oscar
Health insurance is by no means a fun topic, but the homepage for Oscar makes it more humane and personable – starting with the URL itself ("Hi Oscar.") Everything from the art style to the clever use of whitespace is intended to make a daunting topic simpler. The copy underscores this with concepts like the "concierge" personal care team.
What's your favorite site for homepage inspiration? Tell us below!

Published on May 3, 2018